true
"It's like a movie." This may have been the most-repeated reaction to last week's memory-scarring television footage of the September 11 attacks. Witnesses, both on the streets of Manhattan and from couches across America, had specific titles in mind when describing the horrors.
After he saw with his own eyes the devastation at the towers, Michael Specter of The New Yorker testifies, "I didn't feel that I was in any danger; I felt like an extra in a movie, waiting for Bruce Willis to come and save the day." "The movie comparisons came thick and fast," wrote Richard Littlejohn in Britain's The Sun. "Deep Impact, Armageddon, Airport, Air Force One, Die Hard, Con Air. Only this time there was no Harrison Ford, Bruce Willis or Nicolas Cage to save the day in the last reel. This was The Day The Earth Caught Fire."
The Chicago Tribune published a list of upcoming releases and television seasons slated for delays or cancellation due to the tragedies. This long but abbreviated list demonstrates a public ravenous for over-the-top violence, terrorism, and conspiracy-theories. It also shows just how central and symbolic New York's towers really were to the world. (Contrary to what previews have already promised, we won't see Spiderman webslinging between the WTC towers next summer.) All of this canceling and revising—Friends may even update its skyline for already-finished episodes—may well just be a momentary rush to save face. It may just be a temporary message that reads: "We are experiencing technical difficulties. Please be patient. We will return soon to our regularly scheduled program of hyperviolence and digitally animated devastation." But Greg Killday at The Hollywood Reporter remarks, "There are indications that in the wake of the tragedy, the film industry might begin to reassess its dependence on its ever-escalating images of destruction." Can you imagine?
J. Robert Parks (The Phantom Tollbooth) is encouraged by the re-examination occurring within the industry. "I think they're just acknowledging that the context has changed. As certain words and language change in meaning, so do images and ideas. Terrorism was, for Americans, a rather remote concept and therefore was perfect for escapist entertainment. Now that it is horrifyingly close, its meaning has changed and can now no longer be escapist in nature. The World Trade Center used to be a symbol of strength and vitality. Now it is a symbol of destruction and horror. Since the meaning has changed, it can no longer be used in the way it has been. Furthermore, the nation's 'needs' have changed. Entertainment was the highest goal before Tuesday. Now we have a terrible need for commentary."
Doug Cummings (Chiaroscuro) cautions against overreaction. "Apparently, the studio thinking is that audiences can't handle their heroic, action-packed movies about terrorists now that America has actually become the target of terrorist violence. I'd like to think audiences could judge for themselves whether a movie represents terrorism in an appropriate manner regardless of the 'season.' What is inappropriate now should be inappropriate at all times."
But at Movie Parables, Michael Elliott is not optimistic about finding Hollywood spurred to more responsible artmaking: "For the most part, 'Hollywood' is less concerned with the making of art than it is the making of money. Thus, what we see on the screen is often driven not by the artist's heart but by the financier's greed. The makers and promoters of such films do not look to our weaknesses with an aim to strengthen them and make us better, they exploit our weaknesses for their own gain. [Movies will change] only if the motivation behind making them changes. Here's God's exhortation: 'Let no corrupt communication proceed out of your mouth, but that which is good to the use of edifying, that it may minister grace unto the hearers.(Ephesians 4:29)'"
Other journalists, however, are concerned that today's media-saturated Americans will settle down into viewing the disaster as just another prime time special. Journalist Dick Staub testifies, "Some young people complained that shopping malls closed on Tuesday. Can they have absorbed the reality and significance of Tuesday's images or are they filed along with entertaining films to be experienced than pushed aside? Time will tell whether this generation can feel real life or will remain locked in to 'reel' life."
Los Angeles Times writer Sallie Hofmeister reports that Americans ran to the video store in droves over the last week seeking escape. But what did they rent? She mentions family-oriented films, "repeated requests for films about Nostradamus" (who, some say, predicted the attacks), along with "an unusually high interest in action movies dealing with themes closely tied to the events of the week." Says one Blockbuster manager, "They wanted … anything where terrorists got the stuffing kicked out of them."
Entertainers, journalists, and critics everywhere find themselves in awkward and troubling dilemmas. After a tragedy this devastating, when will it be okay to go back to business as usual? Should we return to business as usual?
The Film Forum's Steve Lansingh expressed his disinterest with discussing movies this week: "Our site is not just some neat place for Christian fanboys to hang out, or just a means of debating semantics, but a community to reclaim Christianity from those who shut out the world around them, and to instead be Christ within the thick of it. Let's get our hands dirty, folks. Life is very, very short."
Similarly, Los Angeles Times' critic Kenneth Turan commented, "Everything looks different after a day like last Tuesday, and it's almost inevitable to question, in the quietest part of yourself, 'If this is the kind of world we live in, what am I doing with my life?'"
Writing about movies may be difficult, but imagine the plight of comedians as they try to avoid desecrating what is presently a sacred subject. Also in the LA Times this week, Paul Brownfield addresses how comics will be carefully commenting on this painful subject in the coming weeks on shows like Saturday Night Live and The Late Show with David Letterman.
In the music world, Mr. Showbiz reported that Michael Jackson is rounding up singers for another fundraiser song along the lines of "We are the World," called "What More Can I Do?" The same Web site also posted news that television's Emmy Awards have been delayed, and are being re-vamped with a more somber and appropriate tone; its new manifestation might involve a fundraiser as well.
Even mainstream critic Roger Ebert gave his thumbs a rest and turned to a more immediate subject than movies, offering a commentary on how Manhattan might honor the bombing site: "If there is to be a memorial, let it not be of stone and steel. Fly no flag above it, for it is not the possession of a nation but a sorrow shared with the world. Let it be a green field, with trees and flowers."
Some journalists hailed Hollywood as our military advisor. The Sun's Littlejohn called for a response worthy of The Godfather. "Our only response should be: Whatever you want, whatever it takes. They declared war on the West long ago and they should not be allowed to wash their hands of the consequences. If Dubya is seeking inspiration he should look to Hollywood. Michael Corleone would know how to handle it."
Whether to feed our anger or our pain, audiences look to movies just as people have looked to art throughout history for understanding, advice, healing, and resolution.
For Christians active in the arts, this can be a tremendous opportunity. Our culture—our world—is hungry for hope and meaning right now. And the generations after us will need to hear the lessons we have learned, just as young people like me need to hear from others about the cost, the horrors, and the rebirth that came from World War 2. Acting as salt and light in culture, we can hold up a mirror that reflects the evils of men, the wages of sin, and also, through the smoke, the persistent light of a hope people now might be prepared to recognize. We have a responsibility to record the magnitude of an event, but also to invite the audience to discover meaning and design in the seeming chaos.
Blessed are those who mourn …
You hear it in churches every Sunday, but last week you could hear it in the public plazas, on the air, everywhere. Scripture, and the words of sacred songs, have played an important part already in bringing comfort to wounded families and a devastated nation. Many of these works are ages old, and have lasted not only because they tell communicate Truth, but because they do so artfully.
God's word is not silent on the subject of "tragic art". From King David's broken-hearted appeals in the Psalms to the prophets who tear their clothes and weep at the city gates, Scripture is full of personal, passionate testimonies about heart-rending tragedies.
Jeremiah, so acquainted with tragedy that he was called "the weeping prophet", has strong words straight from God that call us to artful memorial:
This is what the LORD Almighty says:
"Consider now!
Call for the wailing women to come; send for the most skillful of them.
Let them come quickly
And wail over us
Till our eyes overflow with tears
And water streams from our eyelids …
Now, O women, hear the word of the LORD; open your ears to the words of his mouth.
Teach your daughters how to wail; teach one another a lament." (from Jeremiah 9)
When Israel was devastated, God himself was calling for the finest artists of grief in the land to come and teach them how to grieve, how to wail, to lament.
This appeal was joined by a graphic, terrifying, and unsettlingly familiar description of evil deeds:
Death has climbed in through our windows
And has entered our fortresses;
It has cut off the children from the streets
And the young men from the public squares.
The dead bodies of men will lie
Like refuse on the open field,
Like cut grain behind the reaper,
With no one to gather them.
Newspapers, televisions, radios, and Web pages scream "Horror! Terror!" everywhere you turn. And if we just sit skim the headlines and watch the round-the-clock reruns of that chilling footage, then that is all we will experience. Are we so jaded that we depend on the media to remind us of the proper response?
But recoiling in horror is not mourning. To lament is to tell the story of loss. We gasped on Tuesday morning, but as the reporters gathered details and a story began to take shape, then we could truly weep. As flight paths, explanations of structural failure, and the names of victims began to appear; as prayers were lifted, songs sung, and the news began narrating the experiences of individuals, then it became truly moving … as in to "move," from point A to point B, from shock towards somber attention. And hopefully toward action, remembrance, and renewal. The best "wailers" will draw our eyes not only to those jarring pictures, but to other pictures as well: of heroism, of shows of love and support, of restoration.
"What we have always needed is art that reveals a holy God and our desperate need for him," says J. Robert Parks, film critic for The Phantom Tollbooth. "We Christians … have a prime opportunity right now to create and use art that speaks to Americans' urgent and profound need for meaning and understanding. As I watched the Day of Remembrance Service at the National Cathedral on Friday, I was struck by the use of great hymns and even more by the artistry of God's Word. Though it was written thousands of years ago, could there be a more appropriate poem than Lamentations?
How deserted lies the city, once so full of people!
How like a widow is she, who once was great among the nations! …
Yet this I call to mind and therefore I have hope:
Because of the Lord's great love we are not consumed, for his compassions never fail.
They are new every morning; great is your faithfulness.
I say to myself, "The Lord is my portion; therefore I will wait for him."
Great art does just that: it offers an individual perspective, not only of the horror, but of the journey through it. Not just in poetry and movies, but in the movies as well. There are inspiring stories of sacrifice and heroism, like Schindler's List or The Bridge on the River Kwai; stories of soul-searching in the midst of chaos, like The Thin Red Line. Humor too can signify hope, as in Life is Beautiful. Even films like Apocalypse Now, which fails to show us clear examples of goodness and redemption but instead focuses on human evil, can direct us to a better path—by looking closely at the shadow of human evils, we can discern from which direction the light shines. Expressions of tragedy like these reach so much deeper than the language of "breaking news" hysteria.
In an e-mail last week, T-Bone Burnett (singer/songwriter and music producer for O Brother, Where Art Thou?) shared details of what he had seen in New York and added a strong message:
I would prefer not to relate the emotional aspects of the event, as you will hear it all from the media, and although some of it will be useful most of it will be a hypnotized unconscious and irresponsible effort on the part of the media to try to 'make' your emotions for you. I would urge you to avoid this as much as possible. Your emotions are your own as are your thoughts and impressions, and they are sacred. Try to keep them that way and avoid the mob effect that you will be submitted to. Try to think and feel for yourself. I have my own impressions; however, through it all the most difficult thing was to keep a sense of awareness separate from the flood of emotions and confusion. To stay at the top of the string, not in the sway of the pendulum.
If art will have anything to say about September 11, 2001, it will come from the conscience, the vivid memories, and the innermost thoughts of individuals, not from a committee that has taken a survey of what audiences want most. Surely, believers will understand and express much of the same horror and grief that the rest of the world is pouring forth. But if we truly believe God's promise—that he grieves alongside us in the midst of trial, and that he will come soon to rid the world of suffering—then perhaps we can provide stories, songs … even screenplays that will help the world move through horror and terror. To grief. To mourning. To comfort. And then to resurrection.
Instead of calling for an end to violence on television, perhaps we should be striving for more complete storytelling. Art should be honest, and excellent, reflecting the darkness and the light. By boldly facing our insufficiency and our failure, but by affirming the promises of our Savior, we can, as artists and "skilled wailers," teach the world to lament. As the great storyteller once said: "Blessed are those who mourn, for they shall be comforted."
Article continues below
Related Elsewhere
Film Forum appears weekly on ChristianityToday.com.
Christianity Today's other articles on the attacks include:
Was September 11 the Beginning of the End? | Observers say geography and gravity of attacks have led to little prophecy speculation. (Sept. 19, 2001)

The End of the World (Trade Center) | Dispatches from out of the dust. (Sept. 19, 2001)

Active Christian on Flight 93 Hailed as a Hero | Wheaton College graduate and others "figured out how to do extraordinary things" aboard United plane. (Sept. 19, 2001)

With Grief and Anger, the U.S. Mourns Its Losses | A week of official services and impromtu demonstrations follows shocking attacks. (Sept. 18, 2001)

Orthodox Church Near Ground Zero Hopes to Rise Again | Members hope to rebuild 169-year-old structure, which stood only 500 feet from the World Trade Center. (Sept. 18, 2001)

Fire Department Chaplain Dies in the Line of Duty | "Father Mike" is remembered for compassion and always being first on the scene. (Sept. 18, 2001)

Churches Meet Needs at Ground Zero | Brooklyn pastors and parishioners thank God for survival, but help victims and families cope. (Sept. 17, 2001)

Books & Culture Corner: The Imagination of Disaster | "We thought we were invulnerable." Really? (Sept. 17, 2001)

Church Mourns 'Father Frank' | Fond memories comfort those who knew retired priest killed in World Trade Center attack. ? (Sept. 17, 2001)

Taking It Personally | What do we do with all this anger? (Sept. 14, 2001)

'Is That Thunder?' | With metal cracking at the World Trade Center, New York pastors cry out to God. (Sept. 14, 2001)

Shaken Christians Turn to Prayer | Impromptu services usher in the bereaved by word of mouth, road signs, and e-mail. (Sept. 13, 2001)

Christians Provide Comfort in the Shadow of Calamity | Still "stunned and reeling," New Yorkers seek support at prayer service. (Sept. 13, 2001)

Illinois Pastor on Fatal Flight | Jeffrey Mladenik, 43, was involved in workplace ministry, international adoption. (Sept. 13, 2001)

Communication Troubles Challenge U.S. Church Relief Agencies | Aid work continues amid atmosphere of shock, fear, and sporatic harrassment. (Sept. 13, 2001)

Reflections on Suffering | Classic and contemporary quotations for dark times. (Sept. 13, 2001)

When Sin Reigns | An event like this shows us what humans are capable of becoming—both as children of darkness and of light. (Sept. 13, 2001)

In the Belly of the Beast | Christians, calling terrorist attack "satanically brilliant," minister at epicenter of World Trade disaster. (Sept. 12, 2001)

Churches, Agencies Respond to Attacks | Leaders call for prayer, justice, and mercy. (Sept. 12, 2001)

Muslims Fear a Backlash | No matter who is responsible, observers feel a reaction will still be present. (Sept. 12, 2001)

A Wake-Up Call to Become Global Christians | The deadly attacks on America will provoke many responses, but Christians are commanded to love our neighbors. (Sept. 12, 2001)

Nation's Religious Leaders Urge Calm, Pray for Peace | Churches will maintain prayer vigils for victims and leaders. (Sept. 11, 2001)

Church Leaders Around World Deplore 'Unspeakable Horror' of Attack | Christians urged to unite in prayer as they unite in shock and denunciation. (Sept. 11, 2001)

Experts Say Spiritual Roots Will Aid in Coping With Catastrophe | Pray and connect with others, advise nation's chaplains. (Sept. 11, 2001)

Fear and Hate | In times like this, as in all other times, Christians have a responsibility to love above all else. (Sept. 11, 2001)

God's Message in the Language of Events | In the face of evil, we must focus on keeping our hearts right. (Sept. 11, 2001)
Article continues below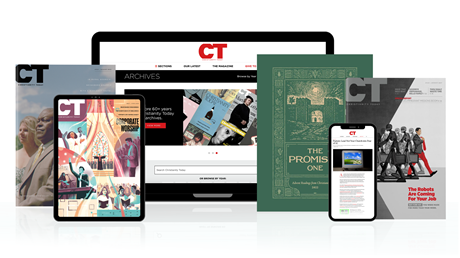 Annual & Monthly subscriptions available.
Print & Digital Issues of CT magazine
Complete access to every article on ChristianityToday.com
Unlimited access to 65+ years of CT's online archives
Member-only special issues
Subscribe
Shock Waves Tear Through a Shock-Value Industry
Shock Waves Tear Through a Shock-Value Industry