Faith-based initiative gets boost from 9/11 aftermath:
The Washington Post reports that Bush's faith-based initiative is back on track largely due to America's response to the September 11 terrorist attacks. The bill had stalled in the Senate when Democrats opposed sections of the House version that allow religious charities to maintain hiring distinctives. It was widely reported that no action would be taken until 2002. But all that's changed. "There's an immediate need for an infusion of support to community-serving organizations," one "official close to the deliberations" tells the paper. The attack "has given a new focus" to the initiative, the official says. There's some discussion on splitting the bill in two and quickly passing the part offering tax credits for charitable donations. But the White House is "leaning toward pushing the whole package," reports the Post.
Court will finally rule on constitutionality of school vouchers
The same Washington Post article reports that Bush is also working on a compromise on competing education bills. Many religious conservatives are upset that school vouchers have been eliminated from discussion, but they are thrilled with news this week that the Supreme Court will finally decide whether giving public money to students seeking religious educations violates the First Amendment's prohibition on establishing religion. Specifically, the court will hear Zelman v. Simmons-Harris, which challenges Cleveland's program that gives $2,250 vouchers to more than 4,000 students (The New York Times says 4,266, the Chicago Tribune says 4,095, and Cleveland's The Plain Dealer says "nearly 4,000"). Of those students, about 95 percent are enrolled in religious schools. Though the Supreme Court will examine three different rulings, the most recent of these came from the 6th U.S. Circuit Court of Appeals, which found the program unconstitutional.
All sides agree on at least two things: they're relieved that the issue will finally be settled, and they believe it will be a momentous decision. Clint Bolick, a lawyer with the pro-voucher Institute of Justice, says it will be "the most important educational opportunity case since Brown vs. Board of Education." Barry Lynn, director of the the anti-voucher Americans United for Separation of Church and State, says, "It's likely to be the most important church-state case in 50 years." (More on the Supreme Court's decision to hear the case is available from the Associated Press, The Washington Post, The Boston Globe, Los Angeles Times, Christian Science Monitor, and USA Today.)
A Zogby poll reported in USA Today found "an even split of 48% both favoring and opposing vouchers," but as John Kramer of the Institute for Justice notes, "'There's only one poll that matters at this point, and that's a poll of nine."
In a related development, a bipartisan House-Senate conference committee has endorsed religious schools' involvement in after-school activities at public schools. That opens the door to religious schools receiving federal funds.
More articles
The Pope in central Asia:
PBS Evolution miniseries:
Sexual ethics:
Missions and ministry:
Church conflicts:
Other stories of interest:
Related Elsewhere
See our past Weblog updates:
September 26 | 25 | 24

September 21 | 20 | 19 | 18 | 17

September 14b | 14a | 13 | 12 | 10

September 7 | 6 | 5 | 4

August 31 | 30 | 29 | 28 | 27

August 24 | 23 | 22 | 20

August 17 | 16 | 15 | 14 |13

August 10 | 9 | 8 | 7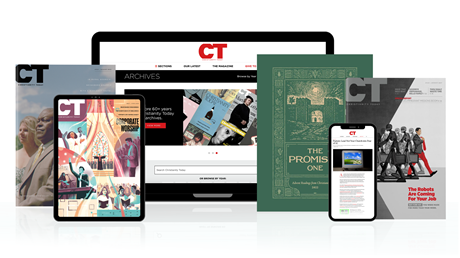 Subscribe to Christianity Today and get access to this article plus 65+ years of archives.
Home delivery of CT magazine
Complete access to articles on ChristianityToday.com
Over 120 years of magazine archives plus full access to all of CT's online archives
Subscribe Now
"Weblog: Renewed Hope for Faith-Based Initiative, School Vouchers"
"Weblog: Renewed Hope for Faith-Based Initiative, ...