A new reformation—at least an attempt at one—is brewing. "Doesn't the religious community see that the world is changing?" plead the new reformers. They say the culture is being transfigured by postmodernism. They say the church is stuck in the modern era. They conclude that the church must become postmodern or die.
This is the basic outline of an increasing number of conferences, Web pages, and books produced by the postmodern reformers. The most recent and controversial example is Brian D. McLaren's A New Kind of Christian: A Tale of Two Friends on a Spiritual Journey (Jossey-Bass, 2001). McLaren describes nine experiences (what he calls his "data") he has been wrestling with, his frustrations with the church and culture he finds himself in.
These data drive him to ask these questions: "Doesn't the religious community. … have anything fresh and incisive to say? Isn't it even asking any new questions? Has it nothing to offer other than the stock formulas that it has been offering? Is there not a Saint Francis or Søren Kierkegaard or C. S. Lewis in the house with some fresh ideas and energy?"
McLaren's plea is typical of postmodern reformers. Indeed, their passion is admirable, and their cultural analysis is keen. But I fear they would merely slap a coat of paint on a sagging building whose foundation needs attention. They would do well to take lessons from the very people they say they admire.
C. S. Lewis, for example, was uninterested in "saying something fresh." His prologue to The Problem of Pain is typical: "I have believed myself re-stating ancient and orthodox doctrines. If any parts of the book are 'original,' in the sense of being novel or unorthodox, they are against my will and as a result of my ignorance."
The same holds true in Mere Christianity: "For I was not writing to expound something I could call 'my religion,' but to expound 'mere' Christianity, which is what it is and was what it was long before I was born and whether I like it or not."
Kierkegaard's scathing critique of his church culture was based not on his take on how "the world was changing" (though as a leading philosopher of his day, he would very well have known how it was changing). Instead, he looked backward. He weighed the church's shortcomings against what he called "original Christianity." In a very typical passage, he asked, "How many are able to say they are truly Christians in the New Testament sense, or that their lives are even close to resembling those of the first disciples?"
Francis lived in an era of profound church corruption—popes and bishops waging war in the name of Jesus, accruing wealth and political power, winking at dalliances with mistresses and prostitutes. But Francis spent little time wrestling with these "data." Instead he grappled with the teachings of Jesus—especially his injunctions about poverty (what Francis called "apostolic poverty"). He so patterned his life on Jesus' teachings that many refer to him as "the second Christ."
In fact, nearly every agent of church renewal began by comparing the church or himself not with intellectual and cultural trends but with the faith of the ages, particularly with biblical teaching. The monastic movement began when Anthony of the Desert heard Matthew 19:21 read in church. The Reformation began when Luther, after years of internal struggles, finally understood Romans 1:16. The Pentecostal movement took off because people believed they were living again in "apostolic" times, in which Acts 2 was a living reality. Indeed, all these reformers adapted their biblical insights to their day—but not until they had thoroughly wrestled not with their church or culture but with Holy Scripture. They knew that there is nothing so fresh and incisive for every era as the so-called stock phrases of Scripture.
Postmodern reformers have many wise things to say, but I fear they will never be able to produce a "new kind of Christian." The bulk of A New Kind of Christian wrestles with culture and church, and implies that by such analysis, a new kind of Christian will begin to emerge. But there is no deep engagement with Scripture in the book. Scripture is only referenced, and often as a proof text for a larger cultural argument (at least it feels like this to me).
Early on, McLaren asks poignantly, "Has the 'good news' been reduced to the 'good same-old same-old'?" In fact, it needs to be expanded to the same-old same-old. Otherwise, it will never be good news but only postmodern news. Our culture needs more than that.
Related Elsewhere
A New Kind of Christian is available at Christianbook.com.
Christianity Today columnist Andy Crouch reviewedA New Kind of Christian for Christianity Today's sister publication Books & Culture.
Publisher Josey-Bass has an excerpt, as does Beliefnet.
There's a Yahoo group discussing the book.
In 1997, Leadership Journal, another Christianity Today sister publication, analyzed "The Riddle of Our Postmodern CultureWhat is postmodernism? Should we even care?"
Article continues below
Previous Christianity Today articles on the postmodern debate include:
The Anti-ModernsSix postmodern Christians discuss the possibilities and limits of postmodernism. (Nov. 13, 2000)
What Exactly Is Postmodernism?The often-maligned movement is today's academic Rorschach blot. (Nov. 13, 2000)
Urbanites: More Justice, Less EpistemologyThe emerging urban class is targeting capitalism and Christianity—often for good reason. (Nov. 13, 2000)
Scientists: Just Leave Us AloneNot all the academy is so taken with postmodernism. (Nov. 13, 2000)
The Sky Isn't FallingThe only remaining "ism" is postmodernism. And it is a formalized expression of despair. (Jan. 11, 1999)
Poster Boy for PostmodernismStrohmeyer told police he strangled the little girl by twisting her neck the way he had seen in movies. (Nov. 16, 1998)
Abraham Kuyper: A Man for This SeasonThe surprisingly relevant advice of a Dutch statesman for engaging postmodern culture. (Oct. 5, 1998)
The Oxford ProphetLewis predicted a time when those who want to remold human nature "will be armed with the powers of an omnicompetent state. (June 15, 1998).
A Theology to Die ForTheologians are not freelance scholars of religion, but trustees of the deposit of faith. (Feb. 9, 1998)
The New TheologiansCreating a theological symphony. (Feb. 8, 1998)
A Cultural Literacy PrimerTen resources Christians need for understanding today's world. (April 28, 1997)
Previous Long View columns include:
Wielding the SwordEarly believers were not as troubled as we are by the use of force. (Feb. 20, 2002)
Have something to add about this? See something we missed? Share your feedback here.
Our digital archives are a work in progress. Let us know if corrections need to be made.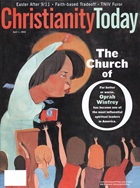 This article is from the April 1 2002 issue.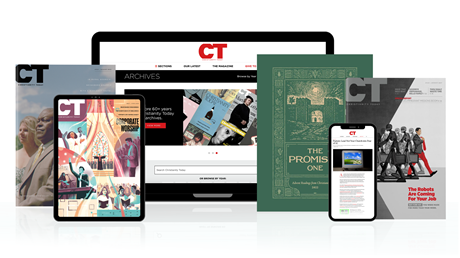 Annual & Monthly subscriptions available.
Print & Digital Issues of CT magazine
Complete access to every article on ChristianityToday.com
Unlimited access to 65+ years of CT's online archives
Member-only special issues
Subscribe
The Long View: The Virtue of Unoriginality
The Long View: The Virtue of Unoriginality