true
While in Washington to drum up political support for aid to Africa, U2 singer Bono made a clear confession before about three dozen evangelicals. "He said, 'I'm a believer and I have faith in Christ,' " recalls Richard Cizik, vice president for governmental affairs for the National Association of Evangelicals, who attended the March meeting on Capitol Hill. "You can't argue with that kind of a personal testimony as a way of opening doors."
Bono, one of the world's most celebrated pop stars, has become an international advocate for AIDS programs, forgiving Third World debt, and increasing trade. He urged evangelicals to take the lead in fighting AIDS and poverty, which have ravaged the African continent.
"A third of the Earth's population is incarcerated by poverty," Bono said in a post-meeting interview with Christianity Today. "It is, as they say, the drive of the Scriptures. Why isn't it the drive of the churches?"
A 2001 Barna Research Group poll commissioned by World Vision revealed that evangelical Christians are significantly less likely than are non-Christians to give money for AIDS education and prevention programs worldwide. Only 3 percent of evangelicals say they plan to help with AIDS internationally, compared with 8 percent of non-Christians and 8 percent of self-described born-again Christians. Evangelicals were also the least likely to support children orphaned by AIDS.
Bono's meeting occurred less than a month after Franklin Graham called on Christians attending the Prescription for Hope Conference in Washington to offer AIDS patients love and compassion "rather than condemnation." At the event, organized by Graham's organization Samaritan's Purse, retiring Sen. Jesse Helms (R-N.C.) said he was ashamed for not "doing something really significant" to fight the spread of AIDS.
In its 2003 budget, the White House seeks a $200 million contribution to the Global Fund to Fight AIDS, Tuberculosis and Malaria, a new United Nations effort. It also wants to increase bilateral HIV/AIDS programs from $435 million to $540 million—figures that Bono and many Democrats say are too low.
While participants said that Bono's appeal was well received, some challenged the notion that government money, rather than private sector involvement, should be the vehicle for solving such problems. They also emphasized that aid should go to democratic countries rather than corrupt dictatorships.
"We should not be writing blank checks to oppressive regimes, but we should be supporting those governments who are moving toward democracy and are not engaged in corruption," said Diane Knippers, president of the Institute on Religion and Democracy.
Participants, including representatives from evangelical relief organizations and justice advocacy groups, said that Bono presented the outlines of what he will say to Congress and the White House. He also made a personal connection with a community he had never met with before, they said.
With funding from the Bill and Melinda Gates Foundation, Bono plans to open a Washington office for his new organization, DATA (Debt, AIDS, and Trade for Africa), this spring.
Related Elsewhere
Also appearing on our site today:
Inside CT: Bono's Burning QuestionEvangelicals and the U2 front man try to figure each other out.
'A Rock Band That's Good for Something'The author of Walk On: The Spiritual Journey of U2 talks about why politicians listen to Bono.
In the recent cover story, "Can Bono Save the World?," Time magazine said that Bono knows he has to make the case for African aid with his head, not his heart.
Other articles include:
Rock Star Bono's Agenda For Africa — AllAfrica.com (March 1, 2002)
Bono's crusade comes to DC — Terry Mattingly's On Religion
Bono: 'You can't escape the politics if you're Irish' — CBS News (February 27, 2002)
Over two decades, U2's leader has evolved from heart-on-his-sleeve idealist to irony-drenched rock 'n' roll Liberace to hopeful pragmatist — Salon.com (Oct. 2, 2001)
Bono: The Beliefnet Interview — (February, 2001)
In early February, CNN covered the unveiling of the "DATA Agenda" from Microsoft founder Bill Gates and Bono.
See the official U2 Web site for more information on the band.
Coverage of Franklin Graham's stance on AIDS includes:
AIDS victims need churches' help: An interview with Graham — USA Today (Feb. 25, 2002)
Graham thrives in family business — The Washington Times (Feb. 22, 2002)
Previous Christianity Today articles on AIDS in Africa include:
U.S. Blacks Preach Abstinence GospelMission workers testify that Christ helps control sexual urges. (March 27, 2002)
Mercy ImpairedLet's shock the world by reversing our apathy toward African sufferers. (September 27, 2001)
Kenyan President Suggests Hanging for 'Knowingly' Infecting Others with AIDSChurch organizations criticize use of capital punishment as solution to epidemic. (July 19, 2001)
Dying AloneBaptist women seek out and care for ashamed, abandoned AIDS patients. (June 15, 2001)
Article continues below
Few to Receive Generic AIDS MedicinesPharmaceutical companies drop suit against South Africa, but problems remain. (May 18, 2001)
Zambia's Churches Win Fight Against Anti-AIDS AdsChurch leaders are concerned that condom promotion encourages promiscuity. (Jan. 12, 2001)
Mandela, De Klerk, and Tutu Join to Fight AIDSSouth Africa's men of peace call for end of silence and stigmatization. (Dec. 14, 2000)
Speaking with Action Against AIDSA report from the Thirteenth International AIDS Conference. (July 19, 2000)
'Have We Become Too Busy With Death?'As 4,900 people die each day from AIDS, African Christians are faced with the question. (Feb. 4, 2000)
'Sexual Revolution' Speeds Spread of HIV Among AfricansAn interview with World Relief's Debbie Dortzbach. (Feb. 4, 2000)
Books & Culture Corner: An Open Letter to the U. S. Black Religious, Intellectual, and Political Leadership Regarding AIDS and the Sexual Holocaust in Africa (Jan. 24, 2000)
Africa: Fidelity Urged to Fight AIDS (July 12, 1999)
Global Death Rates May Skyrocket (May 24, 1999)
I Am the Father of an AIDS Orphan (Nov. 17, 1997)
For more articles on AIDS in Africa, see allAfrica.com and Yahoo Full Coverage.
Have something to add about this? See something we missed? Share your feedback here.
Our digital archives are a work in progress. Let us know if corrections need to be made.
This article is from the April 22 2002 issue.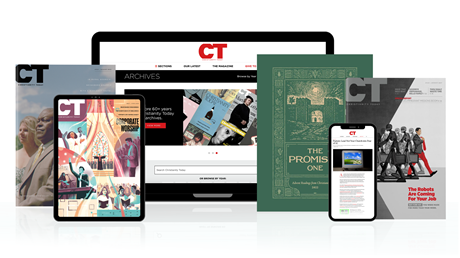 Annual & Monthly subscriptions available.
Print & Digital Issues of CT magazine
Complete access to every article on ChristianityToday.com
Unlimited access to 65+ years of CT's online archives
Member-only special issues
Subscribe
Bono Tells Christians: Don't Neglect Africa
Bono Tells Christians: Don't Neglect Africa