true
Earlier this year, Sheryl Henderson Blunt, our go-to journalist in Washington, D.C., had a brief taste of life in the fast lane as she drove her car through Washington's streets, trailing an Air Force fighter pilot late for a church service. Blunt recalls she followed Lt. Col. Martha McSally through a red light and then the wrong way down a one-way street. "I was a little bit scared for my life," Blunt says. When they arrived safely, the A-10 Warthog pilot who served in the Gulf War joked, "I drive like I fly."
In covering Washington for Christianity Today for the past three years, Blunt has mastered the art of the chase. A 1994 graduate of Wheaton College, Blunt polished her reporting and writing skills at Stars and Stripes and Congressional Quarterly before she took time out for the birth of Carissa, her and husband Matt's first child. About that time, she began free-lancing for CT. When CT caught wind in March that a group of evangelical leaders was about to meet with mega-rock star Bono from the Irish band U2, Blunt jumped on the story and was one of only two journalists to grab post-meeting interviews.
The Bono story posed an unusual challenge. Evangelicals often have a nagging question about celebrities who have made various comments about Jesus but who stop short of the Four Spiritual Laws. What do they believe about God? In Bono's case, much to the surprise of the evangelicals at the meeting, the singer answered that question up-front and affirmed his personal faith in Christ.
"When I met him, he seemed very real, very low key," Blunt says. "I asked people coming out of the meeting [about Bono]. They were very surprised that he seemed very sincere, 'humble' in how he presented himself and what he had to say. They all came out singing his praises."
In turn, Bono has his own burning question: Will American Christians stand by as Africa dies for "small money"? The genocide, famine, war, and AIDS epidemic in Africa are distant from the experience of most American evangelicals.
In its past reporting on AIDS, CT has turned to Calle Almedal, an official with the U.N. AIDS agency who works alongside church leaders. "Churches in the North do not feel the pain, do not smell the stench, do not see the emaciated faces of their own Christian brothers and sisters," Almedal says. "Churches in the United States should reflect theologically on the close connections between the sinner and the stigmatized and work toward a theology of reconciliation. Churches … commit the sin of omission when not doing more in this field."
American Christians are generous with their time, talent, and treasure. But the AIDS pandemic is a highly complex foe. Lingering stigma, discrimination, ongoing sexual promiscuity, and safe-sex advocacy—all are barriers to Christians becoming committed to fighting AIDS in Africa. But Franklin Graham, president of Samaritan's Purse, recently struck a bold new stance. "We as the church have been too quick to pass judgment on this disease," Graham said at February's Prescription for Hope event. "Let's put this issue at the top of our agendas as individuals, churches, denominations, and Christian organizations."
CT's Blunt, who also reports in this issue about legal assaults on crisis pregnancy centers, says Christians in Washington strongly sense that the time is at hand for new action on the African AIDS crisis. "Christians feel like they have a lot more allies than they used to have, especially with Bush in office. Their agendas are going to the forefront now."
Related Elsewhere
Also appearing on our site today:
Bono Tells Christians: Don't Neglect AfricaHe urges evangelicals to take a lead in fighting AIDS and poverty.
'A Rock Band That's Good for Something'The author of Walk On: The Spiritual Journey of U2 talks about why politicians listen to Bono.
Blunt's article on Lt. Col. Martha McSally, Flier Shuns Abaya, focused on her fight against an Air Force rule requiring her to wear Muslim covering.
In the recent cover story, "Can Bono Save the World?," Time magazine said that Bono knows he has to make the case for African aid with his head, not his heart.
Other articles include:
Rock Star Bono's Agenda For Africa — AllAfrica.com (March 1, 2002)
Bono's crusade comes to DC — Terry Mattingly's On Religion
Bono: 'You can't escape the politics if you're Irish' — CBS News (February 27, 2002)
Over two decades, U2's leader has evolved from heart-on-his-sleeve idealist to irony-drenched rock 'n' roll Liberace to hopeful pragmatist — Salon.com (Oct. 2, 2001)
Bono: The Beliefnet Interview — (February, 2001)
Previous Christianity Today articles on AIDS in Africa include:
U.S. Blacks Preach Abstinence GospelMission workers testify that Christ helps control sexual urges. (March 27, 2002)
Mercy ImpairedLet's shock the world by reversing our apathy toward African sufferers. (September 27, 2001)
Kenyan President Suggests Hanging for 'Knowingly' Infecting Others with AIDSChurch organizations criticize use of capital punishment as solution to epidemic. (July 19, 2001)
Article continues below
Dying AloneBaptist women seek out and care for ashamed, abandoned AIDS patients. (June 15, 2001)
Few to Receive Generic AIDS MedicinesPharmaceutical companies drop suit against South Africa, but problems remain. (May 18, 2001)
Zambia's Churches Win Fight Against Anti-AIDS AdsChurch leaders are concerned that condom promotion encourages promiscuity. (Jan. 12, 2001)
Mandela, De Klerk, and Tutu Join to Fight AIDSSouth Africa's men of peace call for end of silence and stigmatization. (Dec. 14, 2000)
Speaking with Action Against AIDSA report from the Thirteenth International AIDS Conference. (July 19, 2000)
'Have We Become Too Busy With Death?'As 4,900 people die each day from AIDS, African Christians are faced with the question. (Feb. 4, 2000)
'Sexual Revolution' Speeds Spread of HIV Among AfricansAn interview with World Relief's Debbie Dortzbach. (Feb. 4, 2000)
Books & Culture Corner: An Open Letter to the U. S. Black Religious, Intellectual, and Political Leadership Regarding AIDS and the Sexual Holocaust in Africa (Jan. 24, 2000)
Africa: Fidelity Urged to Fight AIDS (July 12, 1999)
Global Death Rates May Skyrocket (May 24, 1999)
I Am the Father of an AIDS Orphan (Nov. 17, 1997)
For more articles on AIDS in Africa, see allAfrica.com and Yahoo Full Coverage.
Have something to add about this? See something we missed? Share your feedback here.
Our digital archives are a work in progress. Let us know if corrections need to be made.
This article is from the April 22 2002 issue.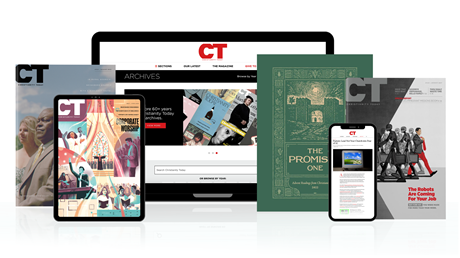 Subscribe to Christianity Today and get access to this article plus 65+ years of archives.
Home delivery of CT magazine
Complete access to articles on ChristianityToday.com
Over 120 years of magazine archives plus full access to all of CT's online archives
Subscribe Now
Bono's Burning Question
Bono's Burning Question