For a few weeks this winter, Billy Graham's critics and friends alike saw a radically unfamiliar face of the famous evangelist. The National Archives released a secretly taped White House conversation with Richard Nixon in which the two men deplored Jewish domination of the media.
Nixon's own comments were far more offensive than Graham's, but they called forth very little public reaction. Graham's words, on the other hand, surprised everyone because the evangelist's comments were completely out of character.
At one extreme of the opinion spectrum, pundits failed utterly to take Billy Graham's character and record into account. Writing for the Common Dreams News Center, Bill Davis speculated that if Graham expressed such thoughts to Richard Nixon in 1972, he was probably pulling the strings on George W. Bush's foreign policy today. "If Billy was telling Nixon that something had to be done about the Jews in the media, what must he be saying to his born again acolyte about Muslims in the Middle East and beyond?"
Such paranoia—absurd on its face—is doubly ridiculous in light of Billy Graham's own post-Watergate resolve to stay away from the corridors of power. Whereas he once sought contact with the nation's political élite, Graham vowed never to "make the mistake again of getting that close to someone in office" (as Charles Colson reported to Graham biographer William Martin). In 1991, Graham told an interviewer that he regretted "the politics part" of his relationship with Nixon, and Graham insiders report that ever since the deep disappointments of Watergate, the evangelist has made a point of limiting his discussion and counsel to spiritual topics and prayer. Indeed, in 1989, Graham said he no longer frequented the halls of Congress and the White House because he believed God had "called [him] to a much higher calling."
For the Record
Most commentators struggled to reconcile Graham's comments with his record. What could the man whom Rabbi Marc Tannenbaum called "one of the greatest friends of the Jewish people … in the entire Christian world in the 20th century" possibly mean by what he said? How could these comments come from a man who had tirelessly pressed the leaders of the Soviet Union to let oppressed Jews operate their own religious schools and even emigrate? What could these words mean in the mouth of someone who fought racial discrimination by refusing to allow segregated seating at his evangelistic rallies and who showcased Christians of all creeds and colors sitting side-by-side on his platform?
Some interpreters said that Graham had been enthralled by power and awed into agreeing with the disagreeable. Several brasher columnists used the word sycophancy. Cal Thomas, one of the friendlier commentators, said that the lesson of this incident is that "political power can be corrupting and can seduce even the clergy." William Martin wrote that Graham had played the part of the court chaplain rather than the prophet. And The Boston Globe said that Graham had missed a powerful teaching moment, an opportunity to witness to the truth in the presence of a delusional leader.
Not the good old days
Other interpreters pointed to the time factor: the secret tape was made 30 years ago, when even the best in our midst said things privately that seem unthinkable today. It is hard for some of us to remember a time when we thoughtlessly tossed off the N-word when chanting Eeny-meeny-miney-mo. It is hard for us to remember a time when we casually spoke of "jewing" someone down. But revelations such as this Nixon-Graham conversation with its "just us guys" tone of voice remind us that those were not the good old days. Many of us, once blind to our biases and ignorant of the destructive effects of even casual racist remarks, have by God's grace had our eyes opened.
Billy Graham, too, had his eyes opened over the years, and his story is a tale of personal growth. His recent apology is worth quoting:
As I reflect back, I realize that much of my life has been a pilgrimage—constantly learning, changing, growing and maturing. I have come to see in deeper ways some of the implications of my faith and message, not the least of which is in the area of human rights and racial and ethnic understanding. Racial prejudice, anti-Semitism, or hatred of anyone with different beliefs has no place in the human mind or heart.
The Jewish community's reactions to the Graham-Nixon conversation spotlighted the dangerous nature of prejudice. When the Anti-Defamation League's Abraham Foxman called the comments "chilling and frightening," he was not playing interest group politics. He was reflecting the bloody experience of a historically persecuted minority that is just now beginning to learn to trust Christians. Thankfully, Foxman was quick to accept Graham's apology. The abundant fruit of Graham's ministry made his apology credible. We pray that Christian-Jewish relations will continue to grow following this episode.
No account of this incident would be complete without Graham's own interpretive framework. In his statement, he talked about sin, judgment, grace, and forgiveness. These are the themes on which he has played so many variations.
Graham clearly views this incident in the same terms in which he approaches the rest of life. These words were not merely "offensive" or "politically incorrect" or "idle talk." For Graham they were a moral fault that called for repentance.
Billy Graham has seen fit to repent of his 1972 comments and ask both his Jewish friends and God for forgiveness. He has set us a good example. The rest of us likewise need to examine ourselves for latent prejudices (of which we have plenty), and when we find such biases, we must resist them, repent of them, and find renewal and grace in our relationship with the God who is "no respecter of persons."
Related Elsewhere
Also appearing on our site today:
Graham Laments '72 Comments on JewsJewish leaders seek meeting before June outreach.
Beliefnet.com has the audio clips from the 1972 tapes, a timeline of Graham's relationship with Jews, an interview with Cal Thomas, and articles written by Richard Land and Graham biographer William Martin.
The official BillyGraham.org site has Graham's statement on "Intolerance and Prejudice Following Release of Nixon White House Tapes."
In a 2000 profile for Christianity Today sister publication Christian History, William Martin said Billy Graham as an evangelist has preached to millions and as an evangelical has put a movement on the map. Martin's A Prophet with Honor: The Billy Graham Story is available at Christianbook.com.
Previous Christianity Today coverage of the 1972 comments controversy includes:
Weblog: Was Billy Graham an Anti-Semite? The Commentaries ContinueBilly Graham's 1972 Oval Office comments about Jews have continued to draw reaction from newspapers and magazines. (March 11, 2002)
Weblog: Graham Was Seduced By Power, Say PunditsGraham's Jewish comments: the commentaries are in. (March 6, 2002)
CT Classic: On Befriending PresidentsBilly Graham's relationship with Richard Nixon was already a controversy in 1972. (March 4, 2002)
Weblog: Graham Says 1972 Oval Office Comments 'Do Not Reflect my Views, and I Sincerely Apologize'"Although I have no memory of the occasion, I deeply regret comments I apparently made." (March 4, 2002)
Weblog: Nixon Still Haunts Billy GrahamEvangelist's 1972 comments with president called anti-Semitic. Plus many more stories from around the world. (March 1, 2002)
Christianity Today coverage of Billy Graham's relationship with the Jewish faith includes:
Graham Feted By American Jewish CommitteeIn 1977, Graham walked a fine line between in his work 'to proclaim the Gospel to Jew and Gentile.' (Nov. 18, 1977)
Billy Graham: 'I have never felt called to single out the Jews'The evangelist discusses targeted evangelism in one of his most quoted statements. (March 16, 1973)
Have something to add about this? See something we missed? Share your feedback here.
Our digital archives are a work in progress. Let us know if corrections need to be made.
This article is from the April 22 2002 issue.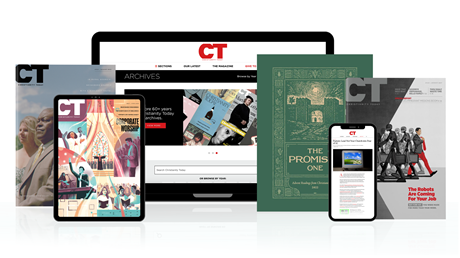 Annual & Monthly subscriptions available.
Print & Digital Issues of CT magazine
Complete access to every article on ChristianityToday.com
Unlimited access to 65+ years of CT's online archives
Member-only special issues
Subscribe
Nixon's Ghost
Nixon's Ghost