Spiritual formation is in. One generation ago, evangelical Protestants had hardly heard of the phrase. Now many evangelical seminaries offer programs in spiritual formation. Renovaré, which Richard Foster and others founded in 1989 to cultivate spiritual formation (especially among evangelicals), today offers retreats and resources worldwide. The popular evangelical psychologist Larry Crabb now holds seminars in becoming a spiritual director.
Twenty years ago we were dissatisfied with shallow, rushed "quiet times," longing for resources to help us toward a more meaningful, life-changing interaction with God. Today things are different. For better and for worse, we have more resources available for spiritual formation than we know what to do with.
Formation, like the forming of a pot from clay, brings to mind shaping and molding, helping something potential become something actual. Spiritual formation speaks of a shaping process with reference to the spiritual dimension of a person's life. Christian spiritual formation thus refers to the process by which believers become more fully conformed and united to Christ.
I have been involved in spiritual formation for over 20 years, having stumbled in just as interest was beginning to develop in the evangelical community. I am now watching my students feel the influence of this movement. The growing interest in spiritual formation is, for the most part, very healthy, and can be found in mainline, traditional evangelical, and Pentecostal/charismatic circles. Yet within each of these traditions, tendencies lurk that can rob this movement of authenticity—the authenticity needed to propel this movement into effective personal and social transformation.
Mainline And Christian
Interest in spirituality has hit mainline Christianity like a flood. Our experience with social justice has led us to see that outer change without inner change has little staying power and often leads to burnout for those devoting themselves to kingdom work. We are ready for a good dose of inner spiritual transformation. We want something capable of empowering authentic social change, something that can make sense in the context of our increasingly pluralist culture.
Exploring spiritual formation in mainline churches often means experimenting with a wide range of spiritual and psychological practices. Mainline retreats often draw on themes from medieval mystics, and have workshops on the Labyrinth (a maze people walk through for enlightenment) or the Enneagram (a temperament schema with spiritual dimensions and Sufi roots). Some directors encourage various Buddhist practices to help us get in touch with our spiritual dimension. These practices are intended to expand our understanding of what it means to relate to God.
For example, one popular retreat and spiritual direction training center in my region offers common meals, massage, inner healing, evening prayer, in-depth dream work, daily Eucharist, and "mandala explorations." Mandalas (artistic, usually circular, designs) appear in a few religious traditions—in Native American designs, in Gothic rose windows, and especially in Tibetan practices. Those who use mandalas frequently refer to the thought of psychologist C. G. Jung, who saw in mandalas a universal symbol of the integration of the human person. Thus, training for those leading mandala work aims at "assisting your client or directee's integration process." Contemporary mandala work uses shape, line, and color to represent aspects of our personality: as one creates and reflects on these artistic designs, conflict or harmony comes to light.
I have nothing against self-discovery, or even using broad-ranging interpretive frameworks like mandalas to assist self-discovery. But sooner or later, we must realize that Christian spiritual formation is the process by which believers become more fully conformed and united to Christ. The source of transformation is the Spirit of Christ. Spiritual formation develops primarily in the context of a relationship with Christ. The aim of formation is conformity to and union with Christ. While other traditions may provide helpful and legitimate insights into human "integration," they do not (indeed they cannot) express what conformity to or union with Christ involves.
As a discipline of Tibetan Buddhist enlightenment, for example, the mandala is designed not to form a person (or self) into union with Jesus Christ, but to help a person realize that ultimately there is no self to be formed. It is not so much that Tibetan theology is explicitly emphasized in mandala seminars (or Sufi theology in the Enneagram), but by drawing in this manner from the world's religions, the seminars diminish (or leave out) the person of Jesus Christ.
In his award-winning Satisfy Your Soul: Restoring the Heart of Christian Spirituality, Bruce Demarest distinguishes authentic Christian spirituality by a few key characteristics. One of these is Christ-centeredness. Demarest writes, "The fullness of life we crave is found only in heart-to-heart relationship with Christ, in growing in his character, and in being directed by his Spirit." The best way to lead others to Christ is to lead others to Christ. We have not even begun to mine the riches of the Christian tradition for resources in spiritual formation. If we in spiritual formation intend to lead people into ever-increasing unity and conformity with the living God revealed in Jesus Christ, we are at our best and generally safest when we lead Christians with teaching and practices that are distinctive to the Christian tradition: Christian spiritual formation.
Evangelical And Spiritual
Evangelical Christians have served as defenders of the faith for generations, waving the banners of the central Christian beliefs and the authority of the Scriptures. Yet because of our role as "protectors of the faith," evangelicals have been slow to welcome the trends regarding Christian spiritual formation. The intentional use of imagination in prayer, the idea of "listening" or "centering" prayer, and the notion of spiritual "direction" have resembled, to some, too much of what we have meant to keep out of Christianity: New Age ideas and works righteousness. Hence, we have traditionally kept spiritual formation at arm's length.
More recently, however, we have seen a renewed interest in spiritual disciplines such as meditation, guidance, study, and service. We have found that there is more to the abundant Christian life than quitting the big sins and trying to bear witness to our acquaintances. We need more. And we have found that desire for more, that intentional development of our relationship with God, in Christian formation.
But I sometimes wonder if we are talking about Christian spiritual formation. Christian spiritual formation is not simply improving the regularity of prayer or Bible study. It is not merely becoming personally accountable for our sins. Christian spiritual formation is the transformation of our spirit through the Spirit of Christ.
When Jesus told us that he would not leave us as orphans but that he would leave us a token of his presence, he was not talking about leaving us only a holy book. Our relationship with God is mediated primarily not through the Bible but through the Spirit (albeit working in and through the Bible). If we are leery of things of the Spirit, we will not allow God to bring conviction, healing, or renewal. If we are not prepared to allow ourselves—mind, emotion, and will—to be moved by the Spirit, I doubt we will allow ourselves to be formed by the Spirit.
I attended a prominent evangelical seminary, where one required theological course was called "God, Man, and Christ." There was no class on the Holy Spirit. The Holy Spirit received brief treatment under discussion of God. Similarly, I am familiar with an influential, 400-page evangelical book on the will of God and spiritual maturity that spends a total of five pages discussing the work of the Holy Spirit, most of them discussing what he does not do. For the author, following God's will is about growing in obedience to the Bible and learning to make wise decisions.
I am certainly not opposed to the centrality of Scripture or the value of biblical wisdom. Nevertheless, our growth in the things of God is not merely a matter of biblical character, but more profoundly a matter of spiritual relationship. A. W. Tozer, an evangelical leader of the last century, pointed out this danger regarding our view of Scripture: "I believe that much of our religious unbelief is due to a wrong conception of and a wrong feeling for the Scriptures of Truth. A silent God suddenly began to speak in a book and when the book was finished lapsed into silence again forever. … The facts are that God is not silent, has never been silent. It is the nature of God to speak." Spiritual formation involves an intentional pursuit of God inspired by the leading of the Spirit, informed by the speaking of the Spirit, and empowered by the work of the Spirit: Christian spiritual formation.
Pentecostal And Transformed
Pentecostals and charismatics, of course, have been "into" the things of the Spirit from the start. This movement has spawned a renewed sense of worship, an emphasis on the personal touch of God for believers, and a new sense of the church as a community of gifted believers. The renewed interest in and study of Christian spirituality has been a big boon for charismatics. Again and again, historians of Christian spirituality have pointed out that charismatic experience and expression are not isolated phenomena of recent American history. Some of the most respected saints in church history have experienced and even encouraged profound experiences of the Spirit. The interest in Christian spirituality has brought a slight shift away from Bible to experience, and this is just where we charismatics like to dwell.
And here is where the danger lies. We can get caught up in sharing spiritual experiences and miss the aim of Christian spiritual formation. Christian spiritual formation is not simply fostering the experience of the Spirit but rather a radical formation, a shaping and molding of the believer into conformity with Christ through the Spirit. Christian spiritual formation is intentional about moving from the experience of Christ's invitation to the concrete actions of personal transformation. This is hard work at times—not works righteousness but hard work nonetheless. Obedience is like that, too: it is inspired and empowered by grace, but grace is still tough.
The rediscovery and mis-discovery of Jonathan Edwards during the Toronto Blessing was a textbook case of this very danger. In 1994 Toronto Airport Vineyard Church became the center of a powerful spiritual movement. Millions have visited this church to receive a touch from God. This movement has included "manifestations" of the Holy Spirit: periods of shaking, falling, laughing, and similar phenomena. When historical theologian Guy Chevreau was touched by this movement and looked to the history of Christian spirituality to assess it, he turned to the work of Jonathan Edwards, theologian of the Great Awakening (1735-48). In Catch the Fire, Chevreau correctly applied Edwards's early defense of revival manifestations to the Toronto Blessing, urging that one should draw no conclusions based only on the manifestations. I believe he used Edwards fairly in concluding that the Toronto Blessing should be called a revival birthed of the Holy Spirit.
What was missing from Chevreau's assessment of Edwards and the Toronto Blessing, however, was any application of the theologian's later work, especially his classic Treatise on Religious Affections. In this work, partly written to correct errors of revivalism, Edwards expressed serious concern about interest in spiritual manifestations to the neglect of transforming character. "Holy practice is as much the end of all that God does about his saints," Edwards wrote, "as fruit is the end of all the husbandman [farmer] does about the growth of his field or vineyard." God's powerful invitations, he argued, draw us into his equally powerful (but often less immediately pleasant) transformations.
I go to renewal meetings and to healing services. I love participating with believers who are hearing, seeing, and feeling God. But being touched is not necessarily being formed. Christian spiritual formation aims at conforming all of life (thought, feeling, word, and deed) to the life of Christ. My hope is to hate sin as Christ does, to treat the outcast the way Christ does, to regard God the Father the way Christ does, and, yes, to heal as Christ does. While powerful experiences of God contribute significantly to our continuing formation, conformity with Christ comes ultimately only through a lifetime of obedience and the grace of the Spirit: Christian spiritual formation.
The blessings of spirituality have arrived, and resources to pursue the spiritual life abound. But therein lies a caution. When we are more interested in the fascinating resources than in pursuing relationship with God, when we use the right words to avoid the real Spirit, or when we pursue the experience of God more than the God of the experience, we are not yet practicing Christian spiritual formation.
Evan Howard is director of the Spirituality Shoppe: An Evangelical Center for the Study of Christian Spirituality, based in Montrose, Colorado. He is the author of Praying the Scriptures: A Field Guide for Your Spiritual Journey (InterVarsity).
Related Elsewhere
Evan Howard's Praying The Scriptures is available at Christianbook.com.
Christianity Today sister site, BuildingChurchLeaders.com offers training materials on spiritual formation. The package includes case studies, devotionals, an interview, and more.
Recommended reading on spiritual formation includes:
Conformed to His Image: Biblical and Practical Approaches to Spiritual Formation by Kenneth Boa
The Pursuit of God by A.W. Tozer
Renovation of the Heart: Putting on the Character of Christ by Dallas Willard
Satisfy Your Soul: Restoring the Heart of Christian Spirituality by Bruce Demarest
Streams of Living Water: Celebrating the Great Traditions of the Christian Faith by Richard Foster
Last year Christianity Today published an interview with Holy Invitations author Jeannette Bakke on what spiritual direction is, and why evangelicals are increasingly attracted to it.
Have something to add about this? See something we missed? Share your feedback here.
Our digital archives are a work in progress. Let us know if corrections need to be made.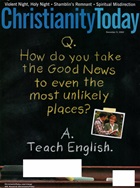 This article is from the December 9 2002 issue.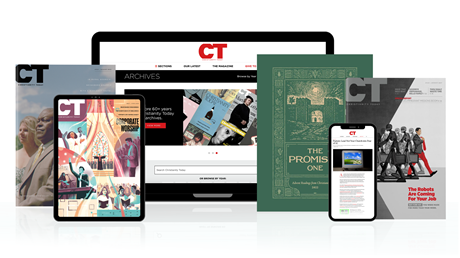 Subscribe to Christianity Today and get access to this article plus 65+ years of archives.
Home delivery of CT magazine
Complete access to articles on ChristianityToday.com
Over 120 years of magazine archives plus full access to all of CT's online archives
Subscribe Now
Three Temptations of Spiritual Formation
Three Temptations of Spiritual Formation