Baptists in the District of Columbia may lose $475,000 in annual support if they are unable to iron out their differences with a top Southern Baptist Convention agency.
The SBC's North American Mission Board (NAMB) seeks increased oversight of the agency's $475,000 allocation, a substantial portion of the District of Columbia Baptist Convention's $1.5 million budget. The DCBC's executive committee will discuss the matter in March.
If the committee rejects the new oversight plan, the dcbc's net loss may be less than $200,000. The 140 Baptist churches in the DCBC give the SBC about $280,000 in mission offerings, which the DCBC might decide to retain.
The $475,000 from NAMB is designated for evangelism. It also pays a portion of the salaries of five inner-city missionaries and two support workers. Among conditions for continuing the partnership, the Southern Baptist agency wants direct oversight of the district convention's work that it funds and support for the conservative theological positions of the SBC.
The plan has stirred strong reactions from local pastors, such as Wallace Smith of Shiloh Baptist in Alexandria, Virginia, the first African American church to join the district convention in 1968. "Freedom is what Baptists are all about," Smith says. "We decided centuries ago we wouldn't live under bishops and hierarchy. If they want to withdraw their money, let them."
DCBC is the only Baptist convention aligned with the Southern Baptist, American, and Progressive National Baptist conventions. The 125-year-old convention is unusual among state-level SBC affiliates.
With 57 percent African American and ethnic minorities, its membership is more diverse than that of the SBC. In 2000, 85 percent of Southern Baptist churches were predominantly white, 5 percent were predominantly African American, 5 percent were predominantly Hispanic, and 5 percent were predominantly other ethnic groups.
Political Dispute
Observers on both sides agree the SBC's conservative leadership is at odds with moderate and liberal Baptists in Washington. The disagreement mirrors moderate-conservative divisions that have splintered state conventions in Missouri, Texas, and Virginia.
NAMB President Robert Reccord defended the proposal in a December interview with Baptist Press. "The proposal is our attempt to create a win-win solution by providing them with additional staffing while [assuring] Southern Baptists that all money given by Southern Baptists will be used in ways consistent with the direction of our denomination," he said.
"This is not an edict or ultimatum, but a proposal," Reccord added. "We're deeply disappointed that the DCBC leadership has chosen to publicly criticize the proposal rather than provide us with any feedback, invite us to any meetings, or offer us any alternatives."
NAMB issued a statement in December saying that the DCBC has grown distant. But Jeffrey Haggray, the district's executive director, says that the proposal undermines the DCBC's autonomy and that his constituents are not the ones who changed positions.
"Everyone knows there has been a radical shift in the leadership of the SBC in recent years," Haggray says. "They have moved towards an insistence on doctrinal uniformity. You can't … go away from historic positions and then say to others, 'You've moved.'"
Most area pastors line up with the local convention. Mark Dever of Capitol Hill Baptist Church is not among them.
"They [DCBC] are presenting this as a political move," Dever says. "But these agreements presume a common understanding of our purpose. I would encourage the SBC not to give a penny to the D.C. convention."
Haggray, who is the first African American to lead DCBC, met with Reccord soon after taking office last August. No SBC funds pay Haggray's salary. Haggray says that two years ago the convention stopped contributing to an interfaith coalition that holds a pre-Thanksgiving sacred song service involving multiple religions.
Besides oversight of its funds, NAMB is calling on the district convention to avoid promoting cultural festivals that include non-Christian religions. "I value the interfaith effort," Haggray says. "I don't agree with [other religions'] views, but I uphold their right to worship without being denigrated and attacked. September 11 showed the failure to understand these differences can lead to all kinds of violence."
Dever believes the district convention has a confused theology.
"There's no personal animus," Dever says. "That's what I keep hearing from the DCBC, like somebody's out to get them. I don't think they have a good category for genuine theological disagreement."
Related Elsewhere
Related news stories include:
Area Baptists face cutoff over stand on issuesSouthern convention would sever ties — The Washington Post (Dec. 12, 2001)
NAMB proposal to clarify SBC ministries draws criticism from D.C. Baptist leader — Baptist Press (Dec. 12, 2001)
Southern Baptists question joint witness in nation's capital — Associated Baptist Press (Dec. 11, 2001)
SBC leaders cite differences with American Baptists in rift — Associated Baptist Press (Dec. 11, 2001)
See the official Web sites for the District of Columbia Baptist Convention and the SBC's North American Mission Board.
Have something to add about this? See something we missed? Share your feedback here.
Our digital archives are a work in progress. Let us know if corrections need to be made.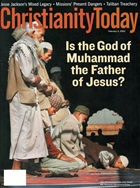 This article is from the February 4 2002 issue.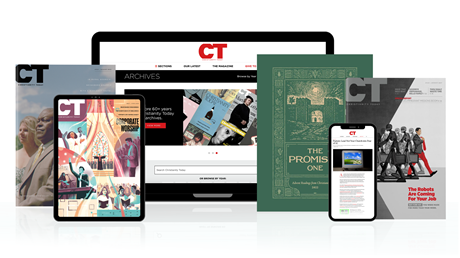 Subscribe to Christianity Today and get access to this article plus 65+ years of archives.
Home delivery of CT magazine
Complete access to articles on ChristianityToday.com
Over 120 years of magazine archives plus full access to all of CT's online archives
Subscribe Now
Southern Baptists: SBC Agency May Revoke D.C. Funds
Southern Baptists: SBC Agency May Revoke D.C. Funds