true

Rock 'n' Roll Worship Circus
Vertical / Integrity Music
The atmosphere of Rock 'n' Roll Worship Circus is as important to me as the music itself. The fun, innocent, and simple classic rock tracks (with their "la la la" choruses and bouncy beats) made me nostalgic for listening to The Kinks and watching old "Monkees" reruns in my PJs. Rock 'n' Roll Worship Circus is all about having fun with God and enjoying the simple pleasures of rocking out in your garage. I think the band says it best: "God himself made rock 'n roll so we'd know what the party was like in heaven."
Read the original review here.

38th Parallel
Warner Records
38th Parallel is often compared to the popular rap/rock group Linkin Park. While I don't care for Linkin Park's sound, I really dig Turn the Tides. The two bands launch similar two-rapper attacks of gritty nu-metal. The important difference for me is that 38th Parallel doesn't intertwine electronica in the hard rock, relying more on conventional guitars and drums. It makes them sound more artistically grounded and authentic. Turn the Tides is a terrific debut with tight hooks, head-bobbing rhythms, smooth vocals, and godly lyrics. I'm most blown away musically and lyrically by "Three Times," a song about Peter's denial of Jesus.
Read the original review here.

Pillar
Flicker Records
Pillar has quickly established itself as a major player in the genre of "rock your face off" rap metal. There's so much thumping energy in Fireproof's 11 tracks that I almost need to take a nap after listening. Lead vocalist Rob Beckley's rapping integrates incredibly with the hard-core beats, but the thing I appreciate most about this album is that it gives the band a strong repertoire for its powerful live shows. I say "powerful" not only in terms of force, but also in spiritual content. The band focuses on recruiting a new generation of "soldier[s] in this army of One" through rapped lyrics about hidden sin, doing only enough to get by, and standing up for your beliefs.
Read the original review here.

Juggernautz
Metro 1 Records
Like most people, I have a special sub-genre within my music collection: "Driving Music." This year, the CD most often used as a soundtrack to my driving (probably too fast because of the music) was the slick and sizzling electronic rock of Juggernautz. Jyro Xhan (formerly of Mortal and Fold Zandura) has created an impressive, smooth stylistic sound with heavy guitar and pounding beats. The first-rate attention-getting production, accompanied by extremely cool vocals, serves as the base for captivating lyrics. Juggernautz paints a poetic album-long contrast between the world's darkness and Jesus' light.
Read the original review here.

The Benjamin Gate
Forefront Records
I dug the loud modern rock sound of The Benjamin Gate's 2001 debut untitled, but was disappointed that not all of the album's spacey-electronic tunes translated well in a live setting. On the follow up, the band retains its identity but relies more on its raw band sound than on production effects-an effective and successful rock evolution. The tweaked sound on the 13 solid tracks, which manage to be forceful and beautiful, allows more focus on the guitar work and vocalist Adrienne Liesching's powerful voice. Contact delivers all the confidence, sound, and force of The Benjamin Gate's debut, but adds greater musical maturity and improved lyrical depth.
Read the original review here.

Denison Marrs
Floodgate Records
This is without a doubt my karaoke disc of the year. I often find myself singing along to this solid modern rock album not only because the songs are ultra-catchy, but Then Is the New Now also has incredibly relatable lyrics. From trying to figure out love and earthly relationships to modestly wondering what Jesus would've been like as a man, I haven't found another album this year whose lyrics relate more to me. Denison Marrs isn't only talented with the pen — the tight musicianship is top notch. Their '80s undergound/new wave rock sound is capped off on the disc by a meaningful cover of Real Life Sterry's "Send me an Angel."
Read the original review here.

The O.C. Supertones
Tooth & Nail Records
The first time I listened to Hi-Fi Revival, I think it knocked me into a brief coma. This fifth Supertones album grabs you by the collar and boogies hard and fast for most of the full 45 minutes-and I can't stop listening to it. With the popularity of ska fading (if not completely faded), the horn-based fivesome has revamped its sound with a blend of funk, punk, jazz, new wave, and soul. This rock album is one fun party-in-a-CD-case. The strongest tracks include the romping opener, "Superfly," and the only song where the album slows down at all, "Hold onto Jesus."
Read the original review here.

GRITS
Gotee Records
The Art of Translation proves that Stacy "Coffee" Jones and Teron "Bonafide" Carter are pros in the hip-hop game. Along with other strong releases from Christian rappers this year (including T-Bone and KJ-52), GRITS proves again that rap can light up the party and be relevant. In fact, this solid work by GRITS shows that hip-hop is truly an art form. Tracks are extremely well-constructed to appeal to the ear, and a varied collection of beats and musical styles shows a serious musical knowledge. This record stands out to both casual music listeners looking to be pumped up, as well as more discerning hip-hop fans in both the secular or Christian industry. There is a careful balance between beat-heavy party tracks like "Here We Go" and "Tennessee Buoys" and deeper, more-reflective songs like "Be Mine," "Ooh Ahh," and "Believe" (with an outstanding cameo by Jennifer Knapp). Within the tracks themselves, GRITS offers fun and creative lyrics that combine relevance and truth. On hard-hitting, head-bobbing anthems like "Seriously," GRITS realizes that listeners need "more than entertainment from the industry." GRITS does exactly that without selling short on fun.
Read the original review here.

Superchic[k]
Inpop Records
This pop/rock CD could well be one of the best youth ministry tools released this year. It directly answers many of the problems we see in today's youth groups, dealing with universal themes of loneliness, disappointment, and individuality. Oh yes, and it sounds great too. Just listen to this album back-to-back with their 2001 debut and you can hear the difference: the sound is tighter, the vocals are freer, and the bass and drums are more in sync. But the star of the show here is still Superchic[k]'s witty lyrics. For example, concerning dating they sing, "All princes start as frogs / all gentlemen as dogs … Some dogs will still be dogs / but some boys become men / just don't kiss us until then." The cleverness of the writing is also seen in the band's handling of tough subjects in an engaging way. "Hero," about the small things we can do to save someone's life, is so riveting that I still get chills. In just a few short weeks after its release, I've already used three tracks off Last One Picked to discuss difficult issues like bullying and self-respect with my junior high youth group. While obviously directed to young adults, this album isn't just for adolescents. I'm 25, and I have it in steady rotation. I just wish I had it when I was 12 and always the last one picked.
Read the original review here.
Sixpence None the Richer
Reprise / Warner Records
As I listen to Divine Discontent again to explain why its one of my favorites this year, I realize I'm falling for it more and more. Right now, I respect it even more than I did when I listened yesterday. As with the other top five albums on my 2002 list, the songwriting is the strong suit on this follow-up to the self-titled 1998 breakthrough. Matt Slocum and Leigh Nash's lyrics are very poetic and thought provoking. One of my favorite lines comes from "Down and Out of Time": "I saw you sitting in a room without me / You were smiling and you had a tattoo / of me, in a room without you." What best sells the record's reflective themes of dissatisfaction with our earthly reality is Nash's compassionate, innocent, and wonder-filled vocals. You can't help but follow her with interest in this engrossing journey through indecision, failure, pain, and worship. The excellent acoustic rock/folk musicianship and lyrical content on Divine Discontent shows Sixpence at its best yet. Albums as stirring, deep, polished, and pretty as this don't come around often. I'm ready to listen again.
Read the original review here.

Daily Planet
Reunion Records
Daily Planet's Hero is one of those CDs that will have you singing along by the end of songs as though they were old favorites, even if you've never listened to them before. This modern roots rock album is well crafted, engrossing, and relatable. I honestly can't think of one change I'd make. More than any other disc this year, I find that the tracks stay consistent with a defined "band sound" without running together into monotony. To get an indication of Daily Planet's songwriting, take "Tangled Web," a moody and driving rock song advocating that, "right now the world needs a hero." While the song displays the band's musical depth, professional polish, and full sound, the ending also reveals the careful attention Daily Planet lends to tracks. As the song ends, the drums and guitars give a little "bum-bum-bum-bummm" reminiscent of the dramatic flourishes used as a scene transition in old superhero television shows. This same knack for detail is evident in "Six-String Rocketeer," which includes several clever classic rock rifts to match the song's lyrical references to specific artists and tunes. This also shows how much fun the four guys of Daily Planet are having on this record. But their lyrics take on heavy subjects such as inappropriate role models, doubting God, and divorce, but answer them with positive and Godly conclusions. This is a surprisingly sharp, rich sounding, and quality rock debut to have fun with.
Read the original review here.

Sara Groves
INO Records
It didn't surprise me much that, at a recent Sara Groves concert, the singer/songwriter talked almost as much as she sang. At one point, she even stopped to move her piano so she could better see the whole audience while addressing them. It's obvious that the former English teacher's strength lies in relating to those listening and putting her thoughts into words. All Right Here is a collection of thirteen stirring tracks with depth, emotion, and revelation about the processes God works us through and the relationships we build. On this inspirational piano and guitar-based folk project, Groves shows that she is one of the most gifted songwriters and storytellers in music today. I often have a hard time putting my thoughts into words, and Sara Groves is one of those writers who I read (or hear) and say, "Yeah, that's it! That's exactly how I feel." Take the opening track, "Less Like Scars," written by Groves and producer Nate Sabin: "Healing changes are subtle / But every day it's / Less like tearing more like building/ Less like captive and more like willing." When making up my list of the best albums of the year, I saw a definite preference toward the works of rock bands. But when I considered what album I have recommended the most, listened to more regularly, and been most affected by, I knew that All Right Here was unquestionably my favorite disc of the year.
Read the original review here.
Browse All Music Reviews By: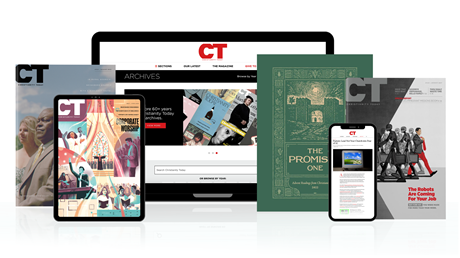 Annual & Monthly subscriptions available.
Print & Digital Issues of CT magazine
Complete access to every article on ChristianityToday.com
Unlimited access to 65+ years of CT's online archives
Member-only special issues
Subscribe
Top 12 Christian Albums of 2002
Top 12 Christian Albums of 2002