Bob Jones University: Don't call us fundamentalists
In his latest "President's Corner," Bob Jones University head Bob Jones III says the word fundamentalist has become co-opted. "Bob Jones University is unashamedly Fundamentalist, but the term is beginning to carry an onerous connotation with the world at large because of the media's penchant for lumping Christian Fundamentalists in the same heap as Islamic Fundamentalists," he writes.
Instead of Fundamentalism defining us as steadfast Bible believers, the term now carries overtones of radicalism and terrorism. Fundamentalist evokes fear, suspicion, and other repulsive connotations in its current usage. Many of us who are separated unto Christ feel it is appropriate to find a new label that will define us more positively and appropriately. It is too early in the process to know what term may ultimately be embraced by the majority, but I like Preservationist.
This may prove to be an important split. To quickly sum up (and oversimplify) the last 125 years or so of conservative Christianity: battles over biblical inerrancy and other important theological flashpoints formed a split between "Modernists" and "Fundamentalists." This latter group was named largely after the publication of The Fundamentals, a series of 12 booklets published between 1910 and 1915 that outlined core conservative doctrines. After World War II, leaders like Billy Graham still wanted to affirm these doctrines, but believed Christian fundamentalism had become too isolationist. In a recent Christian History profile of Graham, biographer William Martin wrote,
The enduring break with hard-line fundamentalism came in 1957, when, after accepting an invitation from the Protestant Council of New York to hold a crusade in Madison Square Garden, Graham announced, "I intend to go anywhere, sponsored by anybody, to preach the gospel of Christ, if there are no strings attached to my message. … The one badge of Christian discipleship is not orthodoxy but love. Christians are not limited to any church. The only question is: are you committed to Christ?"
Fundamentalists attacked Graham as assisting liberals, and the split has never really healed. This, of course, is a very quick summary. For more, check out Christian History's issue on early fundamentalism and Joel Carpenter's Revive Us Again: The Reawakening of American Fundamentalism (CT review | purchase). In fairness, Jones paints a slightly different history:
Until the late 1940s, the strongest Bible believing Christians distinguished themselves from religious liberals by the term Evangelicals. When the strongest Evangelical group of the day, the National Association of Evangelicals (NAE), slowly began a leftward turn, which has accelerated unto the present day, those who wished to be more steadfast and less ecumenical began identifying themselves as Fundamentalists.
In any case, since the fundamentalist-evangelical split, fundamentalists like Jones have tended to wear the label with pride. "In recent years," says the Associated Press Stylebook, "fundamentalist has to a large extent taken on pejorative connotations except when applied to groups that stress strict, literal interpretations of Scripture and separation from other Christians. In general, do not use fundamentalist unless a group applies the work to itself." Until now, Bob Jones University was one of those. But now with the most prominent of the fundamentalist institutions seeking to abandon the term (there are still churches that wear the label with pride, but few institutions remain willing to do so), it may be time to retire the word for good.
Maundy Tuesday?
Unless you have a subscription to The Wall Street Journal, you won't be able to read its fascinating piece on changing Holy Week schedules. "Call it flexible praying," writes Nancy Ann Jeffrey.
With spring's main religious celebrations coming up, a small but growing number of churches and synagogues are taking the unusual tack of rejiggering worship schedules for busy congregants. They're moving the pre-Easter "Maundy" service from the traditional Thursday to Tuesday (for less-hectic Easter weekends), holding Passover seders on the obscure third and fourth nights of the holiday week, and in some cases closing their doors on Sunday. The United Methodist Church alone says 30% of its 35,000 U.S. congregations now celebrate some part of the Easter service at an untraditional time, double the number in 1997.
Traditionalists—actually, lots of folks—think it's crazy. "This is just playing fast and loose with the Christian calendar," says Presbyterian Church (U.S.A.) spokesman Jerry Van Marter, who has never exactly been known as Mr. Traditional Values. "Maundy Thursday is the Thursday before Easter. Why … would you have it on Tuesday?"
Not St. Patrick
Sure, make the interesting religion article unavailable, but run an incorrect one for free. The Wall Street Journal does offer "The real St. Patrick" by Julia Vitullo-Martin on its free OpinionJournal.com site, but don't bother. In an effort to reclaim St. Patrick's Day from the drunken revelers, Vitullo-Martin writes that the former slave "borrowed the Druid shamrock to explain the Trinity and approved of bonfires, lit by the Irish in homage to their gods, in Easter celebrations. He created the Celtic cross by centering a pagan sun on a Christian cross." Uh, no, no, no, and no.
More articles
Life ethics:
Politics:
Church & state:
Persecution:
Education:
Sex & marriage:
Priest, parishioner shot in Long Island:
Crime:
Templeton Prize winner
Missions & ministry:
Abuse:
Church life:
Personalities:
Religion in America:
Pop culture:
Giving up turtle meat for Lent?
Related Elsewhere
See our past Weblog updates:
March 14 | 13 | 12 | 11
March 8 | 7 | 6 | 5 | 4
March 1 | February 28 | 27 | 26 | 25
February 22 | 21 | 20 | 19 | 18
February 15 | 14 | 13 | 12 | 11
February 8 | 7 | 6 | 5 | 4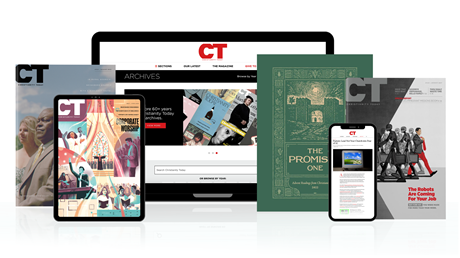 Subscribe to Christianity Today and get access to this article plus 65+ years of archives.
Home delivery of CT magazine
Complete access to articles on ChristianityToday.com
Over 120 years of magazine archives plus full access to all of CT's online archives
Subscribe Now
The End of Christian Fundamentalism?
The End of Christian Fundamentalism?