At anniversary of abduction, bad news for Burnhams
Expect many media outlets to offer articles on the one year anniversary of Martin and Gracia Burnham's abduction by the militant Muslim Abu Sayyaf group, which arrives on Monday. Weblog will round up these stories Tuesday (sorry, no postings on Memorial Day). But several articles are already appearing. The Washington Times has already published its one-year retrospective of what's happened, noting that it's not much. "The Burnhams appear no closer to freedom today than the day they were captured," writes Marc Lerner. Philippine media outlet ABS-CBN News also summarizes the last year, but adds one sad latest note: the Abu Sayyaf's other hostage, Filipina nurse Ediborah Yap is reportedly suffering from severe Stockholm syndrome, and recently married one of the guerrilla leaders, Esnilon Hapilon.
Other news reports are contradictory and full of rumor. The Philippine media says Martin Burnham is so seriously ill that he's being carried on a stretcher, but New Tribes Mission denies the report. "Martin has a mild case of malaria, and is not being carried on a stretcher," a mission spokesman told The Orlando Sentinel. "We believe it is not as serious as is being reported." Another story, that different factions in the Abu Sayyaf were fighting over a ransom paid for the Burnhams, was denied by Abu Sayyaf commander Abu Sabaya. "What I can say only is that the AFP (Armed Forces of the Philippines) has run out of issues and they are making (this) up," he said on the local radio station. He did not allow the radio station to speak directly to the Burnhams, only saying that they "are in good condition."
In another development, police yesterday arrested Noor Mohammad Umog, reportedly head of an Abu Sayyaf special operations unit. Whether that will help the military find the Burnhams is questionable; many arrests have been made before, several of reported Abu Sayyaf leaders.
Meanwhile, New Tribes Mission continues to ask Christians to devote Sunday and Monday to special times of prayer for the Burnhams.
The Washington Times: Still a Moonie paper
The Washington Post devoted two articles to the 20th anniversary celebration of its local competition, The Washington Times. But it came to bury the Times, not praise it. "The party was to honor the success of the scrappy conservative daily; instead, it was dominated by [founder Sun Myung] Moon's address, titled 'The Life of Jesus as Seen From God's Will, and God's Warning to the Present Age, the Period of the Last Days,'" reported Roxanne Roberts. "Even the most charitable souls might have come away thinking that the newspaper—founded by the Unification Church leader—is a conduit for Moon's religious message, something its editors have repeatedly denied."
They continue to deny it. The Unification Church leaders "have never, ever, not even once, told any of us to put anything in the paper, nor have they ever asked us to take anything out," says Wesley Pruden. "As the editor, I have complete and total independence from the owners."
Still, the Post's Frank Ahrens quotes some of the more interesting lines from Moon's speech. He said he created the paper "in response to heaven's direction." And said the publication "is responsible to let the American people know about God. … The Washington Times will become the instrument in spreading the truth about God to the world."
"By this point [of the sermon]," Ahrens says, "several Times staffers had exited for the Hilton's bar, either because the party was alcohol-free or—possibly—because they needed a stiff drink.
Times staffers were reportedly embarrassed and humiliated by Moon's remarks.
Church and state:
Education:
Ten Commandments:
Politics:
Crime:
Spanking:
Courts & law:
Abuse scandals:
Pope John Paul II:
Catholicism:
Mideast conflict:
Sudan:
Sex & marriage:
Pop culture & material culture:
Missions & ministry:
Church life:
Other stories of interest:
Related Elsewhere
See our past Weblog updates:
May 23 | 22 | 21 | 20
May 17 | 16 | 15 | 14 | 13
May 9 | 8 | 7 | 6
May 3 | 2 | 1 | April 30 | 29
April 26 | 25 | 24 | 23 | 22
April 19 | 18 | 17 | 16 | 15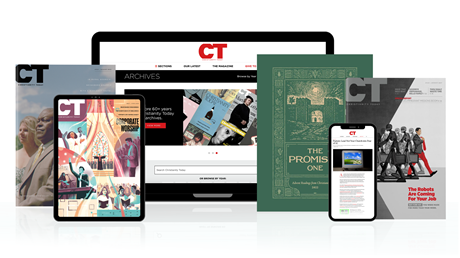 Annual & Monthly subscriptions available.
Print & Digital Issues of CT magazine
Complete access to every article on ChristianityToday.com
Unlimited access to 65+ years of CT's online archives
Member-only special issues
Subscribe
The Burnhams, One Year and Counting
The Burnhams, One Year and Counting