Several years ago Bruce Feiler headed off to the Middle East for a journey that became a bestseller titled Walking the Bible. His new book, Abraham (Morrow), explores three religious traditions which share the ancient patriarch.
Did you set out to write about Abraham as a possible way for Islam, Christianity, and Judaism to connect?
No, not at all. Walking the Bible describes the year that I spent retracing the five books of Moses through the desert, and I was actually working on a follow-up, which would look at the rest of the Hebrew Bible and the New Testament. Then I was in New York and got a call from my brother on the morning of September 11. He said: "Look outside your window."
We began to hear these questions: Who are they? Why did they hit us? Can the religions get along? And one name echoed behind those conversations. One man stood at the heart of these religions that suddenly seemed to be at war. Abraham is the shared ancestor of Judaism, Christianity, and Islam. He stands at the heart of these three faiths. And yet you know almost nothing about him.
The reason that this matters is because if we're going to understand that this ultimately is a family feud, then we have to understand that we have all grown up with our own tradition. And if we want to begin the process of reconciliation, then in some ways we have to do an Abrahamic thing: leave our own tradition and go forth to this destination where God calls us. This is the land where all the families of the earth are blessed by one man.
In your research, what did you learn about the historical Abraham?
There's no archaeological evidence that any of the events in the first five books ever took place. So we don't know that Abraham lived. In some ways that's not surprising, because he was wandering from place to place, living in tents, eating on rugs. The text doesn't say he ever wrote anything down. So what would he have left behind?
While you'd think that would be a problem for the religions, it's proved to be this great opportunity, because each of the religions essentially just chucked out the initial story and made up an Abraham for itself. I don't know if Abraham existed then, but I know he exists now.
How do the three religions see God's covenant with Abraham differently?
God says to Abraham those great and powerful words of Genesis 12: "Go forth from your father's house, from your father's land, to the land that I will show you. And I will make of you a great nation. And I will bless you." He goes on to say, "I will bless those who bless you and curse him that curses you. And all the families of the earth shall bless themselves by you."
Jews see it as the beginning of Abraham, Isaac, and Jacob, and the beginning of that family line. Paul liked that moment in particular because it showed that Abraham had faith. Muslims tend to emphasize that Abraham submitted himself to God.
To have a son, Abraham makes the leap that God requests, goes down to the Promised Land, goes down to Egypt. Decades pass. Still no son. So Sarah takes matters into her own hands and gives Hagar to Abraham. She gives birth to Ishmael. Should be the end of story. But as soon as Ishmael is born, Sarah gets pregnant and gives birth to Isaac. And so now we have two sons.
Sarah forces Abraham to kick Ishmael off into the desert. Abraham doesn't want to because Ishmael is his firstborn son. Again, even in Abraham's reluctance, we see the love is still there. But Abraham does so only after God says, "Don't worry, I'll continue to bless Ishmael and his children."
I think what you've got there is, first of all, the split that we all face. Muslims consider themselves descended from Ishmael, Jews and Christians from Isaac. But I think it is important to understand that there is a careful balance in the story. Isaac gets the land and the covenant, but in part through the malice of his mother. Ishmael goes off into the desert. His mother is treated in an exalted way, and he never leaves the realm of Abraham's love or of God's blessing.
Ishmael goes off into the desert. And actually, the Jewish tradition and Muslim traditions agree that Abraham went to visit Ishmael when he was in the desert. According to the Muslim tradition, during one of those visits Abraham and Ishmael build the Ka'ba, that's the big black stone in the middle of Mecca, which had been built by Adam and lost in the flood. Abraham reconstructs it and then calls all Muslims to make the pilgrimage.
Why is it that Abraham becomes an important figure in each religion?
God blesses Abraham, both of his children, and all of their descendants. At the heart of it is a message of unity. But what happens is over time is that each of the religions tries to elbow one another aside and claim Abraham for itself. In fact, every generation has done this for 2,500 years.
Jews came first and in the early years stressed the universal message of Abraham. But over time, as they began to feel oppressed, Jews say, "Well, actually we want to keep Abraham for ourselves." So suddenly Abraham's the reason God created the world. Abraham becomes the reason for Passover, which came with Moses, who lived a thousand years after Abraham died. Abraham even keeps kosher, even though the laws of kosher were not invented until 2,000 years after Abraham died. In other words, Abraham, who lives 1,500 years before the birth of Judaism, suddenly becomes a Jew.
The religion most exclusive about Abraham is Islam.
Yes. This is more radical, I think, than the Christian or Jewish exclusivity because it [says that] Abraham doesn't even belong to these others. It can get vicious. I went to see an imam deep in east Jerusalem who quoted Hitler to me and spewed hatred. He's the one who most strongly said to me during my research that Abraham was Muslim and that's the only way to be.
What does Abraham offer us after 9/11?
We face a choice. We're going to have open conflict among the religions or we're going to have to begin a process of dialogue. And I believe that Abraham can advance that conversation. It's going to be difficult. I can't promise that it's going to work, but I think failure here is not an option.
If you want to understand the roots of 9/11, or understand your own neighbor, or your own relationship with God, come on this journey with me. Abraham got into the center of that, and he contains the seeds of hope.
Related Elsewhere
Visit DickStaub.com for audio and video of his radio program (4-7 p.m. PST), media reviews, and news on "where belief meets real life."
Earlier Dick Staub Interviews include:
Connie Neal | The author of The Gospel According to Harry Potter talks about leading a friend to Christ through the wizard hero. (Nov. 18, 2002)
Chris Rice | The author of Grace Matters talks about his friendship with racial reconciliation leader Spencer Perkins, his former coauthor and best friend. (Nov. 12, 2002)
John Polkinghorne | The 2002 Templeton Prize winner sees the Bible as "the laboratory notebook" of the Holy Spirit. (Nov. 5, 2002)
Ruth Tucker | The professor and author of Walking Away from Faith talks about doubting God. (Oct. 29, 2002)
Vishal Mangalwadi | The author and lecturer talks about how the Bible shaped India, Western democracy, and his life. (Oct. 22, 2002)
Dave Alan Johnson | The creator of Doc talks about balancing entertainment with spiritual depth and TV shows with evil plumbers. (Oct. 15, 2002)
Chuck Palahniuk | The author of Fight Club talks about his new book and the need to see culture not on a TV set but by talking to neighbors. (Oct. 8, 2002)
Article continues below
Frederica Mathewes-Green | The author of Facing East and The Illumined Heart talks about her spiritual journey and transformation. (Oct. 1, 2002)
Chris Seay | The author of The Gospel According to Tony Soprano talks about men who want to be in the "Christian mafia." (Sept. 24, 2002)
John Sloan | The author of The Barnabas Way says Christians need to kiss more frogs and reconsider their prayers for blessings. (Sept. 17, 2002)
Nancy Guthrie | Two years after sharing her story of Hope with Christianity Today, the modern Job tells of losing another child to Zellweger Syndrome (Sept. 10, 2002)
Stephen L. Carter | The Yale University law professor and author of The Emperor of Ocean Park talks about the lack of religious characters in modern fiction (Sep. 3, 2002)
Francine Rivers | The fiction writer says she starts each book with a question that she doesn't know the answer to. God provides the ending. (Aug. 27, 2002)
Ben Heppner | The acclaimed dramatic tenor speaks about getting into opera, his faith, and P.O.D. (Aug. 20, 2002)
Morton Kondracke | The political commentator talks about how being saved from alcoholism, and trying to save his wife from the ravages of Parkinson's. (Aug. 13, 2002)
Mike Yaconelli | The author of Messy Spirituality discusses God's "annoying love." (Aug. 6, 2002)
David Brooks | The Weekly Standard senior editor talks about the spiritual life of Bobos. (July 30, 2002)
Calvin Miller | The author of Jesus Loves Me: Celebrating the Profound Truths of a Simple Hymn talks about childlike faith (July 23, 2002)
Kathleen Norris | The author of The Virgin of Bennington talks about being found by God in the midst of sex, drugs, and poetry. (July 16, 2002)
Thomas Moore | "To really live a secular life and enjoy it is part of being a religious person," says the author of Care of the Soul and The Soul's Religion (July 9, 2002)
Os Guinness | Whether we're seeking or have already been found, we're all on a journey. (July 2, 2002)
Oliver Sacks | The physician author of Awakenings talks about his Orthodox Jewish upbringing, order in the universe, and testing God. (June 25, 2002)
David Myers | People say they know money can't buy happiness, says the Hope College psychology professor. But they don't truly believe it. (June 18, 2002)
Richard Lewis | The comedian, actor, and author talks about his humor, addiction, and spiritual journey. (June 11, 2002)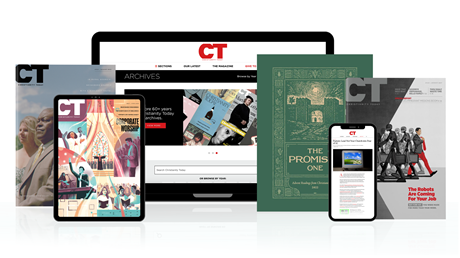 Annual & Monthly subscriptions available.
Print & Digital Issues of CT magazine
Complete access to every article on ChristianityToday.com
Unlimited access to 65+ years of CT's online archives
Member-only special issues
Subscribe
Bruce Feiler
Bruce Feiler