Rev. Dr. John Polkinghorne worked for years as a theoretical elementary particle physicist and then a mathematical physics professor at Cambridge University before resigning to train for ministry in the Church of England. Earlier this year, he was awarded the 2002 Templeton Prize for progress in religion. He is the author of The Faith of the Physicist (1994), Belief in God in an Age of Science (1999), and Faith, Science and Understanding (2000).
At what point did science emerge as a passion in your life?
I went to Cambridge to study mathematics, and during my undergraduate time I got interested in the fact that you could use mathematics to understand the physical world. And so when I came to do a Ph.D., I did it in theoretical physics. That led me onto my career in that area. I enjoyed doing all that very much, but after 25 years of it I felt I had done my bit for science and I would try and do something else.
Was there ever a conflict for you between science and faith?
I've never felt an either/or situation that I had to choose either my science or my religious belief. Of course, there are puzzles about how the two relate to each other, and I tried to think about those during my science days. And, of course, I've thought a great deal more about them since then.
I try to hold the two together as far as I can myself. I want to be, so to speak two-eyed: looking through my science eye and my religious eye at the same time. I'm glad that I'm both a physicist and a priest and, though I'm puzzled by how those aspects of me fit together, I want to hold them in dialogue with each other.
Why should a scientist believe that theology has a place at the academic table?
I think all scientists are imbued with a thirst for ...
1
The Dick Staub Interview
Dick Staub was host of a eponymous daily radio show on Seattle's KGNW and is the author of Too Christian, Too Pagan and The Culturally Savvy Christian. He currently runs The Kindlings, an effort to rekindle the creative, intellectual, and spiritual legacy of Christians in culture. His interviews appeared weekly on our site from 2002 to 2004.
Previous The Dick Staub Interview Columns: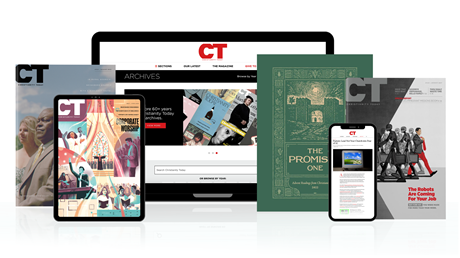 Subscribe to Christianity Today and get access to this article plus 65+ years of archives.
Home delivery of CT magazine
Complete access to articles on ChristianityToday.com
Over 120 years of magazine archives plus full access to all of CT's online archives
Subscribe Now
Interview: John Polkinghorne
Interview: John Polkinghorne