Chi Ha-yang, an elderly North Korean widow, waited for night to fall before meeting secretly with three friends and sneaking across the North Korean border to China.
At age 76 Chi Ha-yang commands respect for her many years as a Christian in North Korea. Some call her a "mother of the North Korea church." Ill and hoping to tell others of Christ's work in North Korea, Ha-yang believed it was time to escape.
"Go," she prodded her friends as they hurried through the darkness. They were headed toward a secret crossing point along the 350-mile northern border separating North Korea from Manchuria.
Refugee Crisis
At the end of last year, China harbored 50,000 North Korean refugees. Others are in Russia or Mongolia. Severe malnutrition, religious persecution, and extremely poor medical care are driving North Koreans to flee.
Chi Ha-yang was one of about 600 North Koreans during the past year to make the even more hazardous passage from China to South Korea.
Norbert Vollertsen, a German physician whose book Diary of a Mad Place is about his recent work inside North Korea, told Christianity Today that he hopes the surge of refugees will bring about a political crisis within North Korea, triggering major reform.
There is "electric fear," Vollertsen said. "North Korea is afraid of a Romanian-style collapse." Rebellion in Romania toppled its communist regime in 1989, and ruler Nicolae Ceausescu was convicted of genocide and executed.
Several years ago, North Korea gave Vollertsen a medal for his medical service. But Vollertsen knew he had to do more than care for broken bodies. He saw the devastating effects that famine and endless repression had on 22 million North Koreans, whom he has described as depressed.
"I tried my own personal engagement policy," he said. As a physician for leaders of the regime, he had great access but little effect. The regime kicked him out last year for speaking out on human rights.
Vollertsen said North Korea's situation might be compared to East Germany in 1989. After East Germany allowed its citizens to travel freely, its government voted for reunification less than a year later.
With a goal of stimulating dramatic change, Vollertsen has helped North Korean refugees seek asylum inside Western embassies in China. This activity has earned him accolades from members of the U.S. Congress and condemnation from Chinese communists. At least 60 North Koreans this year have escaped using the embassy-asylum route.
Communist-controlled media in China blame Christians, among others, for making the overall refugee problem worse by both helping North Koreans get into China and helping them escape China to freedom.
In a June 21 article, the Chinese magazine 21st Century World Report said, "Helping North Koreans escape secretly into China, rush into embassies, and then reach South Korea is actually the 'commission' of these extremist Christian organizations."
In Western countries, the plight of North Korean refugees has drawn the attention of a coalition of religious and human-rights groups. For example, the National Association of Evangelicals in May declared that North Korea is "more brutal, more deliberate, more implacable, and more purely genocidal" than any other nation.
Evangelical Priority
The emergence of North Korea as a priority for evangelicals dates to the famine of 1995 to 2001, in which 2 million people died. Presbyterian missionary Sue Kinsler was there. "The 10-year-olds looked 7 or 8. The 3- or 4-year-olds looked 2 or 3," she said. Some children swam across the Chinese border at the polluted Tumen River, then collapsed and died.
Christian mission agencies dispatched hundreds of staff and volunteers. Relief agencies poured in supplies. "The government became dependent on the help from the outside to meet certain needs," says Gary Snyder, a North Korea specialist at the Asia Foundation in Seoul.
After the famine subsided, Christians across the border in northeast China saw the trickle of refugees grow into a steady stream. Christians helped them with food, housing, and medical care. Some of the new arrivals became Christians and, after a period of discipleship, returned to North Korea. In other instances, Christians (ethnically Korean but Chinese nationals) smuggled out refugees. "Many quietly disobey the government in obedience to a higher calling of compassion," said Xu Mei in a recent Compass Direct news account.
Government Crackdown
Communist leaders in China and North Korea, historically close allies, have intensified their crackdown on refugees and those who aid them. In late 2001, Chinese border guards arrested Chun Ki-won, the South Korean Christian who helped an estimated 170 North Koreans escape to South Korea beginning in 1999.
His arrest touched off a global campaign to secure his release. Americans Doug Shin, supported by Calvary Chapel ministries in California, and Tim Peters of Helping Hands Korea buttonholed political leaders in Washington and around the world to pressure the Chinese to liberate Chun. In August the Chinese government finally freed the 46-year-old, who had spent eight months in jail and had paid a heavy fine.
"I found my mission when I first saw North Korean women in China who had been captured by sexual traffickers," Chun said in an interview with CT. He fears that the North Koreans he was guiding at the time of his arrest may end up back in North Korea, where they face up to seven years of prison or even execution.
The city of Yanji (population 175,000) is the capital of the Korean Autonomous Region of China. Twenty miles from the North Korean border, it is a key gathering point for refugees after they leave North Korea and for Christians who minister to them.
According to Korean missions experts in Seoul, at least 600 Christians are active in refugee outreach in the region. Christianity is a vital force in Yanji. A Presbyterian elder from North Carolina heads the local university. Hundreds of Christian-run schools, Bible institutes, orphanages, and old-age homes operate in the province.
Rebuilding Together
Within the region, some refugees stop at the Doorae Farm. The farm has 1,000 acres of corn, well water, and Bible teaching.
Doorae Farm's motto is "Together we can build." It provides care both to refugees and to some of the 100,000 homeless people in North Korea. Each month, the farm ships a carload of grain, potatoes, and sugar to North Korea from its fields inside China.
James Gang, Doorae's director, told CT that at first the farm gave money to North Korea. "But three-quarters of the time, we had problems," he said. "So, we changed. Now, we pack everything up securely in one train car."
Mr. Yoon, a Chinese Korean who works with refugees, told CT that more refugees are eager to become missionaries. "One young man read through the Bible several hundred times before going back to North Korea," said Yoon, who uses a pseudonym because of security concerns. Young people can go back and forth over the border relatively easily. "They take a bag of food, some Bibles, and something for the border guards, and they are off."
Young North Korean refugees are not the only ones longing to return to their troubled homeland. In an interview after her arrival in South Korea, Chi Ha-yang said she wants to help believers still inside.
As the widow of a senior North Korean official, Chi Ha-yang witnessed brutality against Christians and watched the bloody execution of seven believers. "Like the crucifixion, their hands were pierced through with iron wire," she recalled.
After Chi Ha-yang became a Christian, authorities beat her publicly. At one beating, Chi Ha-yang "prayed to God in my heart for help." Suddenly the lights went out, and the man who was beating her stopped.
Before her flight from North Korea, she wrote a note to a close friend: "I have kept seven Bibles." She brought one of them during her flight to freedom. "I buried the other six in North Korea for the day of our return."
Related Elsewhere
For more articles and resources, see Yahoo's full coverage area on the North Korea.
Previous Christianity Today articles on North Korea include:
Forgotten GulagWhat you can do to help persecuted Christians. (August 6, 2002)
South Koreans Help Neighbors (Aug. 9, 1999)
Famine Toll Exceeds 1 Million (Oct. 5, 1998)
Editorial: North Korea's Hidden FamineThe poor and the weak should not have to starve due to the policies of their government. (May 19, 1997)
Evangelicals Plead for Korean Aid (April 7, 1997)
Have something to add about this? See something we missed? Share your feedback here.
Our digital archives are a work in progress. Let us know if corrections need to be made.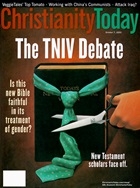 This article is from the October 7 2002 issue.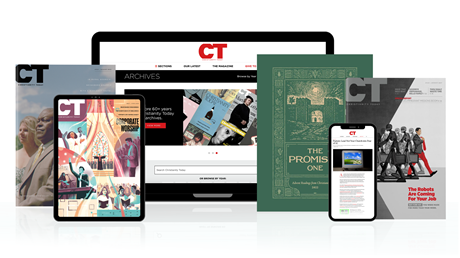 Annual & Monthly subscriptions available.
Print & Digital Issues of CT magazine
Complete access to every article on ChristianityToday.com
Unlimited access to 65+ years of CT's online archives
Member-only special issues
Subscribe
North Korea: Christians on the frontlines help refugees escape a nightmare.
North Korea: Christians on the frontlines help ...