International religious freedom report released
The State Department's fourth annual Report on International Religious Freedom, released yesterday, names the usual suspects of inhibiting freedoms—Burma, China, North Korea—but also cites France, Belgium, and Germany for monitoring or discriminating against religious minorities.
The report says they are part of "a trend in Western Europe" that stigmatizes certain religions by officially and wrongfully associating them with dangerous "sects" or "cults."
As in 2001, the report names China, Cuba, Laos, Burma, North Korea, and Vietnam as totalitarian and authoritarian regimes that "regard some or all religious groups as enemies of the state." Seven other countries—Iran, Iraq, Pakistan, Saudi Arabia, and Sudan—are listed as governments hostile to specific religious groups.
The State Department report highlighted Afghanistan and Egypt as countries with improvements in religious freedom.
The International Religious Freedom Act of 1998 requires the State Department to produce such a report each year and to designate "countries of particular concern" (CPCs). These designations have yet to be made for 2002. However, the independent U.S. Commission on International Religious Freedom recommends that this year's CPCs include Burma, North Korea, India, Iran, Iraq, Laos, Pakistan, China, Saudi Arabia, Sudan, Turkmenistan, and Vietnam.
There's Something Wrong with Evil
In the New York Times Book Review, "Close Reader" columnist Judith Shulevitz notes that the word evil is "fast edging out" regime change as "buzzword of the year." Considering that the President began talking about evil and the axis of evil long before preheating the oven for an attack on Iraq, Weblog marvels at her tardiness.
Nevertheless, she scores some points against the relativists. Shulevitz is playing off a "modern" tendency to understand human evil by integrating intent into our moral calculus. Modern thinkers also tend to psychologize evil—to try to understand even the most offensive behavior in terms of the inner dynamics that are more or less common to all people. But too much attention to intent and psychodynamics merely leads to relativism. Take Eichmann and Hitler—if they meant well, does that in any way diminish their evil?  Or take bin Laden—if his planning of the September 11 attacks was an outgrowth of sincerely held religious beliefs, does that somehow make the attack less iniquitous?
Shulevitz opts for moral absolutism, which she says is genuinely "postmodern." Evil acts, regardless of intent or motivation, are evil. Discovering that al Qaeda terrorism or Palestinian suicide bombings are done by people who think they are doing right "doesn't make them less evil, but it does make them more terrifying."
Shulevitz concludes, "What matters is whether your beliefs are the correct ones, and we figure that out … by examining what your belief leads you to do." As Jesus said, "By their fruits ye shall know them."
More articles
Sex abuse crisis:
Archbishop of Canterbury:
Church and state:
Church life:
Catholicism:
Related Elsewhere
Suggest links and stories by sending mail to weblog@christianitytoday.com
See our past Weblog updates:
October 7
October 4 | 3 | 2 | 1 | September 30
September 27 | 26 | 25 | 24 | 23
September 19 | 18 | 17 | 16
September 13 | 12 | 11 | 10 | 9
September 6 | 5 | 4 | 3
August 30 | 29 | 28 | 27 | 26
August 23 | 22 | 21 | 20 | 19
August 16 | 15 | 14 | 13 | 12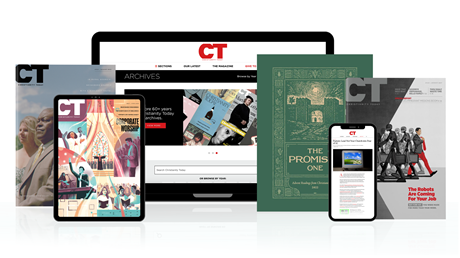 Annual & Monthly subscriptions available.
Print & Digital Issues of CT magazine
Complete access to every article on ChristianityToday.com
Unlimited access to 65+ years of CT's online archives
Member-only special issues
Subscribe
France, Germany Chastised in Religious Freedom Report
France, Germany Chastised in Religious Freedom Report