The United States government has been in a flurry of activity since 9/11. During the past year, in the words of the Department of Homeland Security website, the government has:
Deployed more than 4,000 FBI special agents and 3,000 support staff to the international investigation of the September 11 terrorist attacks—the largest criminal investigation in history.


Deployed more than 9,000 National Guard troops to help secure the nation's airports.


Dispensed antibiotics to thousands of people potentially exposed to anthrax mail attacks.


Acquired more than a billion doses of antibiotics and signed agreements for the procurement of the smallpox vaccine.


Provided round-the-clock security at 348 dams and reservoirs and 58 hydroelectric power plants, including the Hoover, Grand Coulee, Glen Canyon, and Shasta dams.


That's an impressive response—and only a small part of a very long list of measures. The $10 billion-plus for these protections has been money well spent. Terrorism is not a fad that extremists will soon tire of. It's been brewing for decades. Anthony Lake, in Six Nightmares: Real Threats in a Dangerous World and How America Can Meet Them (Little, Brown, 2000), details the recent history of U.S.-based terrorists (such as Aryan Nation) turning to chemical weapons of mass destruction.
Internationally, the problem is more frightening. One reason the Bush administration is making noises about invading Iraq is that nation's public acknowledgment of its chemical weapons reserve.
In the 1990s, Iraq declared it had 2,245 gallons of anthrax, 5,125 gallons of botulinum toxin, and 4 metric tons of the nerve agent VX—all of which combined could kill everyone on Earth several times over. Since Saddam Hussein turned away weapons inspectors four years ago, these substances—among others in Iraq—remain unaccounted for.
It doesn't take an expert in espionage to see that the threat we face is neither new nor small. The destruction of the World Trade Center was only a spectacular moment in a growing number of terrorist attacks. So thank God, and thank the government for pouring so much money into national security.
Trusting in the Wrong Things
Unfortunately, it's not enough. To put it in the words of the Psalmist, "Unless the Lord protects a city, guarding it with sentries will do no good" (127:1).
Government has a divine mandate to protect its people, and it is the way of modern government to depend on a flurry of effort and technology to protect its citizens. This is the sort of thing citizens should rightly expect of their leadership. But we should also expect leaders, especially Christian ones, to at least hint at a vision of security that transcends the technological. At a recent speech at Argonne National Laboratory in Illinois, President Bush, who knows better, slipped into some unfortunate rhetoric: "In this new war, we will rely upon the genius and creativity of the American people. And that's why I'm here, to look in the eyes of those who possess the genius and the creativity of the American people. Our scientific community is serving on the front lines of this war, by developing new technologies that will make America safer."
To be sure, it was a pep talk to a scientific community, and on other occasions he has pointed his listeners to God. Regardless of the genius, creativity, and technologies of a people, the sobering fact of history is that the Lord, in his unfathomable ways, allows great nations to suffer great harm.
Indeed, for nations that proudly depend on their own wisdom and strength, it is a biblical promise that "the Lord of hosts has a day against all that is proud and lifted up—and it shall be brought low … against every high tower and against every fortified wall" (Isa. 2:12, 15).
"The evil in human history is regarded as the consequence of man's wrong use of his unique capacities," Reinhold Niebuhr wrote 50 years ago. "The wrong use is always due to some failure to recognize the limits of his capacities of power, wisdom, and virtue . …The God of the Bible is, like Zeus, 'jealous.' But his jealousy is aroused not by the achievement of culture and civilization. Divine jealousy is aroused by man's refusal to observe the limits of his freedom."
We are not to cease fighting terrorism with all the power, wisdom, and virtue at our disposal. But ultimately it is not terrorism we should fear.
"For the Lord spoke thus to me with his strong hand upon me," wrote Isaiah, "and warned me not to walk in the way of the people, saying, 'Do not call conspiracy all that this people calls conspiracy, and do not fear what they fear, nor be in dread. But the Lord of hosts, him you shall regard as holy. Let him be your fear, and let him be your dread' " (8:11-13).
A people who imagines that the worst thing that could happen is a massive anthrax attack has a limited imagination. Likewise, a nation that thinks the path to security is based on genius and creativity is a nation on the path of self-destruction.
Article continues below
Related Elsewhere
The website for the Department of Homeland Security has more information on U.S. response to terrorism and more.
Six Nightmares: Real Threats in a Dangerous World and How American Can Meet Them is available at Amazon.com.
Christianity Today essays on Christian response to terrorism and the events of September 11 include:
Ten Things We Should Have Learned Since September 11, 2001We can't turn a blind eye to Islam, evangelism, heroism, and our Christian calling. (Sept. 10, 2002)
White-Powder WorriesThe anthrax scare has put us on edge. How shall we deal with wartime fears. (November 11, 2001)
Judgment DayGod promised that calamity would follow disobedience. So why are we quick to dismiss it as a reason for the September 11 attacks? (Sept. 25, 2001)
Now What?A Christian response to religious terrorism. (Sept. 21, 2001)
To Embrace the EnemyIs reconciliation possible in the wake of such evil? (Sept. 21, 2001)
After the Grave in the AirTrue reconciliation comes not by ignoring justice nor by putting justice first, but by unconditional embrace. (Sept. 21, 2001)
Books & Culture Corner: The Imagination of Disaster"We thought we were invulnerable." Really? (Sept. 17, 2001)
Taking It PersonallyWhat do we do with all this anger? (Sept. 14, 2001)
When Sin ReignsAn event like this shows us what humans are capable of becoming—both as children of darkness and of light. (Sept. 13, 2001)
Have something to add about this? See something we missed? Share your feedback here.
Our digital archives are a work in progress. Let us know if corrections need to be made.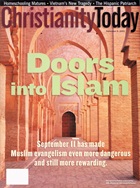 This article is from the September 9 2002 issue.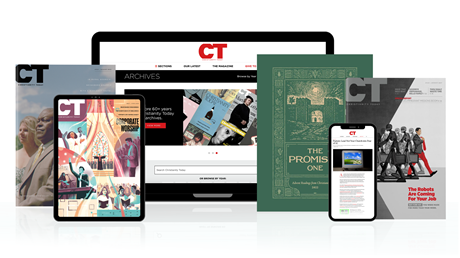 Subscribe to Christianity Today and get access to this article plus 65+ years of archives.
Home delivery of CT magazine
Complete access to articles on ChristianityToday.com
Over 120 years of magazine archives plus full access to all of CT's online archives
Subscribe Now
Transcending Security
Transcending Security