Are megachurches the next suburban bogeymen?
Anyone involved in building a new church—or business building for that matter—knows the difficulties of being a good neighbor. (Christianity Today's parent company is currently facing community opposition to building our new headquarters, for example.)
But perhaps the most controversial buildings, reports USA Today, are America's 700 megachurches (congregations with more than 2,000 worshipers each week). "Sprouting up in the countryside, suburbs and cities, many of these giant houses of worship are antagonizing neighbors and local officials who say the churches cause noise, traffic jams and environmental damage," writes Haya El Nasser. "Churches also are exempt from property taxes, and some communities bemoan the loss of revenue that they could otherwise collect for roads, police and other services."
Well, some might say, at least it's a church and not a McDonald's, hotel, day-care center, bank, bookstore, or health club. As the city attorney of Greenwood Village, a swank suburb of Denver, said, "If this was a Kmart, the city could've denied the special use permit without running afoul of federal law." Since it's a church, it's protected.
Only these megachurches often serve as a restaurant, hotel, bank, etc.—offering even more services than Kmart—and if they weren't in the church, they wouldn't be allowed in residential neighborhoods.
All these amenities mean that the church is busy all week long, not just Sunday mornings. Good for the church, bad for the Nimbys. But there's not much that opponents can do about it.
"Churches, protected both by the First Amendment right to freedom of religious expression and by a sweeping new federal law, are proving to be powerful adversaries," writes El Nasser. "They have filed about 50 lawsuits against local governments trying to regulate their size and location. They argue that zoning and parking restrictions infringe on the constitutional right of religious freedom because they don't allow churches to meet the needs of their growing congregations. Many lawyers expect the issue to reach the U.S. Supreme Court. For now, most of the fighting is happening in neighborhoods."
As seen recently in the "Costco church" case, existing laws are vague and open to court battles. The 2000 Religious Land Use and Institutionalized Persons Act protects religious institutions from overzealous applications of zoning laws, but allows exceptions for "compelling governmental interest." Exactly what's compelling (kicking out a church to put in a Costco has compelling governmental interest in that it brings in revenue) is still a bit unclear. Other cities claim the act violates the U.S. Constitution's Tenth Amendment.
But even a Supreme Court decision is unlikely to stop the individual neighborhood battles when Big Giant Christian Center starts making expansion plans.
Canadian bishops don't like Elvis Priestly
Dorian Baxter of Newmarket, Ontario, teaches elementary school, preaches the gospel—and impersonates Elvis Presley.
"'I have led tens of thousands of people to Jesus through the music of Elvis," he tells The National Post of Canada. "This man sung gospel better than anyone I know."
But the Post says that Baxter, an Anglican minister who also goes by the stage name Elvis Priestley, has come under fire from his bishops for his act. He's now "banned from the pulpit" of St. Jude's Anglican Church in Scarborough, and is no longer allowed to perform marriages. (He stayed serious—and in his clerical robes—during the service, but afterward he would "put on a wild red velvet suit and do a bang-up good show.")
The National Post provides no direct quotations from his critics. A July Toronto Star article, however, quotes Ferris as saying, "I feel that mixing the Anglican teaching with an Elvis ministry is in poor taste so I have asked him to relinquish the exercise of his ministry." Ferris says two other bishops have also expressed disapproval. (Thanks to onReligion.com for alerting Weblog to the National Post piece.)
Related Elsewhere
See our past Weblog updates:
September 19 | 18 | 17 | 16
September 13 | 12 | 11 | 10 | 9
September 6 | 5 | 4 | 3
August 30 | 29 | 28 | 27 | 26
August 23 | 22 | 21 | 20 | 19
August 16 | 15 | 14 | 13 | 12
August 9 | 8 | 7 | 6 | 5
August 2 | 1 | July 31 | 30 | 29
July 26 | 25 | 24 | 23 | 22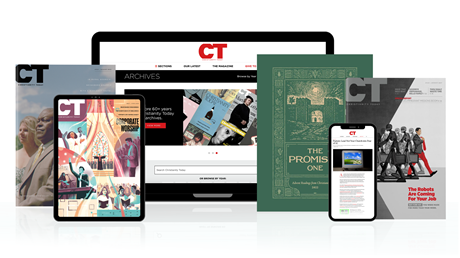 Annual & Monthly subscriptions available.
Print & Digital Issues of CT magazine
Complete access to every article on ChristianityToday.com
Unlimited access to 65+ years of CT's online archives
Member-only special issues
Subscribe
Can Megachurches Do Anything They Want?
Can Megachurches Do Anything They Want?