Editor's note: For security reasons, Christianity Today is granting anonymity to the author of this article.
Kabul has become a very, very busy place 18 months after Afghanistan was liberated. The city is full of NGOs (non-governmental organizations) that hope to help Afghans rebuild their devastated country.
Many Christian organizations have registered here with the government since the fall of the Taliban in 2002. But the situation for religious minorities is a bit complex. The U.S. State Department recently said that the situation has improved significantly for religious minorities. In one way this is true. Previously, if any Afghan was found with a Bible, the Taliban would have at the very least tortured him and put him in prison. If he had confessed to being a Christian, they would certainly have killed him. After Afghan workers for Christian groups were accused of being Christians, the Taliban were constantly threatening to kill them.
I had an old rabbi in my office yesterday. He is the only Jew left in the whole of Afghanistan and he guards the synagogue here in Kabul. I sat with him probably for two hours and he shared all the terrible things he went through during the Taliban time. He was very severely beaten at least five times and was imprisoned in Kabul's infamous Pul-e-Charkhi prison for more than 50 days. While they beat him, they demanded he become a Muslim. But he refused. Several times they threatened to kill him. He suffered a lot and showed me signs of severe beatings. It was sad to see this man who is very poor and hardly has enough money to eat. We will see how we can help him. I went to see the synagogue, where he lives, and found it terribly run down. He told me that he felt quite free and he even wants to stay here in Kabul.
Recently I was approached by the ISAF (the multinational International Security Assistance Force) here. They asked me to take them to the places where the Hindus and Sikhs are. I took the officer in charge of the German army unit to one of the Hindu temples. Afghan Hindus also told us sad stories of how they were mistreated during the Taliban time. Hindus and Sikhs left Afghanistan after being constantly threatened and having some of their possessions looted. In the summer of 2001, just before the Shelter Now International workers were arrested, the government of Afghanistan wanted to enforce a law that all non-Muslims had to wear a yellow badge on their clothes. When that ISAF officer asked the Afghan Hindus if they faced any problems at the moment, they replied that they have absolute freedom to meet. The rabbi reported the same.
As Christians from overseas, we are able to meet in our church building again. We were not allowed to do so when the Taliban were in power. We had to meet in different houses. The Taliban would not let us go back to our original church building. When it comes to Afghans confessing they have become Christians, this is still very dangerous. They could be imprisoned and even killed. The present Chief Justice of the Supreme Court, Mullah Fazul Shinwari, on one occasion openly stated that if Afghans became Christians they would have to be killed.
Last year, George Thomas, a CBN journalist, was in Kabul. He asked the Afghan Minister of Justice, Asharaf Rasooli, about changes since the fall of the Taliban. Rasooli mentioned a number of good changes that have taken place, including that girls are now allowed to go to school. When CBN asked him about religious conversion, Rasooli said, "No Muslim is allowed to convert to another religion."
In general, it is extremely dangerous for anyone who leaves Islam to publicly confess that fact. But at present, we have the ISAF troops here. So I don't think Afghan Muslims would publicly execute anyone who converted.
Constitution may ignore Christians
The government of Afghanistan is currently working on a new constitution, though none of us has yet seen it. We are praying much and we have contacted a number of government officials in the West, urging them to use their influence.
In this new constitution in Afghanistan, we would like to see Christians being respected as a religious minority. In the old constitution, only the Jews, Hindus, and Sikhs are mentioned as a minority. If an Afghan were asked whether there are Afghan Christians in his nation, he would always firmly deny it. Afghans know now that many Afghans have become Christians. If they should mention them as a protected minority in the new constitution, it would be a very important step toward religious freedom. Such inclusion would not erase religious persecution. Afghans would still face a lot of dangers for leaving their faith, but at least there would be official acknowledgment of Afghan Christians, who could then claim their rights.
What about the situation outside of Kabul? It is true that there is more lawlessness and violence, especially in areas that are chiefly Pashtun. Many former Taliban returned to their villages and are now rising up again against the present government. In a number of areas there is fighting, especially with the American and Afghan government forces. There have been a number of attacks against foreign NGOs. On March 27, Taliban extremists in Orzugan attacked and killed an expatriate worker for the International Red Cross as he was traveling through the region.
But in general, more freedom has come to all these areas since the Taliban's fall. I lived and worked here when people were living in constant fear and tremendous oppression, especially women. Now one sees schools opening for girls in many areas, more freedom of expression, one can hear music again, listen to the radio and watch television.
In some areas former warlords have remained in power and there are still changes that need to be made. But if we are patient, we will see more and more changes here. Basically, everything has been destroyed and no infrastructure remains. Government ministries have not been functioning, but many NGOs are working systematically on rebuilding those institutions. A new police force and army are being trained and, at every level of government, there is assistance from many different nations.
When you travel through Kabul City, you will see girls on the streets and women walking around going about their work again. Order has returned in almost every sphere of life. There is an incredible change that has taken place in this last year. When the Taliban ruled, the oppression was so bad the people were nearly hopeless.
Over many years, I have seen Afghans sell their property and leave, either during the communist rule, the Mujahidin period, or the final years of the Taliban. Many Afghans had lost every hope that their situation would change. The removal of the wicked and absolutely oppressive Taliban has brought about the major changes we see now in Afghanistan. Many Americans and others made deep sacrifices to remove this terrible regime. We are grateful.
Related Elsewhere
Previous Christianity Today coverage of Afghanistan includes:
Return to Kabul | Shelter Now's Georg Taubmann talks about ministry and security in the former Taliban state. (Jan. 17, 2003)
Afghanistan Before September 11 | A Christian relief worker talks about the terror inside the war-ravaged country and his prayers for change. (Sept. 10, 2002)
Double Jeopardy | Former Taliban hostages Dayna Curry and Heather Mercer talk about the risks they took, the imprisonment they suffered, and their hopes to return to 'the hardest place on Earth.' (June 28, 2002)
Article continues below
From Afghanistan Aid Workers to Hostages of the Taliban | Excerpts from Prisoners of Hope, the book by Dayna Curry and Heather Mercer with Stacy Mattingly. (June 28, 2002)
'Their Faith and Courage Has Strengthened Me' | Heather Mercer and Dayna Curry speak about Martin and Gracia Burnham. (June 28, 2002)
Moonscape with Tents | Christian relief groups step up to help destitute Afghans in remote camps. (March 3, 2002)
The Agony of the Families | As aid workers in Afghanistan went from defendants under draconian law to hostages in a war, their loved ones at home also underwent a trial. (Feb. 4, 2002)
Entrapment Suspected | Shelter Now leader believes workers were pawns in Taliban scheme. (January 18, 2002)
Heather Mercer and Dayna Curry Go Home to Waco | Church will send short-term mission to Afghanistan in the spring. (Dec. 11, 2001)
Aid Workers Urge Foreign Political Intervention in Afghanistan | Ethnic tensions and frequent violence threaten stabilization in the country. (November 26, 2001)
Agencies Scramble to Help | International relief organizations quickly work to aid Afghanistan refugees. (November 14, 2001)
Free at Last! | All 24 Shelter Now aid workers are going home. (Nov. 15, 2001)
Dayna Curry Will Celebrate Her 30th Birthday in a Taliban Prison | With trial indefinitely postponed, the future is murky for Shelter Now hostages. (Nov. 2, 2001)
Caught in the Crossfire | Family, churches press for release of American missionaries in Kabul. (Oct. 31, 2001)
In Perspective: The Friendliest Murderous Militants in the World | The Soviet Union, United States, and others helped create Afghanistan's ruling Taliban. Will the world's most Islamic state backfire? (August 30, 2001)
Aid Workers Held Captive | Taliban alleges housing group's staff engaged in evangelism. (August 30, 2001)
Diplomats Receive Visas Into Afghanistan, but Will Only Meet with Officials | Over a week after raid on Shelter Germany, future for workers still unclear. (Aug. 13, 2001)
For more articles on Afghanistan, see Christianity Today's World Report and Yahoo! full coverage.
Special Report: Afghanistan features ongoing PBS' Online NewsHour coverage of the situation in Afghanistan.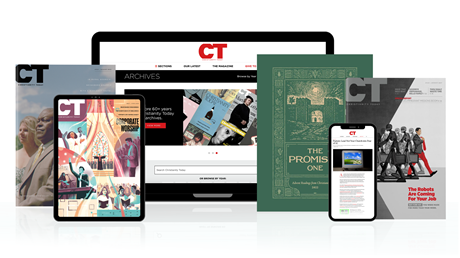 Annual & Monthly subscriptions available.
Print & Digital Issues of CT magazine
Complete access to every article on ChristianityToday.com
Unlimited access to 65+ years of CT's online archives
Member-only special issues
Subscribe
Letter from Kabul
Letter from Kabul