"We should not be at funerals every Saturday afternoon," Kenya's top health official, Charity Ngilu, recently told the Nairobi media. In 2001 an estimated 190,000 adults and children in her East African nation died of HIV/AIDS complications. As the world's eyes are fixed on combat in Iraq, we are losing ground in the war against HIV/AIDS. The rapid increase in new infections poses a lethal threat to many nations in the developing world. According to a December U.N. report, 5 million people worldwide were newly infected with HIV last year and 3.1 million died of AIDS-related causes. More than 42 million people across the world have HIV/AIDS.
The U.S. Congress, the United Nations, and the World Bank are preparing to spend millions of dollars in the fight against HIV/AIDS through faith-based organizations. But new spending does not itself vanquish HIV/AIDS. There must be a much better balance of spending priorities. Prevention programs, which stress abstinence and fidelity, should have equal standing with efforts to care for the sick and their families.
Yesterday saw a huge step forward as the U.S. House passed a bill to provide $15 billion for fighting HIV/AIDS, tuberculosis, and malaria in the next five years. An amendment requiring that a third of the program's prevention funds be used to promote abstinence received much attention and lobbying. The amendment passed, but few noted that prevention efforts receive only 20 percent of the $15 billion (55 percent goes to treatment programs, 15 percent to palliative care, and 10 percent to AIDS orphans). We rejoice that both the bill and the amendment passed, but think it's a tragedy that prevention received only a fifth of the funds.
People with HIV/AIDS should have access to a high level of care, including anti-retroviral drugs at minimal cost. But unless prevention becomes a clear priority, things are only going to get worse. Standard practice in fighting epidemic disease is to stop new infection by dramatically curbing transmission. The Hyde- Lantos bill won't do that very well. HIV is spreading explosively in developing countries. In Uzbekistan, health officials recorded nearly as many new HIV infections in the first half of 2002 as they did in the previous 10 years. In addition, social ills from illicit drug abuse and prostitution to regional warfare accelerate the spread of HIV, especially among young people. In highincome nations, including America and Britain, prevention programs are declining and complacency has set in.
According to the U.N., unless nations mount "drastically expanded" prevention efforts, there will be 45 million new HIV infections in the developing world within the next eight years. Rolf Zinkernagel, a Nobel Prize-winning immunologist, has voiced strong doubts that scientists will ever perfect a cure or vaccine against HIV/AIDS. "It's easy to say you want a vaccine, but it's much, much easier not to run the risk of getting it in the first place," he said. But some government-endorsed programs embrace indiscriminate condom distribution for the sexually promiscuous and using bleach to disinfect needles for street-drug addicts. That's not a prevention strategy. Avoiding risky sexual behavior is the most effective way to prevent HIV.
Daniel Fountain, in a 1998 article in Evangelical Missions Quarterly, said Christian leaders must intensify their efforts against HIV/AIDS on what he calls the 15/45 Window, which marks the age boundaries for individuals at highest risk of new infection. "AIDS is a disease of relationships," he said. "The fundamental problems leading to HIV infection are spiritual and social."
A healthy local church is the best-equipped institution to provide the most essential services to combat the disease: persuasive, credible information about preventing HIV, and strong social networks that decrease the chances of lethal behaviors.
Related Elsewhere
"AIDS: The 15/45 Window" by Daniel Fountain is available on the Evangelical Missions Quarterly site.
Previous Christianity Today articles on fighting the AIDS epidemic include:
Civics for Gay Activists | We may see more die from HIV/AIDS because gay activists are intolerant. (April 10, 2003)
ABC vs. HIV | Christians back abstinence-fidelity plan against deadly virus. (March 10, 2003)
Bono's American Prayer | The world's biggest rock star tours the heartland, talking more openly about his faith as he recruits Christians in the fight against AIDS in Africa. (Feb. 21, 2003)
Jerry Thacker: Politics Muddies Fight Against AIDS  | The politics of homosexuality has made it easier to battle the disease in foreign countries than domestically, says a former nominee to the Presidential Advisory Council on HIV and AIDS. (Feb. 7, 2003)
Killing a Pandemic | The church may be best equipped to deal HIV/AIDS a crippling blow. (Nov. 18, 2002)
U.S. Blacks Preach Abstinence Gospel | Mission workers testify that Christ helps control sexual urges. (March 27, 2002)
Article continues below
Mercy Impaired | Let's shock the world by reversing our apathy toward African sufferers. (September 27, 2001)
Kenyan President Suggests Hanging for 'Knowingly' Infecting Others with AIDS | Church organizations criticize use of capital punishment as solution to epidemic. (July 19, 2001)
Dying Alone | Baptist women seek out and care for ashamed, abandoned AIDS patients. (June 15, 2001)
Few to Receive Generic AIDS Medicines | Pharmaceutical companies drop suit against South Africa, but problems remain. (May 18, 2001)
Zambia's Churches Win Fight Against Anti-AIDS Ads | Church leaders are concerned that condom promotion encourages promiscuity. (Jan. 12, 2001)
Mandela, De Klerk, and Tutu Join to Fight AIDS | South Africa's men of peace call for end of silence and stigmatization. (Dec. 14, 2000)
Speaking with Action Against AIDS | A report from the Thirteenth International AIDS Conference. (July 19, 2000)
'Have We Become Too Busy With Death?' | As 4,900 people die each day from AIDS, African Christians are faced with the question. (Feb. 4, 2000)
'Sexual Revolution' Speeds Spread of HIV Among Africans | An interview with World Relief's Debbie Dortzbach. (Feb. 4, 2000)
Books & Culture Corner: An Open Letter | To the U. S. Black Religious, Intellectual, and Political Leadership Regarding AIDS and the Sexual Holocaust in Africa (Jan. 24, 2000)
Africa: Fidelity Urged to Fight AIDS (July 12, 1999)
Global Death Rates May Skyrocket (May 24, 1999)
I Am the Father of an AIDS Orphan (Nov. 17, 1997)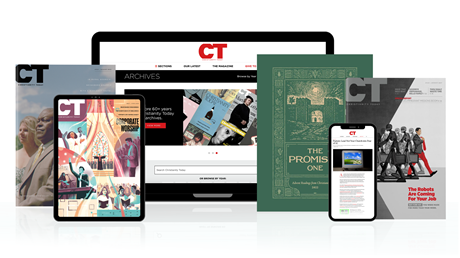 Annual & Monthly subscriptions available.
Print & Digital Issues of CT magazine
Complete access to every article on ChristianityToday.com
Unlimited access to 65+ years of CT's online archives
Member-only special issues
Subscribe
A Strategy for Progress
A Strategy for Progress