Florida recalls anti-AIDS brochure for being too religious
The politicization of the AIDS crisis continues. This week, under pressure from the American Civil Liberties Union, Florida's Department of Health pulled a pamphlet called "A Christian Response to AIDS."
The brochure apparently said such evil things as:
"If we are to love as Jesus loved, we each must face the issues of AIDS."


"Jesus' response to the ill and disabled was full of compassion—not condemnation, fear or rejection. Jesus set the example for us to follow."


"Jesus calls on us to respond with love to everyone, especially those who are suffering."
"The continuous use of the word 'our,' as well as 'we' and 'us,' can only convey the impression of state endorsed and state sponsored religion," the ACLU complained.
The health department has sent a letter to all county health departments and local health groups, asking them to pull the brochures from circulation. There is a legitimate First Amendment issue here: these brochures did have the Department of Health logo on them. The state can distribute such religiously themed literature, but it should be wary of embracing the pamphlet's religious voice as its own. The answer is to fix the brochures, not to pull them from circulation entirely. God forbid that the state should encourage Christians to get involved in fighting AIDS.
Baptism or bath?
Baptisms in the Middle Ages were popular—but not always for the right reasons. A ninth-century German monk named Notker the Stammerer, in his Life of Charlemagne, tells of a baptism ceremony where 50 potential converts arrived—far more than expected. The church simply didn't have enough clean linen garments to go around, so the emperor ordered shirts to be cut up, sewn together, and made into wraps.
Given one of these quickly made garments, one older proselyte was enraged. "I've gone through this ablutions business about 20 times already, and I've always been rigged out before with a splendid white suit," he protested. "This old sack makes me feel more like a pig-farmer than a soldier!"
Have times changed? The Miami Herald, in a story that has become widely popular in the blogging community, tells of Army chaplain Josh Llano, who has a clean, 500-gallon pool of water at "Camp Bushmaster" in Iraq. To the soldiers, who haven't bathed in weeks due to a water shortage, it's nothing short of an oasis. But the pool is for one purpose alone.
"It's simple," Llano says. "They want water. I have it, as long as they agree to get baptized."
The Herald's Meg Laughlin, embedded with the 7th Combat Support Group, notes that it's not quite as simple as that. Before the baptism, "the soldiers have to go to one of Llano's hour-and-a-half sermons in his dirt-floor tent. Then the baptism takes an hour of quoting from the Bible."
But what happens if plans to install portable showers go through? "There is no fruit out here, and I have a stash of raisins, juice boxes, and fruit rolls to pull out," the Southern Baptist chaplain from Houston said.
More articles
Church reaction to Iraq war:
Opposition to war:
George Bush and faith:
Military chaplaincy:
Military chaplains tackle tough issues | Because America often adheres to those theories of a just war, it makes it easier for military chaplains to do their jobs and soldiers to do theirs, says one (

Montgomery

[Al.]

Advertiser

)


Pastor serves troops as military chaplain | It's nothing like Baghdad. On a sunny spring morning in Gilbert, Iowa, the combat zones of Iraq seem a world away (

The Tribune

, Ames, Ia.)
Aid and relief in Iraq:
The new Christian crusades | Religious right Islam-bashers target postwar Iraq (Bill Berkowitz, WorkingForChange)


Bible brigade is ready to roll | President Bush is under pressure to clarify his position on the role evangelical Christian aid groups are set to play in post-war Iraq (

The Observer

, London)


Hell for leather | As always with your classic Anglo-American imperial conquest, sword, flame, bullet and bomb will be accompanied by the maniacal whacking of Biblical leather (

The St. Petersburg Times

, Russia)
Christians in Iraq:
Iraq: Church services continue | Telephoning members difficult (Adventist News Network)


Church services dwindling | "Previous Sundays there have been three or four hundred Christians worshiping there and today the crowd was only about thirty, thirty-five people" (

Newshour

, PBS)


A Christian in Iraq | One American's view of the war, from the heart of Baghdad (Newsweek Online)
Interfaith relations:
Related Elsewhere
Suggest links and stories by sending e-mail to weblog@christianitytoday.com
See our past Weblog updates:
April 7
April 4 | 3 | 2 | 1 | March 31
March 28 | 27 | 26 | 25 | 24
March 21 | 20 | 19 | 18 | 17
March 14 | 13 | 12 | 11 | 10
March 7 | 6 | 5 | 4 | 3
February 28 | 27 | 26 | 25 | 24
and more, back to November 1999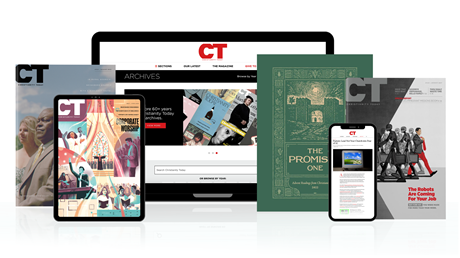 Subscribe to Christianity Today and get access to this article plus 65+ years of archives.
Home delivery of CT magazine
Complete access to articles on ChristianityToday.com
Over 120 years of magazine archives plus full access to all of CT's online archives
Subscribe Now
Florida Pulls Christian AIDS Brochure
Florida Pulls Christian AIDS Brochure