Secretary of Education Rod Paige under fire for support of Christian schools
"All things equal," U.S. Secretary of Education Rod Paige told Baptist Press earlier this week, "I would prefer to have a child in a school that has a strong appreciation for the values of the Christian community, where a child is taught to have a strong faith. Where a child is taught that, there is a source of strength greater than themselves."
Well, that's kind of what he said. The Department of Education called a press conference Wednesday to clarify the remarks and to released a partial transcript of the Baptist Press interview.
"Given the choice between private and Christian, uh, or private and public universities, who do you think has the best deal?" Baptist Press reporter Todd Starnes asked.
"That's a judgment, too, that would vary because each of them have real strong points and some of them have vulnerabilities," Paige replied. "But you know, all things being equal, I'd prefer to have a child in a school where there's a strong appreciation for values, the kinds of values that I think are associated with the Christian communities, so that this child can be brought up in an environment that teaches them to have strong faith and to understand that there is a force greater than them personally."
But both statements caused a major backlash, not just against Paige, but against any who would support religious schools.
"One may take from [the comments] that Mr. Paige's personal preference is for Christian schools, which is not a firing offense but is faintly insulting given that he is the nation's lead spokesman for public schools," says a Washington Post editorial. "Or one may see it as an encouragement to public school teachers to mimic Christian values and teach children to have a strong faith, which is also odd given that the Supreme Court frowns on the practice."
Most reactors interpret the comments with the latter understanding.
"This is the Taliban approach to education," said U.S. Rep. Gary Ackerman (D-N.Y.). "Zero diversity. Only their religious values. Tolerate no others because they are 'heathens.'" Ackerman, along with 11 other members of Congress, sent a letter to Paige saying, "If you are unprepared to make clear that this sort of religious bigotry has no place in the Department of Education, then we would urge you to resign."
Sen. Edward M. Kennedy (D-Mass), also wrote a public letter to Paige. "By expressing your preference for schools that teach the values of a single faith, you send an unacceptable signal that some families and children are favored over others because of their faith," wrote the ranking Democrat on the Senate Health, Education, Labor, and Pensions Committee.
Newspapers were no kinder. The New York Times said Paige's comments were "an appalling gaffe that cries out for condemnation. Paige's statements reinforce suspicions that the administration is in sympathy with the religious right's drive to undermine the public school system in favor of a voucher-financed nationwide network of religious schools."
But as Paige made clear, his comments weren't about public K-12 schools, but about higher education. No matter, says the Times. "They were too destructive to be waved off with a clarification. The secretary of education needs either to do some fast fence-mending or step down." (Pay no attention to reality! We're outraged!)
"I don't doubt that the secretary's quote is a sincere expression of his religious beliefs, but it troubles me just the same," writes Jarvis DeBerry in the New Orleans Time-Picayune. "My folks would not have been happy had a Muslim secretary of education longed for public schools that teach Islam. So I'd be a hypocrite to say Secretary Paige's words are okay, just because he's a Baptist like me."
The Jackson Sun said Paige's remarks are "an insult to teachers and students in the nation's public schools. Paige should apologize. He also deserves a reprimand from the Bush administration. … Public schools cannot become purveyors of Christianity as he espouses."
But wait, Paige didn't say that they should be. In fact, quite the opposite.
"I understand completely and respect the separation of church and state," he said at Wednesday's press conference. Starnes had asked for his personal views on "how I would deal with issues," he said. "This has no connection to how I perform my duties as secretary of education." He added that he wasn't encouraging parents or students to choose private schools over public ones.
Asked if he would apologize the remarks, Paige replied, "I don't think I have anything to apologize for. What I am doing is clarifying my remarks. I think anybody who fairly reads those remarks or hears the clarification would agree with that, assuming they have no other agenda." He also challenged his critics to show "any modicum of a situation where there was some imposition of my views on another person."
Others came to Paige's defense.
"It's an innocent statement by a decent and honorable man that was taken out of context," Rep. John A. Boehner (R- Oh.), the chairman of the House Education and the Workforce Committee, told Education Week.
"He'd prefer to have a child in a school that has a strong appreciation for the values of the Christian community. Who's opposed to that?" William Bennett remarked to the Associated Press.
Southern Baptist Convention spokesman William Merrell said the criticisms levied against Paige were merely "anti-Christian drivel."
But if they were just drivel, why were they so strong and widespread? A statement by the American Civil Liberties Union is instructive on this point. In this dispute, the ACLU is actually far more moderate than Paige's critics. ACLU legislative Terry Schroeder told the San Francisco Chronicle that the group wasn't all that concerned about Paige's remarks, but "takes issue with guidelines on prayer in school that Paige recently sent out to schools across the country."
Others seem to want to paint Paige as a religious bigot as an effort to stifle religious freedoms. "Too many in the administration seem more interested in fostering a divisive competition between church and state at taxpayers' expense through proposals to bolster, with public subsidies, religion's role in prisons, housing construction and other sensitive areas," says The New York Times editorial. "Routine statements of belief in pluralism sound hollow coming from public servants who make a habit of wearing a particular faith on their sleeves."
In other words, in the view of the Times and other critics, if you're religious, you're not allowed to talk about religion.
In related news
By the way, credit the Anti-Defamation League with actually listening to Paige—eventually.
"We do not share his view that public schools should be teaching children to have 'a strong faith' or values 'of the Christian community," ADL National Director Abraham H. Foxman said in a press release Wednesday.
But after Paige's press conference, the group issued another press release, saying it "welcomed Secretary of Education Rod Paige's efforts to clarify his remarks about the role of faith in public education, and his statement that he understands and respects the separation of church and state."
And also related …
The controversy over Paige's remarks isn't the only place where Christian schools are taking it on the chin. In the current issue of Theory and Research in Education, the University of London's Michael Hand lays out an argument for the abolition of religious schools. Here's his summary:
1. Faith schools teach for belief in religious propositions.
2. No religious proposition is known to be true.
3a. Teaching for belief in not-known-to-be-true propositions is, when successful, indoctrinatory, except where teachers are perceived to be intellectual authorities on those propositions.
3b. Teachers in faith schools are not perceived to be intellectual authorities on religious propositions.
Therefore,
4. faith schools are, when successful, indoctrinatory.
… Whatever else may or may not be wrong with them, faith schools, insofar as they succeed in their religious mission, are indoctrinatory. And, since the religious mission of faith schools is precisely what distinguishes them from common schools, this is an argument not for the reform of faith schools, but for their abolition.
The full article is available online.
Postal Service: Go ahead and send Bibles to the Mideast
With the threat of a lawsuit looming, United States Postal Service Vice President Azeezaly Jaffer explained to reporters that postal regulations don't bar Americans from sending religious materials to overseas military personnel.
"The regulation is intended for mass mailings, but there is nothing precluding a family member from sending a Bible or Torah or Quran or whatever the case may be to a soldier that is stationed there," he told the Associated Press.
The Pentagon agreed, saying the regulations apply to mass mailings that will be confiscated by Islamic nations, and does not apply to personal mail.
The Rutherford Institute sued anyway.
More articles
Faith-based initiative:
Bioethics:
CCM and Dove Awards:
War with Iraq:
Aid and relief in Iraq:
Science and the Bible:
Church and state:
Education:
Politics and law:
Religious freedom and persecution:
End times speculation:
Clergy sex abuse:
Church life:
Books and writing:
SARS:
Crime:
Other religions and interfaith relations:
Film, television, and pop culture:
Missions and ministry:
Other stories of interest:
Related Elsewhere
Suggest links and stories by sending e-mail to weblog@christianitytoday.com
See our past Weblog updates:
April 10 | 9 | 8 | 7
April 4 | 3 | 2 | 1 | March 31
March 28 | 27 | 26 | 25 | 24
March 21 | 20 | 19 | 18 | 17
March 14 | 13 | 12 | 11 | 10
March 7 | 6 | 5 | 4 | 3
February 28 | 27 | 26 | 25 | 24
and more, back to November 1999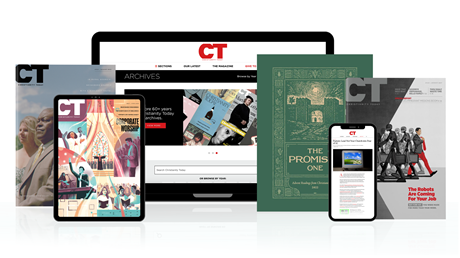 Annual & Monthly subscriptions available.
Print & Digital Issues of CT magazine
Complete access to every article on ChristianityToday.com
Unlimited access to 65+ years of CT's online archives
Member-only special issues
Subscribe
Secretary of Education's Support of Christian Schools Causes Backlash Against Religion
Secretary of Education's Support of Christian ...