true
Sounds like … a fusion of bluesy folk-rock and gospel, combining the classic songs of Bob Dylan with some of the best-known artists in gospel music
At a Glance … Gotta Serve Somebody successfully blends genres and pays tribute to the songs of faith by one of the great American songwriters.
Bob Dylan is familiar to everyone, either as one of America's most brilliant 20th century songwriters or as "that folk singer with the really funny voice." However, not everyone today is familiar with Bob's acceptance of the Christian faith, which is surprising since its been more than 20 years – it's disappointing that more believers aren't aware of this. Here's hoping the new tribute album, Gotta Serve Somebody: The Gospel Songs of Bob Dylan, helps remedy that a bit.
In short, Bob accepted Christ in the late '70s and become good friends with Keith and Melody Green. Like many born again Christian musicians, Bob's spiritual fire spilled over into his songwriting for a few albums, most notably 1979's Slow Train Coming and 1980's Saved. His albums since have been spottier in expressions of faith, which has led some to become skeptical to Bob's faith, speculating that his faith didn't take root or that it was just an artistic phase. I believe the evidence suggests otherwise, based on the examples of spirituality that do crop up in his music from time to time, as well as passing comments in interviews.
Regardless, Slow Train Coming was a landmark album that exposed gospel music to a new audience of folk and rock fans. Saved, on the other hand, seemed to earn Bob Dylan more credibility with the gospel audience. Both discs work within his complete discography because he is so much more than the folk singer behind "The Times They Are a Changin'." He's a songwriter who dabbles in all forms of American folk music, of which gospel is most certainly a part.
The only surprise about Gotta Serve Somebody, then, is that no one has considered the idea of popular gospel artists performing the spiritual songs of Bob Dylan any sooner. This disc, a combination of songs from Saved and Slow Train Coming, is a natural extension of the music originally presented more than 20 years ago. Tribute albums can be a tricky thing, since there's a fine line between the performing artists staying too true to the original material and interjecting too much of their sound on the beloved music. There have been tribute albums both good and bad that have leaned too far one way or the other. Gotta Serve Somebody strikes a near perfect balance by staying true to the sound and spirit of the source material while still coming across as fresh and different. Much like the recent Grammy-winning albums from The Blind Boys of Alabama, this is a gospel album that folk/rock fans can appreciate, and visa versa.
A disc rich in music history, it's interesting that most of the artists have previous connections to the music of Bob Dylan. Shirley Caesar, the queen of gospel, has sung the well-known title track before, at the request of Bob himself when he was presented with a Lifetime Achievement Award at the Kennedy Center in 1997. This excellent rendition is driven by a nice guitar riff and a terrific mix of blues, rock, and gospel. "Solid Rock" is performed by the Minnesota gospel choir Sounds of Blackness, backed by Bob's old gospel touring band. The choir sounds absolutely terrific, though the band seems a bit subdued and dated – I'd describe it as independent production quality. Still, legendary keyboardist Billy Preston (best known for playing with The Beatles and The Rolling Stones) is also featured on that track, as well as Helen Baylor's cover of the gospel ballad "What Can I Do for You?"
The great Aaron Neville has recorded a number of Bob Dylan songs, both with his brothers as well as his solo albums (most recently, "I Shall Be Released" on his 2000 project, Devotion). He's well matched with "Saving Grace" for this disc, delivering a typically soulful rendition of the shimmering spiritual ballad. The classic Fairfield Four, formed way back in 1921, tackle "Are You Ready?" with the same a cappella jubilance as The Blind Boys of Alabama, lending the album some welcome diversity in sound. The traditional arrangement of "Pressing On" is sung by The Chicago Mass Choir, featuring Regina McCrary on lead vocal. Interestingly enough, she's a daughter of one of the Fairfield Four and was a back-up singer on Dylan's original gospel projects.
The Mighty Clouds of Joy delivers a rollicking cover of "Saved," while Lee Williams & The Spiritual QC's sing a softer, gospel rendition of "When You Gonna Wake Up?" than the funkier original. Detroit singer Rance Allen gives a very moving performance of "When He Returns," accompanied only by B3 organ, and Dottie Peoples delivers an equally stellar rendition of the gospel-rock ballad, "I Believe in You." Perhaps the real album highlight is the closing track, in which Bob Dylan (whose voice sounds even more gravelly than usual) duets with longtime friend Mavis Staples of The Staples Singers for a wholly rewritten blues-rock version of "Gonna Change My Way of Thinking." Partway into the track, Mavis knocks on the door to Bob's "house" to join in on the jam – it's charming, but the gimmick may grow old with repeated listens.
Gotta Serve Somebody varies its feel nicely throughout the album, balancing fast and slow with gospel and rock. Though some tracks stand out more than others, all of them are generally good, especially if you go into it knowing what to expect. Perhaps best of all is that the album shares the music of Bob Dylan with people who may not typically be predisposed to it (often because of his unique vocal quality). Here the music is separated from the man, to testify for the strength of the songs on their own merits. A successful bridge of genres, Gotta Serve Somebody is a fun, moving, and inspired tribute to the songs of faith by one of the great American songwriters.
Browse All Music Reviews By: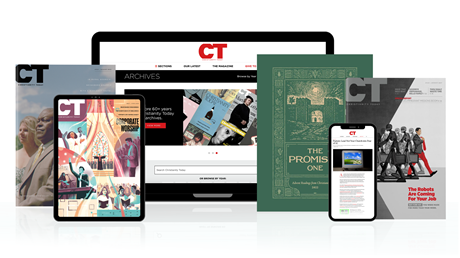 Annual & Monthly subscriptions available.
Print & Digital Issues of CT magazine
Complete access to every article on ChristianityToday.com
Unlimited access to 65+ years of CT's online archives
Member-only special issues
Subscribe
Gotta Serve Somebody: The Gospel Songs of Bob Dylan
Gotta Serve Somebody: The Gospel Songs of Bob Dylan