Michael Card is an award-winning musician with over 20 albums to his credit. He is also the author of numerous books including his most recent, A Fragile Stone: The Emotional Life of St. Peter. When looking for books on the apostle, Card learned that little had been written about him, despite the fact that he is mentioned hundreds of times in the New Testament. Card decided to write his own book.
When did you decide that you were going to write books in addition to writing music?
It came as a result of doing so much preparation for each record. I would spend a year getting ready to write ten songs on a given topic or a given biblical book, and then I would have piles of notes. I was saying so much in concert people would say, "Would you not talk so much and just play?" It occurred to me—I'll write all the other stuff that wouldn't fit in a song in a book.
What has your fascination with Peter as a character in scripture been?
In the course of teaching a home Bible study class on Acts, I realized I had labeled him and not listened to his life. I had a very shallow view of this wonderfully complex follower of Jesus who, I think, is the primary disciple.
You say when you read about him you saw him as complex and a "fragile stone".
The complexity thing fascinates me. He's not just popping off; there's usually a reason that he says and does the things that he does. I think he often said the right thing. He said what nobody else had the guts to say.
You have this amazingly courageous man who will jump in front of 600 armed soldiers by himself with a sword and start swinging away. Until he perceives that Jesus has given up, he would never have been able to see—even though Jesus told him it would happen—that Jesus would surrender to the Romans and let himself be bound and led off.
I imagine Peter looking back over his shoulder expecting Jesus to be throwing lightning bolts or swinging a sword or something. And when he sees that he's given up, I think that it's, not perhaps literally a nervous breakdown, but certainly an emotional breakdown.
Peter was the leader of the 12. When the disciples are listed, Peter's always first.
I think the disciples find, as the scholars call it, "corporate identity." Certainly Jesus is the leader, the master. But the 12 find a corporate identity in Peter. So Jesus will ask the 12 questions, and Peter will answer. Or the 12 will want to know something, and Peter will ask Jesus. Clearly in the first 12 chapters of Acts it's still that way. Peter is the head of the Jerusalem church. He decides about Ananias and Sapphira, and he decides about Matthias replacing Judas. He's the leader.
One of the most familiar stories is Peter walking on the water. Talk about some of what you came to understand about Peter in this story.
He's the first disciple to do a miracle. They're rowing against the wind, and in the middle of the night that must have been a pretty spooky thing. They see Jesus walking to them on the water, and they make the only logical conclusion that a person could make. It's a ghost. Who else could it be? Jesus shouts to them, "It's me, don't be afraid." And that's when Peter makes this strange request. And it's worded in a very particular way. He says, "If it's you, then tell me to come to you and I will." And Jesus says "Come." Bonhoeffer says that Peter had been with Jesus long enough to understand that the initiative always had to be with Jesus. Peter knows better than to say, "Watch this, I'm going to walk on the water to you."
The text doesn't say exactly how far, but he makes his way towards Jesus. Then he saw the wind and the waves, and he became afraid. He begins to sink, and Jesus reaches out his hand.
I think that the point is that Peter needed to sink. If he'd walked to Jesus, I'm sure he would have been very self-congratulatory. He needed to sink, just like you and I need to sink. Sinking is much more important than walking on the water.
You make this relationship between the transfiguration and going back down the hill and paying the temple tax. That's an extremely important insight into Peter beginning to see that things are changing.
The transfiguration is a significant time for Peter. It's the only time any of the disciples ever saw his glory. It's the only historical experience that Peter had with Jesus that Peter ever referred to in his letters.
They come down from the mountain after having this glorious experience and they go back to Capernaeum. Nobody is there except two temple tax collectors.
They go to Peter and say, "Does your Master pay the temple tax?" He's not supposed to pay the temple tax because he's a rabbi; he's a teacher. He's supposed to be exempt.
Peter, before he asks Jesus, says he does. Then he walks back into his house intent on asking Jesus. Before Peter has a chance to speak, Jesus asked, "Who do kings collect taxes from—foreigners or their own children?" Peter says, from foreigners.
And then Jesus says something—it's one of the most amazing things he says—he says, okay, we won't offend them. I think he wants to have some peace so he and Peter can spend this last time together before their final trip to Jerusalem.
Writing this book, you interacted not only with Peter but with the friendship between Jesus and Peter, how are things different for you now?
I look for echoes of that in my friendship with Jesus. I know that he's called me his friend, and I hope that I'm a friend back. I see him defining me the way he defined Peter. I see times when I walk on the water and times when I sink. Peter's life is a living parable. If we're going to understand what it means to be a disciple, we've got to look at his life.
Related Elsewhere
A Fragile Stone and Michael Card's music is available from Christianbook.com and other book retailers.
The publisher offers book excerpts and reviews.
Michael Card's web site is available online.
Recent Dick Staub Interviews include:
Mary Poplin Calls Claremont Her "Calcutta" | After seeking God through telepathic spoon bending exercises, this professor found God, and with the help of Mother Teresa, her calling. (Dec. 10, 2003)
Gordon Smith Hears the Voice of Jesus | The author of The Voice of Jesus talks about listening to God with discernment. (Nov. 18, 2003)
John Eldredge Is Wild at Heart | The author of Wild at Heart and The Sacred Romance discusses rediscovering the Gospel through a ransomed heart. (Nov. 11, 2003)
Pursuing God and Community | A self-described nerd says pursuing God and community is possible through commitment (Nov. 4, 2003)
Francis Bok Is Proof that Slavery Still Exists | After spending 10 years in slavery, the young Sudanese man is telling his story to the world. (Oct. 28, 2003)
Philip Yancey, the Rumor-Monger | The author's latest is written not for Christians, but for those on the "borderlands of belief" (Sept. 30, 2003)
Ken Gire's Lord of the Dance | Patch Adams and T. S. Eliot teach us to twirl with Jesus, says the author (Sept. 23, 2003)
Jerry Jenkins's Solo Apocalypse | His new novel, Soon, imagines a world where religion, blamed for war, is banned (Sept. 16, 2003)
Why Frederica Mathewes-Green Loves Icons | Yes, we ask the saints to pray for us, she says. They are still living members of the church after all. (Sept. 9, 2003)
Sheila Walsh Says Stop | The author, singer, and popular speaker talks about learning to put praise above performance (Sept. 2, 2003)
Trusting in a Culturally Relevant Gospel | Os Guinness says that evangelicals have never strived for relevance in society as much as they do now. Ironically, he says, they have never been more irrelevant (Aug. 26, 2003)
The Long War About Science | Larry Witham, the author of Where Darwin Meets the Bible and By Design, talks about faith, science, and how the battle has evolved. (Aug. 19, 2003)
Kevin Leman Talks About Sex, Baby | The author of The Birth Order Book looks at the private lives of Christian couples in Sheet Music: Uncovering the Secrets of Sexual Intimacy in Marriage. (Aug. 12, 2003)
The Dick Staub Interview
Dick Staub was host of a eponymous daily radio show on Seattle's KGNW and is the author of Too Christian, Too Pagan and The Culturally Savvy Christian. He currently runs The Kindlings, an effort to rekindle the creative, intellectual, and spiritual legacy of Christians in culture. His interviews appeared weekly on our site from 2002 to 2004.
Previous The Dick Staub Interview Columns: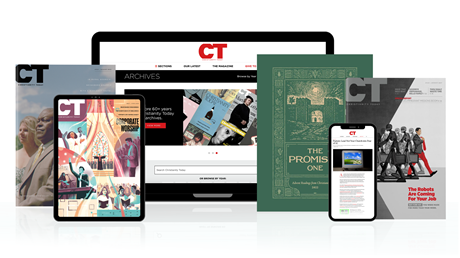 Annual & Monthly subscriptions available.
Print & Digital Issues of CT magazine
Complete access to every article on ChristianityToday.com
Unlimited access to 65+ years of CT's online archives
Member-only special issues
Subscribe
Michael Card Discovers St. Peter
Michael Card Discovers St. Peter