On August 3, 2001, the Taliban arrested Georg Taubmann, Dayna Curry, Heather Mercer, five other Westerners, and 16 Afghans affiliated with Shelter Now, a German aid agency. The Taliban held them until November, when U.S. forces rescued the Westerners. Taubmann, who directs Shelter Now, returned to Afghanistan last summer to resume his ministry. Taubmann spoke with Christianity Today from his office in Kabul.
After all that has happened, why have you returned to Afghanistan?
While we were in prison, we were praying much that God would open the door for us to continue our work in Afghanistan. I tried to go back as soon as I could. I feel that this is the place where God has called me. Also I'm excited to see a changed Afghanistan. For the 19 years I was [working among Afghans], things were going from bad to worse. I think now it's a good time. I and many, many others have strong hopes that things really have changed and are going to change, and I really wanted to take part in helping to rebuild Afghanistan.
How have things changed?
For the first time, really, we have a proper government. Most of the people are competent, are concerned for the country. It's much, much easier now to work with the government, to work out contracts and agreements. It's a completely different atmosphere.
What are you doing?
When we came back, we had to see what was left from our houses. Most of the stuff was looted. Our offices were looted. All my personal belongings were looted. So we had to practically start all over again—rent new office buildings, rent new houses, buy furniture. We at the moment are rebuilding several villages in the province of Shamall, north of Kabul. It had been completely devastated by the Taliban. In Logar province we're building a hundred houses, and also a clinic and a school. Then we have three large projects in Kabul city. We are helping to repair the famous Noor Eye Clinic, founded by Christy Wilson [a prominent American pastor who led the international church in Kabul]. We have approached different donors.
What is the biggest challenge for you there?
One of the challenges is the work in the provinces. We work very strongly in Pashtun provinces. These areas are not so peaceful and [experience] a lot of unrest. There are still Taliban in the area, Al Qaeda people. Security is quite a big challenge, not only for our organization but for many other organizations. We don't want to just sit here in Kabul. We want to go out to the provinces. There the needs are the greatest. Different areas of Afghanistan are ruled by warlords. Traveling in some areas is very insecure. There are reports of vehicles being stolen, offices being robbed and looted.
Do you feel safe?
There are a lot of people glad that we are alive, that we came back; but there are others that are probably quite upset still and [who] could be a danger.
Have many people said they're unhappy you're back?
No. When I go to different offices, even in the government, people are amazed that we are back. And a lot of them knew that [the charge of proselytism] was propaganda from the Taliban. Former Taliban guards shaved off their beards [required by the country's former rulers as a sign of piety] and asked me if I would have work for them.
Do you have more or fewer opportunities to minister among Muslims?
We are here to help Afghan people. We are known to be Christians, probably now even more than before. We still have the same rules. When people ask us about our faith, and of course many do, we talk with them about it. People of Afghanistan are to a great extent much more free to speak about things like that. If [people] want to know more about what we believe in, they feel much greater freedom to come up and ask us. There is more freedom for people in every area—to read books, magazines, to [meet] foreigners. You see foreigners all over the city. You see Afghans walking around with foreigners. Now the Afghan people feel much more freedom to inquire, to talk about religious things or political things.
Has Shelter Now lost some credibility with either the new government or with the people?
I think exactly the opposite happened. The minister of planning, who ethnically is a Hazara, sat beside me. He started to share with me how much these people suffered under the Taliban. He saw dry wells full of bodies of people who had been murdered by the Taliban. And he was so deeply touched. He said, "You have suffered under the Taliban as we have suffered." And this is the general attitude of people. When we went to the U.N. office to do some business, Afghans recognized me. They said, "First of all, we celebrate." They ordered food. I had to tell my story. Then we celebrated. Later on, when it was finished, we started to do our business. That so far has been my experience with the Afghan people. The people respect me because I suffered in the prisons as they did. And they just can't believe that I have come back.
Dayna and Heather told us (CT, July 8, 2002, p. 26) some workers with Shelter Now were like-minded in wanting to do evangelism. They said that was why they were there. Can you comment on that?
I do not use this word evangelism, and I never use especially the word missions. This could mean in America that people preach the gospel, make campaigns, or whatever. We are all very committed Christians, and as I said before, every day you probably have a chance [to]. … talk about religious things. There are Afghans who come to us and ask us questions, and they want to know more. And since we are Christians, we talk about it. And we always emphasize that people have a right to hear.
In Kabul, a lot of educated people who love us, who think we are honest people, come to us. You don't have to go out and do what we call evangelistic things. You just need to live your life as a Christian, and this attracts people, and they want to know more about what you believe in. People simply ask you, "Are you Muslim? Why are you not a Muslim?" And then you can talk. And it's plain to them why you're not a Muslim and what you believe in.
Did Heather and Dayna tell you they were showing the Jesus film on the day they were arrested?
I wish I had been informed. I wish I would have known about this, because in the evening, we had a meeting and they were arrested. I had no idea where they were.
Now are you going to ask your workers to keep in closer contact with you?
I said during the Taliban [rule], and I often say now, that I really want to know what people are doing. We are getting new people in. I don't know what people have in their minds when they come here, what they have heard. They don't know the culture. I don't want to say that Dayna and Heather were kind of wild people that just went around and did all kind of things. I think these girls tried hard. They didn't go around and show the Jesus film all over.
I don't know. Maybe this was the only time they did this. In a normal case, if they had not been betrayed, nobody would have said anything about it. They did it in the most sensitive way you could do it—on a computer with a cd. I was amazed what a big stir it caused, even amongst the [worldwide] Christian community. They said, "How could you do something like this?" I said, "Well, if you have friends and they want to see a film about the life of Jesus, and Jesus is one of the most respected prophets, what big crime is that?"
Do you think Dayna and Heather were adequately prepared for their work in Afghanistan?
Dayna was working for one or two years in Afghanistan before. I don't know. She only worked three months with [us]. Most of the time she was in Afghanistan, she worked with the biggest Christian organization here, which was iam [International Assistance Mission]. I never heard any complaint about Dayna in iam. In fact, when she joined us, I only heard good things about her. Heather we didn't know very well. It was the first time she came out. She was just three months with us. I think she spent more time in prison than out of prison.
Would you like to work with them again?
I think these girls have been so much in the news. They are so known. I don't think it would be wise for them to come back. I'm not saying they shouldn't come back because they are irresponsible or whatever. You can watch cnn here in Kabul. And I think probably it would be more dangerous for them to come back. I also haven't heard that they have any plans to come back. The fact is, as soon as they came out of the prison, they left Shelter Now, and since that time, they are not part of Shelter Now.
What are the biggest issues the Afghan people face now?
I love Afghan people. I share their hopes that they have for the moment for the change of government, but I would really encourage other Christians to continue to pray for this country. The situation is still quite unstable, and the [people] are dealing with immense problems. There is still a drought. The ethnic conflicts and other atrocities between different ethnic groups have left such a deep hatred, and the government is really struggling to start rebuilding this country.
Related Elsewhere
Shortly after his release, Georg Taubmann told the BBC about his imprisonment and eventual escape from the Taliban.
Later, Taubmann told Christianity Today that Shelter Now's arrest for illegally spreading Christianity was politically motivated and linked to the regime's terrorist activities.
Christianity Today interviewed Shelter Now workers Dayna Curry and Heather Mercer last summer. In "Double Jeopardy," they talk about the risks they took, the imprisonment they suffered, and their hopes to return to 'the hardest place on Earth.'
Previous Christianity Today coverage of Afghanistan and the Shelter Now imprisonment includes:
Afghanistan Before September 11 | A Christian relief worker talks about the terror inside the war-ravaged country and his prayers for change. (Sept. 10, 2002)
Double Jeopardy | Former Taliban hostages Dayna Curry and Heather Mercer talk about the risks they took, the imprisonment they suffered, and their hopes to return to 'the hardest place on Earth.' (June 28, 2002)
Article continues below
From Afghanistan Aid Workers to Hostages of the Taliban | Excerpts from Prisoners of Hope, the book by Dayna Curry and Heather Mercer with Stacy Mattingly. (June 28, 2002)
'Their Faith and Courage Has Strengthened Me' | Heather Mercer and Dayna Curry speak about Martin and Gracia Burnham. (June 28, 2002)
The Agony of the Families | As aid workers in Afghanistan went from defendants under draconian law to hostages in a war, their loved ones at home also underwent a trial. (Feb. 4, 2002)
Entrapment Suspected | Shelter Now leader believes workers were pawns in Taliban scheme. (January 18, 2002)
Heather Mercer and Dayna Curry Go Home to Waco | Church will send short-term mission to Afghanistan in the spring. (Dec. 11, 2001)
Free at Last! | All 24 Shelter Now aid workers are going home. (Nov. 15, 2001)
Dayna Curry Will Celebrate Her 30th Birthday in a Taliban Prison | With trial indefinitely postponed, the future is murky for Shelter Now hostages. (Nov. 2, 2001)
Caught in the Crossfire | Family, churches press for release of American missionaries in Kabul. (Oct. 31, 2001)
In Perspective: The Friendliest Murderous Militants in the World | The Soviet Union, United States, and others helped create Afghanistan's ruling Taliban. Will the world's most Islamic state backfire? (August 30, 2001)
Aid Workers Held Captive | Taliban alleges housing group's staff engaged in evangelism. (August 30, 2001)
Diplomats Receive Visas Into Afghanistan, but Will Only Meet with Officials | Over a week after raid on Shelter Germany, future for workers still unclear. (Aug. 13, 2001)
For more articles on Afghanistan, see Christianity Today's World Report and Yahoo! full coverage.
Special Report: Afghanistan features ongoing PBS' Online NewsHour coverage of the situation in Afghanistan.
Have something to add about this? See something we missed? Share your feedback here.
Our digital archives are a work in progress. Let us know if corrections need to be made.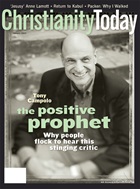 This article is from the January 2003 issue.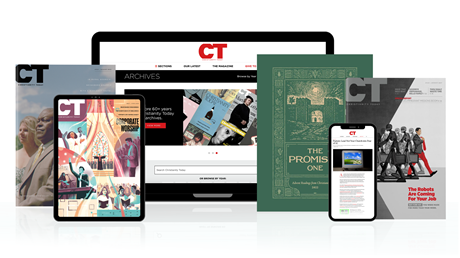 Annual & Monthly subscriptions available.
Print & Digital Issues of CT magazine
Complete access to every article on ChristianityToday.com
Unlimited access to 65+ years of CT's online archives
Member-only special issues
Subscribe
Return to Kabul
Return to Kabul