It's 1 p.m.—break time in plant No. 14 at Cardone Industries' automotive remanufacturing plant in Philadelphia. But instead of grabbing Cokes or swapping sports stories, 15 workers in the water pump division gather and sit on makeshift seats.
Participants hail from varied backgrounds, among them Haitian, Hispanic, and Ukrainian, many now living in the city's northeast Olney section. This rich ethnic mix unites around a common purpose: prayer.
The requests vary, some coming from a weekly list e-mailed to 250 employee intercessors by Paul Spuler Sr., vice president of spiritual life. One asks that God help officials manage inventory and cash flow. Another seeks help with "production efficiencies." Individuals pray for family members who need healing, financial relief, or salvation.
As the 10-minute session winds up, an Indian woman tells Spuler, "The company has blessed me with employment. The least I can do is pray for God's blessing on them."
Since February, workers inspired by Spuler have started daily prayer sessions at two other plants at the massive facility of 4,000 employees.
"My passion is to see as much prayer as possible get integrated into this business," said Spuler, a former Assemblies of God pastor.
Boosting the bottom line
Cardone Industries is hardly the only business hiring people to pray and organize prayer.
Since hiring his mother as a combination bookkeeper-intercessor in 1995, Victor Eagan said his business has prospered. The Detroit-area orthodontist said intercession also promotes a peaceful office atmosphere.
While he relies on volunteer intercessors, the founder of a Midwestern dental equipment manufacturing lab credits prayer meetings and a worldwide network of intercessors for the healthy boost to his bottom line since 1994.
Larry Ihle of Dexterity Dental Arts in Farmington, Minnesota, said many non-Christian employees have converted. Ihle said vendors and suppliers are receptive to prayers for their well-being.
"My point has never been to get wealth," Ihle said. "As I read God's Word, it said you have not because you ask not."
Despite his business shrinking from 50 employees to 10 amid Silicon Valley's dot-com bust, Gary Williams of Millennium Imaging in Menlo Park, California, keeps Doris Eska, a part-time intercessor, on the payroll.
Working from home, Eska visits twice a month to discuss personal needs of employees and tenants in the company's office building.
"The economy is horrible, but we're still profitable," Williams said. "I wouldn't dare be in business without her."
Chris Armstrong, managing editor of Christian History (a CT sister publication), said the idea of paying people to pray has deep roots in Christian History. "The landscape of medieval England was dotted with 'chantry chapels'—either attached to churches or freestanding nearby," Armstrong said. "Endowed by wealthy men, the chapels were staffed by a 'chantry priest,' whose primary responsibility was to sing or say Mass for the souls of the departed patron."
Unlike priests in medieval chantries, however, today's paid intercessors focus on the needs of the living.
Current demand is significant enough that last year a Dallas-based ministry turned its focus from supporting missionaries to training "marketplace intercessors." Though Beth Alves, president of Intercessors International, has prayed regularly for businesses since 1984, she said interest is growing.
Alves previously taught at the charismatic Christ for the Nations ministry in Dallas. She said the 9/11 terrorist attacks spawned a series of weeklong business prayer training sessions.
The ministry has placed 50 intercessors in businesses. For some, prayer is their sole responsibility. Others have additional duties but are free to pray when needed, Alves said.
"I don't want people to think intercessors are spiritual gurus who will pray the company into prosperity," she said. "The purpose is to see people come into God's kingdom."
With no registry or official record keeping, though, assessing the breadth of corporate intercession is difficult. Most participants link it with the larger, thriving marketplace ministry movement.
"It is very pervasive, but it's hard to measure because it's a very private practice," said David Miller, co-founder of the Avodah Institute of Key Biscayne, Florida. (Avodah is a Hebrew word that means both worship and work.) The institute, which Miller co-founded in 1999 with former ServiceMaster CEO William Pollard, advises businesses on spiritual matters. "There is a widespread trend to integrate work and faith, but prayer is just a subset of that."
Paul Stevens, professor of marketplace theology at Regent College in Vancouver, calls the new focus on workers' spirituality a positive trend. Yet he says business owners must avoid using prayer as a tool to "ratchet up" performance.
Church law expert Richard Hammar warns that workplace prayer must be purely voluntary. Otherwise, he said, employees may claim the practice violates federal or state bans on religious discrimination.
Sometimes, employers cross the line. Last summer, a federal court jury in Indianapolis awarded $270,000 in damages to six Catholics and a Unitarian for religious discrimination. They successfully claimed their employer, Preferred Management Corporation, required them to conform to the evangelical owner's beliefs. They also said under-performing employees had to pray with managers. The judge in the case issued a stay on the judgment pending an appeal.
Jennifer Kaplan of the Equal Employment Opportunity Commission (EEOC) said employers are increasingly concerned about making reasonable accommodations for the faith of employees.
Spuler of Cardone Industries said the company avoids pressuring employees to participate. Workday prayer is optional. Most meetings are before work or on Saturdays, he said.
Even if employers respect others' views, Gene Brooks, the founder of an intercessory prayer initiative, frowns on paying employees to pray. Brooks, the former chairman of Mission Carolina, said paying intercessors could create conflict with non-Christians. Brooks taught a prayer workshop at this year's annual conference of the International Coalition of Workplace Ministries, based in Cumming, an Atlanta suburb.
"I can just imagine an unbelieving employee saying, 'I have to sit down here and balance [the books] every day, and you're … up with the boss, praying,'" Brooks said. "That's not conducive to winning people to the Lord."
Christians have to make allowances for God's sovereignty, too, the Avodah Institute's Miller said. A former executive at IBM and an equity partner at a private bank in London, Miller recently completed his doctorate at Princeton Theological Seminary.
"In business, are we praying to win against a competitor?" Miller asked. "I think it's … consistent with Christian teaching to pray for certain outcomes. But we also need to allow space for God's plan that may not be ours."
Related Elsewhere
For more stories see Christianity Today's Money and Business and Prayer and Spirituality archives.
Recent articles on faith in the workplace include:
The 40 Best Christian Places to Work | What makes them so good? (Hint: Not money) (Feb. 28, 2003)
Inside CT: Great Places to Work | There is indeed much to praise and imitate in the Christian companies.  (Feb. 28, 2003)
The Profit of God | Finding the Christian path in business. (Jan. 27, 2003)
Bad Company Corrupts | Michael Novak, theological champion of the free market, reflects on what recent business scandals mean for church and state. (Jan. 27, 2003)
The Higher Self Gets Down to Business | An old movement appears anew—in the corporate world. (Jan. 24, 2002)
Utopia or Kingdom Come? | Discerning wheat from chaff in the new business spirituality. (Jan. 24, 2002)
Prosperity Consciousness | How the higher self gets down to business. (Jan. 24, 2002)
Have something to add about this? See something we missed? Share your feedback here.
Our digital archives are a work in progress. Let us know if corrections need to be made.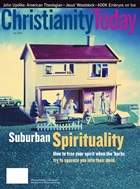 This article is from the July 2003 issue.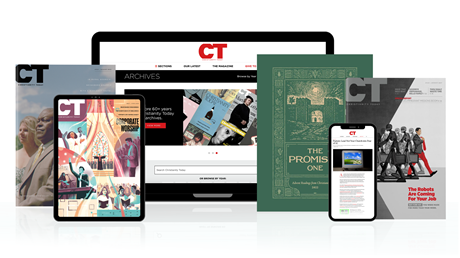 Subscribe to Christianity Today and get access to this article plus 65+ years of archives.
Home delivery of CT magazine
Complete access to articles on ChristianityToday.com
Over 120 years of magazine archives plus full access to all of CT's online archives
Subscribe Now
"Prayer, Incorporated"
"Prayer, Incorporated"