Ten years ago, leaders in the Worldwide Church of God (WCG) began denouncing the fringe beliefs of their founder and transforming their church into an evangelical denomination. This revolutionary theological shift caused congregations and families to splinter. It also sparked a financial Armageddon in the highly visible movement of 150,000 people.
Now church leaders propose a physical shift that they say will determine the church's future. They want to turn their valuable 55-acre Ambassador College campus in upscale Pasadena into about 1,500 residential units. Church officials say selling the headquarters will secure the church's financial foundation, provide pensions for its pastors, and create much-needed housing for city residents.
"As we go to sell it, we are concerned about the next 50 years," said Bernard Schnippert, the church's director of finance and development. "When we leave Pasadena, we want to be proud of our legacy."
But local residents are not ready to let the group leave on those terms.
Armstrong's kingdom
The campus, with its Italian gardens, stately mansions, and world-renowned Ambassador Auditorium, has been the church's home since 1956. At its peak, it housed up to 1,200 students and 1,000 church employees. It was the icon of founder Herbert W. Armstrong's church. Kingdom of the Cults, by the late Walter Martin, devoted 34 pages to the group.
The church preached what has been dubbed "Armstrongism" or British Israelism through its The World Tomorrow radio and television programs and The Plain Truth magazine. Basic beliefs included adherence to Old Testament dietary laws and festivals, a Saturday sabbath, and a mandatory 20 to 30 percent tithe.
Armstrong died in 1986, the college closed in 1990, and church leaders began looking at the teachings of their late leader in light of the Bible. Eventually most of the leaders converted to orthodox Christianity (CT, July 15, 1996, p. 26).
Joseph Tkach Jr., is the church's current pastor general and son of Joseph Tkach Sr., the man who led the movement to orthodoxy.
"I didn't have any complete grasp of how the changes would rock my world," the younger Tkach told Christianity Today.
Schism begat schism, as many pastors and members left the church, forming dozens of spin-off groups. Tkach's own sister and brother in-law belong to one of the groups.
"It's something I never get any closure on," Tkach said. "Some people I went to high school and college with think I'm possessed by no less than the devil."
The declining membership, currently 67,000, combined with the denouncing of Armstrong's mandatory tithe, caused annual revenue to plunge from $170 million to $25 million.
Today the campus is an immaculately manicured ghost town. With its rolling lawns and manmade streams trickling into ponds swimming with koi, maintenance alone costs about $2 million annually.
Plans to sell
Church leaders won't comment on the estimated value of the land. They plan to sell the land to individual developers, who would then construct and sell the homes. The retail value of those homes to the developers could be high as $750 million. The church will only benefit from the value of the land, which would be significantly less than that amount.
The church submitted a final proposal to the city council in the spring. One version—which calls for additional private or city funding—retains the near acoustically perfect 1,100-seat auditorium. The other does not. Both plans would preserve many of the campus's historic mansions, gardens, and much of its open space. Council members are seeking an environmental impact report.
Church leaders are guiding the development themselves, after an earlier proposal (with a more dense layout of housing) failed in 2001. If approved, construction could begin early next year, according to Schnippert.
Retired evangelical WCG pastor Don Lawson, 66, is one of hundreds of pastors who are depending on the sale to provide for their retirement. Lawson, who lives in Palm Desert, is partially disabled from a failed hip replacement.
"A retirement fund to meet our needs should be part of the church," said Lawson, who has been with the WCG for 42 years.
Schnippert said he expects the city to approve the plan, but the West Pasadena Neighborhood Association, which represents more than 400 wealthy neighbors, hopes it won't. The neighbors say 1,500 units would be too dense, would create too much traffic, and would ruin the character of the neighborhood. The group has retained lawyers and demands more traffic studies and further density reduction.
"We're going to fight it hard," said attorney Charles McKenney, vice president of the neighborhood association.
Many former church members also oppose the development. They say Tkach and company now stand to profit from the tithes of Armstrong's followers.
Some of Armstrong's followers believe God will restore the campus to those who have held fast to the leader's teachings. Kathleen Fratto, a member of the spin-off Living Church of God, said God is hindering the development. "It's going to be a big albatross around their necks," Fratto said. "That's what happens when you take on a power that's larger than yourself."
Tkach has received death threats and hate mail from former members related to the initial theological changes. "They're bitter because they feel betrayed," he said.
Schnippert, an Ambassador College graduate, said the church will likely move east of Pasadena, where it has a ministry partnership with Azusa Pacific University.
Schnippert said he is hopeful. "For us to make a transition in our faith wasn't easy, and this isn't easy either," he said. "But frankly, the hard transition was the one in our head."
Related Elsewhere
Also appearing on our site today:
Church Sells Armstrong's Works | Nineteen books by founder sold to Worldwide Church of God splinter group.
Christianity Today's previous coverage of the Worldwide Church of God includes:
Weblog: Worldwide Church of God Settles (Mar. 27, 2003)
Unfair Use Alleged | Religious groups fight Internet copyright abuses. (March 30, 2001)
Weblog: Worldwide Church of God Wins Control of Controversial Book (Sept. 28, 2000)
Splinter Groups Dismiss Leaders (Mar. 2, 1998)
Worldwide Church of God Joins NAE (June 16, 1997)
From the Fringe to the Fold | How the Worldwide Church of God discovered the plain truth of the gospel. (July 15, 1996)
On its Web site, the Worldwide Church of God offers a brief history of the changes it has experienced.
The Worldwide News offers back issues chronicling the changes as they happened, from Joseph Tkach Jr's appointment as deputy pastor general in September 1995 to current financial difficulties. Tkach also wrote a book about the church's overhaul, Transformed by Truth (Multnomah, 1997).
Have something to add about this? See something we missed? Share your feedback here.
Our digital archives are a work in progress. Let us know if corrections need to be made.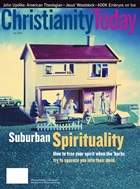 This article is from the July 2003 issue.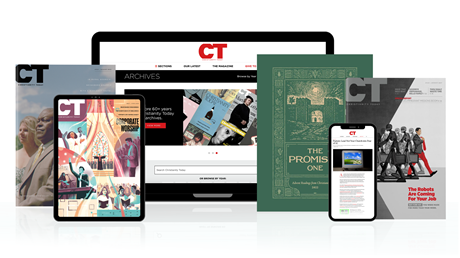 Subscribe to Christianity Today and get access to this article plus 65+ years of archives.
Home delivery of CT magazine
Complete access to articles on ChristianityToday.com
Over 120 years of magazine archives plus full access to all of CT's online archives
Subscribe Now
Doctrinal Aftershocks
Doctrinal Aftershocks