Dan Allender is president and professor of counseling at Mars Hill Graduate School in Seattle, Washington. A frequent speaker on sexual-abuse recovery and other topics, he is the author of The Wounded Heart, The Healing Path, and co-author (with Tremper Longman III) of Intimate Allies, The Cry of the Soul, Bold Love, and Bold Purpose.
What is your spiritual background?
I had no background. The only background I had was Flippo the Clown, who, every now and then at 5 o'clock on channel 4 in Columbus, Ohio, occasionally mentioned something about God. I remember asking my mom, "What's this thing he's talking about: God?" And she'd say, "You don't need to know. It'll only screw you up."
When I was 13, I met a gentleman who changed my life, and that was the co-author of many of the books that we've written, Tremper Longman III. He had a family that had faith, and I was invited to have a sense of what a mother or father or what siblings are like. It was glorious to kind of gain that.
But I was a drug dealer. I was a car stealer. I broke and entered. I was just a bad egg for many, many, many years. But this family graciously received me into their world. And during that period of time, as I continued to be involved in illicit pharmaceutical sales and just a life that was harmful, the gospel continued to come into my life to a point where I knew the Bible fairly well as an unbeliever.
I remember one night [in college] having the opportunity to share the gospel with an unbeliever who was thinking about killing herself.
You shared the gospel with her though you yourself hadn't made a personal claim of faith?
I just figured that the other paths she had tried hadn't worked, so she might as well try Jesus. I remember the moment where I asked her if she wanted to receive Christ as her Lord and Savior. I had taken her through Romans 3:23, 6:23, Ephesians 2:8-9, And I said, "Do you want to receive the Lord?" And she said yes. So I said, "Well, close your eyes and pray this prayer after me. And I prayed the prayer …
Because you had heard it through going to church with Tremper?
No. I had never gone to church, but I'd been in groups where I'd heard this happen before. And so I remember when she opened her eyes and she looked at me. And I'm telling you, they were different eyes. Unquestionably different eyes.
She said, "I never knew you were a Christian."
And I said, "I'm not. In fact, you can't do drugs. You can't hang out with me anymore. I'm going to take you to some friends and they're going to help you, but you can't be messing around with me anymore."
Where did this happen this?
Well, I went to college at a place called Ohio Wesleyan in Delaware, Ohio.
Is that where Tremper went?
Yes. We went because we tried to divide our Doors albums, and it was one of the worst fights we ever got in. And he said, "Why don't you just come to college with me?" So I went to college with him.
This is true.
Absolutely.
So was it at college that you made your decision?
Well, a third of a decision. The decision that there might be a God. I knew there had to be something other than me. At least if there weren't, there wasn't any point to be me.
That point came in the context of the cartel that I worked with putting out a contract on a DEA agent. And all of a sudden I went from being a middle-class drug dealer to being in the big time. I knew that either I was going to jail or I was going to die. I remember saying to Tremper, "I want to go to church." And there was a move in my own heart to say, "All right God, if you're true, you're true, and I guess it's right. And you know, whatever."
That night, the pastor started talking about Balaam's ass. And I'm thinking, "Oh my goodness. What kind of religion have I gotten myself into that Balaam's ass is talking to him?" And about halfway in the sermon he changed to Balaam's donkey. Oh, it was such a relief. It was at this point I realized that all we're dealing with is the possibility that God could use animals and not body parts.
So from that point there was at least some movement and some sense of reading, thinking, talking with other believers.
Why did you end up at seminary, though? Was it the record collection again?
No, it was Tremper, though. Six weeks before we graduated, he asked me what I was doing after graduation. It was the '70s. I had never thought about what we were going to do. So he said, "Well, why don't you go to seminary with me? You can think about God, study a little bit, you know, do whatever you want to do."
So we got an application, and it had all these questions I had no idea what to do with. "Personal relationship with Jesus Christ." I had no idea what it was talking about. I tried to fill it out. Tremper, laughing in the background, finally said, "Let me fill it out for you." So the two of us ended up going. And it was really the first year in seminary when the gospel simply grabbed me.
Your main area of writing now is in the issue of healing for sexual abuse. How did that issue become your niche?
I remember the day very well. A woman, whom I had worked with for maybe five or six sessions, looked me in the eye, out of the blue, and said, "Do you know anything about sexual abuse?"
I was a psychologist, went through three years of seminary, two years of a master's program, six years of a Ph.D. program, all excellent programs, 11 to 12 years of graduate education—not a single stinking minute on the issues of abuse.
And I looked at her and I said, "No, I don't know much." And she said, "I know you don't. And if you're willing to work with me, I'll teach you everything I know." And that was a journey that God has not graciously let me leave and that has opened the door to things that I would never have thought I had the privilege to enter.
How widespread is this issue truly in American life and society?
It's pervasive. If it were an issue of the common cold, we would see it as a tragedy and it would be at the very front of Newsweek every week. With men, we're probably looking at at least one out of four. That's a very conservative figure. My guess is we're looking at at least 30 to 33 percent having been abused. If you look at women, the figures are even higher: 38 to 40 percent, again a conservative figure.
How can this be so common?
Well, it deadens something in the human heart. It kills a sense of humanity. It allows you to be even more abused and often allows you to do harm to others, even if it's not sexual abuse. There's a certain detachment, often technically called dissociation, a deadness inside the heart that separates from the reality of the pain.
Can people be healed once they've experienced it?
Oh, it's the hard labor. Will you name it first? Will you have the courage to name you have abuse? And that abuse, even if it was one time, one minute, has an effect in your heart, today, 30 or 40 years later.
About a year and a half after [this woman asked me that question,] I started teaching the material I was learning from her. A good friend of mine came to one of the first seminars, and after it was over said to me, "Do you have any history of abuse in your life?"
And I said, "Absolutely not."
He said, "Well, you know, you have a lot of passion about this, a lot of issues seem to be there. Have you ever been violated sexually? Ever been harmed? Ever felt sexual shame in any moment?"
And I was like, "Well, of course I have." And I told him a few stories.
As I told him the stories, he began to weep. And he said, "Do you mean to tell me this event with the scoutmaster, this event with a coach, this event in a locker room aren't sexual abuse?"
And I looked him literally in the eye and I said, "Well, given the definition I used when I was teaching, yes it is, but it really isn't." It was literally that level of shame of saying I will not address what's really in my own life.
What impact is pornography having on this issue?
 Oh, goodness. 15,000 pastors met at a Promise Keepers, and they did a survey. 65 percent of them said they struggled with pornography every week. If that's true in the pastoral community, you can bet it's equally true in the context of the other communities of God's people. We're looking at a scourge.
Why is it so widespread?
Pornography requires no risk. It doesn't require failure. It becomes your god. Why you would have a magazine become a God?
Many Christians stop at saying it's wrong, rather than asking why we would be drawn to something that's not only a violation of ourselves but of somebody else. Chesterton said, "Every man who knocks on the door of a brothel is looking for God." What are you truly looking for in your own life?
Related Elsewhere
Visit DickStaub.com for audio and video of his radio program (4-7 p.m. PST), media reviews, and news on "where belief meets real life."
Recent Dick Staub Interviews include:
Paul Elie on 'the Holy Ghost School' | The author of The Life You Save May Be Your Own talks about the personal journeys of Flannery O'Connor, Thomas Merton, Dorothy Day, and Walker Percy and what we learn from them today (June 3, 2003)
Why We Are Drawn to The Matrix | Chris Seay, coauthor of The Gospel Reloaded, says the first movie was about finding belief and the second looks at walking that path. (May 27, 2003)
Remembering Francis of Assisi, the Crazy Genius | CT managing editor Mark Galli finds someone who lived the Sermon on the Mount. (May 20, 2003)
John Ortberg's Freak Show | Churchgoers' attempts to be average are killing them, says the Willow Creek pastor. (May 13, 2003)
Winning People, Not Arguments | John Stackhouse discusses the evangelistic need for humble apologetics (May 6, 2003)
Francis Schaeffer's Grandson Goes to War | Frank Schaeffer talks about how his views of his country, culture, and prayer changed as his son joined the Marines (Apr. 29, 2003)
Alistair Begg on The Beatles | The author and pastor talks about the Fab Four's cry for "Help" and why no one answered it (Apr. 22, 2003)
Robert Seiple on the War in Iraq | The founder of The Institute for Global Engagement says America suffers from an inconsistency between national values and national interests (Apr. 15, 2003)
Article continues below
Marcia Ford on Christian Misfits | The author of Memoir of a Misfit describes her eccentric family and her faith journey. (Apr. 8, 2003)
War Is Not a Necessary Evil | The author of When God Says War Is Right says early Christians weren't pacifists but looked at the entire Bible for advice on war. (Apr. 8, 2003)
Jim Van Yperen on Church Conflicts | The author of Making Peace: A Guide to Overcoming Church Conflict says the early church was also "full of problems." (Mar. 18, 2003)
Texas Pastor James Robison on the Life-Changing Faith of George W. Bush | The president of Life Outreach International talks about his friend's faith, the moral need of America, and his own conversion. (Mar. 11, 2003)
National Book Award Finalist Ron Hansen on Christian Fiction | It's important to instruct while entertaining, but method can be as important as message, says the author of Isn't It Romantic? and Atticus. (Mar. 4, 2003)
Gods and Generals' Director Links the Civil War with Today | Ron Maxwell talks about the role his faith plays in his career and what attracts him to the generation of the 1860s. (Feb. 25, 2003)
Why Don Richardson Says There's No 'Peace Child' for Islam | The author and missionary says he has tried to find bridge-building opportunities with Islam, but failed. (Feb. 11, 2003)
The Dick Staub Interview
Dick Staub was host of a eponymous daily radio show on Seattle's KGNW and is the author of Too Christian, Too Pagan and The Culturally Savvy Christian. He currently runs The Kindlings, an effort to rekindle the creative, intellectual, and spiritual legacy of Christians in culture. His interviews appeared weekly on our site from 2002 to 2004.
Previous The Dick Staub Interview Columns: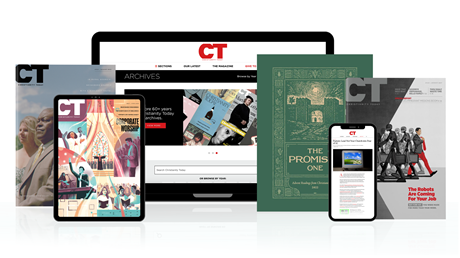 Subscribe to Christianity Today and get access to this article plus 65+ years of archives.
Home delivery of CT magazine
Complete access to articles on ChristianityToday.com
Over 120 years of magazine archives plus full access to all of CT's online archives
Subscribe Now
How Dan Allender Broke on Through (to the Other Side)
How Dan Allender Broke on Through (to the Other Side)