American Christians pray for peace, justice, and wisdom
In what has to be one of the most obvious headlines of the day, the Casper (Wyoming) Star Tribune titles an Associated Press story, "War likely topic of many Sunday sermons." (Then again, maybe it's not all that obvious: the Pew Forum on Religion and Public Life found that almost half of America's pastors haven't preached on Iraq yet, and four out of five haven't taken a position on war with the country.)
Many churches aren't waiting until Sunday to gather together to pray about military action in Iraq. It seems like every local paper in the country found a prayer vigil or ten to cover last night as bombs fell on Baghdad. Most news reports focus on the comfort that prayer can bring, and on the content of the prayers. Few seem to take seriously the idea that many of those praying believe they are literally making a difference by bringing their concerns to God.
"Prayer works. It's why we use it as a first resort," The Newton Kansan quotes Immanuel Baptist Church deacon Randy Engel saying. "It's the only viable means of defending our boys."
But not all prayer services were alike. "Some offered services in silence, labyrinth walks, books in which worshipers could write reflections," reports The Boston Globe. "Others offered more traditional services, featuring liturgies set aside for times of war."
The Buffalo News reports that "about 150 people attended noon Mass in St. Joseph's Cathedral—a time that usually attracts only a handful of devout Catholics," but few parishioners showed interest in Cleveland, according to The Plain Dealer. "This was not Sept. 12," reporters Karen R. Long and David Briggs noted. "A vigil at Trinity Episcopal Cathedral downtown started with three people yesterday morning. The open-door vigil at nearby First United Methodist Church was empty most of the day. At Old Stone Church, which was packed after the Twin Towers collapsed, only two people started a Presbyterian service at noon yesterday."
The Globe similarly notes that "the turnout at churches was not huge, perhaps reflecting the fact that the war was anticipated."
Two Rivers Baptist Church in Nashville lifted its ban on cell phone use during services, reports Baptist Press. "Each person with a cell phone who knew of a friend with someone away at war was asked to stand up and call that person while a small group gathered around in the worship center to pray for the specific loved one."
In Goshen, Indiana, an ecumenical service walked a fine line to bring together the pacifist Mennonites the town is known for and more hawkish Christians. "If you want to pray for our troops and that we win the war, you pray that prayer," said pastor Mel Shetler, pastor of the Maple City Chapel where the service was held. "If you want to pray that our President will repent and pull back our troops, you pray that prayer. We're not here to debate the issue, we're here to pray."
The Virginian-Pilot of Hampton Roads, Va., says a prayer service at Norfolk Christian Lower School was more one-sided. "Principal Karen Upton's sweater was a woven replica of the Stars and Stripes," Steven G. Vegh reports. "Between Bible readings and singing lyrics such as 'Oh, Lord, we know you love this country,' the pupils beseeched God at the microphone. … One boy's prayer was 'that Iraq becomes a better person.'"
Others added fasting to their prayers, but were quick to distinguish petition from protest. "This is not a hunger strike," Roman Catholic Tim McCarthy told The Virginian-Pilot "This asks persons to be in solidarity in fasting and prayer in whatever way they can."
Two dozen or so members of Northaven United Methodist Church in Dallas also began a 48-hour fast yesterday, reports the Ft. Worth Star-Telegram, but have seen fellow Christians join them from as far away as Britain and Russia.
Such Internet prayer efforts seem to be drawing more together than actual church services. The Washington Post today reports on "dozens of Web sites encouraging Americans to sign up to pray for Bush and U.S. troops." Among them is PrayForOurPresident.com. "Unfortunately, there probably are people in other lands who are praying against the President and against us," explains founder Terry Posey. So I think it's important for us to have our share of prayer warriors."
Ted Haggard, the new president of the National Association of Evangelicals and pastor of New Life Church in Colorado Springs, is also involved in several physical and online prayer efforts, including the Presidential Prayer Team and the World Prayer Center. "Everybody is praying to whomever they claim is the sovereign God, so we all agree that however this comes out, it will be God's will," he told the Post. "In the end, Saddam is going to have to accept the fact that it was not God's will for him to remain in power."
While it's a given that Christians are supposed to pray in times like this, it might be hard to know exactly what to pray for. Here's one guide that has become very popular here at Christianity Today International.
More articles
Religious reaction to war:
War and interfaith relations:
Church and state:
Clergy sex abuse:
Missions and ministries:
Internet and technology:
Politics and law:
Pop culture and books:
Life ethics:
Education:
History and artifacts:
Other articles of interest:
Related Elsewhere
Suggest links and stories by sending e-mail to weblog@christianitytoday.com
See our past Weblog updates:
March 20 | 19 | 18 | 17
March 14 | 13 | 12 | 11 | 10
March 7 | 6 | 5 | 4 | 3
February 28 | 27 | 26 | 25 | 24
February 21 | 20 | 19 | 18 | 17
February 14 | 13 | 12 | 11 | 10
February 7 | 6 | 5 | 4 | 3
and more, back to November 1999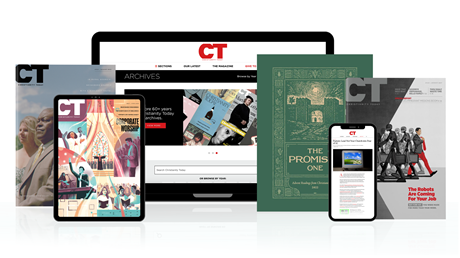 Annual & Monthly subscriptions available.
Print & Digital Issues of CT magazine
Complete access to every article on ChristianityToday.com
Unlimited access to 65+ years of CT's online archives
Member-only special issues
Subscribe
A Nation at War—and on Its Knees
A Nation at War—and on Its Knees