There's nothing like a crisis to stir Americans to pray, and with the technological advances of the Internet, united prayer has risen to a new level as a result of Operation Iraqi Freedom. Individual Christians are joining their prayers in loosely aligned online networks. They believe their prayers, joined with those of other people, can affect both the direction of the nation and the world. They are not the only ones who think this way. In March both Houses of Congress passed resolutions urging President Bush to proclaim a national day of prayer and fasting.
Prayer walks, all-night prayer vigils, and round-the-clock prayer chains are more popular than ever. Three movements in particular are galvanizing hundreds of thousands of evangelicals to pray in this time of crisis. They are also raising questions about the interface between spiritual warfare in the heavenlies and physical warfare on earthly battlefields.
For those in authority nothing has galvanized the praying populace as much as the Internet-based Presidential Prayer Team (www.presidentialprayerteam.org), which formed a week after the terrorist strikes in 2001. The nonpartisan PPT has signed up 1.6 million people to pray daily for President Bush and members of his Cabinet on a rotating basis.
Within a week after the war in Iraq began, 600,000 people committed to pray daily in PPT's "Adopt Our Troops" campaign. At the same time, the campaign received 120,000 names to pray for, whether from soldiers themselves or from family members. The two-fold goal of the PPT campaign is to make sure all military personnel and their families receive prayer, and to show support for the troops.
The Tucson-based PPT has a $6 million annual budget supported by individual contributions. It has no faith criteria for those who pray. Executive Director John Lind says the organization has a goal to enlist 2.8 million people, 1 percent of the U.S. population, to pray. "As long as we have a president, we will be in business," Lind says.
Information provided online, based on the President's public schedule, provides specific guidance. Those who adopt a soldier through PPT receive a certificate bearing the military person's name. PPT also provides a window decal as a continuous reminder to uphold the President in prayer. In addition, PPT sells mugs, caps, and T-shirts.
E-Mail Prayer Alerts
Ted Haggard, senior pastor of the 9,200-member New Life Church in Colorado Springs, leads another concerted prayer effort. His church is the largest congregation in the Centennial State, and has long promoted unified prayer. Haggard opened the $5.5 million World Prayer Center (www.worldprayerteam.org) on New Life's grounds in 1998. Members of the independent, charismatic church paid for most of the construction themselves.
Here, under the flags of 54 nations, as many as 5,000 Presbyterians, Nazarenes, Baptists, Pentecostals, and others have gathered simultaneously for prayer, engaging in what they call spiritual warfare over a wide variety of issues related to world evangelization. Christians who hold to this paradigm, portrayed in Frank Peretti's novel This Present Darkness, see prayer as a weapon to bind the activities of Satan and demons on the earth. To participate at the World Prayer Center, those praying must simply adhere to the National Association of Evangelicals' statement of faith.
The more extensive work of the center is done via computer, video streaming, and fax machine. The facility has more than six miles of wiring and conduit to allow Christians to convey and respond to all kinds of prayer requests. When the World Prayer Center opened, leaders called it the "spiritual NORAD" of the AD2000 and Beyond world evangelization movement.
In fact, the World Prayer Center server has crashed several times because so many people are signing up to receive e-mail prayer alerts, ranging from the healing of a cancer patient in Alabama to protection for Pakistani Christians from persecution by Muslim extremists. Lately, the team has focused more of its attention on Iraq, initially praying that Saddam Hussein comply with U.N. weapons inspectors and then that he abdicate. Haggard personally believes that is was God's plan for Saddam to leave Iraq, but that Saddam, despite the entreaties of millions, exercised his free will. Haggard told Christianity Today, "Saddam made a choice."
The team now prays mainly in four areas: the leadership of the United States; minimal loss of life in the war; freedom for all people, especially the politically oppressed in Iraq; and freedom of religion, particularly of worship. Though he believes in miraculous prayer, Haggard also knows what he's up against. "We all know we are living in a fallen world," Haggard says. "Death is a part of war. Prayer doesn't turn earth into heaven."
New Life Church has started a new "Call to War Men's Prayer Offensive" ministry (www.calltowar.com). The Call to War webpage features an American eagle over the words "More Prayer. Less Talk." Among other requests, the Call to War site includes this suggested prayer: "Lord, we come against the spirit of terrorism in the Middle East. We ask that any nation that harbors terrorists would come under new leadership. Lord, bring Saddam Hussein and Osama Bin Laden to justice. Give our military leaders supernatural guidance to their locations."
Spiritual Warriors
Another group with a goal to pray for those in national authority is Global Harvest Ministries (www.globalharvest.org), which was instrumental in founding the World Prayer Center. Leaders of the group consider its methodology more strategic than some other prayer initiatives because of their highly trained intercessors, according to Chuck D. Pierce, vice president of Global Harvest Ministries.
Global Harvest Ministries was founded in 1991 by Fuller Seminary's C. Peter Wagner and others who hold to the warfare approach to prayer. Supporters can subscribe to its Global Prayer News quarterly newsletter or sign up for the e-mail version.
Pierce subscribes to Wagner's theology that prayer should be spontaneous, frequent, aggressive, loud, expressive, and emotional. Pierce, coauthor of The Future War of the Church (Regal Books, 2001), believes the terror strikes of September 11 ushered in a seven-year "season of war." Pierce says that by 2008, the United States will either align with God or drift from his purpose, resulting in more destruction.
Citing Ephesians 6, Pierce believes that Christians have the ability to raise the shield of faith and quench the fiery darts that would hurt innocent people. "That doesn't mean there won't be casualties," Pierce says. "But we have the ability to minimize them."
Cautions About Formulas
One assumption of many prayer efforts has been that prayer's effectiveness increases with the number of people praying. Haggard, for example, while acknowledging that the plea of a humble child might be more effective than appeals by a million adults, says that "some Scriptures indicate that people praying in agreement becomes increasingly influential in the kingdom of God."
Other Christians express caution, however. "God is not impressed by numbers," cautions Timothy George, dean of Beeson Divinity School at Samford University in Birmingham, Alabama. George says there is no magical threshold that suddenly attracts God's attention if we pray long enough, with special fervor, or in large groups. Still, George says, Scripture encourages Christians to persist in faithful prayer.
George also cautions those who might be tempted to equate the current war in Iraq with spiritual warfare. He says that the armor of God motif in Ephesians 6 is talking about weapons of spiritual growth, not national military campaigns. "It is dangerous to take war imagery and demonize our human enemies," George says. And, as Jesus taught, American Christians should also pray for their enemies, including Iraqi troops and Saddam Hussein.
"The Lord uses our prayers to accomplish his will," George says. "But the rising and falling of all empires and kings are in the hand of God, in his own time."
John W. Kennedy is news editor for Today's Pentecostal Evangel, published by the Assemblies of God.
Related Elsewhere
Also appearing on our site today:
Journalists Who Pray | Christianity Today editors share prayer practices that energize them.
Sites referenced above include:
The Future War of the Church and This Present Darkness are available at Christianbook.com.
For more coverage on the current conflict, commentary and thought on just war, or Christian debate, see our CTWar in Iraq archive. For relevant articles on the war from news agencies around the globe, see CT's updated war links page.
A downloadable Bible study on the implications of war with Iraq is available at CurrentIssuesBibleStudy.com. These unique Bible studies use articles from current issues of Christianity Today to prompt thought-provoking discussions in adult Sunday school classes or small groups.
Recent Christianity Today articles and commentary on the current war with Iraq include:
Are Prayers in a Time of War Really About Comfort? | In part. But their main purpose is about much, much more than that. (March 28, 2003)
CT Classic: War Cry | As 1991's Gulf War began, a Christianity Today editorial said the church's best weapon was tearful prayer. (March 24, 2003)
CT Classic: Weeping over Baghdad | Desert Storm cost Iraq thousands of lives. At its conclusion, a Christianity Today editorial called for the church to deal with the living souls that remained. (March 21, 2003)
A Nation at War—And on its Knees | American Christians pray for peace, justice, and wisdom. (March 21, 2003)
Weapons of the Spirit | Regardless of their positions on Iraq, Christians have much they can do. (Feb. 25, 2003)
Have something to add about this? See something we missed? Share your feedback here.
Our digital archives are a work in progress. Let us know if corrections need to be made.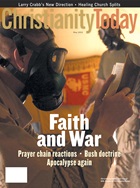 This article is from the May 2003 issue.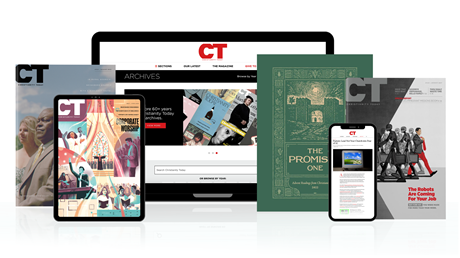 Annual & Monthly subscriptions available.
Print & Digital Issues of CT magazine
Complete access to every article on ChristianityToday.com
Unlimited access to 65+ years of CT's online archives
Member-only special issues
Subscribe
Prayer Warriors
Prayer Warriors