The emaciated boy moved along the stalls of street vendors in the northern city of Xian. Furtively retrieving scraps of food, bark, and grass, he looked like a spinning scarecrow. As the boy stood up in a patch of light, people could see he was clad only in dirt. His eyes were blank. Locals call him the "naked boy beggar."
Even in an increasingly prosperous China, the beggar boy is one of millions of poor people. The government, recognizing that it can only do so much, is contravening a long-term policy. It is opening the door to a genuinely private social service sector to help alleviate the suffering.
An estimated 150 million Chinese have been lifted out of poverty in the last decade, but millions of others have been thrown into it. Though the country's gross domestic product has doubled since 1978, the government has let go millions of workers who were part of money-losing, state-owned enterprises. In addition, many peasants are heading to the cities, where there are not enough jobs and social services.
In Shaanxi, the northern province in which the beggar boy forages, perhaps 20 percent of the population suffers from malnutrition, according to the International Labor Organization. There are around 100 million immigrant laborers—also known as "floating people"—and 30 to 40 million poor people in urban China, according to a Chinese government think tank.
Such figures concern the country's communist leaders, who these days prize social stability over communist ideology. Carol Hamrin, a longtime China watcher, said China's government has reason to be concerned.
"There is a lot of anger," she told CHRISTIANITY TODAY. "Social tensions are increasing with rapidly growing income disparities, which likely will surge in the next five to ten years."
The government is not only encouraging the private social sector, but also reluctantly (according to high-level sources in Beijing) asking Western Christians to train the new Chinese charity CEOS.
Team Resources, a Christian consulting firm based in Atlanta, had a trial run at training Chinese NGO leaders in August. The first formal class will begin in December.
The Ministry of Civil Affairs will announce new guidelines no later than early next year. According to "The Eight Standards for Non-Profits," an internal draft obtained by CHRISTIANITY TODAY, religious groups will not be excluded.
Hamrin, who now assists the Christian consulting firm ChinaSource, said Western and Chinese scholars are closely studying the social underpinnings of economic success, and then are coming to some startling conclusions.
"The slogan of this administrative reform—'small government, big society'—represents a significant change of concept," Hamrin said.
Officially, China already allows charities. In practice, however, many so-called nongovernmental groups are founded, owned, and run by the government.
The thousands of truly nongovernmental organizations that do exist operate in a legal twilight zone. While such agencies provide anywhere between 18 and 28 percent of all social services to the poor, they are vulnerable to fraud, legal harassment, and arbitrary shutdown.
Western agencies also operate on the fringes, with some of the same vulnerability. They are allowed to do some work, but not as full-fledged charities. How their role will change is still unknown.
Local champion
The official who has done the most to create China's charity sector is Yan Mingfu, until recently the president of the government-run Chinese Charity Federation.
In 2000, with the help of Hamrin, Yan led a delegation of government officials to see how private American Christians help the poor, disabled, and elderly. Yan circulated his observations in a book, A Glimpse of Charities in the U.S.A.
According to Yan's recently published autobiography, his sympathies toward Christians go back a long way. His father was a YMCA leader in the large northern industrial city of Shenyang. Yan joined the Communist Party as a young man, eventually becoming director of the United Front Department, which determines religious policy in China. He soon joined the government's inner circle of leadership, and sided with the reformers.
Yan rewrote the government's religion policy so that religious people obtained more legal rights. After meeting with Hamrin, then serving in the State Department, Yan approved Billy Graham's visit to China in 1988.
But government hardliners considered Yan too liberal. When Yan's negotiations with the students during the 1989 Tiananmen Square democracy demonstration broke down, the hardliners forced him into retirement.
Today Yan, 72, is making a comeback, but Chinese hardliners are opposing his efforts again.
"The ultra-leftists believe that the government should take care of these problems and that public welfare should replace [private] charity," he says. A researcher in a central government think tank said hardliners believe that "all NGOS are a bunch of troublemakers."
Yan and many other Chinese officials see things differently, partly because of the track record of NGOS. In early September torrential rains hit Shaanxi, destroying 110,000 houses. World Vision was the first international NGO on the scene, delivering quilts, jackets, and shoes.
"There will be no more" government-organized charities by the end of next year, Yan said.
The need for help, however, is going to grow. A poor man living near the beggar boy's turf used a pile of magazines as his blanket each night. "I need help," he told CT. "I'm not a troublemaker. I need to eat—it's that simple."
Related Elsewhere
More information about Carol Hamrin is available on the website of the Institute for Global Engagement where there is also more information about China.
The China Charity Foundation website is available in Chinese.
Other CT articles on China include:
'Dangerous' Chinese Bill Is Thwarted | Article 23 would have automatically banned Hong Kong groups now outlawed on the mainland. (Aug, 21, 2003)
Breakthrough Dancing | A look at the one of the most creative youth ministries in Hong Kong—if not the world. (July 23, 2003)
Hit by the SARS Tornado | Breakthrough reacted quickly when the disease hit Hong Kong. (July 23, 2003)
Inside CT: Chinese Puzzle | Things are changing for China's church. (March 07, 2003)
Under Suspicion | Hong Kong's Christians fear antisedition measures will curb religious liberty. (Feb. 21, 2003)
Did Apostles Go to China? | Evidence suggests Christianity reached China in the first century. (Oct. 21, 2002)
Working with the Communists | Some evangelicals minister happily within China's state-supervised Three Self church. (Oct. 18, 2002)
Bush: 'I'm One of Them' | Religious persecution allegations set the stage for George Bush's visit to China. (Feb. 27, 2002)
'New' China: Same Old Tricks | Top communists, despite their denials, endorse arrest and torture of Chinese Christians by the thousands. (Feb 15, 2002)
The Unlikely Activist | How a bitter atheist helped besieged Christians—and became a believer. (Feb. 15, 2002)
What China's Secret Documents Reveal | The New York archive of religious persecution in China contains numerous government documents that show how the government controls religion. (Feb 15, 2002)
China Persecution Dossier: Zhang Wu-Ji | Tortured to the point of death. (Feb. 15, 2002)
China Persecution Dossier: Shi Yun-Chao | Beaten for Hosting Bible Studies. (Feb. 15, 2002)
China Persecution Dossier: Gu Xiangmei | Surviving on "tiger's diarrhea." (Feb. 15, 2002)
Article continues below
In Perspective: What is the Falun Gong? | And why does the Chinese government want to destroy it? (Feb. 06, 2002)
Gong's 'Accusers' Claim Torture Induced False Confessions | Letters from imprisoned Christian women in China describe assaults with electric clubs (Feb. 01, 2002)
Gospel View from China | He Qi first saw Jesus' face in an old magazine. Now he paints his own images of the biblical story. (Jan. 25, 2002)
Church Leader Gets Reprieve | China's case against Gong Shengliang now on hold. (Jan. 24, 2002)
Chinese House Church Leader Granted Time to Appeal Death Sentence | Sentence likely to be commuted to imprisonment, but church remains in danger. (Jan. 08, 2002)
Free China's Church | The Communist country may ease some religious restrictions, but they still want an apolitical church. (Jan. 03, 2002)
Have something to add about this? See something we missed? Share your feedback here.
Our digital archives are a work in progress. Let us know if corrections need to be made.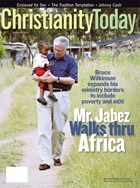 This article is from the November 2003 issue.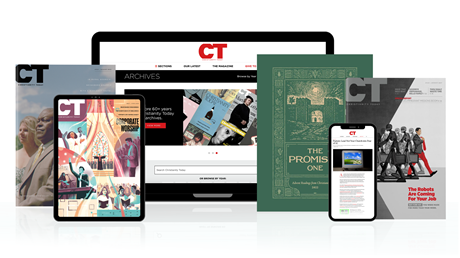 Subscribe to Christianity Today and get access to this article plus 65+ years of archives.
Home delivery of CT magazine
Complete access to articles on ChristianityToday.com
Over 120 years of magazine archives plus full access to all of CT's online archives
Subscribe Now
About-Face on Charities
About-Face on Charities