true
As well crafted as the tall ships that once sailed the high seas, Master and Commander: The Far Side of the World is a breathtaking, stirring film, as thoughtful as it is adventurous.
Set during the Napoleonic Wars, Master and Commander is the first screen adaptation of Patrick O'Brian's riveting, 20-volume "Aubrey/Maturin" series of historical seafaring novels. Based on the first and tenth books of the series, this visually stunning film captures the adventure of the high seas while reminding us that the story is ultimately about its characters, not just its ships.
Russell Crowe stars as Captain Jack "Lucky" Aubrey, commander of the HMS Surprise, a British frigate. As the film opens in 1805, we find the Surprise off the coast of Brazil. Its orders are clear: Sink, burn, or capture the Acheron, a French warship with significantly greater man—and firepower than the faithful but aging Surprise.
A sneak attack initiates a chase that will take the two ships on a high-stakes journey across the seas, through the storm-tossed waters of Cape Horn, southward through ice and snow, and eventually to the untamed Galapagos Islands for a final showdown.
Along the way, Aubrey must face the tension between his personal desires and the best interests of the men on his ship. This tension plays out in his relationship with his long-time friend and ship's surgeon, Stephen Maturin (Paul Bettany). As the thoughtful scientist, Bettany balances Aubrey's intensity with his subdued wisdom, much as his cello playing provides a sonorous undertone for Aubrey's melodious violin.
But from the outset, it's obvious that Aubrey is the central character in the film, and Crowe gives a commanding performance as the ship's Captain. A lifelong seaman who began his navy career as a member of Lord Nelson's crew, Crowe's Aubrey displays an obvious love for the seafaring life. He speaks lovingly of his old ship and is a dedicated student of the art and science of war.
At one point, Aubrey tells some of his men what it was like to be in the presence of the great Lord Nelson. "With Nelson, you felt your heart glow," he says. Aubrey was obviously greatly affected by Nelson, and wants to similarly impact his own crew. While it is clear that Aubrey's primary allegiance is to the British Navy, it is equally clear that he cares deeply about the men on his ship. He earns their respect by treating them respectfully and fairly, yet displays a lighthearted spirit that helps each of the 197 men onboard keep his good humor in incredibly tight quarters.
When Aubrey's loyalties to country and crew collide, Crowe lets us feel his inner conflict, showing his pain without losing sight of his greater responsibility. The Captain is a multi-dimensional character, and Crowe masterfully infuses each dimension with depth. He is a commanding presence from the very beginning of the movie, yet never goes "over the top" in his portrayal of the ship's commander. For 139 minutes, Crowe becomes Jack Aubrey.
Bettany provides an equally worthy performance as Dr. Maturin. While Aubrey's life purpose is to serve his country, Maturin is willing to serve the Empire as a ship's doctor in exchange for the opportunity to travel the world to pursue his true passion, biological research. Bettany plays the talented, compassionate doctor with depth, doing his physician's duties and caring for the sick or wounded while waiting for his next chance to explore new plant and animal life.
A thoughtful fellow, Maturin quietly holds the respect of all the men, who no doubt realize their very lives might one day rest in his skilled hands. And while his and Aubrey's loyalties sometimes put the two men at odds, their friendship runs strong and deep, forged over years of service together.
In many action films, the majority of crew members serve as props whose primary purpose is to get blown up in battle. Here, the ship's crewmen are thoughtfully played by a memorable supporting cast who provide additional depth to the story.
As Lord Blakeney, Max Pirkis plays a wide-eyed, 12-year-old boy whose innocent mind can't even begin to imagine the horrible things he will soon experience. Lee Ingleby portrays the tortured midshipman Hollom, the central figure in a subplot that revolves around the story of Jonah. These two, along with the rest of the crew, display awe and admiration for their Captain. They willingly entrust their lives to Aubrey's leadership, and expect him to lead them to victory.
Of course, this human interaction all takes place against the backdrop of a stunning set, including the beautiful HMS Surprise.Master and Commander features a host of impressive technical effects, all of which blend seamlessly in some of the greatest seafaring scenes ever recorded on film. The ship's voyage around Cape Horn is particularly spectacular.
All this is due to the superb directorial skills of Peter Weir, who paid equal attention to the physical and emotional elements of the movie. In addition to following O'Brian's details, Weir employed historical and technical consultants to faithfully re-create the era. Weir's crew re-fitted an actual ship of that era and filmed much of the movie in the enormous tank used during the production of "Titanic."
The result is an intimate, historically accurate look at what life was like on a tall ship in 1805. Stomach-turning storms, searing heat, menial chores, periods of rest and repair punctuated by the frenzy of battle—these shared experiences form a tight-knit community, where good friends, good music and good grog are some of life's greatest pleasures.
The film's opening scene gives the state of the Surprise: "28 guns. 197 souls." By the end of their journey, the crew has experienced significant losses. Through its emphasis on characters and not merely action, Master and Commander does not let us forget that all individuals are souls with flesh and blood, not merely empty casualties of war.
Talk About It
Discussion starters
Has there ever been anyone that impacted you in the way Lord Nelson impacted Captain Aubrey? ("With Nelson, you felt your heart glow.") Would anyone say the same about you?


In addition to the Jonah figure, are there any other crew members who seem to mirror biblical characters?


Aubrey is faced with tough choices at several points. Would you have acted in the same way? Have you ever felt like a decision you must make will have a negative consequence no matter which course of action you choose? What did you decide, and why?


The Family Corner
For parents to consider
As a war movie, the film doesn't shy away from showing violent, and sometimes disturbing, images—not so much during the battle sequences as in the aftermath, and most of those in Doctor Maturin's surgery. There's an amputation of an arm, though the cutting occurs offscreen. There's a gruesome head injury that requires surgery. And there's a make-you-grimace scene where the doctor performs surgery on himself.
What Other Critics Are Saying
compiled by Jeffrey Overstreet
from Film Forum, 11/13/03
But if you're eager to get the scoop on Peter Weir's Master and Commander: The Far Side of the World, a spectacular and suspenseful high-seas adventure starring Russell Crowe and Paul Bettany, my full review of the film is posted here, and Michael Elliott's review is up at Movie Parables.
from Film Forum, 11/20/03
There are few subjects more relevant and timely than that of a leader's responsibilities in wartime. Director Peter Weir has explored the tension between power, duty, and conscience in such memorable films as The Year of Living Dangerously, The Mosquito Coast, Fearless, Witness, and The Truman Show. He tackles these issues again in Master and Commander: The Far Side of the World.
The film's central character, Captain "Lucky" Jack Aubrey (Russell Crowe), is a man of ambition, valor, patriotism, and deadly cunning. Aubrey has been assigned by the British government to lead his able but reluctant crew on a devil-take-the-odds voyage to intercept the French warship Acheron, a craft so strong it could turn the tide of the Napoleonic Wars. Aubrey's optimism, ingenuity, and charisma inspire his men, but they do not discourage the questions of conscience raised by his best friend, the ship's doctor, a naturalist named Stephen Maturin (Paul Bettany). When Aubrey's ship, the HMS Surprise, is crippled in a violent clash with the enemy, the captain's determination to pursue and overcome his nemesis toes the line of irresponsibility. The men begin to grumble that perhaps he is acting selfishly, caring more about a quest of revenge than the fulfillment of duty.
Mainstream critics are calling this adaptation of Patrick O'Brian's oceanic epic one of the finest high seas adventures ever filmed. Religious press critics are especially impressed, as the film does not flinch at portraying the Christian faith that was an integral part of military language and procedure in early 19th century Britain.
David DiCerto (Catholic News Service) says, "Weir has achieved a stunning victory on both a large and intimate scale. The film contains the grand spectacle of the original source material, as well as its painstaking attention to detail, proving effective as both a work of historical realism and escapist fare. [It] explores … friendship versus duty and the role of hierarchy in staving off anarchy."
"This film is an ideal experience for young men on their way to manhood, as they will see some role models with admirable qualities," writes Jay Levitz (Christian Spotlight). "Weir has co-written and directed one of the best adventure films of this or any other decade. All the elements, including some intricately-staged battle sequences, are so realistic that it's difficult to tell whether special effects were used at all."
Michael Elliott (Movie Parables) agrees: "Weir does an amazing job of conveying the look and feel of a life that no longer exists. We really get a sense of what life must have been like aboard a tall ship circa 1805."
Perhaps it's all a bit too real. Steven Isaac (Plugged In) praises the film's story of virtue. But he admits, "There are times you'll be wishing for a gangplank to shore, especially if you've brought your whole family along for the excursion. Raging battle scenes and their bloody aftermaths are both intense and prolonged."
Holly McClure (Crosswalk) says the film is "definitely … for mature audiences, but I think teenagers (especially boys) will enjoy watching a story about men (and young men) who united, overcame odds and achieved victory."
"Overall, I really enjoyed the movie, not only for the great spin on war movies, but also for the historical accuracy of the movie," says Melinda Ledman (Hollywood Jesus). "Someone obviously did their homework. If you haven't seen it, also look for these great themes: courage, loyalty, tyranny, surprise, and leadership."
Frederica Matthewes-Green (Our Sunday Visitor) says, "This is what makes the film so deeply appealing: it has a human scale. When you see three sailors straining to hold down a rope in the teeth of a gale, their strength and the wind seem a believable match. The howl of the storm and the creaking of the old ship's timbers sound about right. Nothing is larger than life. It turns out life is large enough."
I'll add my voice to the chorus of praise for Weir's achievement. While I prefer a few of his more thought-provoking earlier works (Picnic at Hanging Rock, Witness, and especially Fearless), Master and Commander: The Far Side of the World is one of the richest pieces of storytelling that has played in theaters this year, and it especially rewards those who see it on a big screen with a good sound system. It's the closest thing to a high seas adventure most of us will ever have, and it stands apart from other recent action films in that Weir never does anything indulgently. The sights, sounds, and thrills all contribute to storytelling, engaging our minds as much as our senses. My full review is at Looking Closer.
from Film Forum, 11/26/03
Catching up with the much-praised Peter Weir film Master and Commander: The Far Side of the World, J. Robert Parks (Phantom Tollbooth) offers his own applause. "One of the movie's many achievements is that it assumes an intelligent audience as well as viewers who aren't sailors. It never talks down to us but doesn't overwhelm us with sailing terminology, either. Weir brings all of the film's elements into harmony. If you're looking for a gripping historical tale that doesn't involve powdered wigs, this movie's for you."
from Film Forum, 12/11/03
Josh Hurst (The Rebel Base) did not have high expectations going into Peter Weir's Master and Commander: The Far Side of the World. He was in for a surprise. "Like a mighty hurricane, this film will quite simply knock you out. Well-acted, masterfully crafted, and relentlessly effective in its storytelling, [this film] shows us an artist and an entertainer at the top of his game. Throughout the movie, Weir raises important questions about leadership, responsibility, and morality. [He] is never preachy or propagandistic; he simply asks the questions and leaves the audience to ponder and discuss the answers."
Similarly, Denny Wayman (Cinema in Focus) calls it "compelling. Military conflicts often bring out the best and the worst in human beings. The power of this film to present both is worthy of the journey."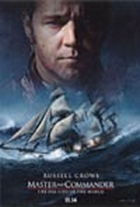 Browse All Movie Reviews By: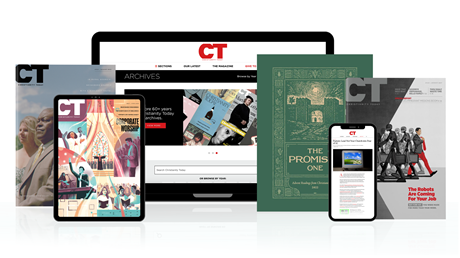 Subscribe to Christianity Today and get access to this article plus 65+ years of archives.
Home delivery of CT magazine
Complete access to articles on ChristianityToday.com
Over 120 years of magazine archives plus full access to all of CT's online archives
Subscribe Now
Master & Commander: The Far Side of the World
Master & Commander: The Far Side of the World