Popular speaker Ken Gire is the author of several books, including The Weathering Grace of God, Intimate Moments with the Savior, Windows of the Soul, and The Reflective Life. His new book is The Divine Embrace (Tyndale).
How did you come to faith?
I was brought up Lutheran in Fort Worth, Texas. I first started growing as a Christian not so much through the church as through Young Life. I went to a Young Life camp in Colorado.
The summer after my senior year in high school, I committed my life to serving the Lord in some way–a very halting, inarticulate way of saying, "You know, if ever you need any help with anything, I would be honored to help in some way." Something like that. Little did I know he would take that so seriously.
What was it about writing that tapped into your calling?
I ended up going to Dallas Theological Seminary after college. When I wrote my Master's thesis, I realized how much I loved writing. I got out of seminary and wanted to teach in a secular university. And suddenly I realized my degree from Dallas didn't mean much to that academic environment–I was told to go back and get a Ph.D. At that time I was married and had a child, and just had been in seminary for four years, and just was tired.
I was asked to start a church. I started a church in a rural area just outside of Fort Worth. It was during that time that I wrote my first book. It was a children's book called Treasure in an Oatmeal Box–a story about a set of twins, a boy and a girl, and the boy was mentally handicapped. And when I finished it I realized this is who I was, who God created me to be.
I tell the story of how I became a writer in Windows of the Soul.
Philip Yancey recently talked about the excruciating loneliness of being a writer.
Well, it helps to be shy and insecure. I didn't particularly like being in front of people. Writing was, for me, a real retreat. I loved just being by myself in the quiet womb of a library. And having all those thoughts gestate within you. It is a lonely life. Annie Dillard says in her The Writing Life, "The writing life is colorless to the point of sensory depravation."
Barry Lopez, who won the National Book Award for Arctic Dreams, told me about a writer's conference he'd been at. They had taken a bunch of best-selling authors and forced them into a retreat setting and were trying to get at the common theme in their work. And he just blurted out the word community. We're all lonely and we're all looking for community these days. You begin seeing your task as a Christian and a communicator and friend–it is to listen for an opening for conversation. And this is what Jesus did so effectively, and it's what artists are essentially opening up their arms and saying: Come have that conversation with me.
In Reflections on Movies, how do you talk about the extremes of our attitudes toward films?
I play off the C.S. Lewis quote from The Screwtape Letters, when he says, "There's two equal and opposite errors that we fall into when we're talking about devils. The one is to disbelieve their existence, the other is to believe and feel an excessive unhealthy involvement in it."
And the same thing is true regarding movies–we can either become obsessed by them, or we are cinematically abstinent. Either is a place of impoverishment.
In your new book, The Divine Embrace, how does Patch Adams help us get into the theme–dancing with Christ?
Our relationship with Christ doesn't begin with us pursuing him, I believe God is always previous–previent grace is the theological term–and I thought the example in Patch Adams was really wonderful where he is pursuing this one love interest in medical school. And she will have nothing to do with him and just holds him at arm's length and is rude to him and avoids him. And he draws her into this dance, of words to begin with, but then he exposes her to his dreams and his heart for helping people. And there comes this really poignant moment when he turns to kiss her on the porch and she turns away. And he says, "What are we?" And she says, "Men have been attracted to me all of my life." And you see tears streaming down her face. And you suddenly realize that she had been sexually abused since she was a child. And she says, "I hated men so much until I met you."
And I thought, that is the prayer of the woman at the well, that's the prayer of the woman caught in adultery, and essentially it's the prayer of all of us. Jesus woos us, and eventually we come to a place where we just fall into his arms.
You talk about "still point," quoting the T.S. Eliot poem, "Except for the point, the still point, there would be no dance. And there is only the dance." What is the still point?
If you take the image of two dancers dancing and they're twirling around in the room, all the room is going around them and their bodies are moving and they're moving across the floor. And yet they are locked in an embrace and looking at each other eye to eye.
And that is the still point, that is the thing that doesn't move. And it is around that still point, the intimacy of that eye contact, that all the activity revolves. And I think that's a metaphor for how our relationship with the Lord Jesus is supposed to be–that our activity for him should grow out of our intimacy with him.
Related Elsewhere:
Visit DickStaub.com for audio and video of his radio program (4-7 p.m. PST), media reviews, and news on "where belief meets real life."
Tyndale offers the first chapter of The Divine Embrace.
Recent Dick Staub Interviews include:
Jerry Jenkins's Solo Apocalypse | His new novel, Soon, imagines a world where religion, blamed for war, is banned (Sept. 16, 2003)
Why Frederica Mathewes-Green Loves Icons | Yes, we ask the saints to pray for us, she says. They are still living members of the church after all. (Sept. 9, 2003)
Sheila Walsh Says Stop | The author, singer, and popular speaker talks about learning to put praise above performance (Sept. 2, 2003)
Trusting in a Culturally Relevant Gospel | Os Guinness says that evangelicals have never strived for relevance in society as much as they do now. Ironically, he says, they have never been more irrelevant (Aug. 26, 2003)
The Long War About Science | Larry Witham, the author of Where Darwin Meets the Bible and By Design, talks about faith, science, and how the battle has evolved. (Aug. 19, 2003)
Kevin Leman Talks About Sex, Baby | The author of The Birth Order Book looks at the private lives of Christian couples in Sheet Music: Uncovering the Secrets of Sexual Intimacy in Marriage. (Aug. 12, 2003)
Why God is like Jazz | Donald Miller, author of Blue Like Jazz, talks about why Christians need writers who honestly deal with their faults and why penguin sex is an apt metaphor for believing in Christ. (Aug. 5, 2003)
A Gerontologist Gets Older | David Petty, author of Aging Gracefully, has long taught about the process of aging. Now, he is personally learning that one of the most important aspects is the spiritual side. (July 29, 2003)
Carmen Renee Berry's Unabashedly Consumerist Handbook to Ecclesiology | The author of The Unauthorized Guide to Choosing a Church helps seekers find their best congregational fit. (July 22, 2003)
The Dick Staub Interview
Dick Staub was host of a eponymous daily radio show on Seattle's KGNW and is the author of Too Christian, Too Pagan and The Culturally Savvy Christian. He currently runs The Kindlings, an effort to rekindle the creative, intellectual, and spiritual legacy of Christians in culture. His interviews appeared weekly on our site from 2002 to 2004.
Previous The Dick Staub Interview Columns: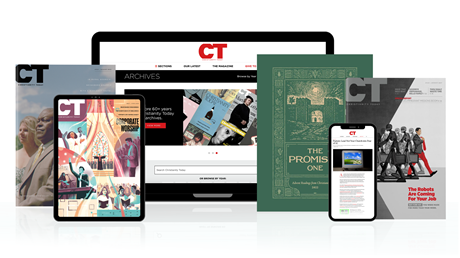 Subscribe to Christianity Today and get access to this article plus 65+ years of archives.
Home delivery of CT magazine
Complete access to articles on ChristianityToday.com
Over 120 years of magazine archives plus full access to all of CT's online archives
Subscribe Now
Ken Gire's Lord of the Dance
Ken Gire's Lord of the Dance