A blow to biblical values?
Alabamans yesterday voted 2-to-1 to reject a $1.2 billion tax increase. In effect, says USA Today, they "rejected Gov. Bob Riley's plea that it was their Christian duty to help the poor and reform a tax system he called 'immoral.'"
Well, maybe yes and maybe no. Certainly Riley made his case for the tax increase largely on moral, biblical and theological grounds—something that's pretty common among Democrats, but rare among Republicans like Riley. But yesterday's vote may not have been a blow to biblical values, writes the Cato Institute's Doug Bandow in National Review Online.
"One will peruse the Bible long and hard to find a verse that says it is better to make a poor person pay more for cigarettes and services than in income taxes," he writes.
What these lay theologians are missing is that God focuses on our relationship with him and our neighbors, not on our use of political power to coerce those around us. While the Old Testament, particularly, is filled with denunciations of government oppression, nowhere does that mean a regressive tax system adopted by a democratic polity. Instead, it means an autocratic Israelite king or outside conqueror stealing and pillaging. In fact, much of what government does today also could be characterized as stealing and pillaging, but that results from too many, not too few, taxes. It is the endless soup line of special interest spending programs, shrouded with public spirited rhetoric, that most resembles Biblical oppression.
Still, many conservative Alabaman pastors and groups like the Christian Coalition of America surprisingly disagreed in this case. It will be interesting to see what happens next, both to Riley's tax plan, and to the Christian argumentations surrounding it on both sides.
Do your Palm Sunday fronds bear the label?
Each year, North American churches spend about $4.5 million on 45 million palm fronds for Palm Sunday services, according to the Commission for Environmental Cooperation, which monitors the environmental effects of the North American Free Trade Agreement.
Monday, church groups met with Latin American farmers and government officials to discuss creating a system to certify that the palms are fairly traded. Currently, farmers earn less than one cent per frond, which go for about 10 cents in the U.S. That leads to overharvesting, the CEC says, which leads to environmental problems. The group wants churches to buy the fronds directly from farmers—and to pay more for them.
"We're trying to ensure that the farmers get a better price for their palm," the CEC's Chantal Line Carpentier told The Ottawa Citizen. "Since the religious groups already have a social and environmental mission as part of their ongoing activities, it was a perfect small pilot project."
Sarah Ford of Lutheran World Relief's Interfaith Fair Trade Initiative agrees. "To get the palms certified … would fit nicely into church concerns for workers' rights [and] economic justice," she told the Associated Press.
"It sounds like a plan a certain Palestinian carpenter might have approved of," The Montreal Gazette editorialized.
It sounds good so far—just so long as denominational conventions don't start passing resolutions demanding apologies for the environmental degradation caused during the Triumphal Entry.
Sermon illustration alert update
Two weeks ago, Weblog noted a New York Times story about thieves who broke into Manhattan's Church of the Holy Cross and worked hard to remove a statue of Jesus from a crucifix before they stole it, leaving the cross behind. (The moral: We sinners want Jesus without the cross.)
Today comes a report that the Jesus statue turned up by the garbage in the alley by the church. Police told The New York Times that the garbage had been picked up since the theft, so someone must have brought the statue back.
The moral of the story now: When we try to take Jesus into our lives without taking up the cross, we always end up rejecting Jesus in the end.
More articles
Bill McCartney quits as head of Promise Keepers:
Boston's record clergy abuse settlement:
Protestant cases of church abuse:
Crime:
Church music:
Missions and ministry:
Books:
Suggest links and stories by sending e-mail to weblog@christianitytoday.com
Check out Books & Culture's weblog, Content & Context.
See our past Weblog updates:
September 9 | 8
September 5 | 4 | 3 | 2
August 29 | 28 | 27 | 26 | 25
August 22 | 21 | 20 | 19 | 18
August 15 | 14 | 13 | 12 | 11
August 8 | 7b | 7a | 6 | 5 | 4
July 30 | 29 | 28
and more, back to November 1999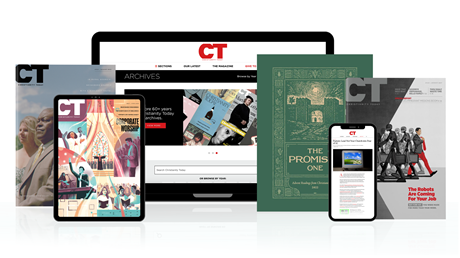 Subscribe to Christianity Today and get access to this article plus 65+ years of archives.
Home delivery of CT magazine
Complete access to articles on ChristianityToday.com
Over 120 years of magazine archives plus full access to all of CT's online archives
Subscribe Now
Did Alabamans Really Reject the Bible Yesterday?
Did Alabamans Really Reject the Bible Yesterday?