The stars come out to mock
The stars come out to mock
"To lampoon (Christian) fundamentalist beliefs about hell," the secularist group Center for Inquiry-West is staging its own production of Hell House, the evangelistic drama created by Colorado youth pastor Keenan Roberts. The play has attracted a large cadre of hip comedians and actors, including Bill Maher (Satan), Andy Richter (Jesus), Richard Belzer, Simpsons producer and standup comic Dana Gould , former porn star Traci Lords, Patton Oswalt (whose website proclaims "Christians hate me"), David Cross, Sarah Silverman, 24's Mary Lynn Rajskub, The Daily Show's Matt Walsh, Six Feet Under's Justina Machado and Rainn Wilson, and, um, a guy named Craig Bierko.
It's worth noting that an actual Christian film would kill or die to have just one actor with this degree of cache. (Most are stuck with people with about as much recognition as, um, Craig Bierko.)
Director/producer Maggie Rowe plans to stick religiously to Roberts' original scripts, which she got by calling him up and telling him she was from a youth group. To avoid the sin of lying, she called her production company "The Youth Group."
"Rowe acknowledges stretching the truth," the Rocky Mountain News reports. "To make up, she promised Roberts a free trip to Hollywood for opening night. But some cast members are so offended that they don't want to host him, she said. Roberts said he'll go on his own dime."
He's miffed that she misrepresented herself and her purposes but isn't holding a grudge. "People have been trying to damage this message since they crucified the founder of the movement," he told the News. "It's exciting. Hell House is going to another stage of exposure. … Whatever their agenda is, I know they cannot damage the power of the gospel."
Here's how the publicity materials describe the group's agenda: "Hollywood Hell House is not in any way an indictment of religion, Christianity, or the Bible. Its purpose is to demonstrate the absurdity of a literal interpretation of the Bible, specifically the belief in a literal everlasting hell." Indicting religion, Christianity, and the Bible is left to the production's parent organization.
The play opens August 27 at the center's Hollywood headquarters and runs through (what else?) Halloween. Tickets are $10.
Christian ethicists say Bush campaign went too far in asking for church directories
Christian ethicists say Bush campaign went too far in asking for church directories
The Washington Post headlines its article "Pastors Issue Directive in Response to Reelection Tactic," but it's actually about Christian ethicists at a variety of colleges and universities, not pastors. Ten of them, including Gordon College's Richard V. Pierard and Asbury Theological Seminary's George G. Hunter III, complained that the Bush campaign "violated a fundamental principle of our democracy" when it asked for church directories. "When any church leaders contend that they speak for God and have the right to tell congregants how to vote, such leaders have assumed prerogatives to which they have no right," the letter says.
It'll be interesting to see if this draws more attention than Richard Land's criticism of the same actions.
More articles
Religion & elections:
Keyes saddles wrong horse for Senate race | Uh, Illinois already protects children born alive during abortion procedures (Eric Zorn, Chicago Tribune)
Both campaigns set their sights on Catholic voters | Catholics make up a large chunk of the undecided voter group (Newhouse News Service)
Bush's band of brothers | Will a revived Promise Keepers drive Bush voters to the polls? (Bill Berkowitz, WorkingForChange)
Leftist groups target pastors in the fall elections | Americans United and the Mainstream Coalition may claim they are acting in good faith to ensure that churches do not engage in illegal political activity. But what they are really doing is engaging in Orwellian tactics to intimidate pastors into silence (Gary Palmer, The Demopolis Times, Demopolis, Ala.)
Spies in the pew | The infiltration of churches by political zealots signals a social decline that goes beyond parties (Editorial, The Free Lance-Star, Fredericksburg, Va.)
Religion & politics:
A GOP struggle for the podium | Conservative Christians feel slighted by party's moderate picks for prime convention slots (Los Angeles Times)
Religious experts ponder Jesus as a voter | It's a complex topic that can't be boiled down to simple political terms, said religious leaders who attended a Texas Faith Network conference in Austin on Tuesday (Associated Press)
Bush's faith-based changes scrutinized | He has made changes without Congress' okay (San Francisco Chronicle)
Muslim vote and Bush converts | Almost no Muslims will vote for Bush. Does it matter? (The Christian Science Monitor)
Does God belong in politics? | Religion shouldn't be used in such an earthly manner. (Emmanuel De Veirman, The Baltimore Sun)
Education:
Falwell integrates faith into law school | The Rev. Jerry Falwell will open a law school this month in hopes of training a generation of attorneys who will fight for conservative causes (Associated Press)
Christian controversy | The broken record plays on at the University of North Carolina at Chapel Hill, with critics once again charging that the school's administration is anti-Christian. The critics are wrong (Editorial, The Winson-Salem Journal, N.C.)
Anti-bias policy that's silly | A group based on common interests, such as religious beliefs, is by definition discriminatory. By following even well-intentioned anti-discrimination principles off an illogical cliff, we make it harder to fight real discrimination when it slithers into our society (Dennis Rogers, The News & Observer, Raleigh, N.C.)
Christians belong in public schools | Even God sent his people to secular schools (Mark Thieme, The News-Leader, Springfield, Mo.)
Religious freedom:
Jew can distribute fliers on campus | The University of New Orleans has settled a yearlong First Amendment lawsuit by allowing a Messianic Jew to distribute pamphlets on campus that contain the words: "Jews should believe in Jesus" (The Washington Times)
Also: UNO settles suit over distribution of religious tracts (Associated Press)
We must be free to criticize without being called racist | Liberals appease Muslims for fear of association with anti-immigrant thugs (Polly Toynbee, The Guardian, London)
No charges against 'race row' pastor | A religious leader who sparked on outcry when he branded the Islamic faith "evil" will not face prosecution (Evening News, Norwich, England)
States of denial | A rape, a visit to the ER, a request for emergency contraception, a refusal on religious grounds. Welcome to the new front in the battle for reproductive rights, where state law says it's okay to deny prescriptions (Abby Christopher, AlterNet)
Federal judge tosses challenge to N.Y. city's noise ordinance | A federal judge has dismissed a preacher's complaint that Ithaca authorities selectively used their noise ordinance to silence him in violation of his constitutional rights to free speech, equal protection and freedom of religion (Associated Press)
Sri Lankan anti-conversion bill:
Sri Lanka to outlaw religious conversions | Passes bill to prevent conversion by force, allurement or by fraudulent measure (Daily Times, Pakistan)
Anti-Conversion Bill needs two-thirds majority | Speaker W. J. M. Lokubandara yesterday told Parliament that the Supreme Court has recommended that certain clauses of the Prohibition of Forcible Conversion of Religion Bill violate certain articles of the Constitution and that the Bill in its present form has to be passed by not less than a two thirds majority and approved by the people at a referendum (Daily News, Sri Lanka)
Controversial Sri Lanka bill against religious conversion gets court nod | Sri Lanka's Supreme Court has approved a controversial bill seeking to outlaw "unethical" religious conversions in the Buddhist-majority island, the parliament was told (AFP)
China arrests priests:
Report: China arrests 8 priests in raid | Police in northern China detained eight priests from the underground Catholic Church in a raid on a religious retreat, a U.S.-based religious monitoring group reported (Associated Press)
China detains eight priests and a living Buddha—groups | China has detained eight Roman Catholic priests in a crackdown on those loyal to the Pope and arrested a "Living Buddha" for arousing superstition at the re-opening of a temple, U.S. groups said on Wednesday (Reuters)
Minister sentenced in exorcism death:
Minister gets 30 months in boy's death | Judge also bars him from performing other exorcisms (Milwaukee Journal-Sentinel)
Man sentenced in death at Wis. 'exorcism' | Ray Hemphill was sentenced to 2 1/2 years in prison (Associated Press)
Abuse:
Dioceses accused of moving assets to avoid paying sex-abuse claims | Lawyers say churches in Stockton and San Diego are transferring and hiding property to keep it from alleged victims (Los Angeles Times)
Victims group plans to push clergy abuse issue with House candidate | Advocates for victims of sexual abuse by priests vowed Tuesday night to push the issue with congressional candidate Matt Flynn, who represented the Catholic Archdiocese of Milwaukee in some abuse cases (Associated Press)
Catholicism:
Vatican gives schedule of Pope's next trip | The Vatican said John Paul would fly on Sept. 5 from his summer residence in Castel Gandolfo, near Rome, to Loreto, an Italian town near the Adriatic which is home to a shrine to the Virgin Mary. There the 84-year-old pope will celebrate a stamina-testing two-hour outdoor Mass (Associated Press)
Pope visit leaves Lourdes with hefty deficit | Pope John Paul's visit to Lourdes last weekend left the Roman Catholic shrine with a 1.2 million euro ($1.47 million) deficit because pilgrims keen to get good seats at his mass rushed past collection boxes (Reuters)
Church life:
Parishes split off over gay issues | Two congregations in the Southland leave the national Episcopal Church. The L.A. bishop is caught by surprise (Los Angeles Times)
Church drops 'Episcopal' from its name | St. James on Via Lido secedes because the affiliation encourages open-endedness over outright acceptance that only Jesus is Lord (Daily Pilot, Newport Beach, Ca.)
Presbyterian church takes courageous stand | It's about time Christian voices found the courage to stand up to Israel and recognize that Israeli violence contributes to the ongoing conflict (Ray Hanania, The Orlando Sentinel)
Missions & ministry:
Luis Palau, George Bush, and the Mall of America | An afternoon with the holy trinity of terror (Molly Priesmeyer, City Pages, Minneapolis)
Seeking online intervention | Single Christians are turning to online dating with a difference—swapping favourite Bible messages to meet their ideal partner (The Advertiser, Adelaide, South Australia)
Religion & feminism:
God & the feminist | In challenging the LDS establishment, Margaret Toscano lost her church home but continued her quest for truth (The Salt Lake Tribune)
The divine feminine | Historical depictions of faithful women are influencing modern religious worship (Deseret Morning News)
What is the Vatican saying about women? | Conservative Catholics might be surprised (M. Cathleen Kaveny, The Washington Post)
Female pastor wants congregation to see faith, not gender | At 26, Kristin Wendland of Stevens Point is taking a community's faith into her hands. On Sept. 13, Wendland will take the spiritual reins of the Living Hope Lutheran Church in Ettrick as its first female pastor. But being a woman will not affect the way she performs the duties of a pastor. (Stevens Point Journal, Wis.)
Abortion:
Kerry should seek to reduce abortions | An aid plan would be a moral and political boon (Paul J. Contino, Los Angeles Times)
Man accused of ruse in abortion clinic ads | An anti-abortion activist is being sued for pretending to offer abortion services to pregnant women seeking the procedure. The Louisiana man is accused of stalling women who called his listing, under abortion services, until it was too late for them to have an abortion (All Things Considered, NPR)
Abortion opponents use grassroots activism | Oponents of abortion are looking beyond the courts for ways to advance their cause. They're taking a grassroots approach to their cause (All Things Considered, NPR)
Life ethics:
Cloning embryos, multiplying controversies | Britain has become the first western country to license cloning for the creation of embryonic stem cells. The technology is hugely promising but also hugely controversial, in Britain and beyond. The issue is particularly polarizing in America (The Economist)
Churches look to galactic neighborhood watch | The church has joined the traditional knot of scientists and philosophers looking for signs of life in the cosmos (The Age, Melbourne, Australia)
War & terrorism:
Vatican ready to mediate in Najaf standoff | A spokesman for Moqtada Sadr, whose forces are locked in an intense battle inside the Shiite holy city with US and Iraqi troops, has already welcomed the proposal (AFP)
This flock is too woolly | First they cut the Christian soldiers. Now we can't even vow to our country (Richard Ingrams, The Observer, London)
Christian appearance appeals to Al-Qaeda | The FBI sent a warning to all offices nationwide, claiming that the terrorists act like Christians in order to conceal their identities (Zaman, Turkey)
History:
DNA to reveal source of Dead Sea Scrolls | Authorities are hoping that DNA testing of animal bones discovered in excavations at the Qumran plateau will reveal the origins of the Dead Sea Scrolls (The Jerusalem Post)
The Middle East and the West: The Crusades | NPR's Mike Shuster begins a special six-part series on the long and turbulent history of Western involvement in the Middle East with a look at the Christian Crusades (All Things Considered, NPR)
Inspired by faith's many mysteries | The work on John the Baptist's supposed cave is so fascinating and the history so rich that I hate to drag it out and look at it in the light of today. But I think there's a lesson in all those shards. We don't know everything about faith (Tommy Tomlinson, The Charlotte Observer, N.C.)
Archaeologists insist there was a community at Qumran | The Qumran myth is alive and well, despite recent attempts to disprove it, according to archaeologists digging at the site. The archaeologists, who are financed by Christian fundamentalist organizations, believe that despite recent theories to the contrary, there was a community at the place sometimes called "the oldest monastery in the Western world" (Haaretz, Tel Aviv)
Books:
'The Church That Forgot Christ': Bishop Breslin | Its aims are modest yet honorable, and its empathy seems genuine. But in the end, the book comes back to its true subject, Jimmy Breslin (The New York Times Book Review)
Notes from here and there | Jeff Sharlet reviews Pamela Constable's Fragments of Grace: My Search for Meaning in the Strife of South Asia (The Washington Post)
The gospel according to Disney | Its 70 years of morals, values and faith -- presented in a secular manner (Mark I. Pinsky, The Orlando Sentinel)
Book reveals Johnny Cash sick, grief-stricken | Sick and consumed by grief after his wife's death, Johnny Cash struggled to record his last songs and spoke regularly with the Rev. Billy Graham for comfort, according to a new family authorized biography (Associated Press)
Retailers are riding the wave of popularity of Christian-themed books | Moving beyond prose that reads like either a Bible study or a dime-store romance, Christian writers have started a literary renaissance by exploring serious religious themes in everything from futuristic thrillers to historical epics (The Seattle Times)
Music:
Reggae star Beenie Man could face charges for 'homophobic' lyrics | Campaigners claim protest against singer is working (The Guardian, London)
Also: Rap stars targeted by police for lyrics inciting gay hatred (The Independent, London)
Revival takes Ryman back to religious roots | Ryman Auditorium took on the form of a revival tent yesterday, where tourists in town to experience the musical history of the building also got a chance to hear an evangelical Christian message (The Tennessean, Nashville)
U2's rock 'n' roll soul | 'In the MTV world but not of it' (@U2)
Film & television:
A cautionary tale from Rev. | Clerics give 2 thumbs up to "Woman, Thou Art Loosed" (New York Daily News)
NBC to reconsider ban on broadcasting of miracles | The Senate may compel the National Broadcasting Commission to lift the ban on miracle broadcasts on local television stations and put focus on filtering out the negative effect of juju and the developing Hollywood culture on the Nigerian airwaves (Vanguard, Nigeria)
Amish out of water | Can reality TV shows be documentaries for the masses? Producer Jon Kroll certainly thinks so and claims that "Amish in the City" is only the beginning (Salon.com)
Business:
New mantra for reformers: Don't sue | Reforms stemming from corporate scandals of recent years have made the law an increasingly flexible and far-reaching tool for ordinary investors, employees, and consumers who want ethical accountability but don't necessarily have the time, money, or desire to sue (The Christian Science Monitor)
Pennies for heaven | Boomers more likely to buy religious products than elders (CBS MarketWatch, alt. site)
Spirituality:
Faith plays minor role in lives of most white Christians | Although most white Britons call themselves Christian, most admit religion plays little part in their lives, a government study shows. But a strikingly different picture emerges in black and Asian communities, who say that their faith is a crucial part of their identity (The Independent, London)
Journal silent after its article on power of prayer draws criticism | A Southland doctor is among those seeking answers from the Journal of Reproductive Medicine and study authors (Los Angeles Times)
Sunday, no longer a day of rest | Historically, Sunday was reserved for prayer and reflection, and most commerce or non-religious activity was off-limits. But these days, almost anything goes (Morning Edition, NPR)
More articles:
200 Bible backers rally at county courthouse | Ex-state judge speaks against removal ruling (Houston Chronicle)
Enough imperial crusades | The alternative to armed intervention in Darfur is not passive resignation, but support for an African Union-led solution (Peter Hallward, The Guardian, London)
A good start | The federal Defense of Marriage Act has survived its first test (Shannen W. Coffin, National Review Online)
Related Elsewhere:
Suggest links and stories by sending e-mail to weblog@christianitytoday.com
Check out Books & Culture's weekly weblog, Content & Context.
See our past Weblog updates:
August 17 | 16
August 13 | 12 | 11 | 10 | 9
August 6 | 5 | 3 | 2
July 30 | 29 | 28 | 27
July 23 | 22 | 21 | 20 | 19
July 16 | 15 | 14 | 13 | 12
and more, back to November 1999
Weblog
Launched in 1999, Christianity Today's Weblog was not just one of the first religion-oriented weblogs, but one of the first published by a media organization. (Hence its rather bland title.) Mostly compiled by then-online editor Ted Olsen, Weblog rounded up religion news and opinion pieces from publications around the world. As Christianity Today's website grew, it launched other blogs. Olsen took on management responsibilities, and the Weblog feature as such was mothballed. But CT's efforts to round up important news and opinion from around the web continues, especially on our Gleanings feature.
Ted Olsen is Christianity Today's executive editor. He wrote the magazine's Weblog—a collection of news and opinion articles from mainstream news sources around the world—from 1999 to 2006. In 2004, the magazine launched Weblog in Print, which looks for unexpected connections and trends in articles appearing in the mainstream press. The column was later renamed "Tidings" and ran until 2007.
Previous Weblog Columns: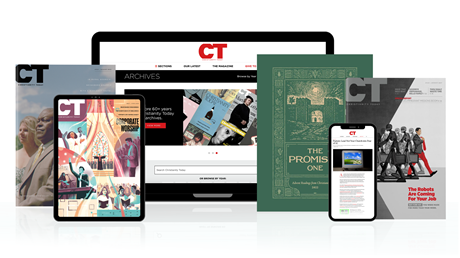 Annual & Monthly subscriptions available.
Print & Digital Issues of CT magazine
Complete access to every article on ChristianityToday.com
Unlimited access to 65+ years of CT's online archives
Member-only special issues
Subscribe
Hell House Goes Hollywood
Hell House Goes Hollywood