Bush says stuff
This is a religion blog, and today, Weblog is starving. There's much to say about Bush's acceptance speech (video) last night, but only if Weblog were a political blog, not a religion one.
There's this, of course: "Like generations before us, we have a calling from beyond the stars to stand for freedom." But what to say about that? Beliefnet's Steve Waldman translates: "We have a divine mandate to fight for freedom in the world." The Nation's David Corn takes it even further: "The 2004 campaign is a referendum on whether the United States should wage a crusade to bring liberty to the repressed of the world—particularly in the Middle East—in order to heed the call of God and to protect the United States from terrorists who target America because they despise freedom."
Or maybe it was just an applause line.
Here are some other applause lines:
Because a caring society will value its weakest members, we must make a place for the unborn child. Because religious charities provide a safety net of mercy and compassion, our government must never discriminate against them. Because the union of a man and woman deserves an honored place in our society, I support the protection of marriage against activist judges. And I will continue to appoint federal judges who know the difference between personal opinion and the strict interpretation of the law.
Waldman and a few others took issue with earlier speech references, from George Pataki and Rudy Giuliani, saying that God put Bush in office to led the country through September 11. "He is one of those men God and fate somehow lead to the fore in times of challenge," Pataki said last night. But here's a question: Wouldn't even Southern Baptist Al Gore say that Providence had a hand in Bush's election—and in those of Clinton, Carter, Jefferson, and every other president's? And, for that matter, in the rise to power of Saddam Hussein and Kim Jong-Il?
For a real religion speech from yesterday's convention activities, check out this sermon from George Rutler, the priest at New York City's Church of our Saviour, a Roman Catholic parish. Bush was among those in attendance (though, one imagines, the Methodist didn't take Communion there). The text was Mark 4:41: "And they were filled with great fear and said to one another, 'Who then is this, that even wind and sea obey him?'" Rutler concluded his homily with these words:
Today stormy controversies attend questions of biotechnology on the micro level and world politics on the macro level. The answers are not easy but they are simple: everything will be fine so long as human rights respect the rights of God. The deepest question is, "Why did God make you?" The simplest answer that calms every storm is this: "God made me to know Him, to love Him and to serve Him in this world, and to be happy with Him for ever in Heaven."
Did Burke back down?
Did Burke back down?
Speaking of Catholics and politicians, there's big news out of St. Louis, though it's likely to be drowned out by all of the convention news, hurricane news, and the —just breaking as Weblog is typing — news of Bill Clinton's quadruple bypass surgery.
Archbishop Raymond Burke, who has been at the forefront of the "should Kerry be refused Communion" debate, says that voters can vote for pro-choice politicians without committing a grave sin. In June, Burke had said, "If someone knowingly and intentionally commits a grave sin, which it certainly would be if someone were to support a pro-abortion candidate, then that person would need to confess that sin." He also reiterated his remarks: "If the voter is aware of that politician's pro-abortion position, they would still be supporting someone who is cooperating in the promotion of abortion."
Here's what Burke is saying now. Read closely, because it's complicated. This is from today's St. Louis Post-Dispatch:
Burke now says there is one scenario in which a Catholic could vote for a politician who supports abortion rights without committing a grave sin.
In that scenario, a Catholic who personally opposes abortion rights, votes for a candidate who supports abortion rights "for what are called proportionate reasons," he said.
In other words, each individual Catholic must weigh all the moral issues a candidate stands for alongside the candidate's position on abortion rights.
"And that is called remote material cooperation and if the reasons are really proportionate, and the person remains clear about his or her opposition to abortion, that can be done," Burke said.
So, a Catholic who does not support abortion rights can vote for a candidate who does support abortion rights without fear of committing a grave sin.
"The sticking point is this - and this is the hard part," said Burke. "What is a proportionate reason to justify favoring the taking of an innocent, defenseless human life? And I just leave that to you as a question. That's the question that has to be answered in your conscience. What is the proportionate reason?"
However, a Catholic voter is committing a grave sin if he or she knows a particular candidate supports abortion rights and votes for the candidate because of that position. "That is what's called formal cooperation in an intrinsically evil act," Burke said.
Paul Sloca, spokesman for the Missouri Republican Party, tried to uncomplicated things: "All voters should vote for the best candidate and the best candidate is always a Republican," he told the paper.
What will the Eames Commission do?
A report in the British Telegraph newspaper today is similar to yesterday's Times report on how the Anglican Commission will discipline the Episcopal Church USA—but it has some very important differences. The Telegraph's prediction is much softer than the Times version, giving the American church more time and more of a voice. Andrew Carey has some good analysis over at his blog. Those interested in the story will also want to keep an eye on CANN and Midwest Conservative Journal, but those interested in the story probably know that.
Happy Labor Day
Happy Labor Day
We'll be celebrating Labor Day on Monday, so no new postings until Tuesday.
More articles
Religion & GOP:
Bush prays, and is prayed for, say Republicans | A new documentary points out that yes, Bush is a religious man, and many of his core supporters find that one of his most endearing traits (Fox News)
GOP sets up election battle over faith, values | Values are a constant theme in the floor speeches. At dozens of gatherings off the floor, values were tied to faith. And faith was tied to strength. (Minneapolis Star-Tribune)
Crucifying (GOP) Christians | The New York Times has hammered the GOP for including conservative Christians in the electoral process (Michelle Malkin, Philadelphia Daily News)
Politics as a show of faith | Religious Right Finds Warm Welcome At GOP National Convention (The Hartford Courant, Conn.)
Celebrating God, politics at GOP | S.C. delegate has seen elder Bush and shook hands with Giuliani (The Charlotte Observer, N.C.)
Religious threads woven into tapestry | It hasn't been seen much in prime time, but Republicans this past week quietly made religion a central theme of their convention (New York Daily News)
GOP rallies Catholics to support Bush | Roman Catholics should campaign hard for Protestant President Bush, "the candidate who shares the values Catholics hold dear," rather than for Catholic challenger John Kerry, Republican leaders told activists at a rally near the GOP convention on Thursday (Associated Press)
GOP seeks faithful Catholic vote | Several hundred Catholic Republicans meeting on the last day of the party convention here were presented with a strategy on how to persuade Catholic friends to switch their support from Democratic presidential nominee and fellow Catholic Sen. John Kerry to President Bush (The Washington Times)
Republicans try to expand appeal to religious voters | The Republicans used their convention to court deeply religious voters among two different, traditionally Democratic groups, Roman Catholics and Jews, by holding rallies for supporters of each faith yesterday (The New York Times)
Baldwins split politically | Stephen, a born-again Christian, says his support for the Republican Party is less about politics and more about religion (Associated Press)
The religious right, out of the spotlight | Throughout the convention schedule, all week, God was in the details (The Washington Post)
The party faithful hear the campaign's prayers | Close to Madison Square Garden but out of the limelight of the moderate speeches on prime-time television was a parallel universe with Christian rockers, Christian leaders and Christian electoral affirmations (Los Angeles Times)
Religion & politics:
Religious left says it's ready for major political push | The test will be how effective the movement is outside one of the country's most liberal large cities (Newhouse News Service)
Politics and religion can mix, Blair says | Bishop: Participation is an obligation (The Toledo Blade, Oh.)
Celebs air concerns as convention ends | America is in trouble, composer Philip Glass says, because the line between church and state is being blurred (Associated Press)
Christian Coalition asks state candidates 82 questions | For the Christian Coalition of Georgia, it's not just about abortion and school prayer anymore. This election year, the coalition is asking state candidates to fill out a survey with sections on taxes, gun control, unions and illegal immigrants (The Atlanta Journal-Constitution)
Swing state evangelicals | Evangelicals in the North and Midwest will still vote for Bush--but they are not going to behave like happy Texas Baptists (Beliefnet)
Abortion & voting:
The wrong "choice" | Pro-lifers are rebuffed in New York (Susan Konig, National Review Online)
First things first | Voting and the sanctity of life (Roberto Rivera y Carlo, Boundless, link via Thunderstruck)
Stem cells:
Man bites tongue | At this convention, nobody says "stem cells" (Timothy Noah, Slate)
Catholic Church, financier opposing stem cell research | The Roman Catholic Church and the wealthy evangelical Christian Howard Ahmanson Jr. have emerged as the biggest financial backers of the campaign against a California ballot measure that would fund stem cell research and cloning projects in the state (Associated Press)
Evangelicals & Israel:
Evangelicals back Israel at RNC | The evangelical Christian support that the Jewish community's position on a secure, safe Israel is becoming more prominent (Jewish Telegraphic Agency)
Republican Jews walk fine line with evangelical allies | While Jews and conservative Christians find common ground in supporting Israel's right to exist, how the Jewish state will exist can at times divide liberal and centrist Jews and evangelical Christians (Religion News Service)
Education:
Fired coach sues university | Former UGA cheerleading coach Marilou Braswell filed a federal lawsuit against the University of Georgia and the school's Athletic Association on Thursday, alleging that she was punished for religious behavior that is accepted in other sports programs at the school (The Atlanta Journal-Constitution)
School district votes to sue state | Westminster trustees agree 3 to 2 to become the plaintiff in Christian group's lawsuit over a regulation on gender anti-discrimination (Los Angeles Times)
Church & state:
Series looks at religion's role in community | The city of San Diego Public Library is launching a five-month program to explore the role of religion in local history and how it can be used to make changes in communities. (San Diego Union-Tribune)
Monument vote not likely in '04 | Ruling probably won't come in time to get initiative on November ballot (The Idaho Statesman)
Also: It's doubtful Ten Commandments question will make November ballot (KBCI, Boise, Id.)
Former Alabama chief justice joins Ten Commandments fight | Former Alabama Chief Justice Roy Moore has joined Barrow County officials who are fighting a lawsuit challenging a Ten Commandments plaque in the courthouse (Associated Press)
Get tougher | Tough, honest debate of religion's place in public policy is past due (Steve Gushee, Palm Beach Post)
Trinity Cross stays | Prime Minister Patrick Manning signalled yesterday that the Government intended to take no action to change the name of the country's highest award, the Trinity Cross (Trinidad and Tobago Express)
War & terrorism:
Wounded chaplain will be brought back to Minnesota | Family members are making plans to bring the Rev. Timothy Vakoc, the first U.S. Army chaplain gravely wounded in Iraq, back home to Minnesota to be cared for in a long-term-care facility (Minneapolis Star-Tribune)
Two in Wheaton group among hostages' parents | The hostage crisis in Russia has been particularly distressing for a Wheaton-based evangelical organization because the children of two of its pastors were among those still being held Thursday (Daily Herald, Chicago suburbs)
Gen. William Boykin:
Congress members seek officer's dismissal | In a letter to Bush released Thursday, Rep. Barney Frank (D-Mass.), and 10 others said action in the matter of Lt. Gen. William Boykin is long overdue, and he must be removed from his post as deputy undersecretary for defense (Associated Press)
Two East Bay reps. call for general's firing | Lee, Stark denounce religious inferences in war on terror speeches (Oakland Tribune, Ca.)
Free speech:
Hate tribunal sets precedent | The hearing includes the Internet service provider that hosted offending websites (London Free Press, Ontario)
Anti-Islam articles officer fired | A British Council press officer who attacked Islam and Muslims in a national newspaper has been sacked (BBC)
Religious freedom:
Christian parliamentarians meet prime minister, seek equal rights for Dalit Christians | Christian Members of Parliament have once again urged the Prime Minister of India, Manmohan Singh, to grant equal rights to Christian Dalits alongside their counterparts in other religious minority communities in the country (SAR News, India)
Hindu mob attacks church in Orissa | Cardinal, archbishop, bishops condemn desecration (SAR News, India)
Zim Christians vow support for archbishop | Zimbabwean Christians from many denominations on Friday joined in strong public support of Roman Catholic Archbishop Pius Ncube of Bulawayo who has been denounced as "satanic" by President Robert Mugabe for demanding tougher international pressure to end human rights abuses (SAPA)
French headscarf ban & hostages:
French Muslims alienated over head scarves | For some French Muslims, two worlds collided as the ban on wearing Islamic head scarves in public schools took effect. Many described Thursday as crunch day, when they were forced to question the meaning of being Muslim in a Roman Catholic country where life since Sept. 11, 2001, has become more tense and divisive (Associated Press)
Ban on head scarves takes effect in France | A law banning Islamic head scarves and other religious symbols from French public schools took effect peacefully.
Hopes rise for French hostages' release in Iraq | Hopes that Islamic militants will soon free two French hostages in Iraq rose on Friday, despite confusion over which group is now holding them (Reuters)
French reporters moved; 3 Turks killed | Two French journalists kidnapped last month have been handed over to an Iraqi guerrilla group that has advocated for their release, French officials said Thursday, raising hopes the men may be freed soon (The New York Times)
In France, students observe scarf ban | Hostage takers in Iraq had called for repeal (The Washington Post)
Most Muslim girls comply with France's new head scarf ban | The Islamic community opts for restraint and a show of unity amid threats by militants in Iraq to kill two hostages if the law is not repealed (Los Angeles Times)
Hostage crisis calms headscarf row | Thursday was the first day back at school for the pupils at the Lycee Jacques Brel, a college in northern Paris in a very ethnically diverse area (BBC)
Liberals can also be fundamentalists | Using terror to reverse the French hijab ban is unforgivable. But the ban was also an act of fanaticism (Yasmin Ataullah, The Guardian, London)
Sudan:
Sudan rejects Darfur peace force | Sudan will not accept a peacekeeping force in the troubled Darfur region but may agree to extra monitors being deployed, its foreign minister says (BBC)
Ending Darfur's torment | In spite of harrowing reports almost daily from Sudan, the response of the international community remains abysmally slow (Editorial, The Guardian, London)
Crime:
Pastor to serve 15 months' jail for assault | A pastor who assaulted a civil servant for calling his church a sect has been jailed for 15 months (The East African Standard, Nairobi)
3 men charged with felonies in vandalism at Taylor church | When the Rev. Bernard Fraser heard a Taylor police detective tell a judge Wednesday that one of the three young men accused of vandalizing St. Cyril of Jerusalem Catholic Church this week had confessed to urinating in the baptismal font, tears came to his eyes (Detroit Free Press)
Kenya to seek extradition of 'miracle birth' pastor | The Kenyan attorney general has issued a warrant for the arrest of a British-based evangelical pastor who claims to have helped infertile women in his congregation deliver "miracle babies" (The Guardian, London)
Abuse:
Olympic attacker on sex charges | A defrocked Irish priest who sabotaged the men's Olympic marathon by leaping on the race leader appeared in court in London yesterday on child indecency charges (The Guardian, London)
Pope discusses sex abuse scandal with U.S. bishops | Pope John Paul urged American bishops Thursday to provide more guidance to Catholic priests in the United States to prevent a repeat of the sexual abuse scandal he said had "cast a shadow" on the Church (Reuters)
Pope addresses US abuse scandal | Pope John Paul II has urged US bishops to give more guidance to Catholic priests in their country, to prevent another child sexual abuse scandal (BBC)
Judge grants Mahony private deposition | Prelate prepares to face allegations he protected a former priest accused of child molestation (Los Angeles Times)
Pope urges N.E. bishops to reach out to priests | Pope John Paul II, meeting yesterday at his summer residence with visiting Catholic bishops from New England, exhorted the region's prelates to reach out to priests who have suffered as a result of the clergy sexual abuse crisis (The Boston Globe)
'We are striving to bring healing to all of those affected' | Excerpts from greetings read by Archbishop Sean P. O'Malley of Boston to Pope John Paul II yesterday at Castel Gandolfo (The Boston Globe)
S.C. Episcopal diocese looked into abuse claim | Interim rector filed report in '94 about molestation allegations (The Post & Courier, Charleston, S.C.)
Priest accused of child sex abuse | The Roman Catholic Church in Austria says it is investigating a prominent priest following accusations that he sexually abused children (BBC)
Child porn priest facing sentence | A Catholic priest and former teacher at one of Britain's leading schools is due to be sentenced for downloading child pornography from the internet (PA, U.K.)
Catholicism:
Coming to America, and to nuns' rescue | A band of white-haired New Jersey nuns have turned to the developing world for new recruits, bringing teens from India to join their convent (The New York Times)
Vatican reaffirms its total rejection of euthanasia | The Vatican reaffirmed its total opposition to euthanasia, in particular for children, following information that the practice could soon be used on minors in a pediatric clinic in the city of Groningue in the Netherlands (AFP)
Church life:
Pastor heads to roof to camp out for kids | Dozens of Assemblies of God pastors across the United States are camping out on billboards or the roof of their churches to raise awareness and money for outreach programs that benefit children (Greeley Tribune, Colo.)
Religion in the News: The carnies' pastor | John Vakulskas walks tall here in the midway, among the twirling rides and twinkling lights, where the scent of cotton candy wafts and the playful cries of children resound. This is his church. These are his parishioners. (Associated Press)
Religion news in brief | Methodist congregation wins property dispute, Australian Anglican diocese proposes no discipline over Communion minus priests, Boston Catholics seek ways to fight parish closures, and other stories (Associated Press)
Clash of cultures in church | In a church which prides itself on compromise and inclusiveness, it may find the strain too much this time around (James Murray, The Australian)
Presbyterians fire controller over financial audit bidding | The Presbyterian Church (U.S.A.) has fired its controller of more than 20 years, saying he mishandled the bidding process for the church's financial audit for this year (The Courier-Journal, Louisville, Ky.)
Missions & ministry:
Ala. doctor starts 'Mothers Against Meth' | Mary Holley says a religious approach to treating addiction is the only solution (Associated Press)
Group aims to perform 1M baptisms in U.S. | Though they lack numbers and ideological allies here, the Southern Baptists came to New England on Wednesday and Thursday as part of a barnstorming 25-day, 50-state bus tour that Welch began last Sunday in Florida. His goal: baptizing 1 million people a year around the country (Associated Press)
Teaching males "how to be a man" | Evangelical Promise Keepers seek converts in Nunavut (Nunatsiaq News, Iqaluit, Nunavut, Canada)
Spirituality:
Ten Commandments fall on stony ground | Nearly one in ten young people in Britain has never heard of the Ten Commandments, according to a poll to be published next week (The Times, London)
Religion Today: The religion of Seventeen | Under editor-in-chief Atoosa Rubenstein, the venerable girls' publication Seventeen has added a faith section that includes inspirational messages, personal stories of spiritual struggle and testimonials on issues ranging from prayer to gay teens who attend church (Associated Press)
Hare Krishnas continue shift to mainstream | Holiday will reflect endeavor (Chicago Tribune)
Candles light spiritual paths for believers | Believers light the velas, or candles, with the hopes such as keeping a loved one safe or making a secret wish come true. Each one represents a saint with different powers (The Arizona Republic)
Pam Anderson & Jesus:
Anderson gives money to Jesus | Baywatch babe Pamela Anderson religiously gives money to every homeless person she sees - because one of them might be Jesus (ContactMusic.com)
Pamela Anderson becomes Sunday School teacher | The 37-year-old wants her children and their friends to be raised as devout Christians and hopes her weekly Bible readings will help (Associated Press)
Music:
Sara wants Jesus-Mary song on radio | Sara Evans says the Jesus-Mary duet she and Brad Paisley wrote and recorded should be played on country radio (The Tennessean, Nashville)
Gospel gets 'jiggy' | 'Jiggy Praise' is the name of the first in a series of what is called "Jesus Parties" (Jamaica Observer)
Bono: Not facing AIDS crisis 'foolhardy' | "See, this is a war -- this is winnable." (The O'Reilly Factor, Fox News)
Business:
Letting gamers play God, and now themselves | Peter Molyneux, widely considered one of the best high-concept designers in the video-game industry, is renowned for creating "god games" (The New York Times)
Commercial Christianity | "Jesus junk" clutters too much of contemporary Christian culture, say some believers who contend that this commercialized "holy hardware" results from the church's desire to sell "pop-culture lite" (The Washington Times)
Churches in productivity drive | The Botswana National Productivity Centre (BNPC) has asked churches to dedicate their Sunday Sermons to the Productivity Awareness Week that starts tomorrow. But what is the connection between preaching the word of God and productivity, and to what extent can a Sunday Sermon improve work performance? (Mmegi, Botswana)
Books:
A look at faiths' variety and common ground | A review of One Heart: Universal Wisdom From the World's Scriptures (The Plain Dealer, Cleveland)
Authors examine piety of the president | Several books and documentaries have gone beyond singularly memorable quotes by the 43rd U.S. president to a more in-depth look at how his faith has influenced his life and his work in the White House (Religion News Service)
Sex & marriage:
Court clears the way for gay marriage vote | La. Supreme Court refused to consider challenges to measure (The Times-Picayune, New Orleans)
La. court puts lid on gay marriage suits | The Louisiana Supreme Court on Thursday refused to take up legal challenges aimed at keeping a proposed constitutional ban on gay marriages and civil unions off the Sept. 18 ballot (Associated Press)
My best friend's gay wedding | George Bush wants to outlaw same-sex marriages, but for now, in some states at least, gay couples can get hitched (Dea Birkett, The Guardian, London)
India court rejects gay petition | The high court in the Indian capital Delhi has dismissed a legal petition that sought to legalize homosexuality (BBC)
Women attack Turkey adultery law | Women's rights organisations in Turkey have denounced a bill proposed by the government to make adultery a crime (BBC)
Related Elsewhere:
Suggest links and stories by sending e-mail to weblog@christianitytoday.com
Check out Books & Culture's weekly weblog, Content & Context.
See our past Weblog updates:
September 2 | 1 | August 31 | 30
August 27 | 26 | 24 | 23
August 20 | 19 | 18 | 17 | 16
August 13 | 12 | 11 | 10 | 9
August 6 | 5 | 3 | 2
July 30 | 29 | 28 | 27
and more, back to November 1999
Weblog
Launched in 1999, Christianity Today's Weblog was not just one of the first religion-oriented weblogs, but one of the first published by a media organization. (Hence its rather bland title.) Mostly compiled by then-online editor Ted Olsen, Weblog rounded up religion news and opinion pieces from publications around the world. As Christianity Today's website grew, it launched other blogs. Olsen took on management responsibilities, and the Weblog feature as such was mothballed. But CT's efforts to round up important news and opinion from around the web continues, especially on our Gleanings feature.
Ted Olsen is Christianity Today's executive editor. He wrote the magazine's Weblog—a collection of news and opinion articles from mainstream news sources around the world—from 1999 to 2006. In 2004, the magazine launched Weblog in Print, which looks for unexpected connections and trends in articles appearing in the mainstream press. The column was later renamed "Tidings" and ran until 2007.
Previous Weblog Columns: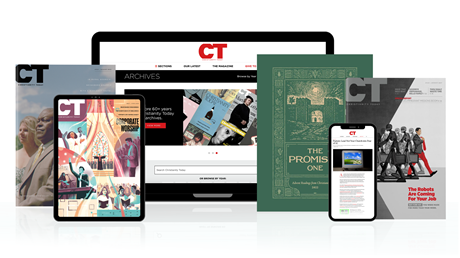 Subscribe to Christianity Today and get access to this article plus 65+ years of archives.
Home delivery of CT magazine
Complete access to articles on ChristianityToday.com
Over 120 years of magazine archives plus full access to all of CT's online archives
Subscribe Now
'A Calling From Beyond the Stars'
'A Calling From Beyond the Stars'