Responding to persistent reports of human sacrifice last August, police raided several shrines of African traditional religionists in Okija, Anambra state, in largely Christian southern Nigeria. The reports had understated the problem. To their horror, authorities recovered more than 80 skulls and 50 fresh corpses. In these shrines, the police recovered three registers. They list 1,258 visitors who had allegedly come to offer human sacrifices in the past five years.
Christians say the raid was an answer to their prayers.
Last Easter, Christians in Okija began praying and fasting for deliverance from the gods of the traditionalists. Ifeanyi Atueyi, a Christian pharmacist, said idol worship had desecrated the land. "We believe that the problems holding us down are these idols, and so we centered our prayers on these idols. I never knew God can intervene so quickly and in this way," Atueyi said. "It is marvelous and very dramatic."
While most adherents of African traditional polytheism practice their beliefs peacefully, a minority engages in ritual killings. Precise figures on the phenomenon are impossible to obtain. However, the bbc reports that police in South Africa estimate that hundreds of children have died so their body parts could be used in potions.
In 2002, London police discovered the mutilated torso of a young boy floating in the Thames. The boy was apparently the victim of a West African ritual for good luck. European authorities say such sacrifices have probably reached double figures across the continent in immigrant communities. Police believe the boy may have been sacrificed to one of the 400 ancestor gods of the Yoruba, Nigeria's second-largest people group.
For Christians in the Idepe and Ogute villages in southwestern Nigeria, February and March every year are anxious periods, when animists hold their fetish festivals of sacrifice, which usually last for 21 days. Minority groups of Christians are banned from worshiping in their churches. Last February 27, animists burned down two churches in the states of Ondo and Edo that defied their ban on church activities. Joshua Ogunele, Anglican bishop of the Ikale diocese, told CT that traditionalists also burned down two churches in 1999.
Animists say their gods dislike Christian worship during the religious festival. "This is a taboo," the chief priest of the religious group told CT in Ogute village.
Christians are responding on a number of fronts. Earlier this year, three pastors and twenty-one other Christians from the town of Neke in Enugu state in southeastern Nigeria attempted to expose human sacrifices and idol worship by a traditionalist religious group that has killed at least thirty-two people. For their efforts, they were arraigned before the magistrate court in Ikem town, charged with destroying the shrines where animists made their human sacrifices. Their case is pending.
Last May, Christians held an evangelistic crusade in Neke. They say many animists in the area turned to Christ. But there is much work ahead.
Pastor Joseph Agbo, a native of Neke, told CT he couldn't even guess the number of people sacrificed in the community.
"It will be like asking me to count the grains of sand on the seashore."
Related Elsewhere:
News elsewhere on human sacrifice in Nigeria includes:
Fetish Shrine Raid a Desecration, Chief Says | A police raid on fetish shrines in Nigeria which found more than 50 decomposing, mutilated bodies and 20 human skulls was a desecration of the traditional religion of the Ibo culture, a tribal chief said Sunday. (August 09, 2004, Reuters)
Sacrifice and slavery | Police investigating the death of a five year old boy whose torso was found in the River Thames in September 2001 have arrested 21 people in raids across London. (July 29, 2003
Smugglers linked to boy's sacrifice | Police investigating the murder of a young African boy whose dismembered torso was found in the River Thames have arrested a gang suspected of bringing hundreds of people, including many children, into Britain illegally. (July 31 2003, The Age, Australia)
Torso inquiry moves to Nigeria | Detectives hunting the killer of a young boy whose torso was found floating in the River Thames have flown to Nigeria. (March 2, 2003, Scotland on Sunday)
No Human Heads, No Crown | A quiet revolution is now going on in Owerre Ebeiri community in Orlu local government area of Imo State . Chidi B. Uzomah, a lecturer in Imo State University , Owerri and the new Eze-elect for the community is kicking against ritual killings required by the tradition before he ascends the throne. Though it appears like a one-man riot squad, Uzomah is sure to win the battle. (no date, OnlineNigeria)
Christian History & Biography has an article on how St. Patrick ended human sacrifice in Ireland: Ending Human Sacrifice.
Other Christianity Today articles on Nigeria include:
Mutual Mayhem | A plea for peace and truth in the madness of Nigeria. (Nov. 03, 2004)
Article continues below
Back to the Basics | Christian-Muslim violence requires a 'new' missions strategy: Forgiveness and love. (Nov. 03, 2004)
Eye for an Eye for an Eye | Are Nigeria's deadly religious riots really about religion? (June 22, 2004)
Pastor and Six Family Members Burned to Death in Nigeria | Christian leaders suspect Muslim fanatics of fatal arson attack. (May 07, 2003)
Sub-Saharan Powder Keg | What you can do to help persecuted Christians in Nigeria (Feb. 5, 2003)
Violence-Weary Muslims and Christians Talk Peace in Nigeria | Shari'ah law divides leaders. (Nov. 4, 2002)
'A Blast of Hell' | 500,000 people uprooted, thousands dead in violence. (Sept. 24, 2002)
Where Adultery Means Death | Political and religious leaders clash in Nigeria over the increased use of Islamic law (May 8, 2002)
Archbishop Proposes to Die in Place of Woman Sentenced to Stoning | Okogie's offer is a protest against Nigeria's Islamic Shari'ah law. (Feb. 25, 2002)
Chronic Violence Claims 2,000 Lives | The adoption of Islamic law in northern Nigeria has ignited conflict between Christians and Muslims. (Jan. 7, 2002)
Hundreds of Christians Take Shelter in Barracks After Riots in Nigeria | Some report that violence since mid-October has left more than 200 dead. (Nov. 1, 2001)
Religious Riots in Nigeria Leave Hundreds Dead | Leaders condemn the use of religion as a tool for violence. (Oct. 2, 2001)
Orphaned and Widowed | Christian families devastated since Shari'ah law adopted. (August 29, 2001)
Christians and Muslims at Odds Over Nigerian Constitution | Calls made to limit Shari'ah law in Northern states. (July 12, 2001)
Nigeria Officials Press Northern Governors to Scale Back Islamic Law | Churches harassed by Islamic youths purporting to enforce the law. (June 14, 2001)
Five Anglicans in Court After Rescuing Teenagers From Arranged Marriages | Priests claim Christian sisters are being forced into Islam. (June 5, 2001)
The Shari'ah Threat | Muslim Fundamentalist law troubles Christians and some Muslims. (Feb. 2, 2001)
'Focused, Determined, Deliberate' Destruction | Ecumenical leader calls on Nigeria to deal with religious violence between Muslims and Christians. (Oct. 30, 2000)
Nigerian Muslims and Christians Form a Religious Council | Gombe, a north Nigerian state, creates a council of faiths to deal with fears over Islamic law. (Sept. 19, 2000)
Churches Challenge Islamic Law | Christians plan to take Shari'ah to court. (Aug. 15, 2000)
Is Nigeria Moving Toward War? | Deadly riots lead to suspension of Islamic law. (March 31, 2000)
Nigeria On the Brink of Religious War | Northern states adopt Islamic law, increasing Christian-Muslim tensions. (Dec. 16, 1999)
Nigeria's Churches Considering Legal Challenge to Islamic Laws | Third state moving toward implementing Koranic laws (Dec. 17, 1999)
Can Christianity and Islam Coexist and Prosper? | Is peace with Islam possible? (Oct. 25, 1999)
Have something to add about this? See something we missed? Share your feedback here.
Our digital archives are a work in progress. Let us know if corrections need to be made.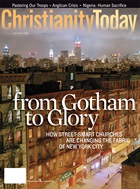 This article is from the December 2004 issue.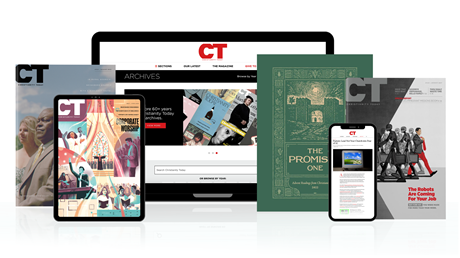 Annual & Monthly subscriptions available.
Print & Digital Issues of CT magazine
Complete access to every article on ChristianityToday.com
Unlimited access to 65+ years of CT's online archives
Member-only special issues
Subscribe
Human Sacrifice Redux
Human Sacrifice Redux