Inside CT
This issue was edited before the U.S. elections, and I am writing as anti-Bush op-ed writers bemoan the loss of secularist America, an America that didn't really exist. A Village Voice columnist wails that the voters had given President Bush a mandate for theocracy. And historian Garry Wills calls November 2 "the day the Enlightenment went out."
Why were these pundits so surprised by the strength of the "values vote"? Opinion polls had long pointed to the growing strength of moral conservatism. And Wills's apoplexy over the end of the Enlightenment comes many years after postmodern academics conducted the Enlightenment's funeral.
It seems their real worry is that the President will actually listen to the values voters. As Wills said, the constituency to which President Bush owes his victory "is not a yielding one. He must give them what they want."
Pro-life, pro-family voters must be more realistic than Wills. The next four years will not be a cakewalk for the pro-life, pro-family cause. Nothing that happened on November 2 prevents sitting judges from deciding the people have this one wrong. The work of conservative public-interest law firms continues to be crucial.
The values voters must not only be persuasive, but we must be known for our breadth and winsomeness. It is important that we fight the stereotype of scientifically backward killjoys focused narrowly on personal morality. It is our love for humanity that drives us to fight the normalization of homosexuality, the sexual trafficking of women and children, the tyranny of Kim Jong Il, and the destruction of human life in questionable medical research.
Evangelicals must be careful not to overreach. The values voters turned out in such numbers because the progressive forces overreached in their energetic push for gay marriage just months before the election. Moral conservatives must avoid the same mistake. Our burden is to be as persuasive and winsome in talking about moral issues as we are when we want to win someone for Jesus.
Finally, while elections can be galvanized by alarming events, the ongoing work of governance requires a well-thought-through philosophy. In October, the board of the National Association of Evangelicals formally approved a document that is to serve as its framework for public engagement, and one that it hopes will help many churches and organizations serve the cause of biblical Christianity in the public square. Read "For the Health of the Nation" for yourself. It is available on the internet, both on the NAE website (www.nae.net) and the Christianity Today website (www.christianitytoday.com/go/naestatement).
You will find there the biblical and theological reasons for civic engagement, reflection on the mode and manner of involvement, and a broad understanding of the areas we are called to affect, protect, or nurture: human rights, religious liberty and freedom of conscience, family life and children, the sanctity of human life, justice and compassion for the poor and vulnerable, peacemaking, and stewardship of creation. Under these headings come more specific issues: race relations, immigration, health care, job training, and cloning and embryonic stem-cell research, to name just a few. Now that the noisy election is over, the quiet and complex work of implementing a caring Christian vision must not be neglected.
Next Issue: When fraud takes advantage of faith; why we can't live without church; and ministry to the children of Mongolia.
Related Elsewhere:
"For the Health of the Nations" is available in .pdf from the National Association of Evangelicals and available on our website.
The Village Voice's The Dream Is Lost | Bush gets mandate for theocracy is available online.
An abstract of Garry Wills's "The Day the Enlightenment Went Out" is available for free from The New York Times. The full article is reprinted for free at CommonDreams.org.
Other articles bewailing or celebrating the evangelical turnout on Election Day are available from our daily Weblog. Weblog commentaries on the election include:
Weblog: 'Moral Values' Carry Bush to Victory | Moral issues bigger priority for voters than economy, terrorism, or war in Iraq. Nearly a quarter of voters identify themselves as "evangelical/born-again." (Nov. 03, 2004)
Weblog Bonus: 'Bush Gets Mandate for Theocracy' | Plus: Church of England's women bishops plan revealed, spanking ban defeated, and other stories from online sources around the world. (Nov. 03, 2004)
Weblog: Harder Numbers on 'Values Voters' | Plus: More Christians react to Arafat's death, abortion debates in Australia and Kenya, and other stories from online sources around the world. (Nov. 12, 2004)
Articles on the election linked—but not commented on—in weblog include:
Weblog: Episcopal Priests Repent of Druidism | Plus: The shortest political honeymoon ever, Bush on America's religious divide, and other stories from online sources around the world. (Nov. 05, 2004)
Article continues below
Weblog: Five Churches Attacked in Netherlands | Plus: Links to more than 422 (really!) other news articles and opinion pieces, including some not about how stupid evangelicals are. (Nov. 10, 2004)
Weblog: Do the Wages of Sin Apply After Conversion? | Plus: Religious conservatives love Gonzalez as AG, and other stories from online sources around the world. (Nov. 11, 2004)
Weblog: Ravi Zacharias, Rich Mouw Speak in Mormon Tabernacle | Plus: Couple attempts to sacrifice children at church altar, the new head of the Catholic bishops' conference, a focus on Dobson, and other stories from online sources around the world. (Nov. 16, 2004)
Weblog: Catholic Bishops Embrace Ecumenical Group, Reject Bible Measure | Plus: The most inaccurate Christmas song ever, protecting kids from their evil, murderous parents, and other stories from online sources around the world. (Nov. 17, 2004)
Have something to add about this? See something we missed? Share your feedback here.
Our digital archives are a work in progress. Let us know if corrections need to be made.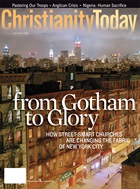 This article is from the December 2004 issue.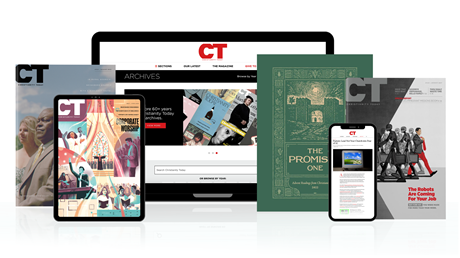 Annual & Monthly subscriptions available.
Print & Digital Issues of CT magazine
Complete access to every article on ChristianityToday.com
Unlimited access to 65+ years of CT's online archives
Member-only special issues
Subscribe
Post-Election Faith at Work
Post-Election Faith at Work