In two separate attacks, gunmen emptied an Armenian and a Chaldean church today before setting off explosives, damaging both churches. Three people were injured according to the Associated Press. No one was killed.
"Smoke poured from the Armenian church and flames could be seen inside the Chaldean church … It was not clear how many people had been in the churches when they were attacked but the number was apparently not large," Reuters reports.
It has been nearly a month since the last attack on churches in Iraq. "At least eight people were killed in two church bombings in the capital on Nov. 8, and a car bomber attacked police guarding the hospital where the wounded had been taken."
Last weekend, Yonadem Kana, the leader of the Assyrian Democratic Movement in Iraq and a member of the Iraqi National Council, told the Associated Press that the Assyrian Democratic Movement would be sending 1,500 people to Baghdad to protect Christians from attacks.
"We do not want to transform our movement into a militia," Kana said. "But if needed, we can arm more than 10,000 people."
"We will not accept that our people's ethnic and religious background be used as a card in the hands of foreign forces to interfere in Iraq and to prolong the occupation," Kana said.
More Articles:
Iraqi Christians | Anti-Semitism | Islam | Nigeria | Indonesia Religious freedom conference | Religious freedom | North Korea | Christianophobia | UCC ad | British religious protection bill | Religion & politics | Religion & politics opinion | Churches & politics | Marriage & family | Same-sex marriage | Lesbians in ministry | Missions & ministry | Christmas | Hanukkah | Judaism | Bethlehem | Christmas ministry | Banning Salvation Army's bell-ringers | December dilemma | Religion & education | Teaching evolution | Church & state | Church life | Orange County Diocese settles abuse claims | More abuse | Other religions | Fraud & crime | Money & business | People | Film & theater | Music | Books | Miracle sandwich | Sports | California's stem cell program | More articles
Iraqi Christians:
Gunmen attack Armenian, Chaldean churches in Mosul | Gunmen attacked two churches in the tense northern Iraqi city of Mosul Tuesday, in the latest violence directed against one of Iraq's several religious and ethnic groups, witnesses said. (Reuters)


Christians may take up arms | More than 1500 members of an Iraqi Christian group have gone to northern Iraq to try to protect Christians following attacks on churches in Baghdad and Mosul, the leader of the group said pm Saturday. (News24, South Africa)


Attacks against Australian Jews up 50% | Annual report by Jewish organization in Australia released today, said figure included physical assault, property damage and direct face to face harassment. (Maariv International, Israel)


Austrialia attacks against Jews increasing | Attacks against Jews have increased in Australia, a report by a major Jewish organization released Sunday showed. (Associated Press)


Report finds anti-Semitism in Australia | Most people would like to think of Australia to be an inclusive, tolerant country, but a new report has revealed a dark underbelly. (

AM Monday

, ABC Online, Australia)


Why the church won't beg for debt relief for Nigeria | While he was Bishop of Abuja, many referred to him as a NADECO bishop and even now that he is in Lagos as the Methodist Archbishop of Lagos, Dr. Sunday Makinde does not hide his feelings about national issues, which was why he got that sobriquet. Recently, he spoke on the state of the nation. According to the cleric, who disagrees with President Olusegun Obasanjo's request for the Church to join African leaders to campaign for debt cancellation, says there cannot be national progress until there is a sovereign national conference. (

Vanguard

, Lagos, Nigeria)


Obasanjo's last chance to save Nigeria | The rights of Christians in the predominantly Muslim north must be equally protected as the rights of Moslems in the predominantly Christian south. Shari'a laws being adopted or practiced in some states can not be allowed to apply to non-Moslems or Moslems that do not subscribe to them. (

Nigeria World

, Nigeria)


Religious freedom conference in Indonesia:
Abu Sayyaf kidnapper killed | Troops killed a member of the Abu Sayyaf Muslim kidnap gang and captured four others in a raid in this southern Philippine city, officials said Sunday. (AFP)


Amnesty China arrests, jails human rights defenders | Human rights defenders face arrest and torture in China, and the European Union should raise the issue at a summit with Beijing's leaders this week, Amnesty International said in a new report Monday. (Reuters)


Wade invites Bush to Muslim-Christian summit | Senegalese President Abdoulaye Wade said on Monday he had invited US President George W Bush to a Muslim-Christian summit he suggested at the United Nations in September. (Agence France-Presse)


Human rights in North Korea:
Banned UCC ad:
Networks wimp out on church commercial | The only reason I can see for CBS' and NBC's rejection of the ad is that after a year of emotional battles over same-sex marriage, a presidential campaign marked by ugly ads, and revelations about the role that moral values played in George W. Bush's re-election, the networks are more paranoid than ever about offending anyone. And the fact that this is an administration that panders to religious conservatives is probably influencing them as well. (Sheryl McCarthy,

Newsday

, NY)


Britishreligious protection bill:
Religion & politics opinion:
'Til death do us part | Getting married young is getting old fast, but experts say it can work (

The Independent Journal

, Fla.)


The new red-diaper babies | People are marrying later and having fewer kids. But spread around this country, and concentrated in certain areas, the natalists defy these trends. Politicians will try to pander to this group. They should know this is a spiritual movement, not a political one (David Brooks,

New York Times

)


Gay marriage proponents decry claims | Proponents of same-sex unions told a judge that arguments over whether marriage is designed to foster procreation and whether gays make good parents are irrelevant to their case. (Associated Press)


Expect court appeals and efforts in the court of popular opinion | Seven out of 10 voters in 13 states have rejected same-sex marriage in 2004. Every state that has put the issue before voters has added a prohibition on same-sex marriage to the state constitution. What can we expect now from advocates of same-sex unions? (

Allentown Morning Call

, Penn.)


Religion is personal; law universal | A generation ago, many Americans claimed that it was against the will of God for people of differing races to be married. And after too much anguish over the issue, a very similar situation has come to bear concerning gay couples. You'd think we had learned nothing. (Patrick North,

Centre Daily Times

, Penn.)


Lesbiansin ministry:
Ministry punished for lesbian pastor | An urban ministry that aids the poor and homeless had its official recognition removed by Lutheran church officials in a dispute over an associate pastor who is in a lesbian relationship. (Associated Press)


United Methodists move to defrock lesbian | In the second ecclesiastical trial of a gay Methodist minister in less than a year, a jury of 13 clergy members in eastern Pennsylvania convicted a fellow pastor of violating church law by living in a lesbian relationship and ordered her defrocked. (

New York Times

)


Missions& ministry:
A synagogue in Westchester takes a joyous walk home | For the 15 months since their synagogue suffered a four-alarm fire, congregants of the Bet Am Shalom Synagogue here have been praying on a borrowed basketball court. (

New York Times

)


You don't have to be Jewish to love Jdate | Dominick Coppola, 22, a real estate salesman from Brooklyn, is looking for a confident, intelligent and open-minded woman who shares his love of walks in the park, sushi and home cooking. He had some luck meeting women through Internet dating sites like AmericanSingles.com, but they were rarely good matches. Then he found what he now considers an online gold mine — JDate, a Web site that bills itself as "the largest Jewish singles network." (

New York Times

)


Banning Salvation Army's bell-ringers:
Salvation Army dealt blow by Target ban of bell ringers | The Salvation Army of Greater Philadelphia may have a tough time meeting its Red Kettle Campaign goal this year. One reason is that it boosted the goal to $750,000 from $712,000 last year. But a bigger factor is Target Corp.'s decision to ban Salvation Army bell ringers from its properties. (

Philadelphia Business Journal

)


Macy´s, Target, cards: Cultural correctness´ | The longtime New York-based department store, which has branches in Texas, decided this year to drop any reference to Christmas and just say "Seasons Greetings" or "Happy Holidays" on its advertising - in store and otherwise. (Editorial,

Plainview Daily Herald

, Texas)


Making noise about bell ringer bans | The bells have been quelled at Target. But Mervyn's is embracing a sound of the season. A holiday tradition has sparked a hullabaloo over bell ringers, with corporations and some conservative Christian groups choosing sides. (

The Dallas Morning News

)


A question of faith for a holiday parade | A local evangelical Christian church called the Faith Bible Chapel sought but failed to get permission for a religious-themed float with a choir singing hymns and carols. By coincidence, Denver's mayor chose this year to change the traditional banner on the roof of the City and County Building. "Merry Christmas" was out. "Happy Holidays" was in. Like a spark in dry tinder, the result was a flare-up that caught even some church leaders by surprise. (

New York Times

)


Deck the dreidel | Many interfaith couples solve 'December dilemma' with bi-religious observances (

Boca Raton News

, Fla.)


ASU group sues school over policy | State universities require signing of non-discrimination statement (

Arizona Republic

)


God, American history and a fifth-grade class | Steven J. Williams, an evangelical Christian who teaches fifth grade at a public school in Cupertino, Calif., is fast becoming a folk hero among conservative Christians. In an affluent town in a region identified with the liberal elite, Mr. Williams has single-handedly turned the Declaration of Independence into a powerful tool for the Christian right in its battle against secularist teaching of colonial history, thrusting God and Christianity into the very same history lesson as George Washington and Thomas Jefferson. (

New York Times

)


A who's who of players in the battle of biology class | Besides a desire to be seen as soldiers in a challenging and important war, the two leaders and other activists on various sides of the debate over evolution in public schools share other similarities: They're fully committed and, in some cases, well-funded. (

The Christian Science Monitor

)


Fresh challenges in the old debate over evolution | About half the students he teaches to become middle school science instructors—and to teach evolution themselves—believe that God created the Earth 6,000 years ago, he said. Scientist friends tell him not to teach those students because anyone with those beliefs "shouldn't teach." But he tells them it is his job to make sure that his students understand evolution, not believe it. (

Washington Post

)


Leaving Jesus Christ out of politics imperils America | I am convinced we have a situation in the United States today that mirrors several of the circumstances we saw affecting the late 1850s. Specifically, there is little evidence of our political leaders publicly acknowledging Jesus Christ as the rightful Lord of our country. (David Dickerson,

News-Leader

, Missouri)


When religion gets trashed for politics' sake | Simplistic explanations about presidential elections are just that, simplistic; they fail to encompass the vast complexity of our nation's diversity, or the sometimes wise, sometimes ignorant, motivations of voters. (Sandra M. Rushing,

Roanoke Times

, Va.)


Church is imploding, says Archbishop of York | The Archbishop of York, Dr David Hope, has warned that the Anglican church is on the brink of "implosion" over the divisive issues of the ordination of homosexual clergy and women bishops. (

Telegraph

, UK)


Parishioners won't give up or get out | Members of St. Albert the Great in Boston are coming up on the 100th day of a sit-in to save the Roman Catholic church from being closed down. (

Los Angeles Times

)


Orange County Diocese settles abuse claims:
Calif. bishop 'at peace' after settlement | The bishop of the Roman Catholic Diocese of Orange told parishioners Sunday that he can finally sleep through the night now that he has ended a long and at times bitter legal battle by agreeing to the nation's largest settlement for victims of sexual abuse by clergy. (Associated Press)


Diocese in Spokane files for bankruptcy | The Roman Catholic Diocese of Spokane filed for bankruptcy protection on Monday, saying it did not have the money to cover lawsuits alleging sexual abuse by clergy. (Associated Press)


Diocese's deal raises the bar across U.S. | The Roman Catholic Church in O.C. will provide an average $1.1 million per alleged sexual abuse victim, a record that will influence talks nationwide. (

Los Angeles Times

)


Finding strength in pain | Outside court, men and their families share stories of childhood abuse, forging a bond with other victims after years of silence. (

Los Angeles Times

)


Leader of Christian Science church resigns | The head of the Church of Christ, Scientist, has retired after 12 years as the church's top official, church officials announced. (Associated Press)


Mormon choir cancels overseas trips | The Mormon Tabernacle Choir has canceled its planned tour of northern Europe next year because of concerns about terrorism, and the choir will instead tour the Northwest. (Associated Press)


Delving into the world of botánicas | Spiritists engage in a panel discussion on the services they offer from the religious supply stores, the focus of a UCLA museum exhibit. (

Los Angeles Times

)


Internal thefts have hurt a number of churches across country | When authorities charged the Rev. Joseph W. Hughes with stealing more than $500,000 from the Holy Cross Roman Catholic Church in Rumson, most parishioners expressed shock that a crime such as this could happen in their church. Those parishioners are not alone. (

Asbury Park Press

, NJ)


Despite ongoing fund raising, finances lagged | On Nov. 4, Hughes, who was pastor of the parish church and school for the past 16 years, was arrested and charged with stealing more than $500,000 from church accounts—much of it siphoned from golf outings, fund-raisers and raffles, according to the Monmouth County Prosecutor's Office. (

Asbury Park Press

, NJ)


Pastor decried after child's arms severed | Long before Dena Schlosser took a blade to her baby's arms, her parents had begun to worry. In the years after she moved to Texas with her husband and children, their gentle, dependent daughter had become increasingly isolated. And, according to her stepfather, she was dangerously consumed by a self-described prophet and his church. (Associated Press)


Nigeria priest wanted in Texas | A priest accused of sexually abusing a mentally retarded girl in South Texas fled to his native Nigeria a few days before a warrant could be issued for his arrest and prosecutors have not tried to force him back to face charges, according to a published report. (Associated Press)


Conmen work in mysterious ways | Moral values are in the spotlight these days, for con artists as well as solid citizens. State regulators are concerned that scam artists are cranking up affinity fraud by preying on churches. (

Athens Banner-Herald

, Ga.)


Bank fuses faith and finance | At the heart of the debate is Riverview, where the bank's "pastor," Chuck Ripka, and his staff pray with customers in his office and even at the drive-through window. A copy of the Ten Commandments hangs in the foyer and a Bible is buried in the foundation. (

Minneapolis Star Tribune

)


Holy orders | Kerry Williams is unpacking a box of new stock that has just arrived from Argentina. She unwraps a small statue of the Virgin Mary. "This is supposed to change colour with the weather," she explains. Today it's dull and rainy and the Virgin looks suitably glum. (

The Age

, Australia)


Cosby brings message of change to Mass. | The comedian - who has become known for talking serious and tough about problems faced by blacks, pushing for young people to stay in school and calling for parents "to do more parenting" - was on almost an evangelical roll. (Associated Press)


Habitat for Humanity founder pushed aside | In a characteristic act of frugality, Habitat for Humanity founder Millard Fuller hitched a ride to the Atlanta airport with a female staff member to save the organization a $75 shuttle ride. That ride ended up costing him - and Habitat - a great deal more. (

Washington Post

)


Nuzum devotes his life to God | Seth Nuzum never had any doubt what he wanted to do with his life. Even as a child, Nuzum knew he wanted to spread the word of God and be in ministry. The church runs in his family. His father, Rick Nuzum, a former center for the Green Bay Packers, is now a pastor in Ohio. (

Middletown Press

, Conn.)


Sex, conspiracy and suicide: Just another day at church | There are good priests and bad priests, and in "Conspiracy of Silence" there is no in-between. John Deery's modest drama is one big, obvious argument against the vow of celibacy for Roman Catholic priests, but it has heart. (

New York Times

)


They've got those Upper West Side, not Jewish enough blues | It is said that God works in mysterious ways. Daniel Goldfarb's new play, "Modern Orthodox," which opened last night at Dodger Stages, suggests that he is not above employing obnoxious ones, too. (

New York Times

)


Faithful see God in all creation | From a young age, Catholics are trained to recognize the extraordinary in the ordinary. Indeed, Mother Teresa of Calcutta is said to have instructed her nuns in the Eucharist's vision-enhancing quality. Practice in seeing Jesus in it pays off in the ability to see his presence in less likely places, such as in the hungry, the homeless, the criminal. (Thomas Ryan,

Miami Herald

)


Revelations | Will a grilled cheese sandwich bearing a likeness of the Virgin Mary meet the Roman Catholic church's criteria of a divine apparition? (

Washington Post

)


Danny's big fight is with his conscience | According to Danny Williams it won't be a fist that ends his boxing career. It will be his faith. Since embracing Islam five years ago Williams has gone countless rounds with his conscience. His dilemma is reconciling proficiency in a sport based on violence with a religion that preaches one man should not use his hands to harm another. (

Evening Standard

, UK)


The fighting Christian | In the last year, Rocky Thompson has embraced Christianity. If that seems like a profound contradiction, given his almost 1,500 career minutes of penance in the penalty box - that's a lot of sin - Thompson understands. (

Edmonton Sun

, Canada)


Gridders win a delay of game | A team of pint-sized football players from Fontana that refused to play in a championship game on Sunday, when some teammates would be in church, has persevered. (

Los Angeles Times

)


Chiefs missing out on blessings | Even Kansas City's football faithful have been shaken lately. A loss last week, prayer requests notwithstanding, effectively ended the season. And, it brought a long-standing debate back to the fore: Does God watch football games? Does He take sides, blessing one team to the exclusion of another? (

The Kansas City Star

)


California's stem cell program:
Stem cell initiative challenged | Scientists, educators and patient advocates gathered yesterday to begin figuring out how to distribute $3 billion in state funding for stem cell research, but it quickly became clear the job will be controversial. (

San Diego Union Tribune

)


Creating $3 billion stem cell agency no small feat | Californians voted by a wide margin last month to pass a landmark $3 billion initiative to fund stem-cell research. That may have been the easy part. Now, a state agency must be created from scratch to decide who gets the money from Proposition 71 and who will benefit financially from any scientific breakthroughs produced from the huge, taxpayer-funded gift. (Associated Press)


Other articles of interest:
Related Elsewhere:
Suggest links and stories by sending e-mail to weblog@christianitytoday.com
Check out Books & Culture's weekly weblog, Content & Context.
See our past Weblog updates:
December 6
December 3 | 2 | 1
November 24 | 23 | 22
November 19 | 18 | 17 | 16
November 12 | 11 | 10
November 5 | 3b | 3a | 2 | 1
October 29 | 28 | 27 | 26 | 25
Weblog
Launched in 1999, Christianity Today's Weblog was not just one of the first religion-oriented weblogs, but one of the first published by a media organization. (Hence its rather bland title.) Mostly compiled by then-online editor Ted Olsen, Weblog rounded up religion news and opinion pieces from publications around the world. As Christianity Today's website grew, it launched other blogs. Olsen took on management responsibilities, and the Weblog feature as such was mothballed. But CT's efforts to round up important news and opinion from around the web continues, especially on our Gleanings feature.
Ted Olsen is Christianity Today's executive editor. He wrote the magazine's Weblog—a collection of news and opinion articles from mainstream news sources around the world—from 1999 to 2006. In 2004, the magazine launched Weblog in Print, which looks for unexpected connections and trends in articles appearing in the mainstream press. The column was later renamed "Tidings" and ran until 2007.
Previous Weblog Columns: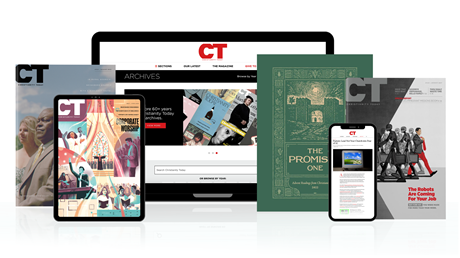 Annual & Monthly subscriptions available.
Print & Digital Issues of CT magazine
Complete access to every article on ChristianityToday.com
Unlimited access to 65+ years of CT's online archives
Member-only special issues
Subscribe
Two Iraqi Churches Bombed
Two Iraqi Churches Bombed