true

!Hero
Rock opera
by Eddie DeGarmo
and Bob
Farrell
Starring
Michael Tait,
Rebecca St. James,
and Mark Stuart

I doubt if many Christians have watched a dramatization of Christ's passion and thought, "You know what this needs? Hand-held pipe cannons to fire candy into the crowd." But now we've got them.
!Hero, the latest contemporary musical based on the Gospels, is the most rollicking Jesus rock concert of all. While Godspell and Jesus Christ Superstar added guitar-heavy rock and "make love, not war" messages to the Gospels, !Hero mixes hard rock, hip-hop, multimedia, and MTV flash to appeal to even the shortest attention span. Energetic dancers break out in street moves, giant TV screens flicker with message-heavy images, and performers fire up the crowd with those candy launchers.
The rock opera, written by Christian music veterans Eddie DeGarmo and Bob Farrell, is loud, fun, and engaging. DeGarmo, cofounder of Forefront Records and president of EMI Christian music publishing, first conceived of !Hero more than 10 years ago. He wanted to evangelize younger generations raised on music videos, computer games, and hip-hop culture.
One of DeGarmo's coups was to cast marquee CCM artists such as Rebecca St. James, Michael Tait, (dcTalk) and Mark Stuart (Audio Adrenaline) in lead singing roles. (!Hero first debuted as a 33-track soundtrack from Meaux Music last September.) Another smart move was taking almost all the high-profile stars on the road in !Hero's inaugural stage run.
These artists and an extensive marketing campaign helped a 21-city tour in November sell out almost all of its dates. Enthusiastic crowds included a large percentage of youth groups and families. A spring tour is expected.
The CD and stage production are the core of DeGarmo's vision but only two components in !Hero's multimedia blitz. Novelist Stephen R. Lawhead and son Ross have written a series of !Hero comic books; the elder Lawhead also is writing a trilogy of novels to further the story. DeGarmo's big concept was to insert not just contemporary culture into the Gospels, but to imagine a world where Jesus hadn't yet arrived.
Instead, Jesus appears in a bizarre, modern-day New York City whose history does not include Christianity. The world has only become more corrupt and wicked. Everything from the gospel story has its equivalent: The Roman Empire is ICON (the International Confederation of Nations). The Last Supper is a backyard barbeque. Caiaphas is called Kai, and Mary Magdalene is a prostitute named Maggie.
Throwing card tables
Unfortunately we don't see much of this potentially intriguing world. Maybe the musical medium makes that difficult.
A more important factor is that !Hero's storytelling is just too conceptual and abstract. The first half of the show especially feels less like a musical than a rock concert with a theme—loosely structured episodes revolving around Jesus' ministry. The stars don't act or emote as much as they sing in character. We see Hero turn water into wine, sing to a crowd while hotdogs multiply on screen, and throw card tables. Without knowing the Bible, would we understand what is happening? Would we know what makes this guy a hero?
Even after the Resurrection, there isn't a clear sense of the purpose of Hero's sacrifice. The overriding sense is instead, "Whew, he's not dead!" Audiences without any knowledge of the gospel might not get the point that he died and rose to forgive sins and give new life.
This production has a few other rough spots, as do the first stagings of most shows. At times, transitions and dialogue feel almost like those of a dress rehearsal. That these edges can be smoothed in subsequent runs is encouraging, because the project's vision and musical quality is high.
The Last BBQ
!Hero excels most in emotionally-charged and innovative sequences of Jude/Judas's betrayal, Jesus' prayer in the Garden of Gethsemane, and Maggie's confrontation with her former friends. In these scenes, intense drama takes center stage.
Another plus—the show doesn't take itself too seriously: in the Last BBQ scene, the cast riffs on DaVinci's famous painting. (Some minor problems here: not only is Maggie erroneously portrayed as a prostitute, but she also sits at Hero's right hand at the Last Supper—much to the chagrin of Christians who are debating fans of The Da Vinci Code.)
!Hero is exhilarating, the music is rocking and catchy, and the show aims perfectly at young people. Unless the storytelling is improved considerably, though, it may not live up to DeGarmo's hope of reaching outside the walls of the church. Even so, the first-run proved that !Hero is a huge draw as a traveling passion play for youth groups bored with the traditional staging.
Todd Hertz is an associate editor of Campus Life.
Related Elsewhere:
CT sister publication, Books & Culture, previewed the rock opera.
ChristianityToday.com's music channel reviewed the performance, interviewed the actors, and reviewed the album.
The official web site has more information.
Have something to add about this? See something we missed? Share your feedback here.
Browse All Music Reviews By:
Our digital archives are a work in progress. Let us know if corrections need to be made.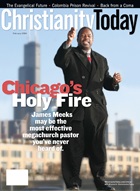 This article is from the February 2004 issue.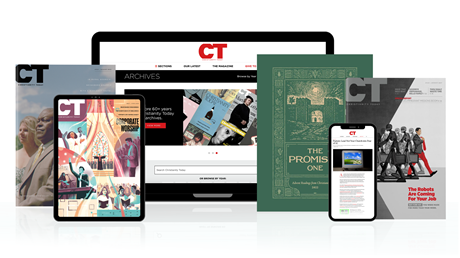 Annual & Monthly subscriptions available.
Print & Digital Issues of CT magazine
Complete access to every article on ChristianityToday.com
Unlimited access to 65+ years of CT's online archives
Member-only special issues
Subscribe
Hip-Hop Opera
Hip-Hop Opera