Theater chain changes mind on Passion ad
The AMC movie theater chain gained media attention this week for rejecting an ad from the Baptist General Convention of Texas, which wanted to tie in a publicity campaign to the upcoming film The Passion of the Christ.
"You want to see the most scandalous story ever?" an actor says as the ad opens. That's followed by a series of words flashing on the screen: Betrayal. Sin. Adultery. Greed. Envy. Weakness. Poverty. Torture. Murder. Then the young actor again: "Redemption," he says, and the Baptist convention's logo appears, with the words, "Now playing at a Baptist church near you."
Too hot for the AMC, apparently. But when the BGCT offered to change the words murder, torture, and adultery to fear, anger, and deceit, the AMC said it would take the ad, which will now appear on about 150 screens in the Dallas/Ft. Worth area.
"I suppose AMC has the right to choose what they have on their screen, but this policy is hypocritical," Wesley Shotwell, vice moderator of the BGCT's executive board told the Ft. Worth Star-Telegram. "There's been a lot of sex and violence on their screens during the movies."
Still, since the BGCT and the Southern Baptist Convention have been at each other's throats lately, Weblog is eager to see if any Southern Baptists will accuse the BGCT of "watering down the gospel" by changing the words. (Just kidding, folks.)
Second grader suspended for mentioning hell
After a classmate said, "I swear to God," 7-year-old Brandy McKenith warned that such language was troubling to the Almighty.
She could have said, "You know, Scripture warns against taking the Lord's name in vain, and furthermore, warns against taking oaths. These are affronts to God's sovereignty and holiness, since he is displeased by us misusing his holy name and by us breaking our word—especially when we hang our word on his name."
McKenith didn't say that, though. What she said was, "You're going to go to hell for swearing to God." Okay, she's 7 years old.
Anyway, a classmate overheard the conversation, and reported the second grader for using the word hell. The principal suspended her for a day, citing the district's Code of Student Conduct ban on profanity.
McKenith's dad is pretty upset. Some school board members are surprised and are reviewing the incident. Civil liberties attorneys are salivating. Meanwhile, the Pittsburgh Post-Gazette reports, "McKenith returned to her second-grade class yesterday … where she had an uneventful day, talking about 'stuff' with her classmates. 'Not bad stuff,' she clarified."
Missing Massachusetts?
Did you expect Weblog to focus on yesterday's Massachusetts Supreme Judicial Court ruling that only gay marriage–not civil unions—is constitutional? Yeah, so did Weblog. Look for relevant links and analysis tomorrow. In the meantime, you know where to find all the usual suspects on this topic.
More articles
More on The Passion of the Christ:
Pastors prepare way for movie release | In an effort to address the issues that may be generated by the movie, "The Passion of the Christ," more than 50 area pastors and church members gathered at the Athens First Baptist Church Wednesday afternoon to discuss how to prepare for the film (

Tyler Morning Telegraph

, Tex.)


Churches flock to see controversial film on Jesus | Three weeks before it appears in theaters, Mel Gibson's "The Passion of the Christ" has won a host of disciples, who are busy moving heaven and earth to make sure the movie opens big (

The Atlanta Journal-Constitution

)


Church to offer a preview of Gibson film to non-churchgoers | The Harvest Pointe Christian Church in Milford plans a private screening of the film on Feb. 23 at AMC Newport on the Levee, two days before it hits screens all over the country (

The Cincinnati Post

)


Film:
Film puts 'Faith' in Hartford | Writer, producer sees city as the Hollywood for Christian movies (

The Hartford Courant

, Conn.)


Controversial film must be a personal experience, too | Talk of controversy offers only self-fulfilling rhetoric that fails to attend to the decidedly more significant questions that this film raises for our personal reflection (

The Morning Call

, Allentown, Pa.)


Your spiritual guide … Bill Murray? | Groundhog Day recently kicked off "The Hidden God: Film and Faith," the current exhibition at the Museum of Modern Art in New York City. It turns out, curators say, that religious scholars from many different traditions have used the movie for years to teach fundamental spiritual themes. (

The Oregonian

)


Music:
Art and theater:
Jews and Christians:
NFL:
Catholic Archbishop blasts BBC:
Acting in bad faith | After a bad week for the BBC, some will greet accusations of "rudeness and prejudice" levelled against the corporation by the Most Rev Mario Conti, the Roman Catholic Archbishop of Glasgow, with weary resignation. But the charges he makes should not be too readily dismissed (Editorial,

The Daily Telegraph

, London)


Catholic Church boycotts BBC's Newsnight over its 'prejudice' | The Catholic Church has taken the unprecedented step of withdrawing its co-operation from one of the BBC's flagship news programmes, Newsnight Scotland (

The Herald

, Glasgow)


Books:
Culture:
Missions & Ministry:
Church life:
Pastor: Impostor still lives in area | Man puzzled by motives of woman who passed as 13-year-old boy (

The Joplin Globe

, Mo.)


Preparing for the harvest | A new mood of aggressive evangelism has been emanating from America. Well-funded, superbly networked, backed by the highest of the land, seized of its moral supremacy, it has India as one of its key targets (

Tehelka

, India, subscription required)


Retired missionary recalls work in Iraq | Dick Cochran preached in Arabic, discussed religion in bazaars (

Corvallis Gazette-Times

, Ore.)


Church and city:
Crime and punishment:
Robbers make priest victim swear on Bible | Unsure if their weapons had caused enough fear, robbers who broke into a monastery made a priest swear on the Bible that he had handed over all the money, police said on Friday (Reuters)


Former priest sentenced for embezzlement | Patrick O'Shea, the former pastor of St. Cecilia's parish in San Francisco and an adviser to former Archbishop John Quinn, pleaded guilty Tuesday to grand theft and tax evasion charges (Associated Press)


Death verdict okayed despite Bible consultations | Two jurors were wrong in consulting the Bible and their pastors about the morality of the death penalty during a capital case, but their actions didn't taint the death verdict of an imprisoned serial killer who strangled a cellmate, the state Supreme Court ruled Monday (

San Francisco Chronicle

)


African bishop corruption:
AIDS:
S. Africa Catholic church to provide AIDS drugs | South Africa's Catholic bishops said on Wednesday the church would start providing anti-AIDS drugs next week and criticised the government for its slow response to the epidemic (Reuters)


Sexual ethics:
Prayer in school boards:
Schools:
School flier ban:
Religion and law:
Politics:
Praise the Lord! (And Howard Dean, too) | As a believer whose beliefs don't always jibe, I know that where there's tolerance, there's brotherhood (Kathleen Fox,

Newsweek

)


Hopefuls put their faith in campaigns | In an attempt to compete with President Bush's unabashed discussion of religion while in office, Democratic presidential candidates are making similar stabs at God-talk (

The Washington Times

)


French headscarf ban:
Religious freedom and persecution:
Abortion:
History:
Abuse:
Related Elsewhere:
Suggest links and stories by sending e-mail to weblog@christianitytoday.com
Check out Books & Culture's weblog, Content & Context.
See our past Weblog updates:
February 4 | 3 | 2
January 30 | 29 | 28 | 27 | 26
January 23 | 22 | 21 | 20 | 19
January 16 | 15 | 14 | 13 | 12
January 9 | 8 | 7 | 6 | 5
January 2 | December 31 | 30 | 29
December 26 | 23 | 22
and more, back to November 1999
Weblog
Launched in 1999, Christianity Today's Weblog was not just one of the first religion-oriented weblogs, but one of the first published by a media organization. (Hence its rather bland title.) Mostly compiled by then-online editor Ted Olsen, Weblog rounded up religion news and opinion pieces from publications around the world. As Christianity Today's website grew, it launched other blogs. Olsen took on management responsibilities, and the Weblog feature as such was mothballed. But CT's efforts to round up important news and opinion from around the web continues, especially on our Gleanings feature.
Ted Olsen is Christianity Today's executive editor. He wrote the magazine's Weblog—a collection of news and opinion articles from mainstream news sources around the world—from 1999 to 2006. In 2004, the magazine launched Weblog in Print, which looks for unexpected connections and trends in articles appearing in the mainstream press. The column was later renamed "Tidings" and ran until 2007.
Previous Weblog Columns: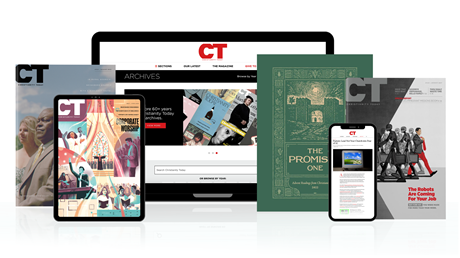 Subscribe to Christianity Today and get access to this article plus 65+ years of archives.
Home delivery of CT magazine
Complete access to articles on ChristianityToday.com
Over 120 years of magazine archives plus full access to all of CT's online archives
Subscribe Now
AMC Will Take Baptists' Rewritten Passion Ad After All
AMC Will Take Baptists' Rewritten Passion Ad After All