Is the National Prayer Breakfast unbiblical?
Addressing about three thousand attendees at the National Prayer Breakfast yesterday, President Bush directed his praise to an unlikely object. "All of us believe in the power of prayer. And for a lot of people here in Washington, a prayer has been answered with three words: Coach Joe Gibbs," he said. He went on to praise U.S. troops in Iraq for promoting religious tolerance.
"The Iraqi people are mostly Muslims, and we respect the faith they practice. Our troops in Iraq have helped to refurbish mosques, have treated Muslim clerics with deference, and are mindful of Islam's holy days," he said. "Some of our troops are Muslims themselves, because America welcomes people of every faith. Christians and Jews and Muslims have too often been divided by old suspicions, but we are called to act as what we are—the sons and daughters of Abraham."
Halfway through his speech, Bush was interrupted by a sound many described as like machine-gun fire. "It was an interaction between wireless microphones and the sound system, akin to a feedback effect," White House deputy press secretary Trent Duffy said. "It was not a 21-gun salute." (The sound can be heard 9 minutes and 15 seconds into this video.)
That wasn't the only negative feedback of the day, however. New Republic blogger Gregg Easterbrook yesterday called for an end to the National Prayer Breakfast. He's less concerned about its political aspects than its public ones. "Christ repeatedly said that people should pray in private, and followed his own advice, leaving his disciples when he wished to address God," Easterbrook writes. "The Washington Hilton ballroom is today's equivalent of the 'street corners' on which hypocrites used to pray 'so that they may be seen by others.' If the National Prayer Breakfast were transformed into an annual celebration of ecumenical cooperation—with Christians, Jews, Muslims, and others jointly vowing to respect each other—that might be one thing. Its current status as a celebration of public self-congratulation is another."
But if Easterbrook wants to take on public prayer, is the National Prayer Breakfast the best target? For one thing, the meeting is hardly one prayer after another. One need look no further than Bush, who did not offer any prayers himself, but did join others in bowing his head in prayer.
For another, the National Prayer Breakfast isn't tremendously public. It's by invitation only, and the press is barred for much of it (presidential speeches and a few musical acts notwithstanding).
It's not that the National Prayer Breakfast is untouchable. Several conservative Christians would critique the meeting's interfaith nature, and castigate orthodox believers for praying with heretics and Muslims (As Easterbrook notes, "Countless among those present to adulate prayer don't pray themselves, or even consider prayer an irrational superstition.") But Easterbrook's argument is probably better served against, say, legislative invocations than he does against the National Prayer Breakfast.
Furthermore, Easterbrook seems to conflate public prayer with corporate prayer. While he's right in noting, along with Mark, that "Jesus often withdrew to lonely places and prayed," the Scriptures offer many examples of believers praying together or in front of others. Indeed, Jesus promoted praying together: "Again, I tell you that if two of you on earth agree about anything you ask for, it will be done for you by my Father in heaven. For where two or three come together in my name, there am I with them."
Indeed, the point seems to be, as Augustine said of the verses in question, "not that the mere being seen of men is an impiety, but the doing this, in order to be seen of men." John Wesley, for example, warned that some may even use Jesus' words as an excuse not to pray: "Pray to God, if it be possible, when none seeth but He; but, if otherwise, pray to God." It's humility, not crowd control, that's at stake here. Even those who pray in private can violate Jesus' command, if they take pride in praying alone. "Even if thou shouldest enter into thy closet, and having shut the door, shouldest do it for display, the doors will do thee no good," wrote John Chysostom. "Let us not then make our prayer by the gesture of our body, nor by the loudness of our voice, but by the earnestness of our mind; neither with noise and clamor and for display, so as even to disturb those that are near us, but with all modesty, and with contrition in the mind, and with inward tears." (For more on what the great church leaders from history have said on this, check out the World Wide Study Bible at the Christian Classics Ethereal Library, which includes Thomas Aquinas's Golden Chain—his version of the Ancient Christian Commentary on Scripture.)
This then, is Easterbrook's point: "The huge ballrooms are required because the whole event has become about being seen, not about prayer." (In an issue of Harper's last year, Jeff Sharlet argued that the whole event is "merely a tool in a larger purpose: to recruit the powerful attendees into smaller, more frequent prayer meetings, where they can 'meet Jesus man to man.'")
If the event is truly about being seen and not about prayer, then certainly it should be disbanded. But if instead it is for politicians, diplomats, and others to humble themselves before God—as Bush characterized the meeting's purpose in his address two years ago, to "remind generations of leaders of a purpose and a power greater than their own"—then long may it last.
First the Super Bowl halftime show, now this …
How incredibly out of touch is CBS? As noted by Jeff Sharlet's religion blog, The Revealer, the political gossip site Wonkette has posted a 60 Minutes press release that is almost a perfect parody of media cluelessness about evangelicals. 60 Minutes also has a copy of it on its site.
"Evangelicals—Christians who place a personal relationship with Jesus Christ above all else—have become a major factor in American politics and culture, says a prominent Christian theologian," the release begins. (The prominent Christian theologian is Harvard University's Peter Gomes, who's sometimes a critic, and sometimes an ally of evangelicals.)
The "army" of evangelicals, says 60 Minutes, "has fought recently to keep a statue of the Ten Commandments in an Alabama courtroom and is fighting to keep the name of God in the Pledge of Allegiance. Evangelicals have a lobbyist, too, the former Republican presidential candidate Gary Bauer."
Ah, Bauer, the lone evangelical lobbyist on Capitol Hill, to whom all evangelicals must donate 10 percent of their earnings. You'd think that even if CBS can't get straight that Bauer doesn't represent the full spectrum of evangelical politics, they'd at least know the political players well enough to know that he's not the only one in town.
Oh, but it gets better. "Central to evangelicals' faith is an event that can happen at any time called the Rapture, when God takes all true-believing Christians and children under 12 to a better place while all others suffer the tribulation and are damned."
Here's a contest: Who can find the most things wrong in that sentence? Weblog counts at least six.
Of course, CBS learned its lesson a week ago. This press release may just be intended to cause a buzz among evangelicals, get them to watch 60 Minutes on Sunday, then write a bunch of articles about how outrageous it was. Then the network can deny it knew anything about the segment and get more media play. Ah, brilliant.
More articles
Kurt Warner:
The Passion of the Christ:
Music:
Television:
Media:
Faith-based initiative:
Religion and politics:
Candidates and abortion:
Life ethics:
Crime:
Abuse:
Church and state:
France headscarves ban:
Black faith:
Orthodox:
Missions & Ministry:
Education:
Gay marriage:
Opinion:
Gay issues:
Marriage and family:
Anglicans and Episcopalians:
Catholicism:
Spirituality:
Deaths:
Jonathan Aitken:
Other stories of interest::
Related Elsewhere:
Suggest links and stories by sending e-mail to weblog@christianitytoday.com
Check out Books & Culture's weblog, Content & Context.
See our past Weblog updates:
February 5 | 4 | 3 | 2
January 30 | 29 | 28 | 27 | 26
January 23 | 22 | 21 | 20 | 19
January 16 | 15 | 14 | 13 | 12
January 9 | 8 | 7 | 6 | 5
January 2 | December 31 | 30 | 29
December 26 | 23 | 22
and more, back to November 1999
Weblog
Launched in 1999, Christianity Today's Weblog was not just one of the first religion-oriented weblogs, but one of the first published by a media organization. (Hence its rather bland title.) Mostly compiled by then-online editor Ted Olsen, Weblog rounded up religion news and opinion pieces from publications around the world. As Christianity Today's website grew, it launched other blogs. Olsen took on management responsibilities, and the Weblog feature as such was mothballed. But CT's efforts to round up important news and opinion from around the web continues, especially on our Gleanings feature.
Ted Olsen is Christianity Today's executive editor. He wrote the magazine's Weblog—a collection of news and opinion articles from mainstream news sources around the world—from 1999 to 2006. In 2004, the magazine launched Weblog in Print, which looks for unexpected connections and trends in articles appearing in the mainstream press. The column was later renamed "Tidings" and ran until 2007.
Previous Weblog Columns: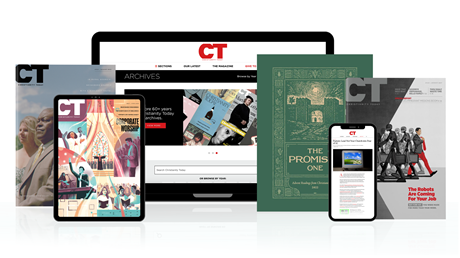 Annual & Monthly subscriptions available.
Print & Digital Issues of CT magazine
Complete access to every article on ChristianityToday.com
Unlimited access to 65+ years of CT's online archives
Member-only special issues
Subscribe
Prayer Breakfast Feedback
Prayer Breakfast Feedback