Three will die, three go free in Taxila Presbyterian hospital attack verdict
A Pakistani anti-terrorist court yesterday sentenced three militant Muslims to death for their deadly attack on the Christian Hospital in Taxila in August 2002. However, charges against three other suspects in the attack, which killed four women and injured more than two dozen other workers, were freed for lack of evidence.
There's no word from early press reports about Maulana Abdul Jabbar, who was arrested last July, and whom police said was the mastermind behind this and other attacks on Christians in the country. The South Asia Tribune, however, reported this week that Jabbar, leader of a group called Jamaat-ul-Furqaan, is still being questioned.
More articles
Wesley Clark and Howard Dean on abortion:
Life ethics:
A global abortion war | critics Say United States is exporting a vitriolic battle; supporters disagree — and the squabble continues (ABCNews.com)


'Christian terrorists' | Anti-abortionist calls for violence, says it is religious duty (ABCNews.com)


Bills would push abortion back into shadows | Virginia bills range from what constitutes feticide to prohibiting state colleges and universities from dispensing emergency contraceptives (

The Washington Times

)


Roe v. Wade rallies:
2004 presidential campaign:
Preaching in politics | Left should reclaim a share of the moral rhetoric (Ellen Goodman,

The Boston Globe

)


Bush's talk on values, and the eye he keeps on November | President Bush seemed to cast himself as America's moral leader in his State of the Union address on Tuesday night when he called upon "all of us" to protect the nation's children from "the negative influence of the culture." (

The New York Times

)


War:
Churches protest Nairobi constitution:
Church threatens protest over draft | The Presbyterian Church of East Africa will call countrywide demonstrations if the Ufungamano draft constitution is rejected at Bomas (

The East African Standard

, Nairobi)


Bishops pour cold water on faiths effort | Anglican clergymen claimed a section of the delegates, including some of their colleagues, wanted to derail the reform process for selfish interests (

The East African Standard

, Nairobi)


Now Catholics back Bomas III | The Catholic Church and opposition parties yesterday threw their weight behind the draft constitution under discussion at Bomas of Kenya (

The East African Standard

, Nairobi)


Same-sex marriage and homosexuality:
More on sexual ethics:
Ten Commandments monument in Winston-Salem, N.C.:
Ten Commandments disputes elsewhere:
Church and state:
School fliers:
Education:
Persecution:
Deaths:
Jonathan Chao, missionary who tracked the development of Christianity in China, dies at 65 | Beginning in 1978, Chao traveled to China more than 100 times from his home in West Covina to train ministers to lead the Christian "house church" movement


Laton Earle Holmgren, former general secretary of the American Bible Society, dies at 88 | Holmgren, an ordained Methodist minister, joined the society in 1952 as its secretary for Asia. He had gone to Japan as a visiting professor in 1949 and helped rebuild the Union Church in Tokyo, one of the oldest English-language Protestant churches in the Far East, which had been heavily damaged in the war (

The New York Times

)


Also: Laton Holmgren, 88; led American Bible Society | Holmgren had been in failing health for several years (

Los Angeles Times

)


The Pope and The Passion:
Vatican says Pope does not judge films | The Vatican pronounced what it hoped was the last word Thursday on whether Pope John Paul II ever endorsed Mel Gibson's biblical epic "The Passion of the Christ," declaring that the pontiff "does not make public judgments on artistic works" (Associated Press)


Mystery drama, with the Pope cast as a movie critic | It is a matter of just five words, each of which, at least in English, is just one syllable. But that fleeting phrase has touched off an extraordinary degree of speculation, consternation and just plain puzzlement (

The New York Times

)


The Passion of the Christ:
'Passion' not anti-Semitic, say pastors after viewing | "What impressed me throughout the movie is that neither Jewish nor Gentile people put Jesus on the cross," said John Maxwell, chairman of the Global Pastors Network (

The Washington Times

)


Jewish leaders see worst fears in Gibson's 'Passion' movie | Mel Gibson's carefully crafted marketing campaign to ensure favorable publicity for his controversial new film, The Passion of The Christ, collapsed Thursday amid criticism from national Jewish leaders who used "stealth tactics" to view the film in Winter Park on Wednesday night (

The Orlando Sentinel

)


Jewish leaders upset after viewing 'Passion' | Two of the nation's most prominent Jewish leaders said yesterday that they had watched recent versions of Mel Gibson's unreleased movie "The Passion of the Christ" and found it anti-Semitic and incendiary in the way it depicted the role of the Jews in Jesus's death (

The New York Times

)


Pop culture:
Books:
Science:
Crime:
Finance:
Sunday, Sunday, Sunday:
Sunday services—are they really a thing of the past? | With businesses opening longer hours, 24 hour news and sports on television and the increased interest in DIY, is the Sunday Sabbath, traditionally a day for church, at risk of becoming obsolete? (

Peterborough Evening Telegraph

, Cambridgeshire, England)


Religion in the news: Church vs. marathon | Some churches in Frederick, Maryland, say street closures during last year's inaugural race reduced attendance at Sunday morning services by up to 25 percent (Associated Press)


Anglicans:
Missions and ministry:
Church life:
Church building issues:
City considers church expansion | The Naperville Plan Commission Wednesday reviewed a proposal to demolish Our Saviour's Evangelical Lutheran Church of Naperville to make way for a new 37,500-square-foot chapel with a gymnasium, a day-care center and a separate garage (

Chicago Tribune

)


Church makes case for center | Members of a Naperville congregation proposing a major construction project face an arduous task in converting nearby residents to their cause (

The Daily Herald

, Chicago suburbs)


Church, town edge toward legal showdown | More negotiation on building project appears unlikely (

Hamilton Wenham Chronicle

)


Ecumenical and interfaith relations:
Salvation Army:
Jerusalem:
Study says Old City most at risk in quake | A geological survey says the heart of biblical narrative — Jerusalem's walled Old City — would be among the worst hit parts of the city in the event of another earthquake because it rests on layers of debris, not solid rock (Associated Press)


A possible way to share Jerusalem | Sovereignty over this small and tightly defined area might be vested in three representatives, one from each faith (David Kitching,

Ha'aretz

, Tel Aviv)


Africa:
Cuba:
Orthodox leader tours new Cuban cathedral | Ecumenical Patriarch Bartholomew I toured the new Byzantine cathedral that he will consecrate on Sunday, the purpose of his first visit to Latin America (Associated Press)


Church group denied Gitmo trip | The National Council of Churches, which helped Elián González's family, asked permission to provide interfaith spiritual solace to the terror suspects held in Cuba (

The Miami Herald

)


Catholicism:
No one has a 'right' to be a priest | It is standard procedure for dioceses and seminaries to require a medical examination of candidates for the seminary. The extent of that examination varies from place to place. (Raymond J. de Souza,

National Post

, Canada)


Spirituality:
Other articles of interest:
Religion news in brief | Bishops' direct mail campaign against same-sex marriage, Pastors get four-week booking of Gibson's Jesus film in Great Falls, Jordanian experts fix bulge in wall at Jerusalem's Al Aqsa mosque, and other stories (Associated Press)


Religion news in brief | Christian Churches Together creates founding document, 'Mystic River,' 'Rings' make bishops' list, and post-surgery Graham plans revival for June (

The Washington Post

)


Dead man feared cannibalistic cult | Immigration officials doubt claim made by many Nigerian refugees (

The Halifax Herald

, Nova Scotia)


Related Elsewhere:
Suggest links and stories by sending e-mail to weblog@christianitytoday.com
Check out Books & Culture's weblog, Content & Context.
See our past Weblog updates:
January 22 | 21 | 20 | 19
January 16 | 15 | 14 | 13 | 12
January 9 | 8 | 7 | 6 | 5
January 2 | December 31 | 30 | 29
December 26 | 23 | 22
December 19 | 18 | 17 | 16 | 15
and more, back to November 1999
Weblog
Launched in 1999, Christianity Today's Weblog was not just one of the first religion-oriented weblogs, but one of the first published by a media organization. (Hence its rather bland title.) Mostly compiled by then-online editor Ted Olsen, Weblog rounded up religion news and opinion pieces from publications around the world. As Christianity Today's website grew, it launched other blogs. Olsen took on management responsibilities, and the Weblog feature as such was mothballed. But CT's efforts to round up important news and opinion from around the web continues, especially on our Gleanings feature.
Ted Olsen is Christianity Today's executive editor. He wrote the magazine's Weblog—a collection of news and opinion articles from mainstream news sources around the world—from 1999 to 2006. In 2004, the magazine launched Weblog in Print, which looks for unexpected connections and trends in articles appearing in the mainstream press. The column was later renamed "Tidings" and ran until 2007.
Previous Weblog Columns: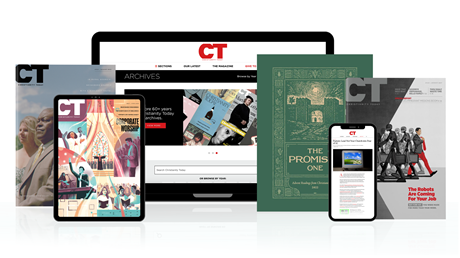 Annual & Monthly subscriptions available.
Print & Digital Issues of CT magazine
Complete access to every article on ChristianityToday.com
Unlimited access to 65+ years of CT's online archives
Member-only special issues
Subscribe
Death Sentence For Three Pakistanis Who Attacked Christian Hospital
Death Sentence For Three Pakistanis Who Attacked ...