The writing of poetry hasn't changed fundamentally since 9/11, but that event has been present, explicitly or implicitly, in countless books published in its aftermath. In A Deed to the Light, Jeanne Murray Walker lets the events of the terrorist attacks, and the sniper attacks near Washington a year later, play upon her consciousness. It isn't that she keeps bringing the subject up—only two poems make reference to the twin towers—but the word catastrophe has become conspicuous in her vocabulary. What she's done particularly well in this collection is shine light upon our responses to such collective traumas.
The obvious 9/11 poem is "After Terrorism," where she says, "Maybe the John Deere of history / has to drag catastrophe into our library with an 18-gauge chain / before we finally stand up and say, Well, what have we got here?" She chooses to not emphasize the evil or the anger but, as the poem's title suggests, to move beyond. "Listen," she implores. "Outside this frame I can see light, / heavy as pardon, reliable as granite. / Help me. Help me drag it into the picture."
The poem "Sniper" is surprising in that Walker imagines not the sniper himself but a devoted wife who "is beginning to suspect her husband." Here is where she confronts our responses: "America wants him / dead. We tend bonfires of hatred. We are lit from / the inside with hatred. Hatred binds us together. I close / my eyes and try to hold him steady enough to hate him, // but it's her face I see." This imagined woman makes the monster-sniper a real man: "She will never forget the good in him."
Other sorrows that make their way into the poems are less public. Walker writes of "The Nurses" on the children's cancer ward who share laughter on their breaks, "because grief adheres to them / as desire adheres to beautiful women." She writes of her son leaving for college, and how her "barbaric unteachable mother heart doesn't get it." And in three poems the death of her father, while she was still a girl, looms large.
This focus on tragedy is a change in Jeanne Murray Walker's poetry. In Coming into History (1990), for example, tragedy appears, for these are poems about real people, but what we predominantly see is an earlier version of her mother heart. The title poem is one of several about a child growing within her. Another poem, "Inspecting the Garden after Dark," is about her son in diapers (the same one who's off to college in her new collection), in which her mother head acknowledges: "I've already lost you. Or maybe never had you"—but of course her mother heart never does accept it.
What lives and breathes in A Deed to the Light is compassion. Walker's compassion for the friend whom she is growing weary of, the friend who always comes to share her self-inflicted sorrow, catches us by surprise. At first the poet says to her, "No more trips here … to weep over your lost babies … Why can't he hear them, / your latest man, warming your hands // in your midtown restaurants? Maybe / if you tried to climb the ladder of your grief / at losing him, you could also lose // the habit of calling his house, / his wife lifting the receiver as you whisper." The poet speaks of her own beautiful children, and then is hit by the reality. "The names of your children, scrawled // by lightning across this black night sky, are Emptiness / and Hunger." Her compassion in the end cries out in grace and humor, "Come. Come any time. The shoulder is always open."
She surprises us again—and again illuminates the face of compassion—in a poem about a painting that never was; in "Portrait of the Virgin Who Said No to Gabriel" she writes, "Small as she was, how could she keep in her heart / those centuries of praise? But I praise her / anyway for wanting a decent wedding." Later she describes the woman in her old age, "I praise her, / for never feeling envy." Just as in the poem about her friend, Walker shows us compassion for a character who is the victim of her own wrong choice.
Walker's spiritual commitments come through subtly but unmistakably: a reference to the heart of God here, a suggestion of prayer there, and her beliefs lived throughout. In A Deed to the Light she continually directs our eyes towards the beautiful (another key word). Her compassion, for both the monstrous and the misguided, never inclines toward sermonizing but gently wins us by beautiful example.
D.S. Martin is a Canadian poet and music critic. His poems have appeared in many journals such as: Canadian Literature, Christianity & Literature, First Things and Mars Hill Review. (ds_martin@yahoo.com)
Related Elsewhere:
A Deed to the Light: Poems is available from Amazon.com and other book retailers.
More information is available from the publisher.
Jeanne Murray Walker's web site and links to articles about her can be accessed from her University of Delaware page.
Books & Culture Corner appears every Monday. Earlier editions of Books & Culture Corner and Book of the Week include:
Article continues below
Tending the Garden | Evangelicals and the environment. (July 07, 2004)
How the Monster Grew | A Pulitzer Prize-winning historian looks at the origins of modern media. (July 05, 2004)
Wasn't That a Mighty Fall | Martha Stewart, VeggieTales, and Narnia revisted. (June 29, 2004)
Insect Theodicy | Who sent the locusts? And who exterminated them? (June 22, 2004)
Telling Lies, Telling Stories | Lars Saabye Christensen's The Half Brother reveals imagination as escape. (June 15, 2004)
The Art of Political War | A veteran columnist urges his fellow liberals to take a lesson from those nasty conservatives. (June 07, 2004)
Thou Shalt Not Swap | The uses and abuses of copyright. (May 24, 2004)
Mystery and Message | Must they compete? (May 10, 2004)
Celebrating Faith in Writing | A dispatch from Calvin College's biennial event. (April 26, 2004)
Shabbos, Sheitels, and Yarmulkes | A novel set in the world of Orthodox Judaism. (April 19, 2004)
The Naked City | The story of the 1977 blackout in New York-the occasion of widespread looting and destruction-has some surprisingly timely lessons for America in 2004. (April 19, 2004)
A Curious Contingency | Confessions of a wordsmith. (April 05, 2004)
"Trust but Verify" | Ronald Reagan's faith. (March 29, 2004)
Baseball Preview 2004 | Plus a look back with some Negro League veterans. (March 29, 2004)
How Do You Live with a Torturer? | A novel of Haiti by the brilliant young writer, Edwidge Danticat. (March 08, 2004)
God Is in the Details | A scientist affirms his faith. (Feb. 23, 2004)
History Repeats Itself, Sort of | How the fate of Eugene McCarthy's insurgency against LBJ sheds light on the 2004 presidential campaign. (Feb. 16, 2004)
The Worst President Ever? | Former Nixon aide John Dean attempts to rehabilitate the reputation of Warren G. Harding. (Feb. 09, 2004)
Wholly, Wholly, Wholly | Calvinists and conga drums in Grand Rapids: a report from the seventeenth annual Calvin Symposium on Worship and the Arts. (Feb. 02, 2004)
The Doom of Choice | Fate, free will, and moral responsibility in Tolkien. (Feb. 02, 2004)
A Rose Among Thorns | A new novel by the author of Father Elijah illumines the spiritual consequences of our simplest decisions. (Jan. 26, 2004)
Baptized in Fire | A new book on Martin Luther King, Jr., emphasizes his spiritual transformation. (Jan. 19, 2004)
O'Connor v. the Antichrist (Jan. 12, 2004)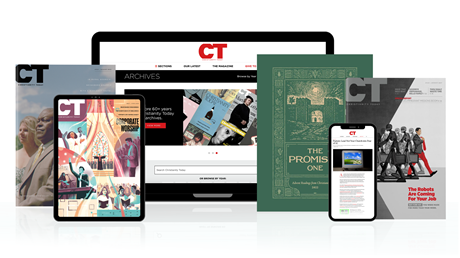 Subscribe to Christianity Today and get access to this article plus 65+ years of archives.
Home delivery of CT magazine
Complete access to articles on ChristianityToday.com
Over 120 years of magazine archives plus full access to all of CT's online archives
Subscribe Now
Catastrophe and Compassion
Catastrophe and Compassion