Will Baylor University regents vote on Sloan again?
Regents of Baylor University meet this week to discuss Baylor Vision 2012, President Robert Sloan's expansive plan to make the school into the world's premier evangelical research institution. But Texas newspapers are still focusing on whether the regents will take up another vote on Sloan's leadership.
Both the Houston Chronicle and the Waco Tribune-Herald report on a widely circulating rumor that Sloan will be made chancellor, which both papers characterize as more or less a demotion into a fundraising position. But the Chronicle reports that board chairman Will Davis denied that the group is considering the idea, and the Tribune-Herald reports that even if they did it, Sloan's critics wouldn't be any happier. In May, the regents voted 18-17 to retain Sloan as president.
Sloan supporter Dary Stone, part of Friends of Baylor, told the Tribune-Herald that the regents would destabilize the school by voting on Sloan's leadership every few months. "You can only do this so often, and they've done it plenty," he said.
So the regents probably won't vote on Sloan. But they'll likely take action on Vision 2012, though the newspapers don't report on what aspects are likely to be discussed. The Tribune-Herald does report, however, "Two large parts of that vision came to fruition last week. School officials gave a guided tour of the new $103 million sciences building and new North Village residential facility, designed to attract more students to living on campus."
The Chronicle, meanwhile, rehashes the story up to now:
The direction has divided alumni and faculty of the 14,000-student Waco university.
Critics say it's making the school too expensive for its traditional base of middle-class families, undervaluing professors whose forte is teaching and imposing an evangelical form of the faith they say will hurt Baylor's reputation.
Some more baldly call it a "fundamentalist takeover," a reference to the Southern Baptist Convention's 25-year war over biblical interpretation, won by literalists.
But scholars say the Baylor rift is more complicated.
The Chronicle's opinion pages haven't reflected the nuance of that last sentence, instead taking positions against Sloan and Vision 2012's religious aspects.
The opinion pages of the Dallas Morning News, however, have been far more positive, and are again today as alumnus Don Riddle defends both the school's direction and its president. "Visions are borne on the character of those who understand, articulate and embrace them. Vision 2012 must be implemented by President Sloan, or it must be abandoned," Riddle writes. "My hope is that all who love Baylor—especially the regents—will seriously consider the immense damage to the institution that would result by scuttling President Sloan and the vision. Baylor risks public humiliation in the eyes of the North American Christian community."
One of the other defenders of Vision 2012 has been A. J. Conyers, professor of theology at Baylor's Truett Seminary. "The leaders of Baylor, including President Robert Sloan, are serious about their responsibility," he wrote in an article on the school's website. "We are moved by a Christian institution that has chosen to be what it claims to be, while others are indolently content merely to seem—with the form of religion, but having lost its liberating power."
Sadly, after a long battle with cancer, Conyers died yesterday at age 60.
"Chip was constantly thinking theologically in the best possible sense," Sloan says in an announcement on the school's website. "He was always asking how the Christian faith could impact living. One of the great gifts he left at the end was to be very vulnerable and transparent with his colleagues and students about the process of facing death and the gracious providence of God in it all. He will be dearly missed."
Conyers also wrote for Christianity Today (today we've reprinted one of his articles) and our sister publication Books & Culture. His death comes as the school is also mourning the death of one of its other faculty members, F. Ray Wilson, a popular biology professor who died earlier this month during a study-abroad trip in Rome.
Bush seeks votes among Amish
"This story has not been reported before," gushes Lancaster (Pa.) New Era writer Jack Brubaker. "You might think an observant press follows the president everywhere, especially during a re-election campaign, but no reporter attended this meeting."
Still, expect to read more about this little story. Last Friday, after speaking to workers at Lapp Electric Service, President Bush spoke with a group of about 60 Amish for about 20 minutes. He was apparently inspired to schedule the impromptu visit by the gift of a quilt earlier in the day from an Amish woman who lives across the street from the plant.
The story is full of quirky little details:
Bush said he had never met any Amish before and was curious about why the men were wearing straw hats rather than black wool hats. The Amish explained that they wear cooler straw in summer. Bush tried on a hat. …
An Amish man spoke apologetically about how he and his friends were not expecting to see the president and were wearing soiled work clothes. Bush said he did not mind that. …
Another man remarked that he has twin daughters, as does Bush. The man said one of his twins had dreamed the night before that she was shaking hands with the president.
One telling remark:
[Bush] asked them to vote for him in November. The Amish told the president that not all members of the church vote … .
Well, that's an understatement. Not voting is more or less an article of faith for the Amish. Like pacifism (the Iraq war isn't mentioned in the piece). But anyway …
The Amish told the president that not all members of the church vote, but they would pray for him. Bush had tears in his eyes when he replied. He said the president needs their prayers.
But the detail most people will certainly notice is this one:
At the end of the session, Bush reportedly told the group, "I trust God speaks through me. Without that, I couldn't do my job."
If that's a real quote, then it's a rather shocking statement. If Bush had said that he trusts God works through him, then the comment would be rather innocuous: Evangelicals believe that God works through all types of people, good and bad, Christian and non-Christian. And it's common to hear many Christians speak of God working through them—sometimes in spite of their best efforts.
Christians believe that God speaks through all manner of people, too. And we believe that there are times when God has spoken through us. Generally, one may hear this language in the relating of evangelistic activities (e.g. "When he asked me why I believed Jesus is God, I felt a bit unprepared, but I prayed, and felt God speaking through me"). But talking about God speaking through someone is rarely done in the first person. It's usually, "I just heard God speaking through him/you." Very rarely "me."
It's even rarer to hear someone say that God speaks through them regularly, or that God's speaking through me is essential to one's vocation. You'll hear pastors praying that God would speak through them every Sunday, but the pastor who tells his congregation that God really does speak through him week after week is taking a pretty serious risk. How much more so for the President of the United States?
But we're getting ahead of ourselves. The problem with criticizing Bush for the comment is that he may not have said it at all. The Lancaster New Era story seems based entirely on the account of historian Sam Stoltzfus, who "spoke with a number of people present at the session with the president." In other words, there are four degrees of separation between Bush's comment and Brubaker's story. (It's common for conservative Christians to say that God speaks to them. Perhaps someone got the preposition wrong?) Before pouncing on the quote, it would be wise to get firsthand confirmation.
Big Idea Productions moves:
VeggieTales crew, friends setting up shop in Franklin | Larry the Cucumber and Bob the Tomato have landed in Franklin at The Factory (The Tennessean)
VeggieTales creators moving to Franklin | Chicago-based Big Idea Productions, creators of the popular VeggieTales series of videos and products, is relocating to Franklin (Nashville Business Journal)
VeggieTales creator Big Idea relocates to Nashville area (Baptist Press)
Big Idea pops up in Franklin | Big Idea Inc.'s relocation to the Nashville area is a feather in the cap of 18-month-old Nashville Commercial Real Estate Services, which brokered the national entertainment company's lease in Franklin (The City Paper, Nashville)
Bredesen welcomes Big Idea to Franklin | The biggest cheers and applause yesterday at The Factory at Franklin were for Bob the Tomato and Larry the Cucumber, stars of children's VeggieTales videos produced at this town's newest corporate headquarters (Review Appeal, Franklin, Tenn.)
Growth rated 'G' | VeggieTales' move to Franklin could put family entertainment businesses in high cotton (The Tennessean)
Related: Singing stars | Producers of Christian children's entertainment have typically set the bar pretty low. But things have slowly changed in the past few years, and the industry is getting better. (The Wichita Eagle, Kan.)
U.S. again says no to funding U.N. Population Fund over Chinese abortions:
U.S. to withhold $34M to U.N. fund | The Bush administration will withhold $34 million in congressionally approved assistance to the U.N. Population Fund because of the fund's connection to China and forced abortions, Secretary of State Colin Powell said Friday (Associated Press)
Citing Chinese abortions, U.S. refuses to fund U.N. program | Bush administration says the $34 million due the Population Fund would support coercive family-planning rules (Los Angeles Times)
US again denies money to population fund | Chinese practices on abortion cited (The Boston Globe)
Bush on human trafficking:
Bush speech on human trafficking targets Castro | Remarks at official event are tailored for Cuban exiles in florida and religious conservatives (The Washington Post)
Bush assails Castro and human trafficking | "Human life is the gift of the Creator, and it should never be for sale," he said, adding, "It is a terrible tragedy when anyone comes here, only to be forced into a sweatshop, domestic servitude, pornography or prostitution." (The New York Times)
Bush hits Cuba for 'sex tourism' | President Bush yesterday castigated Fidel Castro's regime for contributing to the worldwide problem of human trafficking by becoming a destination for "sex tourism" and vowed to work toward "the rapid, peaceful transition to democracy in Cuba." (The Washington Times)
Related Elsewhere:
Suggest links and stories by sending e-mail to weblog@christianitytoday.com
Check out Books & Culture's weekly weblog, Content & Context.
See our past Weblog updates:
July 16 | 15 | 14 | 13 | 12
July 9 | 8 | 7 | 6
July 3 | 2 | 1 | June 30
June 25 | 24 | 23 | 22 | 21
June 18 | 17 | 16 | 15 | 14
June 10 | 9 | 8 | 7
and more, back to November 1999
Weblog
Launched in 1999, Christianity Today's Weblog was not just one of the first religion-oriented weblogs, but one of the first published by a media organization. (Hence its rather bland title.) Mostly compiled by then-online editor Ted Olsen, Weblog rounded up religion news and opinion pieces from publications around the world. As Christianity Today's website grew, it launched other blogs. Olsen took on management responsibilities, and the Weblog feature as such was mothballed. But CT's efforts to round up important news and opinion from around the web continues, especially on our Gleanings feature.
Ted Olsen is Christianity Today's executive editor. He wrote the magazine's Weblog—a collection of news and opinion articles from mainstream news sources around the world—from 1999 to 2006. In 2004, the magazine launched Weblog in Print, which looks for unexpected connections and trends in articles appearing in the mainstream press. The column was later renamed "Tidings" and ran until 2007.
Previous Weblog Columns: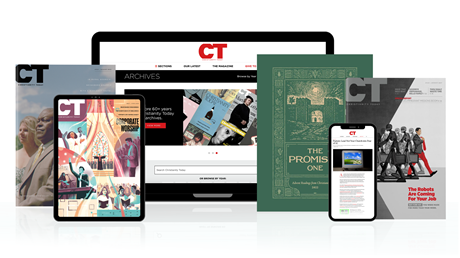 Subscribe to Christianity Today and get access to this article plus 65+ years of archives.
Home delivery of CT magazine
Complete access to articles on ChristianityToday.com
Over 120 years of magazine archives plus full access to all of CT's online archives
Subscribe Now
Baylor Regents to Assess Expansive Vision
Baylor Regents to Assess Expansive Vision