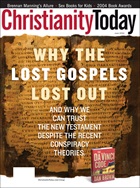 This article is from the June 2004 issue. Subscribers can read all of CT's digital archives.
British fantasy novels have captured the imagination of readers in the United States for decades. Tolkien and C.S. Lewis made their indelible mark on us. J.K. Rowling also impressed Americans, though some Christians wondered if they should read the Harry Potter novels.
The newest English fantasy import, Shadowmancer, was so popular that Putnam paid $500,000 for the U.S. rights—three times what J.K. Rowling received for U.S. rights to her first Potter fantasy. But, though Shadowmancer is a Christian response to Harry Potter, Christians may still hesitate to read it to their younger children.
The world of Shadowmancer is upside down—those you expect to be good are evil, and the title refers not to heroes, as in Potter or The Fellowship of the Ring, but to a wicked vicar. G.P. Taylor's vicar is a shadowmancer, one who conjures darkness. Taylor, a former punk rocker-turned-policeman-turned-vicar who does exorcisms, knows the forces of evil firsthand.
The book, however, is not just about vicars behaving badly. It follows the course of the redemptive novel, where good characters stand against seemingly insurmountable evil, fight to the finish, and are thus transformed.
The book is set in the 18th-century Yorkshire coastline villages of Whitby and Thorpe, where a vicar named Obadiah Demurral wants not to serve the village but to rule it, craving "power over people, power over the elements, and ultimately the power to be God."
With the aid of an ancient and powerful relic called the Keruvim, the vicar believes his days of "begging for a favor, clucking like a chicken at his altar" are over. Calling on dark spiritual powers, smugglers, sinister civic leaders, and his faithful Quasimodo-like assistant Beadle, Demurral gains control ...
1
Our digital archives are a work in progress. Let us know if corrections need to be made.
A Christian Harry Potter?
A Christian Harry Potter?