British fantasy novels have captured the imagination of readers in the United States for decades. Tolkien and C.S. Lewis made their indelible mark on us. J.K. Rowling also impressed Americans, though some Christians wondered if they should read the Harry Potter novels.
The newest English fantasy import, Shadowmancer, was so popular that Putnam paid $500,000 for the U.S. rights—three times what J.K. Rowling received for U.S. rights to her first Potter fantasy. But, though Shadowmancer is a Christian response to Harry Potter, Christians may still hesitate to read it to their younger children.
The world of Shadowmancer is upside down—those you expect to be good are evil, and the title refers not to heroes, as in Potter or The Fellowship of the Ring, but to a wicked vicar. G.P. Taylor's vicar is a shadowmancer, one who conjures darkness. Taylor, a former punk rocker-turned-policeman-turned-vicar who does exorcisms, knows the forces of evil firsthand.
The book, however, is not just about vicars behaving badly. It follows the course of the redemptive novel, where good characters stand against seemingly insurmountable evil, fight to the finish, and are thus transformed.
The book is set in the 18th-century Yorkshire coastline villages of Whitby and Thorpe, where a vicar named Obadiah Demurral wants not to serve the village but to rule it, craving "power over people, power over the elements, and ultimately the power to be God."
With the aid of an ancient and powerful relic called the Keruvim, the vicar believes his days of "begging for a favor, clucking like a chicken at his altar" are over. Calling on dark spiritual powers, smugglers, sinister civic leaders, and his faithful Quasimodo-like assistant Beadle, Demurral gains control of one half of the Keruvim.
He begins his quest for the second half, control of which he believes will bring about the death of God. Then Pyratheon, a Satan figure who represents all the gods humanity has worshipped, will come, ushering in a new age of darkness. All the evil powers would then be Demurral's.
But young Thomas Barrick, very much alone due to his father's death and his mother's failing health, has been watching the vicar. He sees through his evil plan, and gathers three friends—Kate Coglan, Raphah the Cushite, and Jacob Crane—to stop the vicar-sorcerer. Like Potter's young friends and Tolkien's fellowship, a band of good stands firm against evil.
Thomas is pulled down, though, by his own suicidal wish—a voice from the grave or a dark power's force—that leads him to try to drown himself in the sea. There Thomas is rescued by Raphah, who has come from Africa to retrieve the Keruvim and return it to its rightful place, where his family had kept it for centuries.
Thomas and his friends soon find out that Raphah himself is the other half of the Keruvim's power, and that Demurral wants him for a sacrifice.
The four heroes draw inspiration from Raphah, who has written the words of God on his heart and quotes Psalms and other Scripture. "By the power of the most high you have been set free," Raphah says. "Remember, when he sets you free you are free indeed."
Shadowmancer is like Moby Dick with Scripture. Raphah is the book's conscience and walking Bible reference, and the quotes sound too didactic for a novel.
Still, the sheer creative force of the work helps it to overcome these bumps. The invention of new language for evil spirits and spirits of the dead—Glashans, Azimuth—evokes Tolkien. And the reversal of African and European stereotypes is refreshing; Raphah harangues the Europeans for being "too superstitious."
Taylor's characters lack depth, however. How are the characters transformed by meeting evil head-on? How do they come to understand the power of God? We get only a glimpse of change in one character, Jacob Crane—who joins the band of rebels to overthrow Demurral because he's been cheated out of business by the vicar and wants revenge. He is a changed man, the book says, but beyond his willingness to rescue Thomas, Kate, and Raphah, we don't get much sense of that change.
Shadowmancer aims for young adult readers, and surely it should not be given to children younger than 12. My 10-year-old daughter soon became uncomfortable with scenes of attempted human sacrifice and spirits of the dead moving in and out of the living.
In one particularly gruesome scene, Thomas visits his sick mother; a spirit inhabits her and tries to bite his neck. My daughter, who is an avid reader of such complex books as Holes, stopped reading after 50 pages, saying "I didn't understand it."
Will Shadowmancer sweep the United States as did Harry Potter? Readers will determine that, but the tone is more serious, urgent, and cataclysmic than the first Potter books. It lacks humor and moments of reflection that make you feel more human and more able to identify with the characters. And it sometimes contains less than believable Bible-quoting in situations where I'm thinking, "Run, and pray on the way!"
But perhaps Shadowmancer shows something that some of the others do not—characters relentlessly calling on God to shine his light into the shadows.
Greg Taylor is managing editor of New Wineskins magazine. He is author of the newly released novel, High Places (Leafwood Publishers).
Related Elsewhere:
An interview with author G.P.Taylor is also posted today.
Shadowmancer is available from Christianbook.com and other book retailers.
More information about the book is available from the Shadowmancerweb site, and from the publisher.
Other reviews include:
'Shadowmancer' Touted as 'Hotter than Potter' | Shadowmancer, an allegorical novel for teens about the battle between good and evil, has become a British bestseller, been translated into 20 languages and optioned for the movies. In the United States, the book's publisher is declaring it 'hotter than Potter,' but some critics say first-time author G.P. Taylor's writing is no match for J.K. Rowling. Jeff Lunden reports. (Morning Edition, NPR)
British fantasy author not wild about Harry | Taylor says 'Shadowmancer' isn't a 'Christian' book (The Atlanta Journal-Constitution)
Vicar copes with literary blessing | Life has taken a surreal turn for Taylor, 44, the vicar of Ravenscar, a small parish on England's Yorkshire coast. Two years ago, he sold his beloved motorcycle to self-publish the book he wrote on his days off. He expected to sell a few hundred copies. (Miami Herald)
Potter rival is US best seller | A Yorkshire vicar who was challenged by a parishioner to write an alternative to Harry Potter now has seen his book reach the top of the best seller list in America. (The Church of England)
Fantasy novel catches attention of 'Potter,' Tolkien fans | Action-packed fantasy, "Shadowmancer," by G.P. Taylor, set in the 1700s Yorkshire coast, is a best seller in the U.K. and poised to capture the imaginations of America's youth. (MSNBC)
Have something to add about this? See something we missed? Share your feedback here.
Our digital archives are a work in progress. Let us know if corrections need to be made.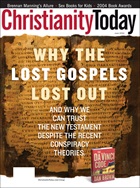 This article is from the June 2004 issue.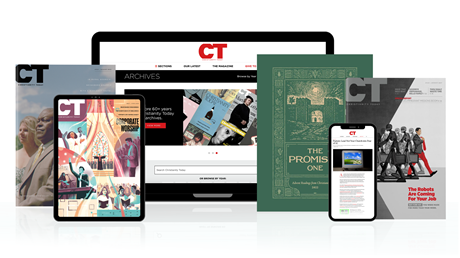 Subscribe to Christianity Today and get access to this article plus 65+ years of archives.
Home delivery of CT magazine
Complete access to articles on ChristianityToday.com
Over 120 years of magazine archives plus full access to all of CT's online archives
Subscribe Now
A Christian Harry Potter?
A Christian Harry Potter?