Type in "Ronald Reagan" on Amazon.com under "books" and nearly 14,000 results pop out at you. Want Reagan's ghostwritten autobiography An American Life? (In a speech in the early Nineties, Reagan quipped that he'd get around to reading it one of these days.) It's still in print. As are numerous collections of letters, including letters to Joe and Judy taxpayer, letters to Nancy, and copies of old radio commentaries, in Reagan's own hand. Also present are hagiographies (Peggy Noonan, Dinesh D'Souza), collections of Reagan quotations, volumes that continue to pour forth from the pens of Reagan administration alum (How Ronald Reagan Changed My Life, A Different Drummer, etc.), and perhaps the most poorly conceived official biography in the history of official biographies (Dutch, by Edmund Morris).
The books only touch the tip of the iceberg that is the Reagan industry. Put crassly, Ronald Reagan sells. His image on the cover of conservative magazines will boost sales, and his name on direct mail is fundraising gold. The Ronald Reagan Legacy Project, for instance, is attempting to name one "notable public landmark" in every state, and one landmark in each of the nation's 3,067 counties, after the Great Communicator. The project also wants his mug stamped on the $10 bill and chiseled into Mount Rushmore.
Around the capital, advocates have already succeeded in lobbying Congress to rename one airport after our 40th president, and to put his name on a new federal building (the latter is an honor that son Michael insists his father, were he not under the fog of Alzheimer's, would have declined). Further north, the New Hampshire legislature voted last year to change the name of a local peak from Mount Clay to Mount Reagan, though—wouldn't ...
1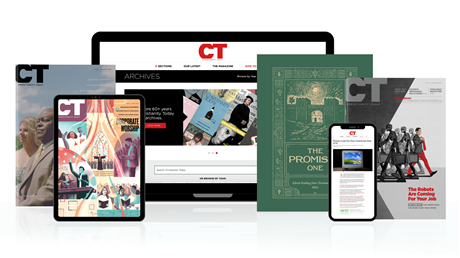 Find hope and historical insight. For a limited time, explore 60+ years of CT archives for free!
Daily devotions from Timothy Dalrymple during this pandemic.
Hundreds of theology and spiritual formation classics from Philip Yancey, Elisabeth Elliot, John Stott, and more.
Thought journalism that inspires you to think more deeply about your faith.
Trust but Verify
Trust but Verify