I started my car one morning a few weeks ago with the thermometer at minus two degrees and the ache of the cold immediately seizing upon my arthritic knee—but then I remembered that catchers and pitchers were reporting to spring training the next day, and the barest whisper of Springtime touched my cheek. As always, the arrival of baseball a few thousand miles away delivered a mortal wound to winter, the icy grip loosened ever so slightly by a group of men soft-tossing across some emerald infield. I knew it was time to pick up a few baseball books from the library and start reading my way toward Opening Day.
Much of the off-season has been dominated by the ugly prose and uglier sycophancy of the Pete Rose "confessional" book. I found myself floating around the issue, not quite caring, but after reading excerpts from the book in Sports Illustrated, I felt a growing sense of the indignity that Rose has brought on the sacred game, not so much through his gambling escapades as through his unapologetic apology. That impression was only furthered when I picked up a slender volume this winter called "I Will Never Forget": Interviews with 39 Former Negro League Players (McFarland & Co., 2003) by Brent Kelley. This is the third volume in a series compiling interviews (along with Voices from the Negro Leagues and The Negro Leagues Revisited). These interviews are fascinating, unpretentious, at times quite moving. Most of the players represented in the third volume played at the very end of the Negro Leagues era, after the major leagues had integrated, but the abuses of racism were by no means gone in the Fifties and Sixties.
What struck me most about these men was their quiet dignity, the very thing lacking in the whole Pete Rose conversation. Bill Bethea, who played for a number of teams in the early Fifties, offers an account of how well treated black players were in both Canada and Mexico, then reflects on experience in the American South: "I had to do one thing when I first played in Lexington. We nearly had a little riot there. They were calling me names and things my first time to pitch there, so when I went out I just pulled my shirt up to make sure that I had 'Lexington Indians' on my shirt. I said, 'I'm supposed to be with you all. This is the home team and I'm with the home team.'" Such genial diffusion of tension seems to have been a part of most of these players' approaches to the harshness of life. Many of them speak of sleeping and eating on the buses because of hotel and restaurant segregation, but few seem to be complaining. The overwhelming tone is one of appreciation for a chance to play the game they still love, albeit on barnstorming teams in hostile cities, with little financial gain.
None of the interviewees expresses resentful envy of their peers, like Willie Mays and Henry Aaron, who succeeded in reaching baseball immortality. Scoop Brown recalls a game against the Birmingham Black Barons, whose lineup included the 14- or 15-year old Willie Mays: "This guy in right field went back against the wall, jumped and caught the ball, turned and the man at third base started toward home. He turned and threw to home plate and threw him out about two or three steps. That was Junior. Willie Mays. I never will forget that."
Wonderful stuff, but Brown trumps himself when he talks about a game against the Indianapolis Clowns, who had Hank Aaron at shortstop: "This game started at 7:30. At 11:30—time to turn the lights out—it was still the first innin'. The first time Hank Aaron came up he hit one 350 feet over the left field wall. The next time Hank Aaron came up he hit one 380 feet over the left-center field wall. Next time he came up he hit one to right field 'bout 380 feet. The last time, over there where they got New Circle Road now, he hit that ball and they haven't ever found it. Four home runs. It was 11:30 and it was still the first innin' and we still didn't get up." That may be the greatest baseball anecdote I've ever read—unbelievable, but too wonderful to deny!
What also stands out, with regard to the matter of dignity, is the paths these men took after baseball. Many a major leaguer has shown himself clueless in civilian life; one thinks of Mickey Mantle greeting customers at casinos in Atlantic City. Certainly Pete Rose is a model for a drifting, self-aggrandizing post-baseball gypsy, signing and selling off paraphernalia like an erstwhile P.T. Barnum. These Negro Leaguers stand in marked contrast. Several of them settled into jobs for decades: Bill Bethea and Scoop worked in the Parks and Recreation Departments of their respective cities for 24 and 41 years, respectively. Willie Lee worked at a factory in Grand Rapids, Michigan (my own hometown, where he also played semi-pro ball) for over twenty years, and another of the guys retired from the Detroit team and worked for Ford Motors for 40 years. Something about these post-baseball lives is significant, and this sense is only augmented by the presence, among the interviewees, of some men who went on for master's degrees, and at least one, Tom Johnson, who received a Ph.D. from the University of Maryland, taught in the medical school there, and later became a dean at Johns Hopkins. Here are pedigrees that are truly admirable, from men who often don't remember their own statistics (there are few record books for the barnstorming teams), and for whom the game, and not the numbers, was and is the point.
Now, the time has come for predictions, and, as usual, I respond first out of my pinstriped DNA. Yes, I am an unabashed lifelong Yankee fan, but before you drop the hammer on me, please realize that I'm more tortured by George Steinbrenner than any Yankee-hater could possibly be. The acquisition of A-Rod has left me scratching my head, lamenting the loss of Soriano, whose swing (despite his K-fest in last years post-season) I covet. The deal just seems too good—A-Rod willing to play third base in deference to his friend-rival shortstop Derek Jeter, two possible Hall of Fame shortstops playing side by side and batting together in the heart of the order. How can dissension stay out of the good old Bronx Zoo atmosphere that Joe Torre squelched but Steinbrenner seems set upon reasserting? The pitching staff looks ugly behind Mussina, and the lineup looks about two sluggers too crowded. Where are the table setters?
I must admit that the Red Sox, whom I've grown up scorning, have created a delicate balance, if their fragile arms stay healthy and fragile egos stay unbruised. But, hey, I picked them to go to the Series last year, and they collapsed, so I need to move on. The AL Central is filled with decent teams (and the Tigers—who will certainly be much better than they were last year), but no one seems an ominous contender. Out west, the Angels still have a World Series nucleus from two years ago, plus Vladimir Guerrero (I love his throwback bare-handed batting style)—so why don't they strike fear in the heart? Nor does Seattle—postseason soft—nor Oakland—postseason cursed. I'm coming back East and picking—no, not the retooled Orioles! I'm going north of the border, to pick the Blue Jays as the AL champs this year—a young hungry lineup, a sneaky-good pitching staff, and enough shrewdness to let the Yankees and Red Sox lose focus on the pennant race in their antipathy for one another.
The National League is another hotbed of intrigue, and I have to reflect on last year's wild-eyed prediction, when I pitted the Cubs against the Red Sox in a cathartic series. Ah, to be almost the prophet, then struck down by Steve Bartman's tragic gesture! But the Cubs are showing an uncharacteristic resilience in the face of disappointment, and perhaps Greg Maddux will guide their dynamic young pitching staff into Cy Young stardom. He can't be expected to heal Mark Prior's inflamed Achilles tendon, alas. But I'm not sure the Cubs can win their division, let alone the National League, even with a healthy Prior. The Astros have already added Cy Young-toting veteran leadership (Clemens), not to mention World Series ring-toting leadership (Clemens and Pettite) to what was already a solid young staff. The only question: will Houston melt down again like they did last September?
What about the NL East—will the Marlins fall victim to post-championship collapse, especially since Pudge Rodriguez, their psychological hub and the handler of all those fine young pitchers, will be plying his trade in the wastelands of Tiger Stadium? No, the Phillies look primed to make their decisive move to the top of the division, as the Braves finally crumble, while out west, the dull Giants and unsettled Dodgers and Diamondbacks are usurped by the resurgent Padres! Hey, that beautiful new stadium in San Diego, with the balcony seats on the building that helps form the left-field wall: I think that will be worth twenty wins just for baseball aesthetics.
Look for a surprise World Series winner this year, just like the past three years—and since I believe Andy Pettite to be both the best big-game pitcher in the major leagues, and also one of the finest human beings, I'll say the Astros take the Blue Jays in six games, with Pettite winning games one and five and crowning his homecoming as World Series MVP—and Clemens will then retire and receive a Humvee from his Houston teammates and the baseball world will rest again—until Clemens gets nostalgic to wear that Boston cap one more time. …
But that's all for next winter. Right now, we are ready for tomorrow's Opening Day matchup in the Tokyo Dome between the Yankees and the Tampa Bay Devil Rays. Let the game begin—again!
Michael R. Stevens is assistant professor of English at Cornerstone University.
Related Elsewhere:
Also posted today is Books & Culture's Book of the Week.
Books & Culture Corner appears every Monday. Earlier editions of Books & Culture Corner and Book of the Week include:
How Do You Live with a Torturer? | A novel of Haiti by the brilliant young writer, Edwidge Danticat. (March 08, 2004)
Article continues below
God Is in the Details | A scientist affirms his faith. (Feb. 23, 2004)
History Repeats Itself, Sort of | How the fate of Eugene McCarthy's insurgency against LBJ sheds light on the 2004 presidential campaign. (Feb. 16, 2004)
The Worst President Ever? | Former Nixon aide John Dean attempts to rehabilitate the reputation of Warren G. Harding. (Feb. 09, 2004)
Wholly, Wholly, Wholly | Calvinists and conga drums in Grand Rapids: a report from the seventeenth annual Calvin Symposium on Worship and the Arts. (Feb. 02, 2004)
The Doom of Choice | Fate, free will, and moral responsibility in Tolkien. (Feb. 02, 2004)
A Rose Among Thorns | A new novel by the author of Father Elijah illumines the spiritual consequences of our simplest decisions. (Jan. 26, 2004)
Baptized in Fire | A new book on Martin Luther King, Jr., emphasizes his spiritual transformation. (Jan. 19, 2004)
O'Connor v. the Antichrist (Jan. 12, 2004)
Moody, the Media, and the Birth of Modern Evangelism | A cautionary tale. (Jan. 05, 2004)
A Few Coming Attractions from 2004 | Plus: What to buy with those gift cards, and some of the books in my to-read stacks. (Dec. 29, 2003)
The Top Ten Books of 2003 | Plus: The Worst Book of the Year, more good reading, digital books, and a little Christmas music. (Dec. 22, 2003)
Books at Warp Speed | We continue our annual roundup of noteworthy books. (Dec. 15, 2003)
Is "Sensual Orthodoxy" a Contradiction in Terms? | Read this unconventional collection of sermons and judge for yourself. (Dec. 8, 2003)
Books, Books, Books! | We begin our annual roundup. (Dec. 8, 2003)
Urban Eden | In City: Urbanism and Its End, a new history of New Haven, Connecticut, the city (in its late 19th-century form) is an ambiguous heaven-and the suburbs that relentlessly followed are hell. Which leaves us where, exactly? (Dec. 01, 2003)
Cool Drink of Water | A poet's voice in the evangelical wilderness.
Faith, Hope, and Charity in North Carolina | New novels by Michael Morris—whose first novel, A Place Called Wiregrass, was a word-of-mouth hit— and Jan Karon, who continues her beloved Mitford saga. (Nov. 17, 2003)
Remember Afghanistan? | Two inside reports. (Nov. 10, 2003)
The Troubled Conscience of a Founding Father | An Imperfect God examines George Washington and slavery. (Oct. 27, 2003)
The Year of the Fish | The 2003 baseball season concludes with a bang—and 2004 is just around the corner. (Oct. 27, 2003)
I Shop, Therefore I Am | Critics of "consumer culture" are all wet, Virginia Postrel says. The riot of choices available to us resonates with our deepest aesthetic instincts (Oct. 20, 2003)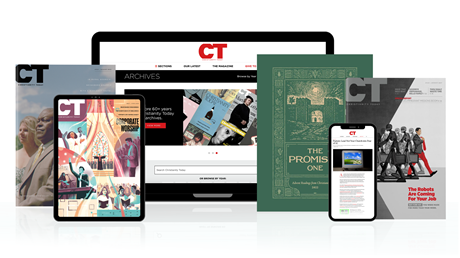 Subscribe to Christianity Today and get access to this article plus 65+ years of archives.
Home delivery of CT magazine
Complete access to articles on ChristianityToday.com
Over 120 years of magazine archives plus full access to all of CT's online archives
Subscribe Now
Baseball Preview 2004
Baseball Preview 2004