Pew survey: 'Moral values' is still top for voters—if it's suggested as an option
The biggest debate after the U.S. presidential election has almost certainly been the influence "values voters" had on re-electing George Bush. (Here's today's roundup of op-ed pieces on the subject, here's the deluge from earlier this week.) Fortunately, today there's actual news on this subject, instead of the tiresome triumphalism vs. bigotry talking points.
The Pew Research Center for the People and the Press's quadrennial post-election survey found that moral values really was the top factor in deciding for whom to vote—and at even bigger numbers than those troublesome exit polls: 27 percent for moral values, 22 percent for Iraq, 21 percent for "economy/jobs", 14 percent for terrorism/security.
But here's the catch: Moral values only wins out when you ask voters to pick the issue that mattered most among that list (along with health care, education, and taxes). If you just ask, "What one issue mattered most to you in deciding how you voted for President?" the war in Iraq is the runaway winner, with 25 percent. Then it's economy/jobs (12%), moral values (9%) and terrorism/security (8%).
Even if you add in "honesty/integrity" (5%), abortion (3%), and "the candidate's religiosity/morals" (2%), you still don't compete with Iraq.
Bigger news: No one said that marriage or stem-cell research was the number-one issue that mattered in their voting. (The survey did allow for, but didn't ask for secondary responses on that question: 2% gave marriage as a second response, 1% gave stem-cell research).
"We did not see any indication that social conservative issues like abortion, gay rights, and stem-cell research were anywhere near as important as the economy and Iraq," Andrew Kohut, director of the Pew Research Center, told the Associated Press. "Moral values is a phrase that's very attractive to people."
Good news for the Democrats on that point, but bad news on another front: "moral values" pretty much means what religious conservatives have been saying it means—especially on the points of abortion and marriage. The poll press release summarizes:
The survey asked voters who were given the list of issues to describe, in their own words, "what comes to mind when you think about 'moral values'?" Among voters who chose moral values as most important from the list of seven issues, about half gave a response that mentioned a specific issue. More than four-in-ten (44%) defined the phrase specifically in terms of social issues, including abortion (28%), homosexuality and gay marriage (29%), or stem-cell research (4%). A few other issues also were mentioned, including poverty, economic inequality, and the like.
So "values voters" pretty much do mean abortion and gay marriage after all. (This question, by the way, was open ended. There was no list.) The press release continues:
But the definition of moral values is not limited to policy references. Nearly a quarter of respondents (23%) who cited moral values as important explained their thinking in terms of the personal characteristics of the candidates, including honesty and integrity (cited by 9%). Almost one-in-five (18%) explicitly mentioned religion, Christianity, God, or the Bible. Another 17 percent answered in terms of traditional values, using such language as "family values," "right and wrong," or "the way people live their lives."
People who did not choose moral values from the list of issues were also asked what the term meant to them. The pattern of responses was quite different from those who said moral values were an important consideration. Fewer mentioned a specific issue, candidate quality, or general religious theme; more answered in general terms, and 12 percent explicitly protested the imposition of others' values on them, said the idea was being used as a "wedge" against Democrats, or otherwise expressed a negative reaction to the phrase.
Of those who didn't list "moral values" as their primary concern, 5 percent said "economic equality/helping the poor/health care" came to mind when they thought about the term. (It was 2 percent for those who picked moral issues as their top concern.)
To translate this into a gross generalization: If you're not voting mainly on the basis of moral values, you're more than twice as likely to be in the "here comes the Inquisition" camp than in the "poverty is a moral issue" camp. Which may mean that the poor aren't going to be a political priority in the near future. Helping the needy must come from a moral or religious basis, or it won't happen. There's little self-interest in helping the poor. But if folks are more interested in opposing "moral values" in politics than in emphasizing feeding the hungry as a moral value, pity Joe Homeless.
Unless … There may be a chance that Americans simply view social-justice issues like "economic equality/helping the poor/health care" as private concerns, not government concerns. Has Bush's message that "government cannot love, but it can support those who do" been embraced by both Right and Left? This might be a more comforting thought if personal giving to charitable organizations was going up by more than 0.6 percent annually.
When religion news attacks
The tiny village of Knutby, Sweden, has a population of only 550. It's also the center of the country's biggest scandal right now: Pentecostal minister Helge Fossmo's shocking murder-by-proxy of his second wife. (He was tried, but not convicted, on charges of also murdering his first wife.) Last week, an appeals court upheld his conviction. It's a terrible, terrible tale that you can read all about here.
But Weblog would just like to note that many of Knutby's 550 residents are Weblog's relatives, and that Weblog has ties to this village going back to the 1200s. So, on behalf of "my people," I'd like to point out the town's many kind, non-murderous residents and its wonderful medieval church (now Lutheran) that have nothing whatsoever to do with these tragic incidents.
Thank you for your kind attention. (I'm not sure my family would have otherwise forgiven me for linking to this story.) Now for today's miscellaneous links:
Evangelicals & politics:
Religion & politics:
Democracy:
Supreme Court speculation:
Marriage amendments:
Christians & Israel:
Yasser Arafat:
Persecution & religious freedom:
Islam in the Netherlands:
Crime:
Hindu cleric charged with murder:
Abuse:
Spokane diocese bankruptcy:
Catholicism:
National Cathedral gets new dean:
Missions & ministry:
Evolution & creation:
Education:
History:
Life ethics:
Abortion:
Television & film:
People:
More articles of interest:
Related Elsewhere:
Suggest links and stories by sending e-mail to weblog@christianitytoday.com
Check out Books & Culture's weekly weblog, Content & Context.
See our past Weblog updates:
November 11 | 10
November 5 | 3b | 3a | 2 | 1
October 29 | 28 | 27 | 26 | 25
October 22 | 21b | 21a | 18b | 18a
October 15 | 13 | 12 | 11
October 8 | 7 | 6 | 5 | 4
October 1 | September 30 | 29 | 28 | 27
Weblog
Launched in 1999, Christianity Today's Weblog was not just one of the first religion-oriented weblogs, but one of the first published by a media organization. (Hence its rather bland title.) Mostly compiled by then-online editor Ted Olsen, Weblog rounded up religion news and opinion pieces from publications around the world. As Christianity Today's website grew, it launched other blogs. Olsen took on management responsibilities, and the Weblog feature as such was mothballed. But CT's efforts to round up important news and opinion from around the web continues, especially on our Gleanings feature.
Ted Olsen is Christianity Today's executive editor. He wrote the magazine's Weblog—a collection of news and opinion articles from mainstream news sources around the world—from 1999 to 2006. In 2004, the magazine launched Weblog in Print, which looks for unexpected connections and trends in articles appearing in the mainstream press. The column was later renamed "Tidings" and ran until 2007.
Previous Weblog Columns: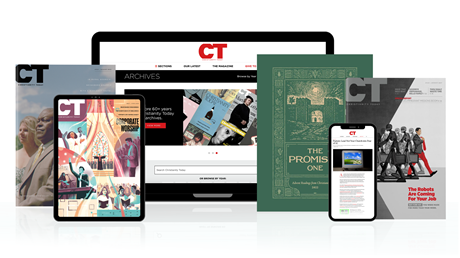 Subscribe to Christianity Today and get access to this article plus 65+ years of archives.
Home delivery of CT magazine
Complete access to articles on ChristianityToday.com
Over 120 years of magazine archives plus full access to all of CT's online archives
Subscribe Now
Harder Numbers on 'Values Voters'
Harder Numbers on 'Values Voters'