Republicans say liberals plan to ban Bible
Republicans say liberals plan to ban Bible
The Associated Press reports that West Virginia voters have received a mailing, apparently from the Republican National Committee, warning that liberals will ban the Bible if they're elected in November. "The literature shows a Bible with the word 'BANNED' across it and a photo of a man, on his knees, placing a ring on the hand of another man with the word 'ALLOWED,'" AP reporter Will Lester writes. "The mailing tells West Virginians to 'vote Republican to protect our families' and defeat the 'liberal agenda.'"
"It wouldn't surprise me if we were mailing voters on the issue of same-sex marriage," Republican National Committee chairman Ed Gillespie told the Associated Press. He apparently made no comment about the banning the Bible issue.
John Edwards, on the other hand, is taking direct aim at the suggestion that he and his running mate are anti-Scripture. "Republicans always say they want to have a values debate but lying and spreading hate were not the values I learned growing up in a small town in North Carolina where the Bible was the most important book [in] my home," Edwards said in a press release. "George Bush and Dick Cheney should be appalled by these despicable mailings. They should condemn this practice immediately and tell everyone associated with their campaign to never use tactics like this again. The American people deserve better."
Alan Wolfe on the Democrats' "God gap"
Alan Wolfe on the Democrats' "God gap"
The RNC mailing is evidence that the Republicans are playing up what's been called the "God gap." But in yesterday's Boston Globe Ideas section, Alan Wolfe had a 2,000-word essay saying that the real religion-and-politics battle isn't between Republicans and Democrats, but within the Democratic party.
"The question Democrats will have to face, whether or not they win the election, is whether [their] effort to reach out to believers constitutes a temporary truce in the interest of defeating George W. Bush or a longer-term effort to rein in the more determined secularists among them," Wolfe wrote. "Secularism has its greatest appeal among upper-middle-class liberals and professionals, while poorer Americans tend to be more religious. Democrats simply cannot win elections based on the votes of the former."
If you've read anything Amy Sullivan has written over the last year or so, Wolfe's essay will sound awfully familiar. But it's good to see the message coming from someone other than Sullivan, especially from someone as well respected as Wolfe.
More bad news from Britain
More bad news from Britain
If the RNC had been targeting young adults in Britain instead of West Virginians, they would have been wiser to warn that the "liberals" were planning to ban horoscopes. A new poll says that residents of Britain between the ages of 18 to 24 were almost twice as likely to believe in horoscopes than in the Bible (62 percent vs. 38 percent).
"Horoscopes are fine for a bit of fun and entertainment, but if you take them seriously, they are very dangerous," an unnamed Church of England spokesman told The Telegraph. "The Church is aware of its difficulties in reaching young people, and is looking at new ways of attracting them away from misleading concepts like astrology and towards the message of God and the Bible."
Such faith in horoscopes, reincarnation, and other "non-traditional or non-institutional religious beliefs," Robin Gill wrote in a 2000 essay for the Evangelical Alliance U.K, contradicts the widespread assertion that Britain is becoming secularized. "New Age beliefs, however lacking in social function, may well be symptomatic of problems of personal identity -- as well as a general dissatisfaction with Christianity and secularism alike."
More articles
Religion & politics:
Kerry wears faith prominently, if not on his sleeve | Democratic presidential candidate says his religious beliefs are strong — but are not to be forced on others (USA Today)
Guess who's not coming to dinner | The presidential candidates are not coming to the largest charity roast of the year, because the campaign's issues could be divisive. Imagine (The New York Times)
A Senate race in Oklahoma lifts the right | With his vehement opposition to gay rights and embryonic stem cell research and his willingness to challenge the Republican establishment — including President Bush — on what he sees as government spending run amok, Dr. Tom Coburn is fast becoming a popular icon of the right (The New York Times)
For many in Missouri, picking a president is more a matter of values than policy | In the end, many people may vote more on values and culture than on policy in a state that houses the headquarters of the Assemblies of God; where the Archbishop of St. Louis has said he would deny communion to Mr. Kerry, a Roman Catholic, because he supports abortion rights; and where hand-lettered signs for churches dot meandering country roadsides (The New York Times)
Is the right outbreeding the left? | The fate of red and blue America will come down to who is filling those pink and blue nurseries (Ellen Goodman, The Boston Globe)
Got a beard? Don't bother to run | We will soon be within a single election of having a complete century's worth of beardless, mustacheless president (The New York Times)
Prohibition:
The worst year for Prohibition since 1933? | A schism in the party has two candidates out to split the anti-alcohol vote -- which was down to 208 in the 2000 presidential election (Los Angeles Times)
Mass. town weighs overturning alcohol ban | Except for a brief period in the 1930s, the sale of alcohol has been forbidden in Rockport since 1856, when Hannah Jumper and her gang of 200 hatchet-wielding women swept through town and destroyed anything containing alcohol in "Rockport's revolt against rum." Now, residents and business owners are torn about whether it's time to end her legacy (Associated Press)
Louisiana okays same-sex marriage ban:
Gay marriage ban passes nearly 4-to-1 | The amendment, the only statewide issue on the ballot, defines marriage in Louisiana as being solely a "union of one man and one woman" and prohibits state judges and officials from recognizing same-sex marriages and civil unions sanctioned in other states (The Times-Picayune, New Orleans, La.)
Voters okay constitution ban on same-sex marriages | It passed handily in virtually every parish in the state except for Orleans Parish (The Advocate, Baton Rouge, La.)
Louisiana voters approve gay-marriage ban | Louisiana voters overwhelmingly approved a state constitutional amendment Saturday banning same-sex marriages and civil unions, one of up to 12 such measures on the ballot around the country this year (Associated Press)
Louisiana approves ban on gay marriage | With most of the state's 4,124 voting precincts reporting, the amendment was passing by a margin of 80 percent to 20 percent (Reuters)
Church life:
Battle over at last, Cottonwood Christian Center breaks ground | After a struggle over zoning vs. religious freedom, construction begins in Cypress (Los Angeles Times)
Church that once offered refuge sits at the eye of a storm | Since its founding in 1957, the Hungarian Reformed Church, on 82nd Street between Second and Third Avenues, has been a spiritual refuge for immigrants who fled Hungary in the years after the Communist takeover of their country. But in recent months something resembling a civil war has broken out inside the church's quiet walls (The New York Times)
Immortality, for a price | Donors' faces to adorn wall at new Orthodox church in Sterling (The Washington Post)
A lion in winter | For 27 years, Cecil Murray has guided his AME church. A true revolutionary, he has increased its flock by thousands, built business relationships. Now he must 'move on' (Los Angeles Times)
Anaheim pays man officer shot | The city agrees to a $500,000 settlement for Crystal Cathedral shooting but admits no guilt (Los Angeles Times)
Religion gears up for disability law | Places of worship will be obliged by new laws taking effect next month to ensure that disabled people have reasonable access (BBC)
Dean suspended:
Dean of Ripon suspended for 'conduct unbecoming' | The Dean of the country's oldest cathedral was suspended yesterday following an investigation into complaints that his management style is autocratic (The Telegraph, London)
Dean suspended over 'control freakery' | A row that has engulfed one of Britain's oldest cathedrals came to a head yesterday with the suspension of its dean - effectively the church's managing director - on suspicion of "unbecoming conduct" (The Guardian, London)
Dean suspended in cathedral row (BBC)
Catholic parish closings:
Archdiocese halts bid for housing aid at church it may raze | The Roman Catholic Archdiocese of New York has withdrawn an application for a federal grant of nearly $7 million to build housing for the elderly on the site of St. Thomas the Apostle Church, a 97-year-old structure in Harlem that preservationists and some neighborhood residents say should not be demolished (The New York Times)
Parishioners at St. Thomas mobilize to fight closing | Postcard blitz begins in Salem (The Boston Globe)
Mourning a church that was a home | St. Peter closing is region's fourth (The Boston Globe)
Hope, fears linger at fiesta | Lawrence church closures cut deep (The Boston Globe)
Parish settles in to wait for answers | Seeks talks with archbishop (The Boston Globe)
A mission worth saving | If Archbishop Sean P. O'Malley thinks his botched closing of wealthy, white suburban parishes is a bad dream, wait until he tries to shutter St. Catherine of Siena in Charlestown this fall (Eileen McNamara, The Boston Globe)
Keeping faith | Parishioners in perfectly viable churches see no good reason for being on the closure list. Well-considered reprieves would go a long way toward restoring faith in the leadership of the Archdiocese of Boston (Editorial, The Boston Globe)
Hurricane Ivan:
A Sunday of sermons, tales and tears | Pensacola's faithful try to make sense of Ivan's wrath while Bush consoles victims. To the north, hundreds flee the storm's remnants (Los Angeles Times)
Churches line up relief drives | Well-tooled agencies ready to go (The Times-Picayune, New Orleans)
Faithful find reason for hope and thanks | On the first Sunday after Hurricane Ivan, people flocked to church to give thanks for having survived the storm (The Miami Herald)
Church services let many count blessings | Whether it was a stern reminder of what is important in life or an illustration of divine protection, the hand of God was in the hurricane that rocked Montgomery, congregations throughout the city were told Sunday morning (Montgomery Advertiser, Ala.)
Churches reaching out to help clean up mess | From delivering buckets and mops to hauling felled trees, local churches have mobilized volunteers to clear the wreckage left in the wake of Hurricane Ivan (The Clarion-Ledger, Jackson, Miss.)
Louisiana churches sending help to Ivan-wracked panhandle | Louisiana churches were spared major damage from Hurricane Ivan, so they're planning to send money, food, equipment and even teams of volunteer cooks and timber cutters into the wrecked Florida Panhandle (Associated Press)
Hurricane victims flock to churches, give thanks for what's left (Associated Press)
Congregations give thanks after Ivan's merciful miss (The Mississippi Press)
Huntingdon resident helps hurricane victims through church group | Kirby Powell volunteers with the Hardeman Baptist Crisis Team Feeding Unit, an associational unit of the Southern Baptist Convention (Jackson Sun, Miss.)
Storm upsets transition at Bible college campus | Southeastern Bible College completed its move from U.S. 280 to Valleydale Road over the summer, and classes on the new campus started Sept. 7 (The Birmingham News, Ala.)
Ivan washes out installation ceremony for Roman Catholic Bishop of Mandeville (The Jamaica Observer)
Deaths:
Thousands attend Haitian pastor's funeral | Tens of thousands of people attended the funeral of a slain evangelical pastor on Sunday, calling on authorities to do more to combat crime in Haiti (Associated Press)
Church fair accident kills 1, injures 2 | Carnival ride broke apart (Associated Press)
Also: Ride accident at fair leaves 1 dead, 2 hurt (The Boston Globe)
Abortion:
The a-word | A new group of feminist activists insist that being brutally honest about abortion -- including wearing T-shirts that say you've had one -- will inspire social change (Salon.com)
When life and death matter | Kerry (re)defines abortion stance (Nat Hentoff, The Washington Times)
Euthanasia:
Holyrood bill must breathe life into the euthanasia debate | Jeremy Purvis wants us to challenge one of modern society's most contentious taboos: legally assisted suicide (Sunday Herald, Glasgow, Scotland)
Revealed: full scale of euthanasia in Britain | Fury as number of 'assisted deaths' claimed to be 18,000 (The Guardian, London)
British doctors dispatch 25,000 a year, says euthanasia expert | Doctors may be helping more than 25,000 people to die every year in Britain, one of the country's leading authorities on euthanasia has claimed (The Times, London)
Reproduction technology:
Making babies | It's an expensive gamble, but childless couples are trying reproductive therapy in record numbers (U.S. News & World Report)
A home for frozen embryos | There are objections to calling Snowflakes an adoption program (U.S. News & World Report)
The biological clock on ice | There is excitement about the new technology of egg freezing (U.S. News & World Report)
Stem cells:
Democrat emerges as major stem cell patron | Over three decades, Bob Klein amassed a fortune by building and financing low-income housing. After his 14-year-old son was diagnosed with diabetes in 2001, however, he redirected his considerable political clout and business savvy (Associated Press)
Californians to vote on spending $3 billion on stem cell research | California, in an act of rebellion against the White House, may be on the verge of spending $300 million a year in each of the next 10 years on stem cell research. (The New York Times)
War & genocide:
Letter on Iraq still makes waves in Ariz. | The Dec. 2 letter in the Tucson (Ariz.) Citizen made a suggestion on how to end ``the horror'' of American soldiers being killed in Iraq: Go to the nearest mosque and kill five Muslims (Associated Press)
Rwanda 'genocide' priest on trial | Athanase Seromba refused to appear in court, accusing the tribunal of bias (BBC)
Sudan:
Sudan grudgingly accepts UN vote | Sudan has confirmed that it will comply with a new UN Security Council resolution on ending the conflict in the western region of Darfur (BBC, video)
Sudanese decry U.N. threat of sanctions | 'Resentful' reaction predicted in capital (The Washington Post)
Sudan: U.N. ruling won't help stop crisis | A U.S.-backed United Nations resolution threatening oil sanctions for the violence in Sudan's Darfur region will only make it harder for the government to calm the insurrection there, a Sudanese official said Sunday (Associated Press)
Sudan accepts U.N. resolution, but reluctantly (USA Today)
North Ireland:
Northern Ireland talks falter, despite Blair and Ahern nudges | Three days of negotiations among the leaders of Northern Ireland's political parties failed to bridge important differences over how to share power and end paramilitary violence (The New York Times)
N. Ireland talks end with no agreement | High-pressure talks among rival Northern Ireland parties ended Saturday with no agreement to revive a Catholic-Protestant administration, but British Prime Minister Tony Blair insisted that a deal "historic in its meaning" may yet be achieved (Associated Press)
Clergy dismay over failed NI talks | Three of Northern Ireland's church leaders have expressed dismay that talks to restore devolved government ended without a deal (BBC, audio)
Saudi religious freedom:
Saudi rejects U.S. religion accusations | Saudi Arabia does not prevent non-Muslims from practicing their religion, but will never allow public displays of their faith, a senior Saudi cleric reportedly said (Associated Press)
Honest on Saudi Arabia | The State Department set the record straight this week on America's favorite totalitarian, theocratic monarchy (Editorial, The Washington Post)
Related Elsewhere:
Suggest links and stories by sending e-mail to weblog@christianitytoday.com
Check out Books & Culture's weekly weblog, Content & Context.
See our past Weblog updates:
September 17 | 16 | 15 | 13
September 10 | 9 | 8 | 7
September 3 | 2 | 1 | August 31 | 30
August 27 | 26 | 24 | 23
August 20 | 19 | 18 | 17 | 16
August 13 | 12 | 11 | 10 | 9
and more, back to November 1999
Weblog
Launched in 1999, Christianity Today's Weblog was not just one of the first religion-oriented weblogs, but one of the first published by a media organization. (Hence its rather bland title.) Mostly compiled by then-online editor Ted Olsen, Weblog rounded up religion news and opinion pieces from publications around the world. As Christianity Today's website grew, it launched other blogs. Olsen took on management responsibilities, and the Weblog feature as such was mothballed. But CT's efforts to round up important news and opinion from around the web continues, especially on our Gleanings feature.
Ted Olsen is Christianity Today's executive editor. He wrote the magazine's Weblog—a collection of news and opinion articles from mainstream news sources around the world—from 1999 to 2006. In 2004, the magazine launched Weblog in Print, which looks for unexpected connections and trends in articles appearing in the mainstream press. The column was later renamed "Tidings" and ran until 2007.
Previous Weblog Columns: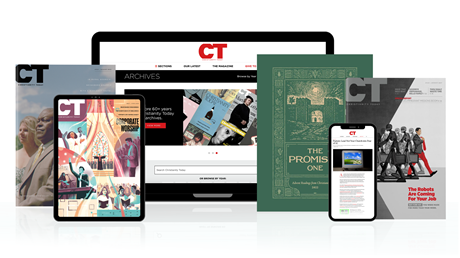 Annual & Monthly subscriptions available.
Print & Digital Issues of CT magazine
Complete access to every article on ChristianityToday.com
Unlimited access to 65+ years of CT's online archives
Member-only special issues
Subscribe
RNC Tells Voters that Liberals Will Ban Bible
RNC Tells Voters that Liberals Will Ban Bible