Yesterday's Justice Sunday event had a potential audience of 61 million households in 44 states, and has been called "a watershed moment in an increasingly emotional conflict that is as much about the mixing of God and government as it is about who can serve on the federal bench."
The event, broadcasted from 6,000-member Highview Baptist Church in Louisville, Kentucky, featured Senator Bill Frist, James Dobson, Charles Colson, Al Mohler, and Tony Perkins of the Family Research Council, which organized the event.
The simulcast was shown in hundreds of churches, and it encouraged listeners to contact U.S. senators in order to stop filibusters aimed at blocking votes against President Bush's judicial nominees. "Tell [senators] to do what's right. Tell them to do what's fair. Tell them to do their job, give judicial nominees the up-or-down votes they deserve,'' Senate Majority Leader Bill Frist said in a prerecorded address, according to The New York Times.
It's not "radical," Frist said, to vote on judicial nominees, responding to an accusation from minority leader Harry Reid.
"Only in the United States Senate could it be considered a devastating option to allow a vote. Most places call that democracy," Frist said, according to David D. Kirkpatrick, in one of the best of many stories on the event.
Of course, opponents say (as they did during the 2004 Presidential campaign) that it is a wrongful mixing of religion and politics to use churches to host such events while organizers accuse Democrats' tactics of being "against people of faith."
Frist "seems to be going out of his way to pander to the radical religious right leaders," said Ralph Neas, president of People for the American Way. The Democratic Senatorial Campaign Committee sent a petition to Frist with 20,000 signatures asking him "to abandon such dishonest and irresponsible tactics that politicize faith, abuse power and drown out the voice of ordinary Americans."
Senator Charles E. Schumer, the New York Democrat, said, " Frist's words today were less important than his giving the imprimatur to this conference, which clearly argues that people of one viewpoint have God on their side and all others are faithless."
Critics have a point. Democrats who support the filibuster to block conservative judicial nominations are not against all people of faith. Cue Jim Wallis: "When they say that people who disagree with their views and their strategy are not people of faith, they've crossed a line," Wallis said about conservative activists. "When they use faith as a weapon, as a wedge, it feels like instigation of a religious war. And the creation of a Republican theocracy."
Of course, here Wallis has crossed a line. Using freedom of speech to urge voters to contact their senators and let them know how they feel is far from a theocracy. No one is calling for the replacement of the Constitution with Leviticus.
In the hub-bub over judicial nominations, news reports have overlooked conservative Christians' main complaint: that a judge's conservative religious beliefs should not make her "outside the judicial mainstream" and disqualify her from the bench.
That is why the FRC Justice Sunday flier shows a man holding a gavel in one hand and the Bible in the other and says "he should not have to chose" between faith in Christ and public service. Should disagreeing with abortion on demand automatically disqualify a judge from the Supreme Court? Such disqualification is similar to those who say anyone opposed to the morning-after pill shouldn't become a pharmacist.
David Brooks says today's political polarity began when the Supreme Court "suppressed that democratic abortion debate the nation needs to have. The poisons have been building ever since. You can complain about the incivility of politics, but you can't stop the escalation of conflict in the middle. You have to kill it at the root. Unless Roe v. Wade is overturned, politics will never get better."
More Articles
Justice Sunday:
Battle over benches spills across pews | Evangelical leaders use a simulcast to churches around the country to support conservative judges. Other groups fear a 'religious war.' (Los Angeles Times)
Christian conservatives take aim at filibusters | Conservatives across America were urged to pressure senators to end the use of filibusters against President Bush's judicial nominees in an appeal made on Christian radio and television networks on Sunday. (Reuters)
Frist hardens effort to stop filibusters | Majority Leader Bill Frist said Sunday it was not ''radical'' to ask senators to vote on judicial nominees as he hardened his effort to strip Democrats of their power to stall President Bush's picks for the federal court. (Associated Press)
A high-tech lynching in prime time | Tonight is the much-awaited "Justice Sunday," the judge-bashing rally being disseminated nationwide by cable, satellite and Internet from a megachurch in Louisville. (Frank Rich, The New York Times)
US Christian conservatives take aim at filibusters | Conservatives across America were urged to pressure U.S. senators to end the use of filibusters against President Bush's judicial nominees in an appeal made on Christian radio and television networks on Sunday. (Reuters)
Cheney backs end of filibustering | Vice President Dick Cheney plunged the White House into the judicial confirmation battle on Friday by saying he supported changing the Senate rules to stop the Democrats from blocking judicial nominees and would, if needed, provide the tie-breaking vote. (The New York Times)
. . . Smearing Christian judges | People calling themselves Christians are gathering once again for a crusade against what they consider to be the secular humanist subversion of Christian values. This time the object of their wrath is the judiciary. In the wake of the fanatical and fruitless assaults against the judicial system for letting Terri Schiavo die, the Family Research Council will convene tomorrow what it calls "Justice Sunday," a live simulcast to pit Christian values against "our out-of-control courts." (Paul Gaston, Washington Post)
Hijacking Christianity . . . | The American flag was appropriated by the political right wing years ago. Now the Christian right is trying to hijack religion. This tim e it shouldn't be allowed to happen without a fight. (Colbert I. King, Washington Post)
Critics: Frist mingling religion, politics | It may seem like Sen. Bill Frist has found religion in recent weeks. At least, that's what critics say about the Senate majority leader's recent alignment with social conservative groups on high-profile issues. (Associated Press)
Frist urges end to nominee filibusters | Democrats decry speech at church rally (Washington Post)
Minority students threatened at Trinity International University:
Christian college secludes students after hate letters | Scores of African-American and Hispanic students at a small Evangelical Christian college here missed classes and were set to spend a second night in seclusion on Friday, after a series of threatening racist letters spurred their evacuation from the campus. (The New York Times)
Threats prompt college to move students | Authorities at a Christian university near Chicago moved dozens of black and Hispanic students to a hotel for their own safety and police stepped up patrols on campus Friday after three people received threatening, racist letters. (Associated Press)
Minority students return to campus | While police continue to investigate racially threatening letters, minority students who were evacuated from Trinity International University returned to the Bannockburn campus Sunday and will attend classes Monday under heightened security, officials said. (Chicago Tribune)
Student interviews yield no leads in campus hate mail, cops say | Bannockburn police said Saturday that despite dozens of interviews with students at Trinity International University, they still have no leads on who is behind a series of racist hate letters that led the school to evacuate its minority students last week. (The Chicago Sun-Times)
Students moved off campus after threats | Students of color at a small Christian college in the north suburbs were moved from dormitories to an undisclosed hotel Thursday, as the FBI and other law enforcement began investigating a racist letter threatening violence on campus. (The Chicago Sun-Times)
Racist mail, evacuation of minorities stun campus | Daniel Song'ony says that as both a student and business professor at north suburban Trinity International University, he had never seen or experienced racism. So he was shocked Friday to learn the school's Deerfield campus had evacuated dozens of minority students after three received threatening and racially charged hate mail. (The Chicago Sun-Times)
Trinity University's minority students moved to hotel after receiving threats | Police patrolled this small, Christian university campus off Route 22 Friday after three students received threatening, racially motivated hate mail, and school officials moved dozens of minority students into a hotel for safety. (Associated Press)
College in Ill. evacuates minorities after threats | Notes targeted black, Hispanic students (Boston Globe)
Los Angeles Times series on the new papacy and international Roman Catholicism:
Pope journeyed from reformer to enforcer | A progressive theology professor raised in the Nazi era recoiled from Marxist agitation. (Los Angeles Times)
The path ahead | Catholicism sits on shifting ground as Benedict XVI's papacy begins. A billion strong but riven by dissent, the church waits to learn its new shepherd's direction. (Los Angeles Times)
A quiet struggle | Since the Vatican reined in activists, Mexico's rural priests have tried to aid parishioners without rocking the boat. (Los Angeles Times)
Troubles at home | In Italy, as in the rest of Europe, the Catholic Church is fighting a protracted battle against declining commitment. (Los Angeles Times)
Church redefined | Priests in Los Angeles borrow from evangelical Protestants to meet a challenge within the Latino community. (Los Angeles Times)
Far from Rome | For many in a liberal Boston-area church, papal authority is less important than a supportive, embracing parish. (Los Angeles Times)
Defying tradition| In a mostly Hindu village in India, one priest presses ahead with his mission to draw more people to Christianity. (Los Angeles Times)
Unmet needs | AIDS is ravaging a new generation of Africans, forcing a choice between condoms and creed. Many hope for compromise. (Los Angeles Times)
Catholics in China long for connections to Vatican | Beijing regulates local churches, preventing papal inspiration from reaching worshipers. (Los Angeles Times)
Benedict meets and greets the media | Pope thanks reporters for their coverage and vows to carry on John Paul's 'dialogue.'(Los Angeles Times)
Cardinals pledge their support to Pope Benedict | The pontiff speaks humbly of the need for collaboration. Rome anticipates influx of hundreds of thousands for his inaugural Mass. (Los Angeles Times)
A secular city turns its eye on the Vatican | When the bell of St. Peter's pealed this week, announcing that a pope had been chosen, thousands of Romans ran from their homes and offices. There was a new king, and as if they had traveled back to a time before CNN, the citizens of this ancient city wanted to get the first look at the man who would rule across the river. (Los Angeles Times)
Pope Benedict XVI's installation:
Pope issues call for unity | Benedict XVI reaches out to 'the whole church' at a colorful inauguration but offers few hints of his agenda for the new papacy. (Los Angeles Times)
Text: Pope's homily at installation mass | Following is the text of Pope Benedict XVI's homily at his installation Mass today, as released by the Vatican. (The New York Times)
Security tight before papal installation | Security forces went on alert around the Vatican on Saturday and cleared streets for an expected 500,000 pilgrims arriving for the ceremony to formally install Pope Benedict XVI and offer the pontiff a major chance to set the tone for his papacy. (Associated Press)
Pilgrims cheer new pope at installation | For Grazyna Klimowicz, the emotions were extreme -- deep pain over the loss of John Paul II and joy that his faithful servant, Pope Benedict XVI, was chosen to guide the world's Roman Catholics. (Associated Press)
Old, new traditions to mark papal ceremony | The ceremony to install Pope Benedict XVI blends centuries-old tradition with some new elements, a mix of ritual that involves giving the pope a shawl emblazoned with red crosses to signify the blood of Christ and a golden ring to show his papal authority. (Associated Press)
Jeb Bush to lead U.S. delegation to Rome | President Bush's brother, Florida Gov. Jeb Bush, will lead the U.S. delegation to Sunday's inaugural Mass in Rome for Pope Benedict XVI. (Associated Press)
Lawmakers head to Italy for Pope's mass | Twenty-one House members left Friday to attend Pope Benedict XVI's inaugural mass, the second House delegation this month to travel to Rome to witness the transition of leadership in the Catholic Church. (Associated Press)
Reminders of John Paul are everywhere in the festivities | The memory of John Paul II lay draped over the installation of his successor, Benedict XVI, in ways profound and personal. (The New York Times)
Pope's inaugural mass draws more crowds to Rome | Pope Benedict celebrates his inaugural Mass in St. Peter's Square on Sunday, returning for his first public sermon as Pontiff to the spot where he conducted John Paul's huge funeral two weeks ago. (Reuters)
Benedict XVI formally begins his papacy | Pope Benedict XVI formally began his papacy by extending a hand to Jews, other Christians and "non-believers," and by signaling that he wants to be a good listener in the "enormous task" of leading the world's 1.1 billion Roman Catholics. (Associated Press)
Benedict XVI is installed as 265th Pope at outdoor mass | Benedict XVI was installed Sunday as the 265th pope of the Roman Catholic Church in a huge outdoor Mass in St. Peter's Square, proclaiming that the outpouring over the death of his popular predecessor, John Paul II, showed the world that "the church is alive." (The New York Times)
Mass marks pope's installation in Germany | Residents of this picturesque Bavarian town that was the childhood home of Pope Benedict XVI prayed for the new pontiff Sunday at a special Mass -- while others watched from home as he formally took stewardship of the Roman Catholic Church. (Associated Press)
New Pope sets store by lost traditions | Pope Benedict brings back another Church tradition on Monday with his first visit outside the Vatican to pay homage at the tomb of St. Paul the Apostle. (Reuters)
About Pope Benedict XVI:
New Pope defied Nazis as teen during WWII | Blinds drawn, windows closed, Joseph Ratzinger huddled with his father and older brother around a radio and listened to Allied radio broadcasts, volume on low. It was a small and risky act of defiance in this conservative Bavarian village deep inside Adolf Hitler's Germany. (Associated Press)
Turbulence on campus in 60's hardened views of future pope | For all Pope Benedict XVI's decades as a Vatican insider, it may have been the crucible of a university town swept by student radicalism in the late 1960's that definitively shaped the man who now leads the Roman Catholic Church. (The New York Times)
Where the Pope's from, pride still seems a sin | The election of a conservative cardinal, Joseph Ratzinger, as Pope Benedict XVI raises various doctrinal and social issues, but it also invites reflection on a single, startling fact: the new pontiff is German, and to be German is never a straightforward thing. (The New York Times)
Crossing cardinal nein | Pope Benedict XVI takes over the throne of St. Peter with a remarkably long and telling record. The one consistent theme in the more than 100 cases that he adjudicated as prefect of the Congregation for the Doctrine of the Faithful was his fierce, overarching defense of absolutism against relativism in doctrinal matters - of any kind. (The New York Times)
A future pope is recalled: A lover of cats and Mozart, dazzled by church as a boy | The Rev. Georg Ratzinger, elder brother to Pope Benedict XVI, recalled their boyhood together in Bavaria and said the future Catholic leader decided when he was only 5 years old that he wanted to be a cardinal. (The New York Times)
Pope's home town walked a fine line under Nazi rule | Although resistance was limited in traunstein, residents tried to protect their religious beliefs (Washington Post)
Catholic publisher owns new pope's work | The offices of Ignatius Press are in a cluttered two-story house next door to a convent of cloistered Carmelite nuns. This shoestring operation is the nation's largest publisher and distributor of Catholic books, magazines and videos, but it's usually a rather serene place to work. (Associated Press)
Response:
American Catholics approve of Pope Benedict XVI | An overwhelming majority of American Catholics approve of the selection of Pope Benedict XVI and predicts that he will defend the traditional policies and beliefs of a church that many members say is out of touch with their views, according to a new Washington Post-ABC News poll. (Washington Post)
Opinion of pope split in Germany, countrymen say | German pilgrims were prominent among the throngs of worshipers at Sunday's Mass in St. Peter's Square for their countryman, Pope Benedict XVI, but their pride was tempered by their knowledge that back home, the new pontiff's election was not universally welcomed. (Washington Post)
U.S. priest reflects on papal transition | They were three extraordinary weeks that shook the Rev. Shawn Corcoran's bookish world of canon law. (Associated Press)
Brazil Cardinal: Pope can accomplish a lot | Pope Benedict XVI realizes his papacy could be a short one, given his advanced age, but plans to accomplish a lot _ and the Roman Catholic Church has great hopes for him, Brazilian Cardinal Claudio Hummes said. (Associated Press)
Jewish groups mostly praise pope as a partner | Despite his wartime membership in the Hitler Youth movement, the German now known as Pope Benedict XVI won strong praise from Jewish leaders yesterday for his role in helping Pope John Paul II mend fences between Catholics and Jews. (The New York Times)
What does the selection of the new pope portend for American Catholic youths? | In the days after Pope John Paul II died, only his role in helping bring on the collapse of Communism earned more comment than his gift for reaching young people with the challenge of the Gospel. (The New York Times)
Area Catholics reflect on new leader | Benedict praised from pulpit as parishioners offer range of expectations (Washington Post)
Good wishes and requests flood the new pope's e-mail | 56,191 messages were sent in the first 48 hours that Pope Benedict's Vatican e-mail address has been operational, the Vatican said Friday. (Associated Press)
Conservatives see win in rise of new pope | Now that Americans have had a few days to absorb the election of Pope Benedict XVI, it's clear that conservative Christians _ whether Roman Catholic or not _ feel they've won another battle in the nation's culture wars. Liberals seem ready to concede the point, but they aren't happy about it. (Associated Press)
Benedict talks with journalists:
Pope Benedict XVI meets with journalists | Pope Benedict XVI showed off his language skills in a meeting with journalists Saturday but made clear he was not a carbon copy of his media-minded predecessor, Pope John Paul II. (Associated Press)
Pope tells journalists to search for 'truth' | Battle brews over same-sex marriage (Washington Post)
Meet Benedict XVI: Shy, orderly, funny | The new pope, Benedict XVI, introduced himself on Saturday to the world's news media, and if he was upset about hard-edged headlines that focused on his years as enforcer of the faith, he did not show it. (The New York Times)
The media and the Vatican: Opposing goals | Now that the rooftop sets with a view of St. Peter's Cathedral have been struck and the rented satellite trucks have been returned, the remaining media contingent in Rome is left with the question of how to cover a new pope. (The New York Times)
Benedict & the abuse crisis:
Pope has gained the insight to address abuse, aides say | For the past four years, the man who is now Pope Benedict XVI had more responsibility than any other cardinal for deciding whether and how to discipline Roman Catholic priests accused of sexual abuse. (The New York Times)
Pope-to-be reopened Mexican sex abuse inquiry | During Pope John Paul II's final days, the cardinal who would replace him, Joseph Ratzinger, reopened a Vatican investigation into longstanding allegations that the Mexican founder of an influential Catholic order had molested teenage students under his tutelage. (The New York Times)
New pope, same crisis | Although his papacy is not yet a week old, Benedict XVI is already assured a prominent place in the culture wars. Admirers and critics alike will pay close attention not only to his pronouncements on issues like bioethics and birth control, but also to his response to the crisis of sexually abusive priests. (Jason Berry, The New York Times)
Benedict & Muslims:
Pope Benedict reaches out to Muslims | A day after reaching out to other Christians and to Jews in his installation Mass, Pope Benedict XVI met Monday with members of the Muslim community, assuring them the church wanted to continue building ''bridges of friendship'' that he said could foster peace in the world. (Associated Press)
New papacy stirs some concern in the Arab Middle East | The elevation of Cardinal Joseph Ratzinger to the papacy as Pope Benedict XVI is stirring some uneasiness in the Arab Middle East, where many remember Pope John Paul II as a champion of some of their causes and fear that his successor will not be as sympathetic. (The New York Times)
Benedict begins papacy:
Pope Benedict takes charge, reappoints top Vatican officials | Pope Benedict XVI got down to business Thursday, reappointing the previous heads of Vatican departments until further notice and keeping on the secretary of state, Cardinal Angelo Sodano, who is effectively his prime minister. (Washington Post)
Pope faces challenge of attracting youth | The Roman Catholic Church continues to pick up converts in poor regions like Africa and South America, where priests are active in humanitarian work and where the church's message of salvation in the afterworld still resonates strongly. But for many Europeans, rigid strictures on issues like divorce, contraception and abortion seem hopelessly antiquated and intrusive _ moral relics of the era before the 1960s sexual revolution. (Associated Press)
New pope has first meeting with cardinals | Pope Benedict XVI personally greeted the most powerful prelates in the church Friday in a ceremony that illuminated two central elements of the new papacy: his vast Vatican experience and his efforts to cement bonds with his beloved predecessor. (Associated Press)
In seminary halls, all eyes are on the newest pontiff | While many Roman Catholics celebrated the installation of Pope Benedict XVI on Sunday, few watched him more closely in recent days, searching his words for hints and signs of what is ahead, than people like Stephen Dos Santos, a seminarian who will soon take on the delicate balancing act of translating the new pope's theology to the real-world pews of an ordinary church. (The New York Times)
Pope softens image as austere theologian | Pope Benedict XVI has pushed the right buttons in his first days as pontiff, softening his image as an austere theologian, inviting the chief rabbi of Rome to his installation and promising to keep up his popular predecessor's meetings with Roman Catholic youth. (The New York Times)
Meeting with cardinals, Benedict offers reminders of his predecessor's service and legacy | Pope Benedict XVI personally greeted the most powerful prelates in the church on Friday in a ceremony that illuminated two central elements of the new papacy: his vast Vatican experience and his efforts to cement bonds with his beloved predecessor. (The New York Times)
New debate is sought on use of condoms to fight AIDS | Pope Benedict XVI is known to be conservative on social issues, and no one expects his Roman Catholic Church to soften its opposition to birth control. Still, a rising number of Catholics, in the Vatican and outside, are urging the new pope to revisit what was probably his predecessor's most divisive position - his opposition to condom use in the fight against AIDS. (The New York Times)
Young Europeans seek a papal dialogue | The medieval theology class at the Catholic University here has a message for Pope Benedict XVI: Listen to us. The institution is one of the oldest Roman Catholic universities, the place where a 22-year-old student leader, a woman, dared confront Pope John Paul II in 1985 about birth control and liberation theology. John Paul thanked her and kissed her forehead, but did not respond. (The New York Times)
New pope reappoints curia chiefs | Benedict XVI opts not to immediately reshape a bureaucracy he sees as bloated. But some experts suspect an overhaul is coming. (Los Angeles Times)
Passover:
Modern voices join in the telling of an ancient tale | Texts of the Haggadah, which describes exodus from slavery, are rich in diversity. The story will be the centerpiece of Passover Seders tonight. (Los Angeles Times)
Immersed in religious tradition | Cleansing their kitchen utensils in vats of roiling water, congregants at a Westside synagogue perform a rite of purification before Passover. (Los Angeles Times)
Celebration may be last Passover in Gaza | Under heavy army guard, families in this Jewish settlement gathered Saturday for the Passover seder, or ritual meal, the last time they and thousands of other settlers are likely to celebrate the holiday in the Gaza Strip. (Associated Press)
Related Elsewhere:
Suggest links and stories by sending e-mail to weblog@christianitytoday.com
Check out Books & Culture's weekly weblog, Content & Context, and the Christianity Today Movies weekly weblog, Reel News.
See our past Weblog updates:
April 22 | 19
April 15 | 14 | 13 | 11
April 5 | 1 | March 31 | 30
March 24 | 23 | 21 | 16 | 11
Weblog
Launched in 1999, Christianity Today's Weblog was not just one of the first religion-oriented weblogs, but one of the first published by a media organization. (Hence its rather bland title.) Mostly compiled by then-online editor Ted Olsen, Weblog rounded up religion news and opinion pieces from publications around the world. As Christianity Today's website grew, it launched other blogs. Olsen took on management responsibilities, and the Weblog feature as such was mothballed. But CT's efforts to round up important news and opinion from around the web continues, especially on our Gleanings feature.
Ted Olsen is Christianity Today's executive editor. He wrote the magazine's Weblog—a collection of news and opinion articles from mainstream news sources around the world—from 1999 to 2006. In 2004, the magazine launched Weblog in Print, which looks for unexpected connections and trends in articles appearing in the mainstream press. The column was later renamed "Tidings" and ran until 2007.
Previous Weblog Columns: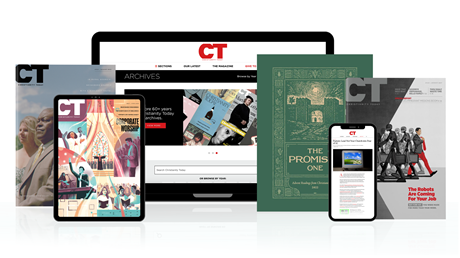 Subscribe to Christianity Today and get access to this article plus 65+ years of archives.
Home delivery of CT magazine
Complete access to articles on ChristianityToday.com
Over 120 years of magazine archives plus full access to all of CT's online archives
Subscribe Now
'Justice Sunday' Challenges Filibustering Judicial Nominees
'Justice Sunday' Challenges Filibustering Judicial Nominees